Week three didn't disappoint, with some big early-season results already helping to shape the D1M standings.
Nottingham Hoods announced their intention to battle at the top of the table following a statement win over Thames Valley, plus Hemel and Newcastle combined to score over 220 points in an offensive showcase.
There's a recap of all the action below, and each result is also clickable if you wish to view the live stats.
Nottingham Hoods sealed a statement win on Saturday, toppling last season's #2 seeds Thames Valley 89-78.
The basement club from a year ago managed to hold on in what was a wild back-and-forth affair, with both teams putting on a treat of a contest for NBL fans.
The hosts shared the ball well throughout, clocking up 20 assists as five players scored 13 points or more. Kyle Jimenez (14pts, 7reb, 8ast) and Josh Guddemi (22pts, 8reb) were the pick of the bunch for Hoods.
Jakobi Bonner led the way for TVC to close on 24 points and Hakeem Sylla came close to adding a double-double, finishing with 13 points and nine boards.
Cavs captain Blayne Freckleton has been a big part of their offence so far this season but struggled to find his usual range in this one. Shooting 3/15 from the floor, he did still manage to finish with 14 points to go with five rebounds and a pair of assists.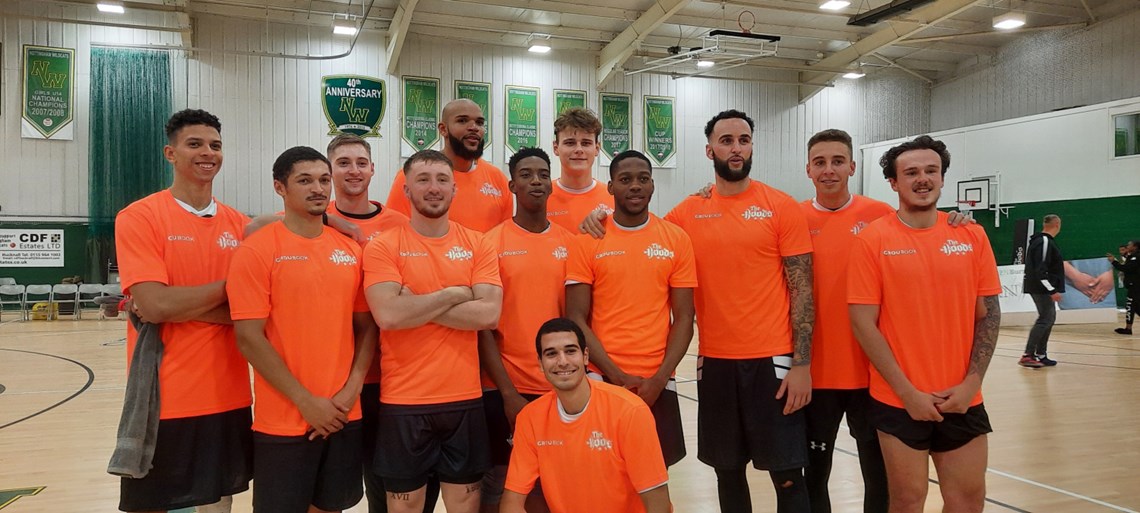 After an even opening quarter, the visitors broke the game open with a commanding 22-2 run in the second frame that threated to push Thames Valley into an unassailable lead.
Coach Stanley's side wouldn't be denied though. Trailing 45-30 by the half, no doubt stern words were shared in the Hoods' locker room before a 33-16 third quarter put the hosts back into the lead.
Ahead 63-61 with 10 minutes to play and with the vocal home fans roaring their team on, it was an advantage that Nottingham would never relinquish as they now move to a perfect 6-0 across all competitions this season.
Elsewhere this weekend
The weekend began with a road win for Worthing Thunder (3-0) as they beat Oaklands Wolves (1-2) 108-71.
A 30-16 opening quarter put Thunder immediately into the driver's seat, with Jarred Dixon leading all scorers on 23 points. Oaklands' prospect Kane Daley top scored for the Wolves, he had 19.
There was an offensive explosion as Hemel Storm (3-0) beat Team Newcastle University (1-2) 117-104 in a thriller in front of a sold-out crowd.
Plenty of stats understandably jumped off the page in such a high-scoring contest, none more so than Taylor Johnson's 42 point, 11 rebound double-double as the former Thames Valley man closed with an eye-catching 48 efficiency.
Ronald Blain top-scored in defeat for Newcastle, the American had 30 points, seven rebounds and five assists.
Loughborough Riders (1-2) are winless no more after claiming a 70-65 victory against local rivals Leicester Warriors (0-3).
Leading 39-30 at the half, the Warriors were undone by a 19-9 third quarter that allowed the Riders to sneak back into the contest before hanging on for a narrow win.
Justin Hedley flirted with a triple-double for Loughborough, scoring 15 points to go with 13 rebounds and eight assists.
It was a bad day at the office for Essex Rebels (0-3) as they were on the wrong end of a 105-38 thumping from Team Solent Kestrels (3-0).
A 31-9 first quarter left the contest all but over after the first 10 minutes as Cole Gentry top-scored for the reigning champs with 22 points.
London Lions II (2-1) picked up their first loss of the season as they went down 94-70 at home to Reading Rockets (2-1).
Tyler Cartaino came out and put on a stunning performance for the visitors, with a near triple-double of 33 points, 10 steals and nine assists, adding a pair of blocks and three assists for good measure.
It was Derby Trailblazers (1-2) who ended up triumphant following their battle against Bradford Dragons (0-3), with an 84-75 final.
Sol Rolls-Tyson did a bit of everything for the visitors to drop 17 points, adding seven rebounds, five assists and two steals, with team mate Malcom Smith leading all scorers on 29 points.
David Walsh (22pts) hit five triples and Zach Gachette (23pts) also played well, but Bradford are still left searching for a first win on the new season.
L Lynch Trophy
Reading Rockets joined Team Newcastle in the hat for the semi-finals of the L Lynch Trophy as they saw off Loughborough 90-86.
The game looked as good as over early in the fourth quarter as the hosts led by 19 points with 6:09 remaining. A 20-4 run by the Riders quickly eroded the Reading advantage however, leaving the game set up for an exciting finish.
An 86-83 ball game, the Rockets would score the next four points to create a bit of breathing room, eventually padding their lead just enough to see them home to the final buzzer.
Tyler Cartaino continued his solid weekend to score a game-high 25 points, with Meshack Lufile adding a 23-point, 12-rebound double-double.
Justin Hedley's 20-point, 14-rebound, six-assist effort was the pick of the performances for Loughborough.
This weekend's results:
Saturday 16 October
3pm - Oaklands Wolves 71-108 Worthing Thunder
3pm - Nottingham Hoods 89-78 Thames Valley Cavaliers - LIVE STATS/LIVE STREAM
4pm - London Lions II 70-94 Reading Rockets - LIVE STREAM/LIVE STREAM
4pm - Loughborough Riders 70-65 Leicester Warriors - LIVE STATS/LIVE STREAM
6:15pm - Bradford Dragons 75-84 Derby Trailblazers - LIVE STATS
7pm - Hemel Storm 117-104 Team Newcastle University - LIVE STATS
7pm - Essex Rebels 38-105 Team Solent Kestrels - LIVE STATS
Sunday 17 October
L Lynch Trophy - 5pm - Reading Rockets 90-86 Loughborough Riders  - LIVE STATS/LIVE STREAM
.
Main image credit - Nottingham Hoods/Graham Blankley