With all 14 teams in action on Saturday, it was a busy weekend in D1M.
It was a poor one for home teams, with all but two road sides grabbing hard-fought victories, including Nottingham Hoods, Hemel Storm and Worthing Thunder.
There was also another L Lynch Trophy quarter-final as Solent won the repeat of the last season's final, seeing off Thames Valley once again.
There's a recap of all the action below, and each result is also clickable if you wish to view the live stats.
Solent maintained their perfect start to the season following a comfortable 104-82 victory against Team Newcastle University.
Playing without Travis Charles, the hosts turned instead to Luke Busumbru who replied with a 23 point, eight rebound, eight assists performance to be proud of.
Cole Gentry (16pts, 12ast) and Kemel Archer (12pts, 14rbs) both added double-doubles in the win.
Newcastle's lengthy road trip to the South coast ended up being fruitless, with Ronald Blain's 28 points and seven rebounds the main source of positivity on the long trip back to the North East.
Through the first two quarters the game was evenly poised, with the visitors owning the lead for large portions thanks to points from Blain, Jack Cork (13pts, 6reb) and Brandon Federici (16pts).
That would all change as Solent took advantage after the restart, claiming the third quarter 33-13 in what would be a pivotal passage to the game.
Playing with an eight man rotation, it was a deficit a tiring Newcastle couldn't overcome as they slipped to their third loss of the season.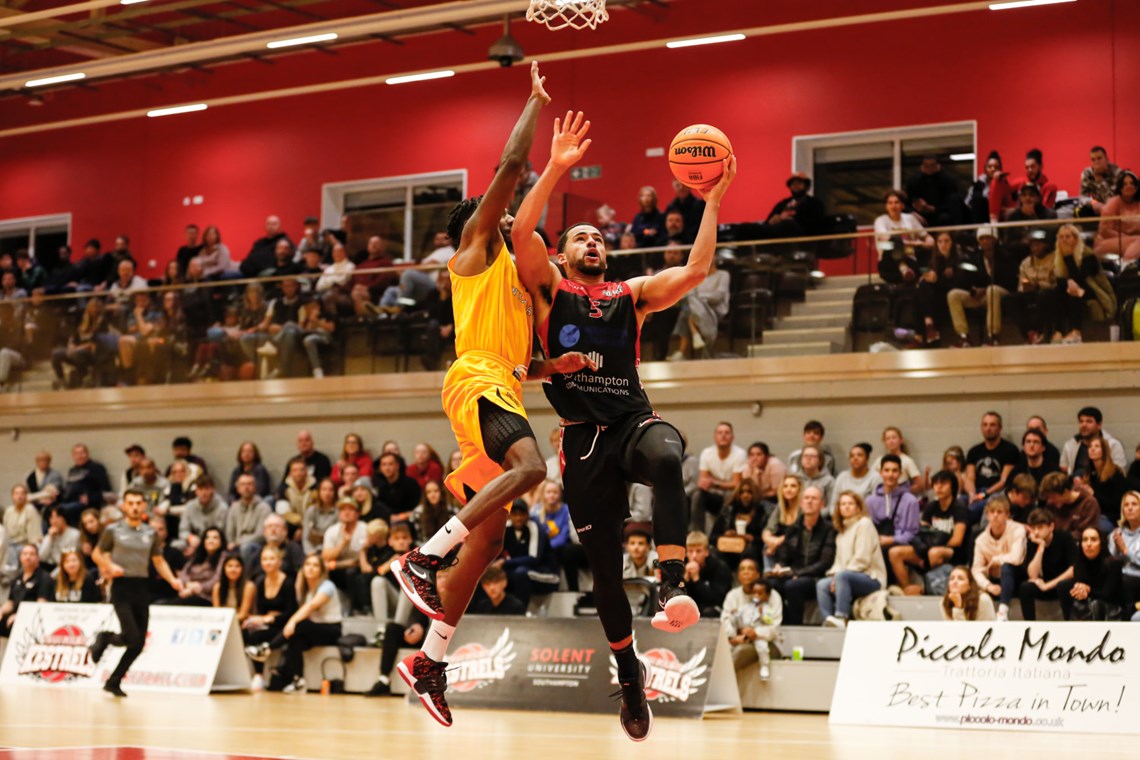 Elsewhere this weekend
Worthing Thunder (4-0) kept pace with Solent at the top of the D1M table, staying perfect as they beat Leicester Warriors (0-4) 88-79.
As has been the case more than once this season, the story could have been a different one for the Warriors as held a slender 45-43 lead at half time.
Worthing easily overcame that difference in the second half, thanks in part to a Hafeez Abdul double-double of 24 points and 11 rebounds. 
Recently signed import Demetrius Levarity had an impressive 32 point debut for the Warriors, playing the full 40, shooting 12-15 and adding nine rebounds. He and Van Turner Jr (29pts) could be a duo to watch going forward.
Oaklands Wolves (1-3) slipped to a third loss in their first four games as they went down 89-80 at home to London Lions II (3-1).
Mike New Jr. was once again in solid form for the hosts, closing with 27 points, 10 rebounds and five assists but it wasn't enough to slay the Lions.
Coach Vear's side enjoyed multiple contributions on the day with five players all scoring 10 or more. The pick was Bradley Kaboza's 26 off the bench, adding six rebounds and a trio of assists.
Another week, another eye-catching stat line from Hemel's Taylor Johnson. The American's 37 point, seven rebound, six assist game was enough for Hemel Storm (4-0) to beat Loughborough Riders (1-3) 101-92.
Storm welcomed back Greg Poleon for this one, with the forward notching 17 points in 16:35 of action. 
Loughborough were paced by Victor Ndoukou (21pts), Harrison Gamble (16pts, 10 reb) and Justin Hedley (18pts, 7reb, 7ast) in Will Maynard's first action as the team's new head coach.
After back-to-back defeats, Thames Valley Cavaliers (2-2) got themselves back on track with a 101-61 victory against struggling Bradford Dragons (0-4).
Leading from tip to buzzer, Thames Valley managed the game well to allow five players to score 12 or more, led by Hakeem Sylla on 21 points.
Derby Trailblazers (2-2) crept back to .500 as they heaped further problems on Essex Rebels (0-4), winning 86-72.
American Ryan Bruggeman had a quality outing to drop 30 points, leading all scorers. Captain Malcolm Smith added 29 more.
22 points from Rory Winter wouldn't be enough for the hosts as they're still looking for a first win of the season.
Nottingham Hoods' (4-0) unlikely title challenge keeps on rolling as the Midlands side beat Reading Rockets (2-2) 81-78.
The game was a thrilling, back-and-forth contest where the lead changed hands multiple times, with both teams taking the opportunity to seize the advantage in the fourth quarter alone.
Trading baskets down the stretch, a Kyle Jimenez and-one play at 74-74 plus a perfect 4/4 from the free throw line by guard Luke Mitchell allowed the Hoods to seal another impressive W.
Morakinyo Williams' 18 point, 10 rebound double-double paced the visitors, whilst Reading enjoyed a 17 point, nine rebound outing from wing Tyler Cartaino.
L Lynch Trophy
Three L Lynch semi-finalists are now confirmed, with Team Solent Kestrels moving on to join Team Newcastle and Reading Rockets in the final four following a 98-88 win over Thames Valley.
In a repeat of last season's final, the result once again went the way of the South coast side. A close one throughout, an 11-1 run in the fourth quarter pushed the hosts out into an unassailable lead.
Solent forward Orlan Jackman dropped 18 points, adding eight boards in the win. Guard Cole Gentry (23pts) also played well as Max Richardson (13pts), Luke Busumbru (13pts, 10reb) and  Andre Arissol (13pts) all contributed.
There was a familiar double-double of 25 points and 10 rebounds from Cavs' forward Hakeem Sylla as Jarrett Hart (19pts) enjoyed a nice cameo off the bench.
The last quarter-final between Nottingham and Derby is set for this coming Thursday, completing the semi-final line up.
This weekend's results:
Saturday 23 October
3pm - Leicester Warriors 79-88 Worthing Thunder - LIVE STATS
4pm - Loughborough Riders 92-101 Hemel Storm - LIVE STATS/LIVE STREAM
5pm - Reading Rockets 78-81 Nottingham Hoods - LIVE STATS/LIVE STREAM
5:45pm - Oaklands Wolves 80-89 London Lions II - LIVE STATS
6pm - Team Solent Kestrels 104-82 Team Newcastle University - LIVE STATS/LIVE STREAM
6:30pm - Thames Valley Cavaliers 101-61 Bradford Dragons - LIVE STATS
7pm - Essex Rebels 72-86 Derby Trailblazers - LIVE STATS
Sunday 24 October
3pm - Team Solent Kestrels 98-88 Thames Valley Cavaliers - LIVE STATS/LIVE STREAM
.
Main image credit - Nick Winter