Rebound's Chris Hughes
is back to
pick his first
NBL Team of the Week
for the new year
as well 
highlighting
 some 
honourable mentions and team performances.
Chris, a content producer, YouTube host and commentator, casts his eye over a trio of games involving NBL D1 teams from Week 11 of the NBL season, including the first of the L Lynch Trophy quarter-finals. 
Have your say on this week's choices and give a shout-out to the players you think deserve one using the hashtag #NBL2021. Don't forget to tag us! 
Twitter:  @NBLengland / @Rebound__ 
Facebook:  @NBLengland  / @ReboundNBL 
Instagram:  @nblengland / @reboundnbl 
How it works 
The Basketball England NBL Player of the Week goes straight into the starting line-up. 
The other four players are picked with the following factors in mind: 
Efficiency

 

Stats

 

Team and opposition strength

 

Periods of influence in the game

 
The Rebound team of the week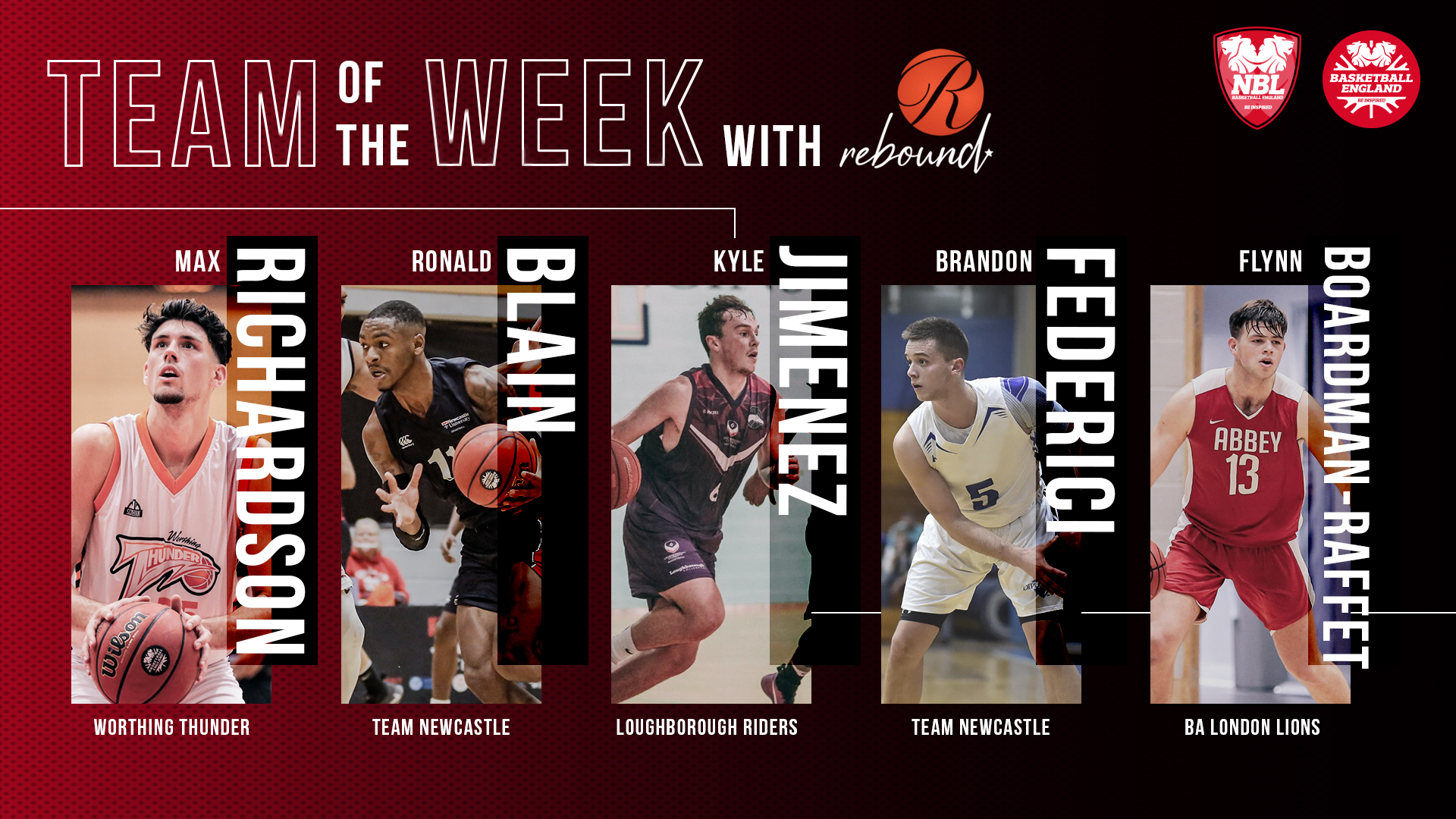 Max Richardson – Worthing Thunder, forward
23 POINTS, 11 REBOUNDS, 4 ASSISTS, 2 STEALS, 30 EFFICIENCY 
The highest efficiency performance from the weekend came from former Loughborough Riders' forward Max Richardson. Richardson started the Thunder's L Lynch Trophy quarter-final against Derby on the bench, but once on the court managed just under 36 minutes of game time.  
On examination of bench points alone, Worthing scored 41 points versus Derby's five. Richardson's pivotal 23-point and 11-rebound double-double, along with other performances from the bench, really contributed to the win. 
Only Howard Crawford from the starting five of Hildreth, Taylor, Ives and Sunderland got an efficiency rating greater than nine.  
In the fourth quarter, Richardson made both of his opening threes and was fouled on his third, making two out of the resulting three trips to the charity strip.  
Rebounds can win games and in the final moments of the final quarter, Richardson claimed four decisive defensive boards to prevent second-chance opportunities.
Thunder started the last quarter with a one-point lead. During the final spell Richardson contributed 8p/6r/1s as his team punched their ticket to the semi-finals. The draw takes place at the end of this month. 
Ronald Blain – Team Newcastle University, forward 
29 POINTS, 5 REBOUNDS, 1 ASSIST, 3 STEALS, 24 EFFICIENCY 
He's only gone and done it again! Ronald Blain makes a back-to-back appearances in our team of the week after being a big contributing factor in the win versus Loughborough Riders. Newcastle now boast a commanding 2-0 head to head record versus the purple and white. 
The former Hawaii Pacific University star is an exciting player to watch and one of the more athletic forwards in the league. In a one-point win, Blain's boxscore contribution in the final five minutes was 6p/2r/1s. 
This weekend was one of the more efficient shooting returns in FG% (58.8), 3P%(66.7) and FT% (77.8) from the TNU forward who is becoming one of the league's dominant point scorers at fourth in points per game.  
Kyle Jimenez – Loughborough Riders, guard 
14 POINTS, 9 REBOUNDS, 12 ASSISTS, 23 EFFICIENCY 
Kyle Jimenez was just a rebound away of a triple-double, and as part of a team a single point away from forcing overtime versus Team Newcastle University, is a worthy inclusion. 
With multiple triple doubles to his name, it should not be a surprise that Jimenez is almost averaging one per game in NBL1 action – his stats are 11p/8.7r/11.3a. 
There are assists and there are Kyle Jimenez assists. His exciting passing and role as a facilitator is making him a stand-out player in the NBL1 this season.  
It was a memorable shooting performance, too, with a season-best three-point percentage (42.9%) and threes made (3). This all, added to his second-best FG% (50) for the competition so far, shows Jimenez can be a scoring and playmaking nightmare for opponents. 
Featuring in all of the 40 minutes, he either assisted or made eight of Loughborough's 14 points in the fourth quarter. 
Flynn Boardman-Raffet – BA London Lions, guard/forward 
14 POINTS, 4 REBOUNDS, 5 ASSISTS, 3 STEALS, 21 EFFICIENCY 
What stood out for me in this 46-point run-away win over Essex was Flynn Boarman-Raffet's ability to find his teammate for the easy bucket. He led all players with five assists, three of which resulted in threes.  
Boardman-Raffet shot the ball excellently this weekend and led all volume shooters in field goal percentage (85% from 6/7 shots made) as well as a respectable 2/3 from beyond the arc.  
Superior team three-point shooting really helped stretch the margin as BA outshot Essex making 11/21 versus 10/28. Individually Flynn shot two from three from beyond the arc and assisted another three. Flynn was directly involvement in almost half BA's three points made. 
Brandon Federici – Team Newcastle University, guard 
20 POINTS, 1 REBOUND, 5 ASSISTS, 2 STEALS, 21 EFFICIENCY 
Brandon Federici played a pivotal role in getting the dub for Newcastle this weekend and this is the third game in a row where Federici has been directly involved in a late Newcastle comeback. 
Déjà vu! Twice Federici has shot the winning shot in a close-fought game versus Loughborough. He also got seven of his side's last 11 points. 
It has been said, the best form of defence is to attack, and at times for Newcastle this was the case - especially when their zone defence was giving away three pointers. This Loughborough side can be potent, especially with a facilitator with a flashy skills of Kyle Jimenez.  
Shooters are going to shoot and Jimenez, Dieterich, Orija and Bielak went 14/31 from three-point range. In reply, the former Franklin and Marshall graduate, who shot the winning three in Newcastle's last win, was the only one on his team making headway with four threes to his name from nine attempts made. 

Team basketball 
NEWCASTLE COMEBACK IN THE SECOND HALF (AGAIN) 
Command 'C' command 'V' with the title! Different year but same result and another comeback. Not only did they manage three comebacks in a row, this was also the second time this season Team Newcastle University have fought from behind against Loughborough. 
This time Newcastle were trailing by eight at the start of the fourth. Better team shooting helped them get the comeback win. In the final quarter they made twice the amount of buckets as their rivals, making 10/17 field goals attempted compared to Loughborough's 5/15. 
The promoted side find themselves top of the table. Covid-19 has obviously played a part in the make-up of the standings with half the teams are yet to play five or more games. Nonetheless, it is impressive after seven games to have a 71.43 win percentage. 
BA LONDON LIONS ROAR 
BA London Lions devoured a weakened Essex Rebels side in the 46-point statement win. Individual performances and high field goal percentage shooting from Abiodun Adedo with 18 points and Cem Uner with 16 points were not far off team of the week and honourable mention inclusions respectively.  
Jase Harrison had a game-high four steals and Caleb Vijber's lights-out shooting off the bench, making all of his three shots beyond the arc, also deserves mention. 
This season the Barking Abbey side have made a few changes. Including partnering with the London Lions and adding age and experience to what is typically an U19s roster, with the likes of Harrison, Will Ashby and Jamie Hayes joining. Play-off basketball maybe beckoning for this well coached side. 
Honourable mentions 
Abiodun Adedo (BAL) – 18P/7R/20EFF 
Josh Moore (ESS) – 22P/4R/4A/20EFF 
Howard Crawford (WOR) – 17P/9R/3A/4B/20EFF 
Oliver Stanley (DER) – 20P/15R/1A/1B/25EFF 
David Moya (NEW) – 13P/4R/8A/5S/19EFF
.
.