Rebound's Chris Hughes picks his NBL Team

 

of the Week and highlights

 

five

 

honourable mentions

 

as well as two impressive

 

team performances.  
Chris, a content producer, YouTube host and commentator, discusses his picks from the two semi-finals of NBL Division One playoffs as Team Solent Kestrels and Hemel Storm both booked a ticket to next weekend's showpiece in Manchester. 
Have your say on this week's choices and give a shout-out to the players you think deserve one using the hashtag #NBL2021. Don't forget to tag us!    
Twitter:  @NBLengland / @Rebound__  
Facebook:  @NBLengland  / @ReboundNBL  
Instagram:  @nblengland / @reboundnbl  
How it works 
The Basketball England NBL Player of the Week goes straight into the starting line-up.    
The other four players are picked with the following factors in mind:    
Efficiency 

 

Stats 

 

Team and opposition strength 

 

Periods of influence in the game 

 
The Rebound team of the week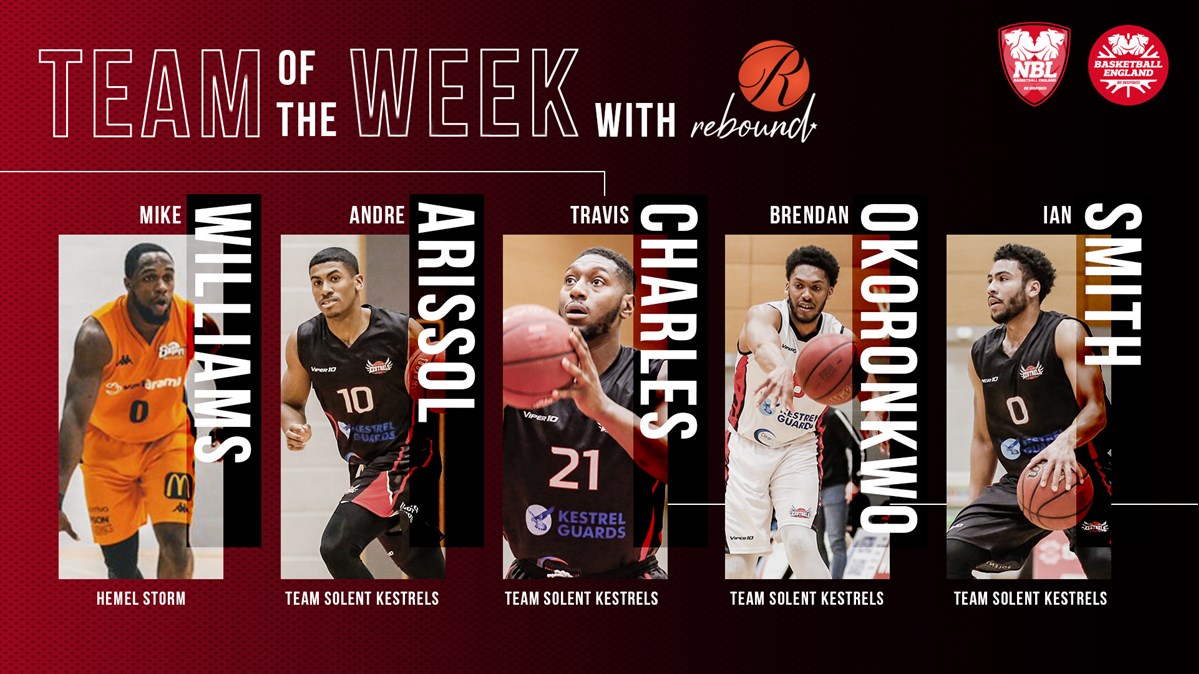 Mike Williams - Hemel Storm, guard
45

 POINTS,

 

8

 REBOUNDS, 4

 ASSIST

S, 2

 STEAL

S, 

46

 

EFFICIENCY

 

 
Off the back of a successful quarter-final (30p/5r/5a/2b/32eff), the #0 was instrumental in keeping Hemel's playoff dream alive this weekend.
The former Rutgers star got almost half his side's 95 points against Worthing with an efficient 16/24 field goals made, including going 5-9 from deep.
It was another performance to remember as the American helped Storm secure a final spot versus Team Solent Kestrels, and in form like this, he is going to be hard to stop next weekend. 
What particularly stood out for me was Williams' footwork to avoid a contested shot and or leave his defender in no-man's land. When the Hemel star took too much contact, he was also accurate from the charity strip with 8-10 FTM.  
Andre Arissol - Team Solent Kestrels, guard
27

 POINTS, 

4

 R

EBOUNDS

, 

2 STEALS

,

 

1 BLOCK, 27

 

EFFICIENCY

 
One of the contenders for the NBL 'Defensive Player Of The Year' put on a shooting master class from beyond the arc, going 7-11. A lot of credit for Solent's team shooting of 42 3P% has to go to Arissol. 
The former Chaminade NCAA D2 star was locked in during the second quarter against Newcastle, making 11 of Solent's 13 first buckets of the quarter to lift Solent's lead to an unassailable 38 points. 
Travis Charles - Team Solent Kestrels, forward
23 POINTS, 7

 

R

EBOUND

S

, 

1 ASSIST, 1 BLOCK, 29

 

EFF

ICIENCY

 

 
Solent finished the opening quarter of Saturday's contest with a mammoth 38-9 lead and even though it was a team performance, the former University of Albany forward was on fire. 
Travis combined well with Brendan Okoronkwo as the pair started the game with a 14-0 scoring run. The walking bucket raced to 23 points without missing a single field goal or a free throw.
It looked like he was going to finish on a perfect 100% before missing his only shot deep in the final quarter. 
Brendan Okoronkwo - Team Solent Kestrels, guard
15 POINTS, 8

 REBOUNDS,

 4

 A

SSISTS

, 

2

 BLOCK

S

, 

22

 

EFFICIENCY

 
The former Worthing guard was influential in Solent's quick start and was one of four Solent stars to shoot at 50% or better from beyond the arc. 
When he wasn't lighting up the score board, Okoronkwo's influence on the game extended off the court as well. At times the experienced leader was giving positional/play advice to his peers as the Kestrels' easily overmatched their opponents.
He personified his team's relentlessness to shoot the three but also play high intensity at both ends. On one occasion he looked like he was going to pull the trigger but noticed his feet were on the three-point line and decided to pass.  
Defensively, Okoronkwo led the way with two blocks and was part of a defensive unit that restricted Newcastle to just 26 first half points. 
Ian Smith - Team Solent Kestrels, guard
18 POINTS, 9

 RE

BOUND

S, 5

 ASS

ISTS

,

 22

 

EFFICIENCY

 
The reigning NBL Player of the Year had a very good game as he led his side with a 40+/-, showing the value of keeping him on the floor in the North versus South match up. 
The floor general led all players in rebounds and no one recorded more than his five assists as the pass-first guard left everything on the floor.  
Shooting-wise, Smith made half of his attempts from beyond the arc. 
Team Basketball
First quarter sees Kestrels soar
Team Solent Kestrels made sure they were locked in on the defensive end as they held Team Newcastle University to just nine points in the first quarter. 
The key to this victory was good ball movement around the perimeter, providing and taking good looks that allowed the starting five to average just shy of an impressive 58 3P% as a collective. 
Defensively they looked to limit the threats of Brandon Federici and Ronald Blain somewhat by giving them tougher shots and contesting where possible.
Hemel's strong start
Hemel had to be on their guard with Worthing coming into town following a gutsy performance to knockout second seeds Thames Valley. 
It was a great team performance in the first quarter to give the side a nine-point lead with Tayo Oyefusi and Bode Adeluola all contributing to the scoring alongside the American duo of Williams and Poleon. 
Hemel made light work offensively of the opposition, only needing 60 or so shots to make 37 field goals compared to Worthing shooting 32-84. 
Honourable mentions
Orlan Jackman (TSK) – 13P/8R/4A/21EFF  
Greg Poleon (HEM) - 22P/15R/3A/1S/35EFF 
Max Richardson (WOR) – 22P/11R/2A/2S/1B/28EFF  
Ronald Blain (NEW) – 24P/3R/2A/3S/15EFF  
Brandon Federici (NEW) – 14P/5R/2A/5S/17EFF 
.