The NBL awards continue this afternoon with our second yearly honour, Defensive Player of the Year.
Overall, 15 different players from the nomination list received at least one vote, but there was a clear winner once all was said and done.
After becoming an integral part of a defensive unit that held opponents to a league low of 66.6PPG whilst nabbing 1.6 steals per game for good measure, the winner of this year's Defensive Player of the Year award is Solent's Andre Arissol!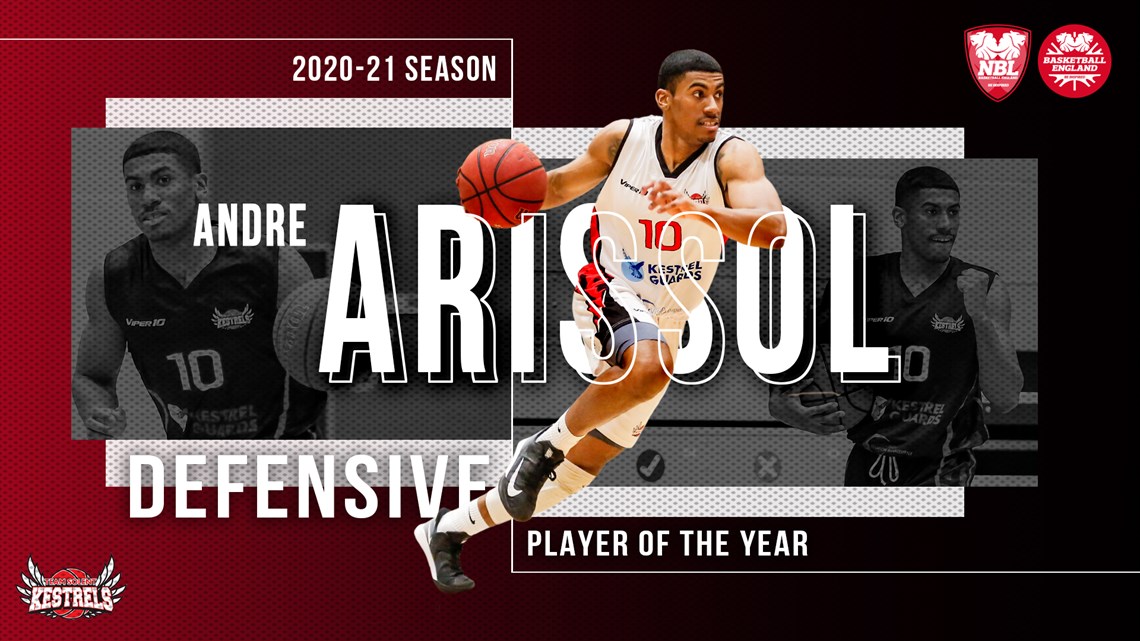 Andre Arissol said:
"I'm so grateful for this award, it definitely is a humbling moment for me because it just proves that hard work definitely pays off.
"Being recognised for my defence is personal for me because I have prided myself on it since I was 14, starting basketball.
"But none the less, it's not just me, our team do a great job on the defensive end, period! So they make my job easier when pressuring and being disruptive.
"However I'm grateful overall and will always give the praise to God and my team, thank you!"
A selection of Arissol's defensive highlights can be viewed below:
Solent's head coach Matt Guymon:
"Andre has done an incredible job for us this season and his efforts on the defensive end have been a big part of our success. 
"Often he has led from the front, setting the tone for the rest of the group and he's played a big part in our team's defensive strategies as well as individual match ups.
"He has limited a number of the most impactful offensive players in the league and this is a well deserved accolade for him."
Although there could only be one overall winner for 2020/21, there were a number of other standout performances this past season that caught the attention of D1M coaches across the league.
Each coach was given three votes to allocate across this year's nomination lists, which can be viewed by clicking here.
A 1st place vote was worth three points, a 2nd place vote was worth two point, and a 3rd place vote was worth one point. A breakdown of this year's voting can be seen below, with the number in brackets representing the number of 1st place votes received. Congratulation to all!
Andre Arissol (TSK) - 19 points (3)
Hakeem Sylla (TVC) - 12 points (3)
Reis Pinnock (LOU) - 11 points (2)
Ronald Blain (NEW) - 9 points
Zaire Taylor (WOR) - 8 points (2)
Ollie Stanley (DER) - 7 points (1)
Taylor Johnson (TVC) - 7 points (1)
Elliot Dadds (TSK) - 7 points (1)
Tayo Oyefusi (HEM) - 3 points (1)
Veron Eze (BAR) - 2 points
Edrick Okunola (BAR) - 2 points
Lee Hodges (ESS) - 2 points
Levi Noel (HEM) - 1 point
A.J. Roberts (OAK) - 1 point
Carl Pearson (LEI) - 1 point
Today's award continues a week of NBL end of season honours in the lead up to this weekend's NBL Division One playoff final between Team Solent Kestrels and Hemel Storm.
There are plenty of other accolades still to be announced this week, the remaining schedule is as follows:
Wednesday 12 May
3pm – Young (U19) Player of the Year
Thursday 13 May
10am – Coach of the Year
3pm – British Team of the Year
Friday 14 May
10am – NBL Team of the Year
3pm – Player of the Year
All our awards will be announced on the NBL social media channels, so use the buttons below to take a look.
.
.