Rebound's Chris Hughes picks his NBL Team
of the Week and highlights
five
honourable mentions
as well as two impressive 
team performances.  
Chris, a content producer, YouTube host and commentator, discusses his picks from the second weekend of the NBL Division One Playoffs.
Have your say on this week's choices and give a shout-out to the players you think deserve one using the hashtag #NBL2021. Don't forget to tag us!    
Twitter:  @NBLengland / @Rebound__  
Facebook:  @NBLengland  / @ReboundNBL  
Instagram:  @nblengland / @reboundnbl  
How it works 
The Basketball England NBL Player of the Week goes straight into the starting line-up.    
The other four players are picked with the following factors in mind:    
Efficiency 

 

Stats 

 

Team and opposition strength 

 

Periods of influence in the game 

 
The Rebound team of the week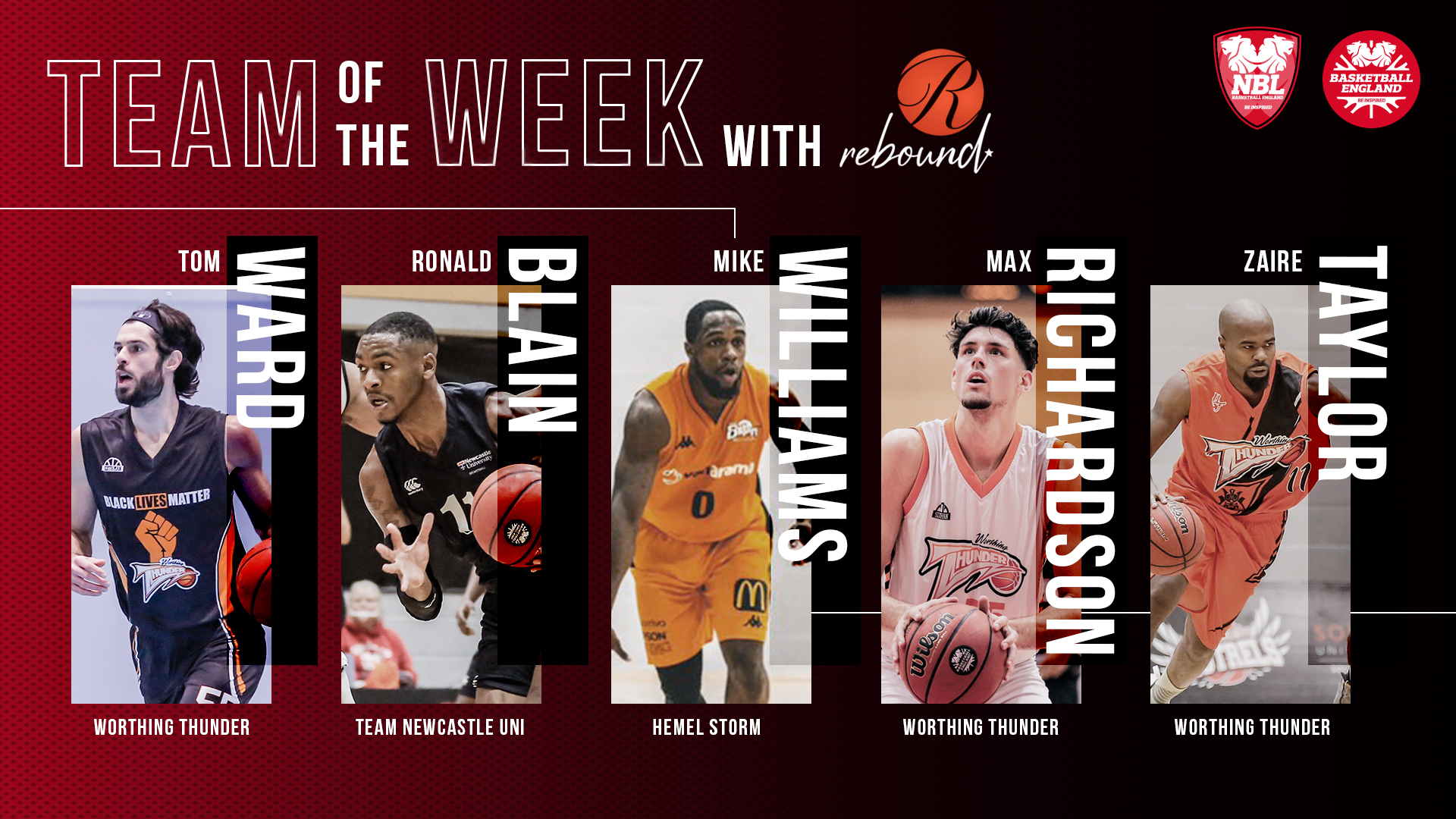 Tom Ward – Worthing Thunder, guard

   
35 points, 11 rebounds, 4 assists, 1 BLOCK, 36 efficiency
Tom Ward put in a 'Player of the Week' performance that was the catalyst for seventh seeds Worthing knocking out knocking out the second seeds Thames Valley.
If your coach keeps you on for all 40 minutes you know you are doing something right.
Ward led all scorers with a mammoth 36 points. The mid-range hotshot also excelled from beyond the arc making half of his eight shots as well as an efficient 75 free throw percentage.
Ronald Blain – Team Newcastle University, forward  
21 POINTS, 9 rebounds, 4 assists, 4 steals, 3 BLOCKS, 30 efficiency
Team Newcastle University have made the semi-finals on their return to the NBL Division One.
With 05:45 remaining Ronald Blain was influential in getting the win with his side trailing by eight points – he was clutch and provided 4p/3a/2s/1b.
The forward went like the clappers getting 11 points as Newcastle dictated the second quarter with a 25-16 quarter score.
Mike Williams – Hemel Storm, forward  

 
30 POINTS, 5 rEBOUNDS, 5 ASSISTS, 2 BLOCKS, 32 effICIENCY
Mike Williams cooked up a storm of a performance worthy of a Player of The Week gong. It was probably one of, if not his best, individual performance of the season.
One of Williams' two threes was a long-range sniper shot from half way.
The former Rutgers' star was the key man in securing a semi-final spot for the Hertfordshire side as they sealed have a home encounter with Worthing.
Max Richardson – Worthing Thunder, forward  
16 POINTS, 12 REBOUNDS, 2 assists, 1 BLOCK, 27 EFFICIENCY
Max Richardson was at it again with a highly efficient performance. The former Loughborough forward's minutes were limited due to foul trouble but he did not let that stop him getting a double-double.
Richardson operated well in the paint as well as a perfect shooting from the charity stripe and from three-point range. He was part of well-coached team that caused the Cavaliers numerous problems.
Zaire Taylor – Worthing Thunder, guard
10 POINTS, 6 REBOUNDs, 4 assists, 4 STEALS, 2 BLOCKS, 18 efficiency
Zaire Taylor caught the eye in a stat-packed all-round performance. The on and off-court leader impressed at both ends as part of a team that seemed like they wanted the W more.
Worthing weathered a late comeback attempt and went into the final stretch of the game in style with highlight plays.
Team basketball

   
A typical third-quarter special from SOlent was key
Team Solent Kestrels made sure they were locked in on the defensive end as they prevented Loughborough Riders from getting more than 16 points in any of the four quarters.
It is a typical occurrence to see the three-time NBL D1 champions use the third quarter to race away from the opposition. Saturday was no different as Solent sank 29 points to the Riders' 14.
It was a team performance at both ends to set up a home semi final versus Team Newcastle University.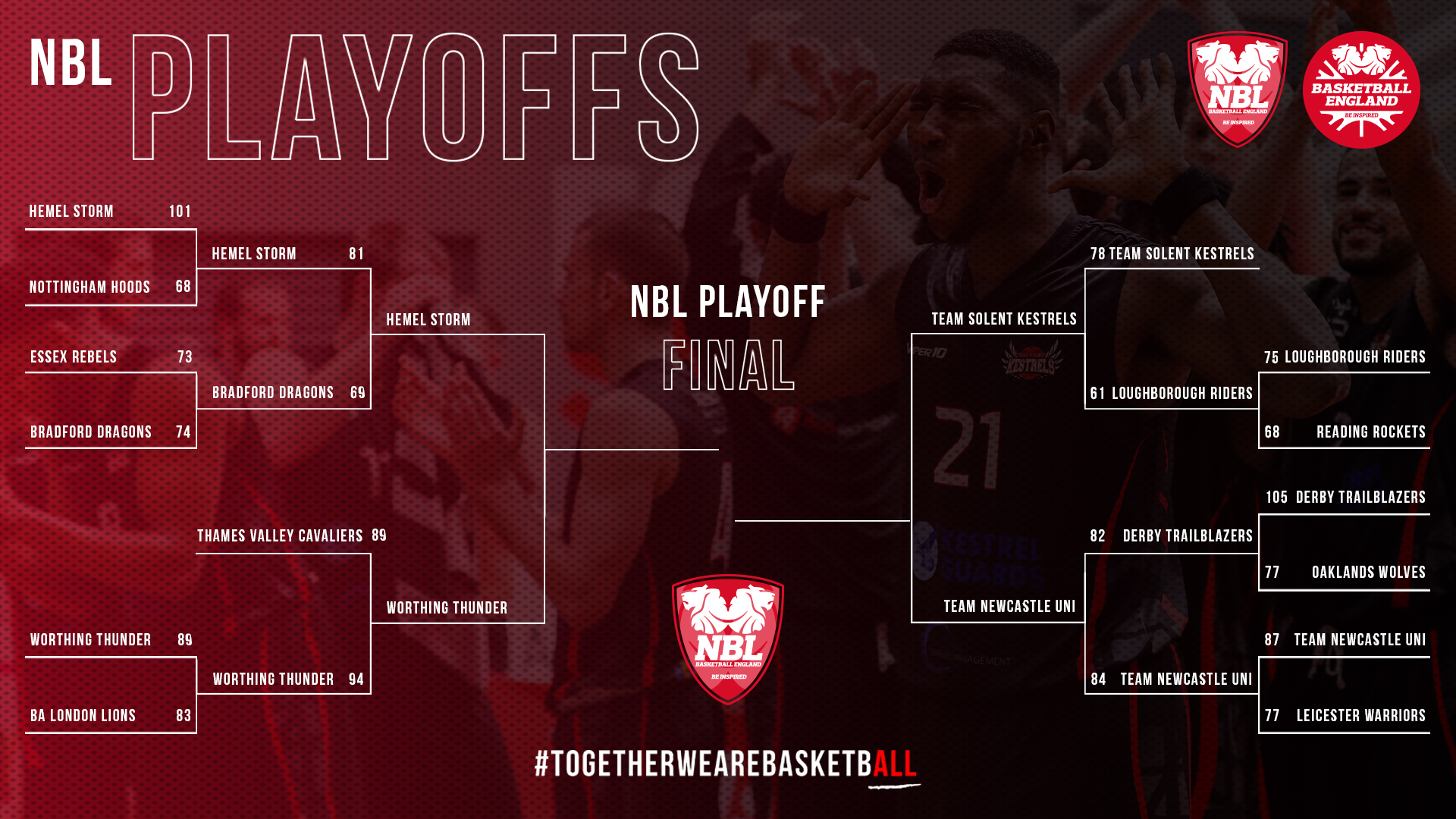 Worthing Thunder upset the cavaliers
On paper this may have been one of the quarter-finals an upset was least expected from but Worthing played with an energy and desire to knock out the second seeds on their own court.
What really impressed me the most with Worthing's performance was the defensive energy from Zaire Taylor and Co.
Honourable mentions   
Hakeem Sylla (TVC) – 17P/11R/1A/4S/27EFF
Taylor Johnson (TVC) – 24P/6R/7A/2S/26EFF                                                                                                                              Rihard Sulcs (BRA) – 19P/12R/2A/4S/23EFF
Charlie Brown (DER) – 6P/8R/13A/1B/23EFF
Blake Bowman (DER) – 15P/10R/3A/1S/23EFF
.