FocusHoops' Darren Paul was able to watch Ipswich claim the 2020/21 regular season title as he put together his Team of the Week.
As a writer, commentator, podcaster and more, Darren had a choice from seven contests across week 27, with plenty of notable performances to sift through.
Have a look over this week's choices and give a shout-out to the players you think deserve one using the hashtag #NBL2021. Don't forget to tag us!  
Twitter: @NBLengland / @FocusHoops  
Facebook: @NBLengland  / @FocusHoops  
Instagram: @nblengland / @focushoops  
How it works  
The Basketball England WNBL Player of the Week goes straight into the starting line-up.  
The other four players are picked with the following factors in mind:  
Efficiency 

 

Stats 

 

Team and opposition strength 

 

Periods of influence in the game 

 
The FocusHoops team of the week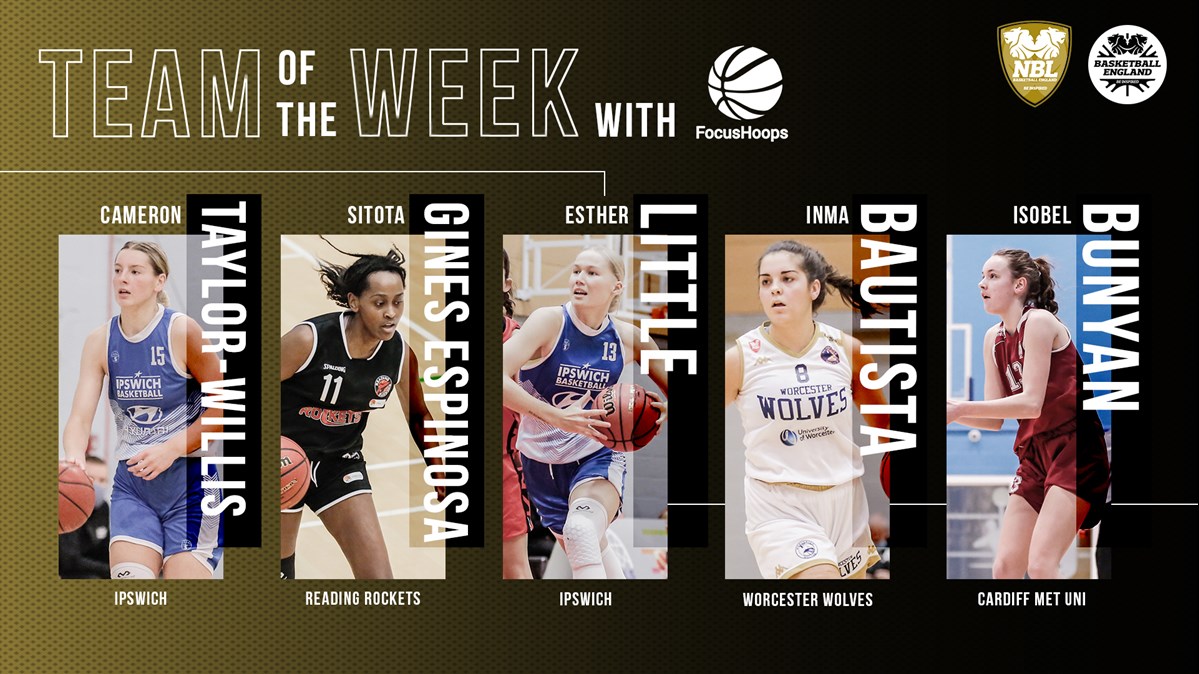 Cameron Taylor-Willis - Ipswich, forward
26pts, 8reb, 1ast, 2STL 29eff
Ipswich clinched the WNBL D1 title this weekend in spectacular fashion thanks to a 38 point home victory over Loughborough on Saturday. A huge part of that victory came courtesy of Player of the Week Cameron Taylor-Willis and her 26 points on 61% shooting.
Taylor-Willis played an efficient game of basketball, with great scoring, solid rebounding and an assist in her 35 minutes of game time.
CTW made three triples and went 8-13 from two-point land, pulling down two offensive rebounds and grabbing two steals as the talented forward once again played an integral role in a big win for the league champs.
As we gear up for the playoffs, Ipswich will be relying on more of the same from the GB age group star and we're confident she'll meet the challenge.
Sitota Gines Espinosa - Reading Rockets, guard
24pts, 9reb, 3ast, 8STL, 2BLK, 32eff
Sitota Gines Espinosa has been ever present in the WNBL Team of the Week this season and she had FocusHoops on triple-double alert during Reading's 28 point win over Cardiff on Saturday.
Gines Espinosa played efficient and effective basketball, scoring at 53% from the field, sinking three triples and hitting three of four at the line. The Rockets' guard also complemented an excellent scoring outing with great defence, not only notching eight steals but grabbing seven defensive boards and sending back two shots to give Cardiff Met problems all afternoon.
Reading close out the season next weekend against Ipswich in a clash involving some of the league's standout stars, Gines Espinosa included.
Esther Little - Ipswich, wing
15pts, 16reb, 4ast, 8BLK, 37eff
Esther Little had one of her better recent scoring performances this weekend as the America-bound star made seven of eight shots to finish with 15 points and 16 rebounds (15 defensive) as Ipswich once again impressed.
Little, as she has all season, cleaned up on the defensive glass and was a great contributor to her teammates, finishing the contest with four assists.
It was the wing's defence which stood out the most though, with an incredible eight blocks in the contest that kept FocusHoops on alert for what would have been a remarkable triple-double.
As coach Drane's ballclub look for playoff glory, they'll be needing more performances like this for Little before she starts her incredible collegiate adventure in the Autumn.​
Inma Bautista - Worcester Wolves, guard
23pts, 19reb, 6ast, 1STL, 31eff (SUN v TVC)
Team of the Week performances are only based on one game, however Inma Bautista had a combined 47 points, 25 rebounds and 14 assists in her two games this weekend. Most players don't enjoy that kind of production in a month!
It was her performance in Worcester's narrow nine point loss to Thames Valley on Sunday which garnered the Wolves' guard honours here however.
As mentioned, Bautista followed up a big 40 minute performance on Saturday with an enormous 23-19-6 double-double that is amongst the most impressive recorded all season.
The Worcester star made three triples in the contest, but it was her work from the line that stood out, going 8 of 8, having drawn nine fouls in a physical ball game.
Her importance to the Wolves cannot be understated and if they hope to progress in the playoffs, they'll need her in top form.
Isobel Bunyan - Cardiff Met Archers, wing
15pts, 15reb, 2ast, 3STL 23eff
Isobel Bunyan has been one of the stars to emerge from 2020/21 and alongside team mate Carys Roy, the duo have enjoyed standout seasons in a tough campaign for Cardiff Met.
This weekend was no exception as Bunyan came away from Cardiff's 14 point road victory over fourth placed Team Solent Kestrels with a 15-15 double-double.
Bunyan's performance at the line and on the glass stood out as she went 5-6 from the stripe (being fouled on four occasions) but it was her game high 15 rebounds (including a game high in defensive boards) and a tied game high in offensive rebounds that caught the eye.
Bunyan also came away with three steals and two assists to cap off an all round excellent performance from the Welsh star of the future.
Team Basketball
Ipswich claim title in style
This weekend we could hardly avoid highlighting the new WNBL D1 regular season winners Ipswich.
After their incredible 38 point victory over their nearest rivals Loughborough Riders, it was hard to view the performance as anything other than dominant to cap what has been a highly impressive campaign.
Ipswich have been the team to beat since early in the season and in recent weeks when the pressure has been on, they have met it in resounding fashion, none less so than against Loughborough on Saturday.
The Suffolk side started the contest on fire and maintained that intensity throughout the 40 minutes, with Cameron Taylor-Willis, Esther Little and Harriet Welham all finishing in double-digit scoring, showing exactly why they are the 2020/21 champs.
Lions roar to important win
An honourable mention goes to BA London Lions II who have done themselves a huge favour in their push for the playoffs thanks to their win over Thames Valley on Saturday.
The Lions now hold the tie-breaker over TVC and their own destiny is in their hands as victory over Worcester will see them make the final eight, regardless of what TVC do next weekend.
Honourable mentions
Gaila Comensana (REA) - 15P/13R/3A/23EFF
Princess Adeogun (TSK) - 11P/8R/5A/21EFF
Katherine Goldsby (TVC) - 21P/13R/1A/4S/25EFF
Carys Roy (CAR) - 16P/9R/4A/24EFF
Makana Stone (LOU) - 21P/14R/2A/24EFF
.