Week seven contained some huge results in D1M, and Rebound's Chris Hughes was there to catch all the action.
Chris, a content producer, YouTube host and commentator, was able to mull over London Lions II's win against much-fancied Nottingham, plus big road wins for Thames Valley and Hemel, alongside three other D1M games, with the aim of selecting his Player of the Week and four other standouts to make up his Team of the Week as well.
Have your say on this week's choices and give a shout-out to the players you think deserve one using the hashtags #NBL2122 and #ReboundTOTW. Don't forget to tag us!    
Twitter:  @NBLengland / @Rebound__  
Facebook:  @NBLengland  / @ReboundNBL  
Instagram:  @nblengland / @reboundnbl  
How it works 
Chris will pick a Player of the Week and four other selections to round out his Team of the Week, paying attention to the following criteria:
Efficiency 

 

Stats 

 

Team and opposition strength 

 

Periods of influence in the game 

Being on a winning team (exceptional performances from players on losing teams will be considered for TOTW)
Other players will also receive a shout out as honourable mentions at the bottom of the piece.
The Rebound team of the week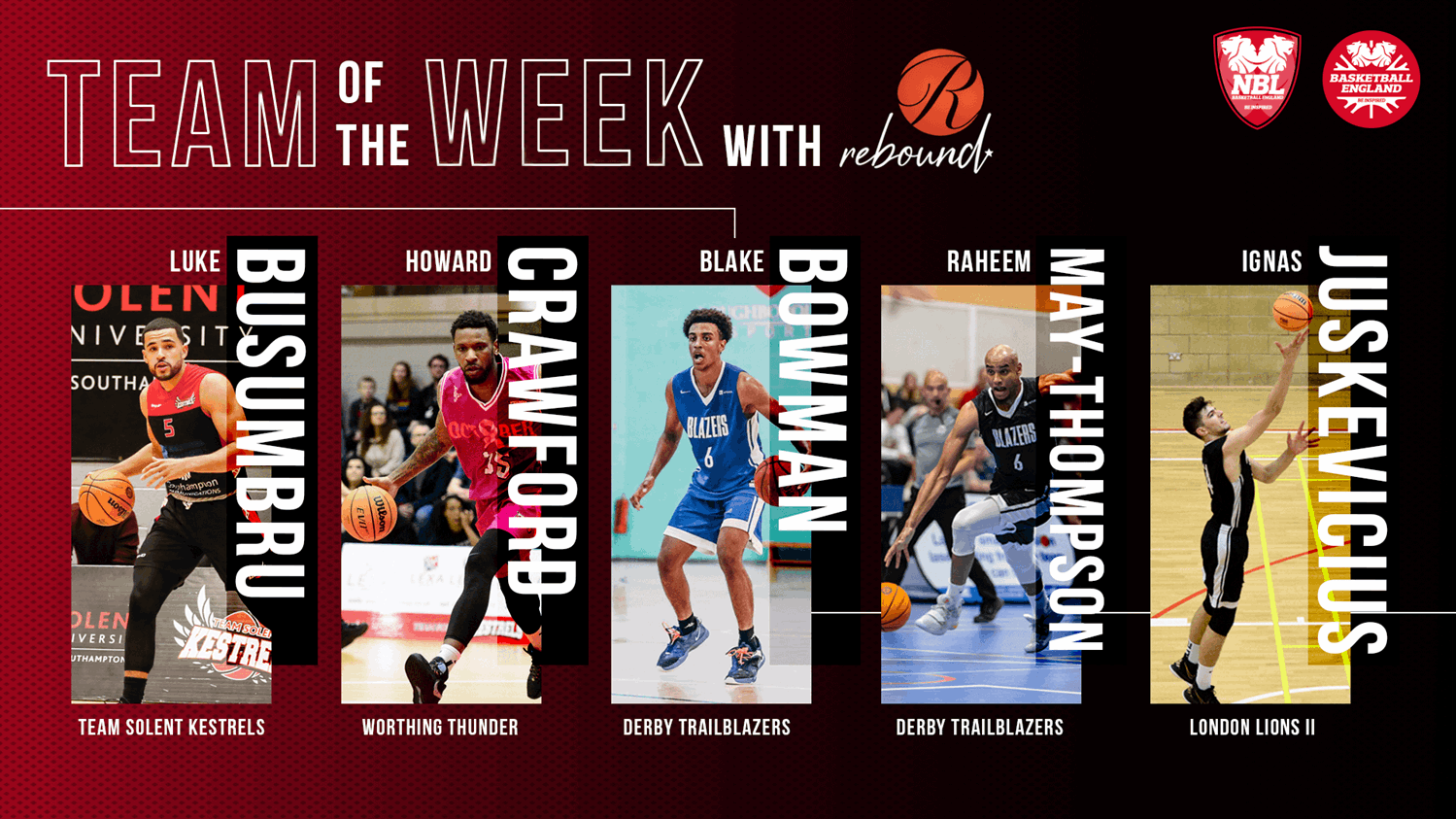 PLAYER OF THE WEEK
Luke Busumbru – Team Solent Kestrels, guard
15PTS, 11REB, 10AST, 1STL, 0TO, 1BLK, 36EFF
A healthy Luke Busumbru in this kind of form is too hot to handle.
Triple-doubles are hard to come by in the NBL. Luke Busumbru got one in a dominant 58-point blowout win while playing less than 20 minutes!
One of the league's fastest guards quickly filled the stat sheet and was efficient too, netting all six of his field goal attempts.
The Solent man is one of the main reasons the Kestrels have started so well this year, and he's more than deserved a regular starting slot in this stacked squad.
Howard Crawford – Worthing Thunder, forward
26PTS, 8REB, 4AST, 2BLK, 39 EFF
Howard Crawford put in a 'Player Of The Week' calibre performance, leading his side to a big win at Hemel to further cement Worthing's title ambitions.
It was an impressive two-way performance from the big man as Crawford was on hand defensively for his team, with a game-high tally of six defensive rebounds (tied) plus two blocks.
Thunder's import star also put on a shooting clinic, leading his side with 26 points, making 71% of his 14 field goals.
Ignas Juskevicius - London Lions II, forward
23pts
Ignas Juskevicius, a 17 year old 6"6 forward, led his side with 23 points as the Lions enjoyed a surprise 84-80 win over in-form Nottingham Hoods.
In response to no Live stats currently being available for the game, I spoke to both head coaches in the aftermath.
Juskevicius' head coach James Vear remarked that the forward had the "game of his life" and Nottingham's coach Stanley also felt the youngster had a very good game. Honourable mentions also went to Jeffrey Okunola and Elijah Maynard, as both coaches picked out the Lions' duo as other stand-out performers.
London's Jase Harrison also spoke about Juskevicius, adding: "He gave us second chance points, had a big block down the stretch, he was solid scoring in the paint down the stretch too. It was just an overall great performance from a young guy!"
Blake Bowman – Derby Trailblazers, wing
25PTS, 8REB, 2STL, 0TO, 25EFF
Blake Bowman returned to the Trailblazers' bench this weekend and was a key cog for Derby in the road win against Loughborough.
One of the stand-out junior players from last season, Bowman sealed the divisions Young Player of the Year award in 2020/21 and showed his continued development here as he led all players with 25 points, hitting a nice 60/50/70 shot percentage.
In a sub 24-minute performance, Bowman was the most influential player in the 7-point win with a game-high +/- of 19.
Raheem May-Thompson – Derby Trailblazers, forward
18PTS, 9REB, 2AST, 7STL, 3 BLK, 32EFF
Former BBL veteran Raheem May-Thompson put on a master class defensive display this weekend, with a mammoth seven steals and three blocks. May-Thompson's individual presence as part of an overall team effort limited the Riders to under 10 second chance points as Derby beat local rivals Loughborough 79-72.
May-Thompson also shot well for his 18 points, netting seven from 12 attempts to cap a two-way effort that proved to be a key catalysts in the narrow win.
Team Basketball
BRIGHT START CONTINUES for London Lions II
The side formerly known as Barking Abbey continue to grow on and off the court and many will be surprised to see them sitting in fifth place after a great start to the season.
Coach Vear has an impressive group of young men who play well as a unit, built around a very talented star in the form of Jase Harrison.
This weekend it was the highly fancied Nottingham Hoods who took an L as Lions II defended their home court.
THUNDER WORTHY OF TITLE AMBITIONS
A winning double header weekend for the South Coast side in both league and cup action keeps Worthing as serious contenders for multiple honours this year.
The pick up of Lucien Christofis has added premier depth to the side. I was also impressed with Hafeez Abdul's performance from the bench as well as Jarred Dixon's all round performance on Saturday against a tough opponent in Hemel.
The good play continued for Thunder as they went at it once again on Sunday, beating divisional rivals Reading Rockets to qualify for the NBL National Cup quarter-finals.
Honourable mentions
Taylor Johnson (HEM) – 25P/9R/6A/4S/1B/28EFF
Elliott Sentance (TSK) BENCH 24:03 – 29P (7-10 3PM)/4R/2S/25EFF
Ronald Blain(NEW) – 30P/5R/6A/1S/1B/31EFF
Zach Gachette (BRA) – 31P/3R/6A/3S/32EFF
Greg Poleon (HEM) – 29P/11R/1A/34EFF
.