St Albans Wolves coach Tor Freeman has been named as a finalist in the Young Coach of the Year category at this year's UK Coaching Awards. 
The 22-year-old, who coaches Wolves' U16 girls, is part of a 26-strong list of finalists, which includes Team GB's gymnastics coach Scott Hann MBE, coach to multi-Olympic medallist Max Whitlock. 
Freeman, who is originally from Worthing and a former Thunder player, said: "I don't think I fully appreciated the significance of being named a finalist. It's quite a big deal. 
"To see the other nominated coaches and how they took the pandemic in their stride and being on the same page as Olympic and Paralympic coaches is quite exciting. You can see the pathway [for performance coaching], to move from young coach to an elite level."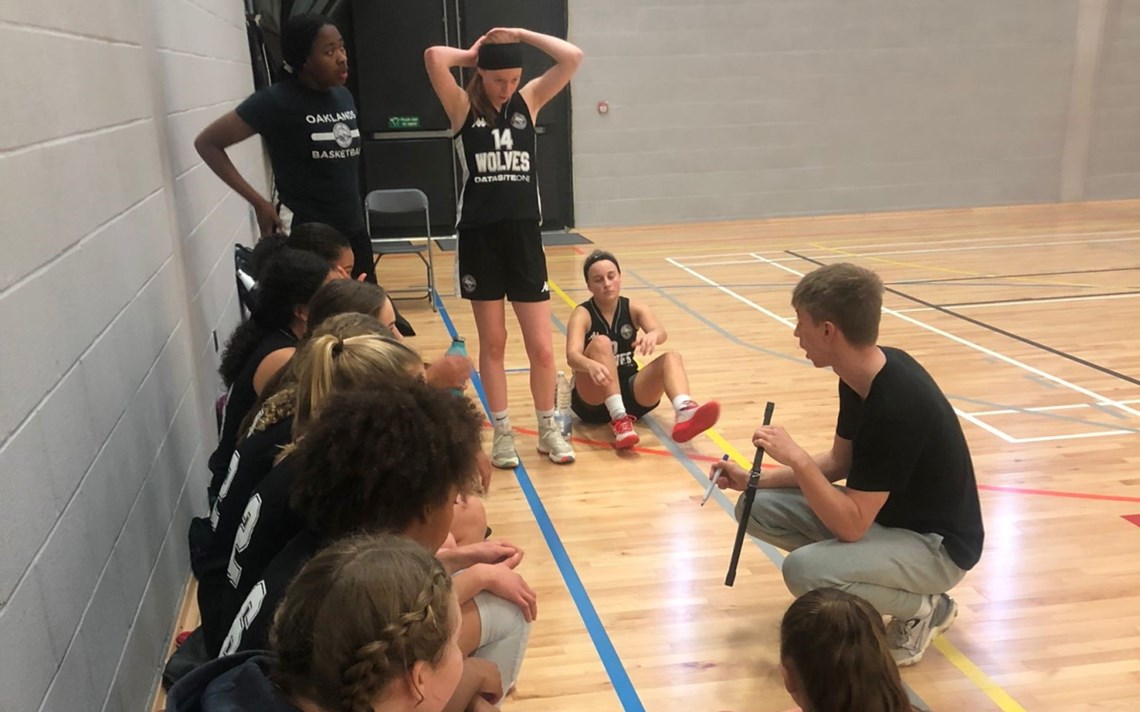 'Passionate attitude'
St Albans Wolves Director of Basketball and head coach at Oaklands College Michael Ball said that Freeman had made 'such a difference' to the girls' programme since he came to post with his passionate attitude. 
His coaching ethos is about creating a participation and performance environment for girls who want competitive basketball, with the potential to move onto elite women's basketball. 
With the 2019/20 season written off because of the pandemic, Freeman kept his players engaged virtually through video training sessions, video analysis of games, challenges and fitness activities, and guest speaker sessions. This season, however, the Wolves have made a dominant return the fray and are top of their league – the U16s Girls South 1, as part of Basketball England's Jnr. NBL structure – with four wins and one loss.   
With a keen interest in pedagogy, Freeman also works as a teaching assistant and is studying a graduate diploma in law, yet, even with those extra stings to his bow he remains committed to a career in coaching. 
"I would like to move up the coaching pathway, but it's got to be the right opportunity. I think in the UK it's tough, you've got to pick and choose your opportunities if you want to go to that really high-level; in the states or the NBA, but it's definitely something I want to pursue." 
Basketball England's Coaching Delivery Manager Brian Aldred said: 
"Many congratulations to Tor on his achievement. UK Coaching is the lead organisation for sports coaches in the country, so to be named as a finalist at their awards is a huge milestone for any coach.  
"We believe that coaches play a central position in facilitating basketball that changes people's lives and our ambition is to support and nurture our coaches to be the best they can be. It's fantastic to see this being realised through the likes of Tor."   
UK Coaching's CEO Mark Gannon, said: 
"This year the bar has been raised once again, and whilst we are fully aware of the power of coaching across the UK, our brilliant coaching workforce continues to surprise us and push the boundaries to support people and their communities. 
"The complications and anxieties caused by the pandemic have affected so many, but coaches have been there every step of the way ready and willing to adapt – not just persevering but excelling. Out of the nation's darkest moments, coaches have stepped up to be leaders and mentors to their participants, when they needed it most – and that is what great coaching is all about. 
"Nearly three million people regularly coach across the UK and joining us in December will be the very best of what is a remarkable workforce, who have responded to the call of a nation who for so long were deprived of 'normal' physical activity and sport. 
"Thank you to all our coaches across the UK, and to our finalists. We are all looking forward to celebrating your achievements in December."  
The UK Coaching Awards recognise the remarkable contribution coaches make in transforming lives in communities nationwide. The prestigious event will be hosted in-person in Leeds on the 7 December.