With 11 games in week six, Rebound's Chris Hughes was spoiled for choice for his Player and Team of the Week selections.
Chris, a content producer, YouTube host and commentator, watched both Nottingham and Solent lose to leave no unbeaten teams in D1M plus plenty of other action in his quest select his Player of the Week and four other standouts to make up his Team of the Week as well.
Have your say on this week's choices and give a shout-out to the players you think deserve one using the hashtag #NBL2122 and #ReboundTOTW. Don't forget to tag us!    
Twitter:  @NBLengland / @Rebound__  
Facebook:  @NBLengland  / @ReboundNBL  
Instagram:  @nblengland / @reboundnbl  
How it works 
Chris will pick a Player of the Week and four other selections to round out his Team of the Week, paying attention to the following criteria:
Efficiency 

 

Stats 

 

Team and opposition strength 

 

Periods of influence in the game 

Being on a winning team (exceptional performances from players on losing teams will be considered for TOTW)
Other players will also receive a shout out as honourable mentions at the bottom of the piece.
The Rebound team of the week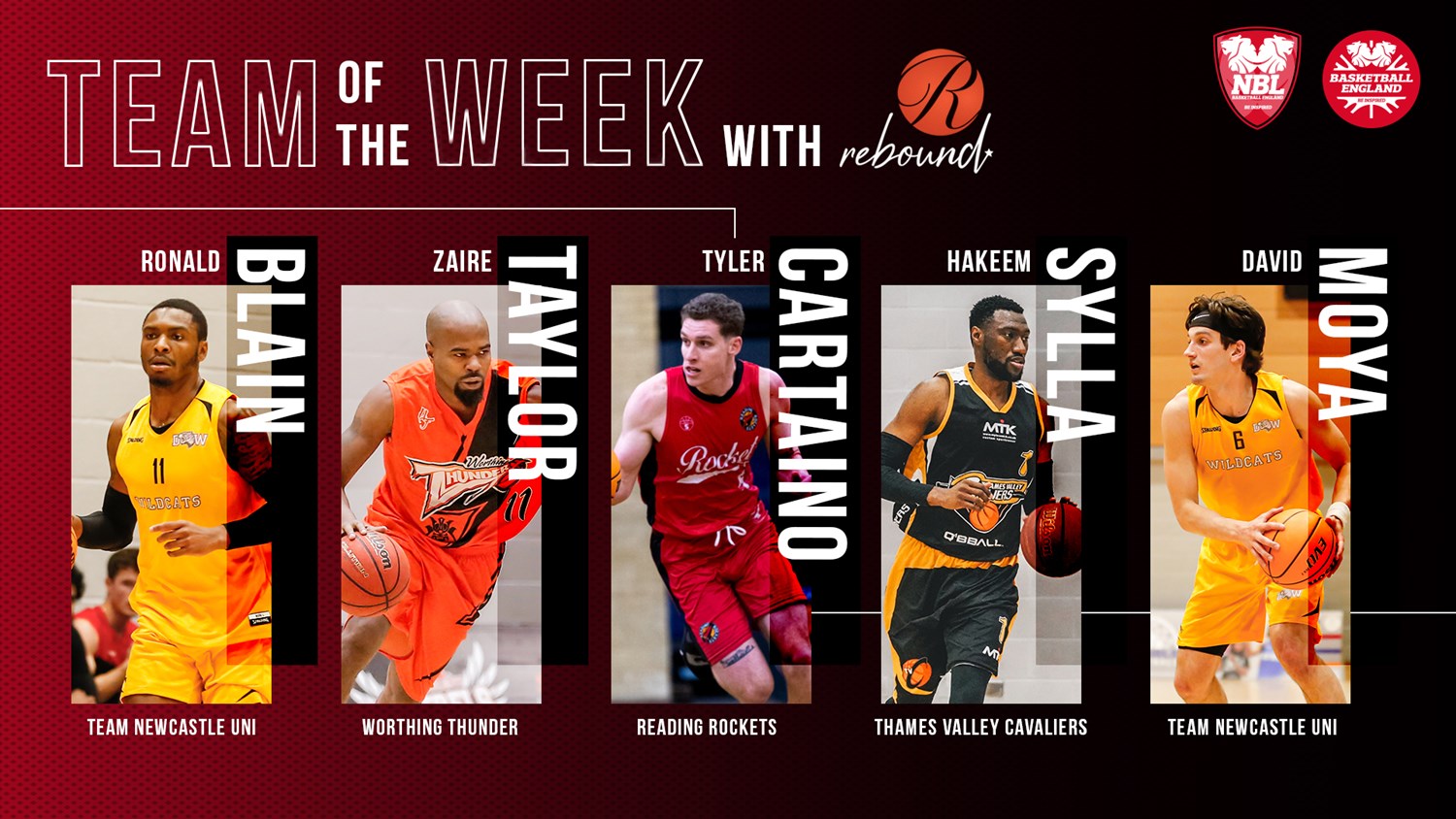 PLAYER OF THE WEEK
Ronald Blain – Team Newcastle University, forward
24PTS, 14REB, 8AST, 1BLK, 33EFF VS NOT
31PTS, 10REB, 5AST, 4STL, 4BLK, 36EFF @ DER
What a weekend from Ronald Blain!
Blain and Newcastle proved they are not to be underestimated with two big wins versus title contenders across their double-header weekend. The man himself said the performances from this weekend may well be key once we reach the post-season, and it's hard to disagree.
In Saturday's clash with Nottingham, the former Hawaii Pacific forward flirted with a triple double as his all-round game was on full display, recorded a game-high +/- of 19 to hand the Hoods their first D1M loss of the season.
In Sunday's road game against Derby, the hard-to-guard forward was filling the stat-sheet once again with a great two-way performance, adding four steals and four blocks to a 31-point scoring haul.
Zaire Taylor – Worthing Thunder, guard
24PTS, 11REB, 7AST, 1STL, 1BLK, 39 EFF vs DER
It may well be his last dance but Zaire Taylor is still excelling. The Thunder's talisman put in a Player Of The Week calibre performance as he once again led his side to a big win, this time against Derby on Saturday evening.
The former BBL man put on an efficient shooting clinic, getting to 24 points with less than 10 field goal attempts, and with only one miss to his name (8-9).
Taylor also flirted with a triple-double as he was vital in the playmaking effort for the South coast side. His 11 rebounds and seven dimes pushed his team forward to an eventual 102-90 win.
Taylor was also part of a team effort as Worthing notched two wins this weekend, beating London Lions II 94-85 to move into a share of top spot. Letting his scoring take a back seat to finish with just six points, his nine rebounds, eight assists and two steals were still a solid contribution.
Tyler Cartaino – Reading Rockets, forward
16PTS, 12REB, 8AST, 2STL, 30EFF
Tyler Cartaino was another player that was close to a triple-double in what proved to be an incredible weekend of NBL action.
An impressive first half that contained solid scoring and distribution from the former Chaminade man really gave Reading some momentum, providing a 15-point half-time lead in what was billed as a difficult match up for the Berkshire side.
Cartaino showed his full range of shooting with highlight dunks and accuracy from beyond the arc in an impressive win versus Hemel, further strengthening Rockets' title ambitions.
Hakeem Sylla – Thames Valley Cavaliers, forward
19PTS, 10REB, 2AST, 0TO, 1BLK, 29EFF
Hakeem Sylla was part of a team effort of significant note on Saturday.
With their 83-78 win, Thames Valley became the first team to beat Solent on the South Coast in the regular season since 2018, and secondly, TVC became one of, if not the only, D1M side to beat TSK twice in a calendar year.
It was an efficient shooting performance from the Guinea international (8-11), however I was also impressed in how Sylla and his teammates executed coach Banks' game plan of trying to get mismatches from defensive screens.
Sylla cleaned the boards on D to prevent Solent from easy second chance opportunities, something they've enjoyed plenty of success with during their now concluded win streak.
David Moya – Team Newcastle University, guard
31PTS, 10REB, 6AST, 3STL, 1 BLK, 36EFF
Coach Elderkin trusts David Moya to deliver the goods, and the contender for D1M's assist crown played all but a shade under a full 80 minutes across Newcastle's double-header weekend.
The Knights are always an offensive threat and a lot of that is down to Moya's playmaking ability. The flashy guard can also shoot himself, netting four of his six triples against a highly fancied Nottingham side.
The American also played a part in the win versus Derby 24 hours later, again showing his all round game in the 89-82 road win.
A game-high of six turnovers against DTB was one of the only blights on an otherwise impressive weekend.
Team Basketball
CAVALIERS MAKE HISTORY AND INFLICT SOLENT'S FIRST LOSS AT THEIR NEW HOME
Revenge was on the cards for Thames Valley after Solent once again beat the Cavs in the L Lynch Trophy a few weeks ago.
The black and gold side managed to get even this weekend, inflicting a rare win on the Kestrels' home court, and the first by any team since the current champs moved to their new home at Solent Sport Complex a few years ago.
It felt like a team win but I was also impressed in particular by performances from Jakobi Bonner and clutch shooting by AJ Roberts and Blayne Freckleton. They hit the target at the right moments to get the five-point win.
KNIGHTS EARN VICTORIES IN KEY GAMES VERSUS TITLE CONTENDERS
Newcastle overcame a tough pair of double-header matchups this weekend, grabbing statement wins against Derby and Nottingham.
Based on this weekend's showing they are definitely in the top-four conversation with half a dozen or so other sides in what is shaping up to be a terrific D1M season.
Newcastle are one of the strongest offensive sides in the league and that was very much on display this weekend as coach Elderkin's side averaged close to 100 points over the two games.
Brandon Federici is one of the league's best shooters and was on fire, shooting 9-22 three-point attempts across the double-header, adding to the exploits of Blaine and Moya mentioned above.
Honourable mentions
Taylot Johnson (HEM) – 32P/10R/2A/1S/32EFF @ REA & 31P/5R/8A/1S/36EFF V LEI
Andre Arissol (TSK) – 6P/9R/7A/2S/1B/22EFF V TVC & 13P/6R/3A/0T/6S/20EFF V LOU
Van Turner (LEI) – 31P/3R/2A/1S/28EFF
Hakeem Sylla (TVC) – 14P/10R/6A/22EFF
Greg Poleon (HEM) – 24P/10R/2A/2S/29EFF @ REA & 27P/14R/2A/1S/1B/34EFF V LEI
Tom Ward (WOR) – 25P/4R/2A/1S/23EFF V DER & 12P/11R/3A/3S/21EFF V LL2
.