It's that time of week once again when some truly special performances get the recognition they deserve following another week of NBL action.
Rebound's Chris Hughes, a content producer, YouTube host and commentator, had his gaze on all the action to select his Player of the Week and four other standouts to make up his Team of the Week as well.
Have your say on this week's choices and give a shout-out to the players you think deserve one using the hashtags #NBL2122 and #ReboundTOTW. Don't forget to tag us!    
Twitter:  @NBLengland / @Rebound__  
Facebook:  @NBLengland  / @ReboundNBL  
Instagram:  @nblengland / @reboundnbl  
How it works 
Chris will pick a Player of the Week and four other selections to round out his Team of the Week, paying attention to the following criteria:
Efficiency 

 

Stats 

 

Team and opposition strength 

 

Periods of influence in the game 

Being on a winning team (exceptional performances from players on losing teams will be considered for TOTW)
Other players will also receive a shout out as honourable mentions at the bottom of the piece.
The Rebound team of the week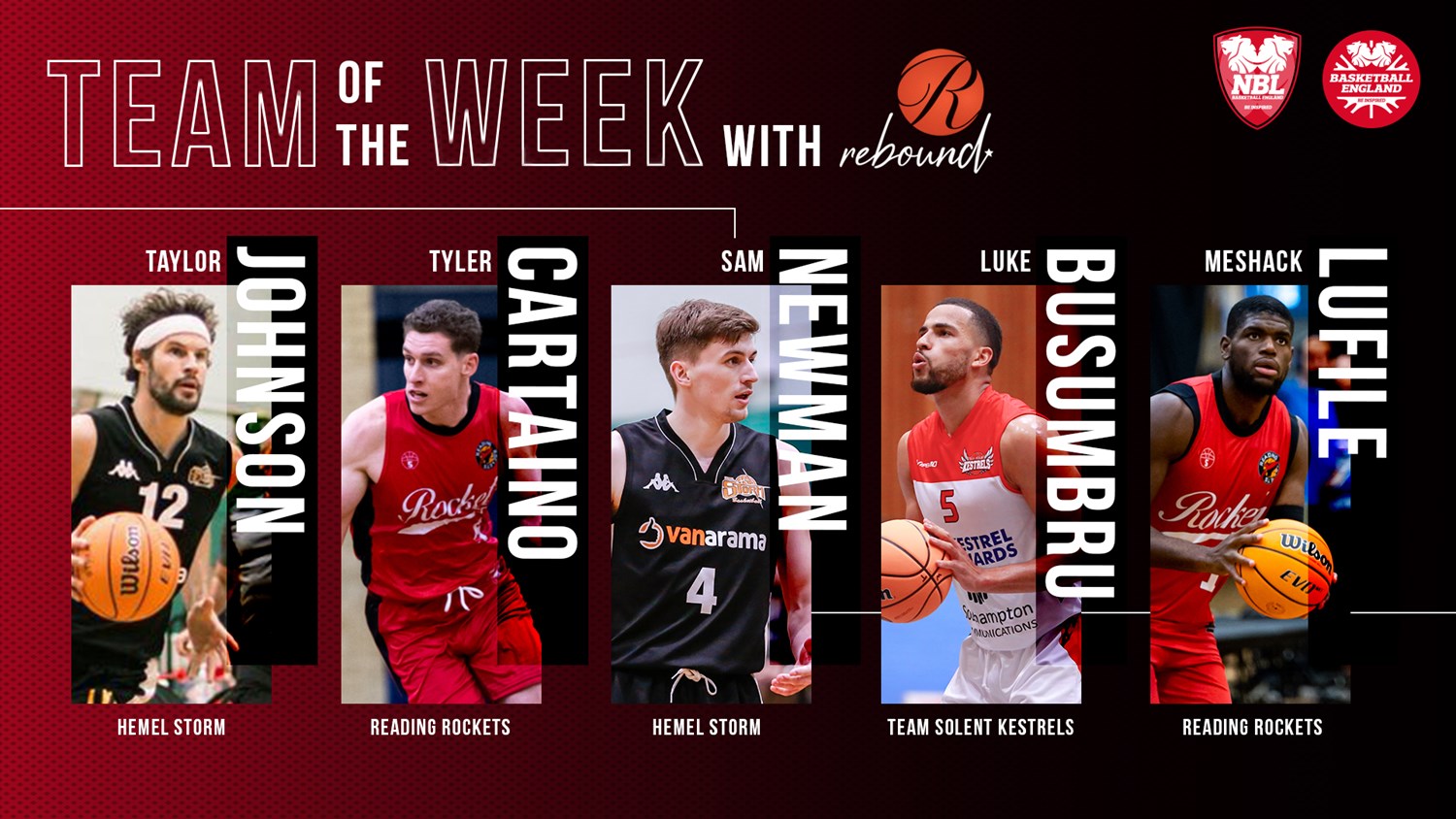 PLAYER OF THE WEEK
Taylor

 

Johnson

 

–

 

Hemel Stor

m

, g

uard

 
42PTS, 11REB, 7

AST, 

2STL

,

 4

8

EFF

 
Last week's Player of the Week was at it again in the comeback win over Team Newcastle University. Taylor Johnson helped Hemel get the win after they were trailing by six points at the end of the third quarter. 
The former Dartmouth College guard shot efficiently (17-24 FGM) and showed his ability from range with 5-8 from beyond the arc. 
Johnson was three assists away from a triple-double as he did a bit of everything to help Hemel get the win, including pulling down five offensive boards to give his side second chance opportunities. 
Tyler 

Cartaino

 

–

 

Reading

 

Rockets

, 

forward

 
33PTS, 9REB, 3AST, 10STL, 2BLK, 42 EFF @ LIONS 
25PTS, 6REB, 2AST, 5STL, 3BLK, 26EFF vs RIDERS 
Tyler Cartaino served up a performance worthy a Player of the Week gong in the first game of an impressive double-header effort. 
It was an unconventional and sadly unsuccessful triple-double attempt from the former Chaminade star with 10 steals in the capital. The performance was one of the biggest stories from Saturday's games. 
On Sunday, he hit half of his threes and finished the weekend averaging 7.5SPG as the versatile star put on a good two-way performance. 
Sam

 

Newman

 

–

 

Hemel

 

Storm

, g

uard

 
22PTS, 5REB, 9

AST, 

1STL, 31

EFF

 
Sam Newman was name-checked in last week's team performances and backed it up with another impressive performance here.  
In the win versus top-four contenders Newcastle, the former Essex Rebels' guard created spacing in a starting five who all shot over 40 3P%. 
The fast-paced ball handler compliments Hemel's commitment to hitting teams on the break and he was on hand to contribute as the secondary scoring threat with 22 points and a 58 FG% while regular-season MVP Greg Poleon sat out once again.  
INSERT RECAP TWEET
Luke Busumbru 

–

 

Team

 

Solent

 

Kestrels

, 

gu

ard

 
17

PTS, 

6REB, 4

AST, 

1STL, 25

EFF

 
Injuries to Brendan Okoronkwo and Travis Charles may have dictated that Luke Busumbru got a starting berth, but the guard - who was a free agent for quite a while - is putting in performances to show why he should have been snapped up sooner. 
With the job done early in what was eventually a 67-point win over Essex, the fast-break specialist was unstoppable in getting to the hoop – and did so without a turnover to his name. He also added a bit of range to his performance, going 1/1 from beyond the arc.  
Sometimes Busumbru's defensive effort is not always seen on the box score. On Saturday, however, he led all players with a +/-51.  
Meshack

 

Lufile

 

–

 

Reading

 

Rockets

, 

forward

 
8PTS, 6REB, 5AST, 1STL, 3BLK, 17EFF @ LIONS 
23PTS, 12REB, 1AST, 3BLK, 32EFF vs RIDERS  
In limited minutes on Saturday the imposing forward did a bit of everything to help his side. 
But what really stood out was the performance on Sunday, which, for three quarters, Reading controlled well to progress to the semi-finals of the L Lynch Trophy.  
Offensively, he hit three-quarters of his attempts and evenly split his 12 rebounds at both ends. Lufile's presence under rim seem to give the likes of like Jaz Bains and AJ Basi the confidence to shoot tougher looks, knowing that the big man would give them a second chance if needed.   
Defensively, he made three blocks per game with Loughborough constantly trying different ways to evade him. 
Team Basketball
'

SHORT

-

HANDED

'

 SOLENT 

GRAB 

67-POINT WIN

 
Solent were in a relentless mood following successive five-point wins. 
With Okoronkwo and Charles absent, they were still able to bully a Rebels side in a blowout win. 
This performance felt like a flashback to last season with the team hitting more than 50% of their shots and 45% from three.  
HOODS MAKE A COMEBACK FROM A 0-16 RUN

 
In the early game, you could have been forgiven for writing off Nottingham after a 0-16 run in the second left them trailing 30-45 at half-time. 
A 33-16 third quarter showed they are mentally strong enough to remain unbeaten for the time being with two tough games coming up at Reading and Derby. 
Kyle Jimenez's entire contribution to scoring (14) came in the third quarter and was crucial for the win. Honourable mentions for Joshua Guddemi and Andrew Vickers. 
Honourable mentions
MARTYN GAYLE (NEW) – 24P/5R/2A/2S/27EFF 
KYLE JIMENEZ (NOT) – 14P/7R/8A/1S/25EFF 
JUSTIN HEDLEY (LOU) – 15P/13R/8A/27EFF @ LL II; 20P/14R/6A/1S/30EFF @ RR 
COLE GENTRY (TSK) – 22P/2R/4A/2S/26EFF 
LEVI NOEL (HEM) – 13P/7R/10A/24EFF 
.
Main image credit - Joanne Charles