Rebound's Chris Hughes once again picks his NBL Player and Team
 of the Week and highlights 
five 
honourable mentions 
as well as two impressive 
team performances.  
Chris, a content producer, YouTube host and commentator, enjoyed the best of the action from seven NBL Division One games plus an L Lynch Trophy quarter-final between Newcastle and Worthing to select his Player of the Week and four other standouts to make up his Team of the Week as well.
Have your say on this week's choices and give a shout-out to the players you think deserve one using the hashtags #NBL2122 and #ReboundTOTW. Don't forget to tag us!    
Twitter:  @NBLengland / @Rebound__  
Facebook:  @NBLengland  / @ReboundNBL  
Instagram:  @nblengland / @reboundnbl  
How it works 
Chris will pick a Player of the Week and four other selections to round out his Team of the Week, paying attention to the following criteria:
Efficiency 

 

Stats 

 

Team and opposition strength 

 

Periods of influence in the game 

Being on a winning team (exceptional performances from players on losing teams will be considered for TOTW)
Other players will also receive a shout out as honourable mentions at the bottom of the piece.
The Rebound team of the week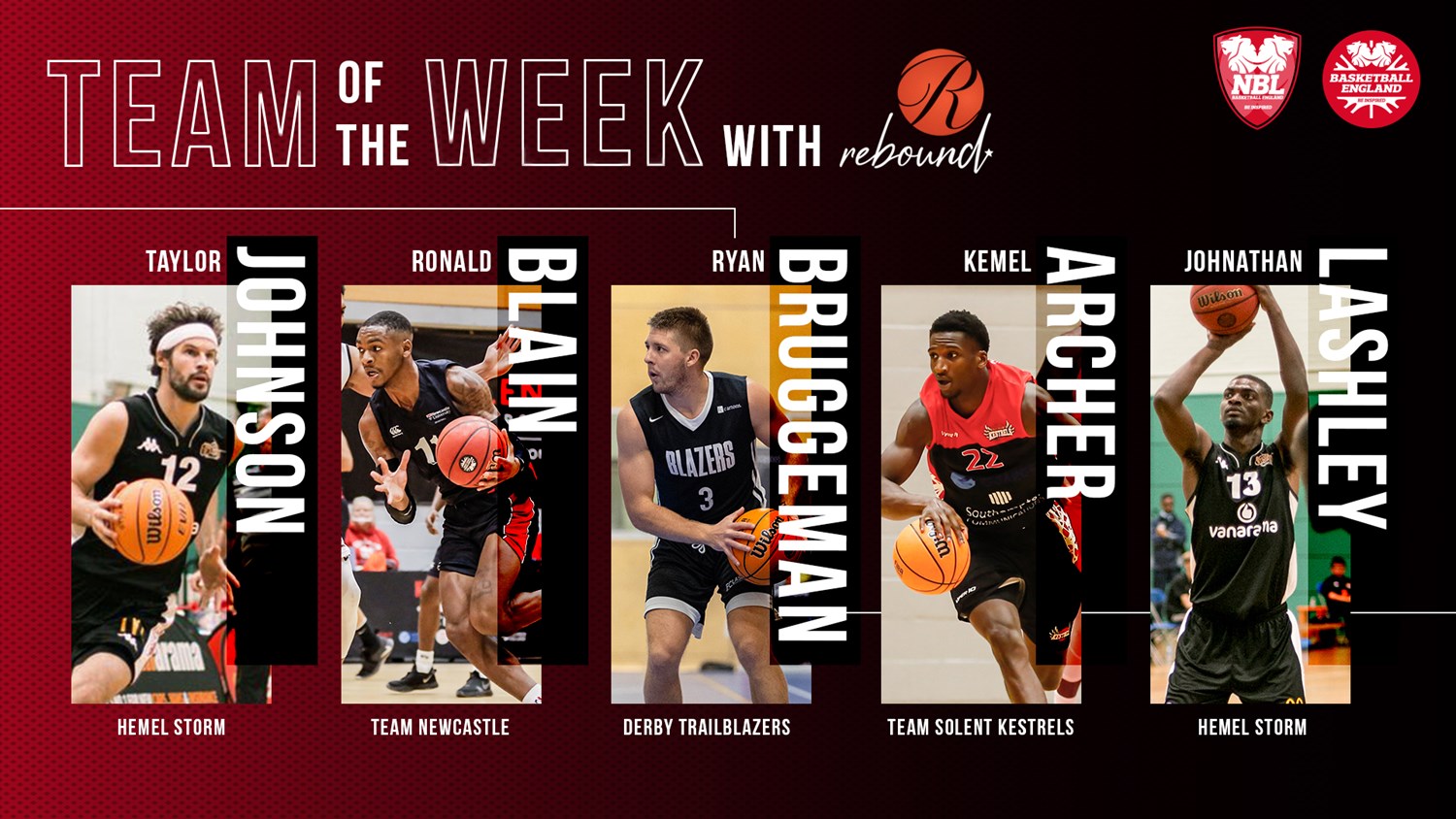 PLAYER OF THE WEEK
Taylor Johnson – Hemel Storm, guard
28PTS, 6REB, 2AST, 5STL 28EFF
This game was billed as one-to-watch and it certainly didn't disappoint. Johnson was the star of the show as he earned the right to play all 40 minutes against his former club.
Last season's regular-season MVP candidate had plenty of contested finishes and was the most fouled player for the hosts. It meant he earned 10 trips to the line throughout the contest, making all but one.
The American demonstrated his full arsenal of finishes around the rim as well as some killer shooting from the floor, but there was still more to come.
The former Cavaliers star led all players with five steals and was a real catalyst when Hemel hurt the Cavaliers on defence, notching up 26 fast-break points and 30 points from turnovers.
Ronald Blain – Team Newcastle University, forward
29PTS, 14REB, 3AST, 37 EFF @ LIONS
35PTS, 8REB, 6AST, 3BLK, 37EFF VS THUNDER
There were two worthy performances from Player of the Week candidate in Ronald Blain as he cooked up a pair of 37-efficiency performances in a double-header weekend. Unfortunately a team 1-1 record over the weekend meant he fell just short on that front, but he was still a worthy TOTW selection.
In the two-point loss to London Lions II on Saturday, the 6ft 5ins former Hawaii Pacific forward posted an impressive five offensive boards alongside his usual impressive numbers. Newcastle struggled to get many second chance points but Blain's rebounding definitely helped.
What stood out most from Sunday's L Lynch performance was seven makes from 10 three-point attempts as the Knights knocked off Worthing to seal a semi-final spot.
The forward has been impressive again this season as he looks to lead his side's top-four aspirations.
Ryan Bruggeman – Derby Trailblazers, guard
25PTS, 3REB, 12AST, 1STL, 29EFF
Ryan Bruggeman was a key man for Derby this weekend. His performance ensured the Trailblazers pushed Solent all the way in a 109-104 OT loss, and for the second weekend in a row the Kestrels only came a way with a five-point win.
Renowned for their stingy defence, it's not often you see someone score 20+ points against the three-time D1M champs, but to do it in such an efficient manner meant the American was worthy of a TOTW spot despite the final score.
The well-travelled Minnesota born guard looks a good pick up for Derby and was one of the major players in their offence, leading all players with a dozen assists.
Bruggeman was also ultra-reliable from the line, making all 11 free throw attempts as well as being a threat from beyond the arc (2/5 3pt).
Kemel Archer – Team Solent Kestrels, forward
16PTS, 16REB, 4AST, 2STL, 1BLK, 31EFF
Kemel Archer, Solent's versatile forward, put on an impressive two-way performance against a Derby side hotly tipped to overthrow the Kestrels' title hopes.
Defensively Archer played well, making Malcolm Smith and Co take tougher shots without much help. The compliment was returned with Archer commanding a double-team almost every time he got the ball, yet he was still able to shoot a nice 7-9 FGM. Only one of those misses didn't result with the Solent man heading to the line.
The forward can do a bit of everything and carried the ball out well under pressure, using his pace to get up and down the floor. This performance was in the Player of the Week discussion, Archer is genuinely one to watch this season!
Johnathan Lashley – Hemel Storm, forward
25PTS, 2REB, 2 STL, 23EFF
In less than 28 minutes the former Solent forward put on a scoring masterclass in an epic local derby. Lashley continually drove to the basket and made all but two of his attempts in an efficient display.
The forward took the responsibility of stepping up in the absence of reigning Player of the Season Greg Poleon, who sat out due to injury. Lashley took on the added responsibility with ease as he influenced a tight contest with a game-high +/- of 13.
Lashley commanded a large share of Storm's shooting, his efficient scoring inside in turn opening up spacing to allow the likes of Tayo Oyefusi and Shaquille Lewis to tee off, with both players making it to double digits scoring.
Playing well and making those around you better, it was a top drawer performance from the Hemel man.
Team Basketball
SHORT-HANDED HEMEL GET REVENGE OVER LOCAL RIVALS
Hemel faced Thames Valley in a clash that featured third versus second from last year's regular season. The hosts were looking to avenge the loss in the L Lynch Trophy and going into the game Hemel knew they would be without reigning MVP Poleon and Bode Adeluola, both out with injury.
It was a controlled and thrilling performance with Storm having the lead for the majority of the game and at worst only surrendering a three-point deficit.
Honourable mentions must go to Levi Noel and Sam Newman as the duo impressed defensively and also as playmakers. They combined for 17 assists and unselfishly shot less than 10 times between them.
OAKLANDS GET OFF THE MARK WITH A ROAD TRIP WIN VERSUS LOUGHBOROUGH
Social media has seen some questioning Oaklands' D1 credentials but this weekend's performance went some way to quietening the critics with an impressive win on the road.
A strong second half helped push the Wolves to the W, outscoring Loughborough 48-40 after the break.
A team 37 FG% could have been lower if not for the sharp-shooting of Jordan Jackson, hitting on over half his shots and his only triple.
Michael New Jr will likely get the plaudits with a leading stat line in every sense, with 23 points, 10 rebound, 4 assists and 2 steals putting him head and shoulders above his team mates in the box score. Only Conroy Hayden (14reb) and Justin Headley (5ast) prevented Michael's stats leading all players.
Honourable mentions
Andre Arissol (TSK) – 24P/5R/2A/2S/27EFF
Blayne Freckleton (TVC) – 28P/5R/1A/2S/24EFF
Malcolm Smith (DER) – 13P/6R/2A/1B/21EFF
Michael New Jr (OAK) – 23P/10R/4A/2S/22EFF
Hafeez Abdul (WOR) – 19P/16R/26EFF
.
Main image credit - Joanne Charles