The race to the post-season continues to heat up with six games packed into week 24.
Cardiff and CoLA Southwark Pride also played yesterday, with Pride sealing a comfortable 82-49 in Wales.
With so many contests on tap, there's plenty of opportunity for teams to move up and down the standings now May's playoffs are in sight. 
We take a look at all the week 24 action below, with links to live stats and live streams at the bottom of the page.
Reading Rockets (5-7) v Loughborough Riders (9-3)
Second place Loughborough will be aiming to keep pace with leaders Ipswich as they head to Berkshire tomorrow.
The Riders are currently four points behind the reigning D1W champs, though they do have a game in hand and still need to take a trip to Suffolk before the end of the season.
As one of only two teams to have beaten Ipswich in 2020/21, the Midlands side know that if they win out from here, they'll be regular season champs.
That's a big ask in a highly competitive D1W though, with Reading the next team in the Riders' path.
The Rockets have won two of three coming in, but lost last time out as they went down 79-52 against Solent. These two sides last met in November, with Loughborough emerging victorious 64-61. 
If Reading can match their opponents again here, this one is sure to be a cracker.
.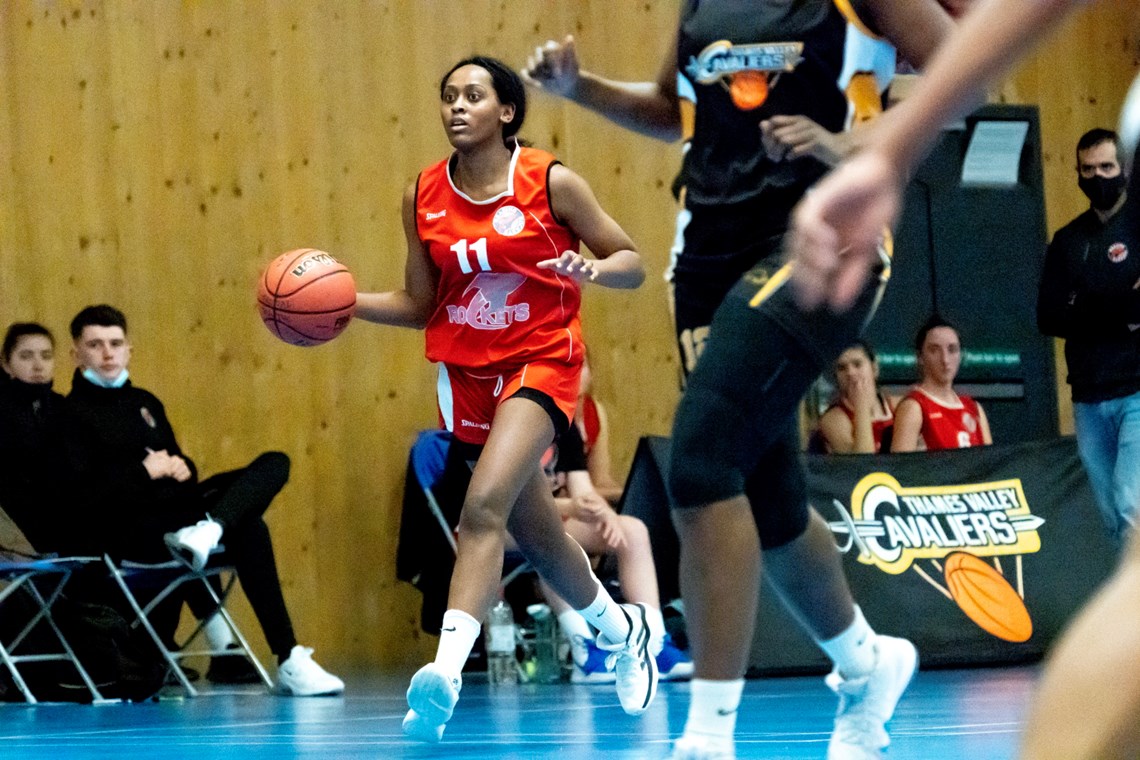 Elsewhere this weekend
Cardiff Met Archers (1-7) are in double-header action, making them a busy side once you add in yesterday's clash with CoLA.
On Saturday the Welsh outfit go up against Worcester Wolves (4-7), an opponent that hasn't tasted victory in their last six outings. If that skid will be enough for the bottom side to register their second win of the year remains to be seen, especially if they're still without Amber Deane.
Sunday sees the Archers at home once again, this time against leaders Ipswich (11-2).
The Suffolk side grabbed an 85-62 victory when these two teams met in March and it's hard to see a way that this contest doesn't end the same way considering the strength of Ipswich's roster. 
BA London Lions II (3-8) are another team in double-header action, hosting Nottingham Trent University (5-6) on Saturday before taking a trip to Reading on Sunday.
Nottingham have had an up and down season, starting 3-1 before going 2-5 in a stretch that saw Trent lose to bottom side Cardiff and beat leaders Ipswich.
To say they're a difficult team to predict is an understatement, making a match up with in-form Barking an intriguing prospect.
On Sunday the Lions head to Reading, which depending how the weekend's results pan out, could see BA in the mix for fifth and sixth. Quite the achievement for a team that started the season 0-8.
That leaves Thames Valley Cavaliers (3-7) against CoLA Southwark Pride (6-3) as the weekend's only other game, with the Cavs hosting at Uxbridge College.
After going 3-1 to begin 2021, TVC have since gone 0-4 to slip back down the standings once again. Now they're in danger of dropping out of the playoff spots altogether, a less than ideal scenario with eight games to go.
This weekend's fixtures:
Saturday 10 April
1pm - Cardiff Met Archers v Worcester Wolves - LIVE STATS
1pm - Reading Rockets v Loughborough Riders - LIVE STATS
3:30pm - BA London Lions II v Nottingham Trent University - LIVE STATS
6pm - Thames Valley Cavaliers v CoLA Southwark Pride - LIVE STATS/LIVE STREAM
Sunday 11 April
1pm - Cardiff Met Archers v Ipswich - LIVE STATS
1:30pm - Reading Rockets v BA London Lions II - LIVE STATS
Main image credit - Loughborough basketball