Seven games fill week 25, with four teams in double-header action.
Leaders Ipswich entertain Worcester, and second place Loughborough will try to keep pace at the top as they travel to Thames Valley.
There's also five other games this weekend, including two games on Sunday, rounding out what should be an exciting slate of fixtures.
To mark the passing of HRH Prince Philip, the Duke of Edinburgh, Basketball England will allow members the opportunity to pay their respect by observing one minute's silence prior to all NBL and WNBL games that take place on 17 April and Sunday 18 April.
Nottingham Trent University (6-6) v Team Solent Kestrels (8-5)
Fourth travels to sixth tomorrow, though these two sides are separated by just four points in what is becoming a highly competitive D1W table.
3-1 in their last four games, Trent's recent run includes a win over top side Ipswich and a defeat by bottom side Cardiff, though the Midlands side did grab an 81-69 victory last time out against BA London Lions II.
Solent are also 3-1 in their last four, but two of their wins have come against BA (8th) and Thames Valley (9th).
The lone loss was to CoLA Southwark Pride, with the 63-57 home defeat allowing the London side to pull even with the Kestrels in the race for third spot.
Tomorrow's contest contains plenty of intrigue. Is Trent's recent resurgence behind Mady Burdett, Schekinah Bimpa, Evi Dekker and Naomi Campbell built to last? And can Solent continue to win against the division's stronger sides without Krisztina Velkey?
It's worth noting that Solent won 75-66 when these sides met in late November on the South coast, though a lot of basketball has been played since then.
.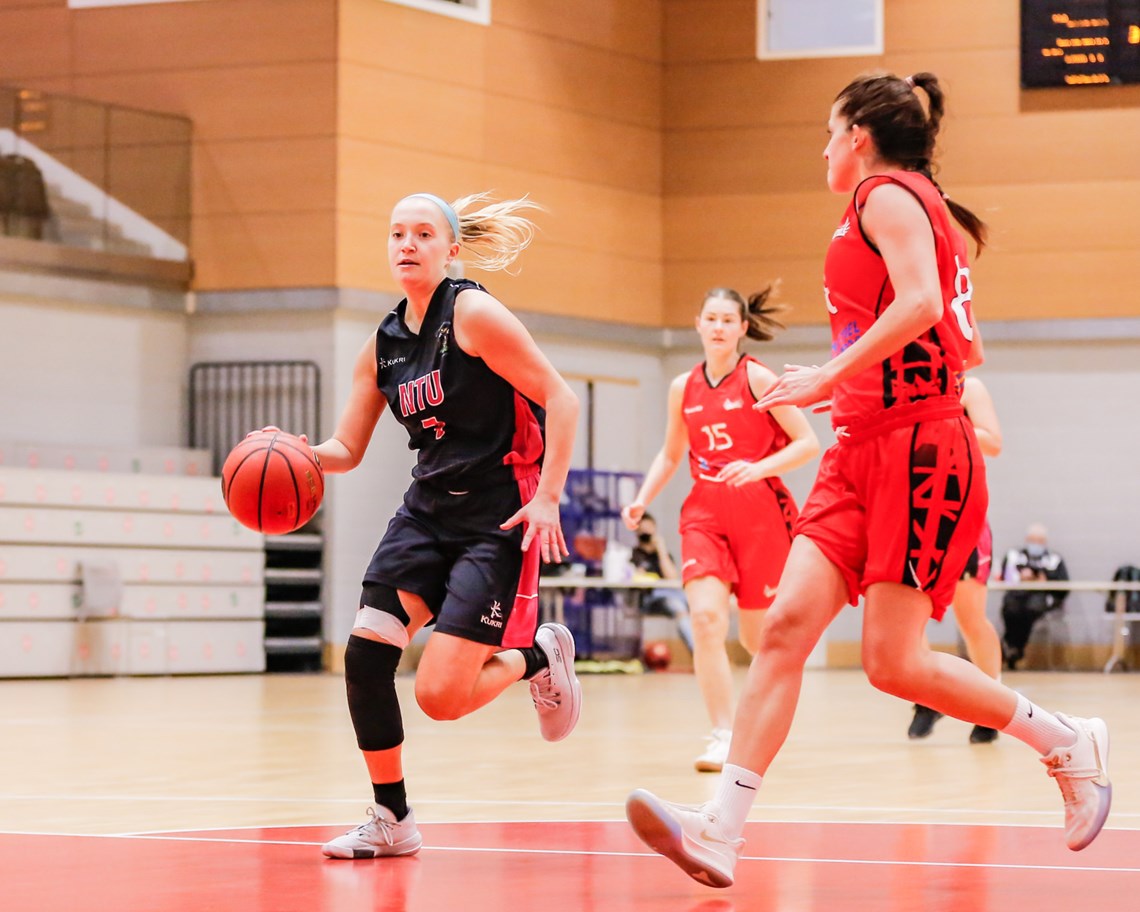 Elsewhere this weekend
The weekend begins with CoLA Southwark Pride (8-3) looking to continue their run of good form as they play Cardiff Met Archers (1-10).
Pride have now won six in a row, with their last three all coming on the road. The London side head back home for this one against a Cardiff side that lost by 50 points against leaders Ipswich last weekend.
Also in the Capital, BA London Lions (3-10) will try and get back on track as they host Reading Rockets (7-7).
The Lions kick started their season with a trio of recent wins but back-to-back losses, including a 59-55 defeat against tomorrow's opponent Reading last weekend, have stalled BA's momentum.
Top side Ipswich (12-2) entertain Worcester Wolves (5-7) tomorrow, knowing that the destination of the D1W regular season title is still in their hands.
Tough games remain against both second place Loughborough and third place Southwark, but the reigning champs have only lost twice this season for a reason.
The Wolves recently snapped a six-game losing streak with an OT win over Cardiff, but they'll be without Grace Brownell for the rest of the season as she recently underwent knee surgery.
Loughborough Riders (9-4) know they have no margin for error if they're to catch Ipswich, they travel to Thames Valley Cavaliers (3-8) tomorrow.
The Midlands' side lost to Reading last time out in a crushing blow to their title hopes, now the Riders will try to bounce back against an opponent they've already beaten 72-53 this season.
Moving into Sunday, two games remain with all four sides having already played 24 hours earlier.
Nottingham are at home once again as they welcome Thames Valley, whilst there's a London derby between CoLA Southwark Pride and BA London Lions II.
Both the Cavs and Lions need points to ensure they stay in the mix for the top eight and a potential playoff spot, where as CoLA and NTU will have their eyes on moving up standings in the hopes of a higher post-season seeding.
This weekend's fixtures:
Saturday 17 April
1pm - CoLA Southwark Pride v Cardiff Met Archers - LIVE STREAM
1pm - Thames Valley Cavaliers v Loughborough Riders - LIVE STATS/LIVE STREAM
1pm - Ipswich v Worcester Wolves - LIVE STATS/LIVE STREAM LOCATION
1pm - BA London Lions II v Reading Rockets - LIVE STATS
2pm - Nottingham Trent University v Thames Valley Cavaliers - LIVE STATS/LIVE STREAM LOCATION
Sunday 18 April
2pm - Nottingham Trent University v Thames Valley Cavaliers - LIVE STATS/LIVE STREAM LOCATION
2pm - BA London Lions II v CoLA Southwark Pride - LIVE STATS
Main image credit - Graham Hodges