It's the final weekend of the NBL regular season, with the title still up for grabs and teams continuing to battle for playoff seedings.
The division's top two sides receive a bye in the opening round of the post season, with Solent and Thames Valley confirmed for those two spots. If the Kestrels can win one of their games this weekend, they'll also claim the league title.
The league's remaining 12 sides will all be in action next weekend though, meaning it's all to play for with the post season right around the corner.
To mark the passing of HRH Prince Philip, the Duke of Edinburgh, Basketball England will allow members the opportunity to pay their respect by observing one minute's silence prior to all NBL and WNBL games that take place on 17 April and Sunday 18 April.
Team Solent Kestrels (16-1) v Leicester Warriors (5-13)
In the first game to tip tomorrow, Solent can claim the D1M regular season title with a win over Leicester Warriors.
Last weekend's pivotal 90-69 victory against rivals Thames Valley plus a 20-0 forfeit by Nottingham means that the reigning league and playoff champs only need to win against the Warriors tomorrow or Essex on Sunday to reclaim their title.
The last time Leicester managed to top the Kestrels in D1M play was March 2017, and the Warriors still haven't beaten Solent on the South coast since coach Guymon's side were promoted to the top flight in 2016/17.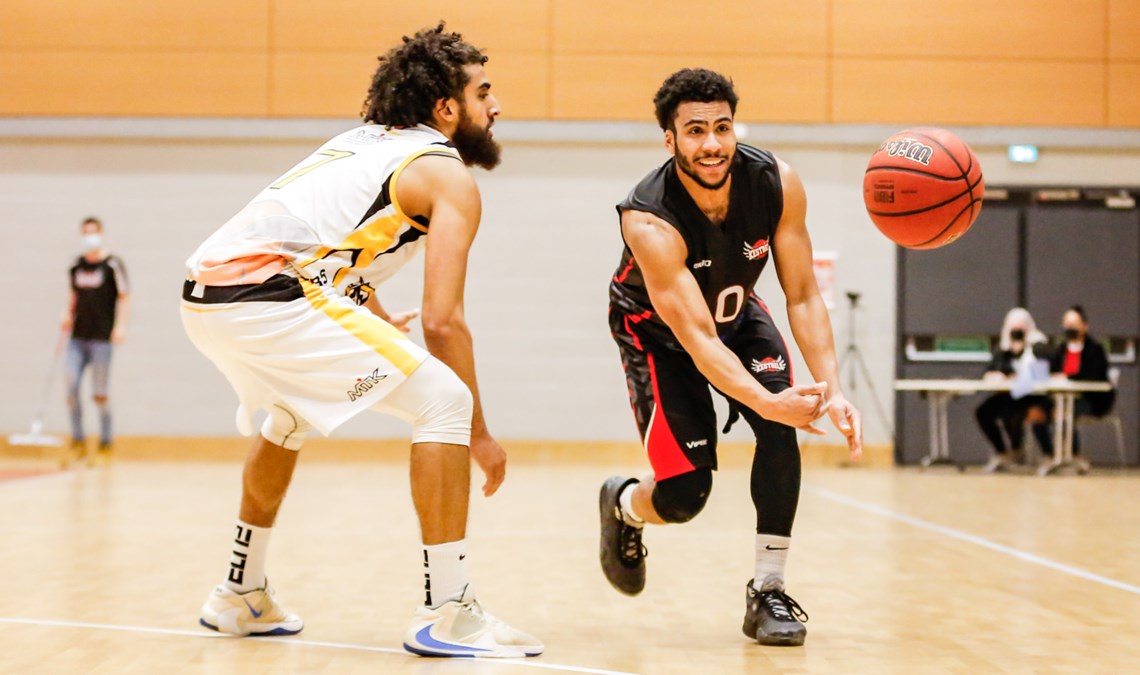 That track record points firmly towards a home win in this one, especially with Leicester dropping their last three games against Loughborough, Worthing and Oaklands.
Expect the likes of Ian Smith, Orlan Jackman and Travis Charles to excel for Solent, with that trio all in the running for the 2020/21 NBL Player of the Year award. 
Leicester's Mo Williams also receives a nomination thanks to his division-leading 25.1 points and 1.5 blocks per game, plus a third best 10.4 rebound per game for good measure. Expect the former BBL-man to be the Warriors' main source of resistance tomorrow afternoon. 
.
Elsewhere this weekend
Saturday's action also contains second place Thames Valley Cavaliers (16-2) taking a trip to Hemel Storm (14-4).
Storm are locked into the third spot regardless of what happens this weekend but they'd still love to grab a win against a team they could end up meeting in the post season.
Thames Valley will know if their title hopes are still alive by the time this one tips, though like Hemel, there's still momentum and confidence at stake in what should be a hotly-contested affair.
Nottingham Hoods (2-16) are another side that knows their playoff fate, they host BA London Lions (6-12).
The Hoods are confirmed for bottom spot in D1M so will travel to Hemel next weekend regardless, though the Lions can still move into the mix with Bradford, Essex and Reading on 14 points should they be able to secure a win tomorrow.
Derby Trailblazers (13-5) can still be caught in the race for fourth so will be going all out for a W in a Midlands' clash with Loughborough Riders (8-10).
The Riders are 5-1 in their last six however and playing much better basketball than when these sides last met in late January, with Derby winning that one 77-75.
Saturday's final game sees Reading Rockets (7-11) entertaining Essex Rebels (7-10).
The Rockets were in action Wednesday night, beating BA London Lions 76-72 in an entertaining contest, and another win here will see the Berkshire side leapfrog Essex in the standings.
Depending how results fall this weekend, there's also a chance that this fixture could be repeated next weekend in the first round of the playoffs.
There are two games on Sunday, with Bradford Dragons (7-11) trying to consolidate their playoff spot as Team Newcastle University (12-6) come to town.
With Derby playing Saturday, Newcastle will know if fourth spot is still a possibility by the time this game begins. If the Trailblazers have already won, it's possible Newcastle could rest some of their players with no way of moving up or down the standings.
There's always momentum at stake though, something Bradford have struggled with as they've gone 1-4 over their last five games.
If Solent are unable to beat Leicester on Saturday, the Kestrels' game against Essex will be their final opportunity to seal the title.
In what could be a tricky match up against a Rebels side that have won two of their last three, the potential champs will no doubt hope this one is a dead rubber by the time Sunday rolls around.
This weekend's fixtures:
Saturday 17 April
1pm - Team Solent Kestrels v Leicester Warriors - LIVE STATS/LIVE STREAM
2pm - Nottingham Hoods v BA London Lions - LIVE STATS/LIVE STREAM LOCATION
5pm - Hemel Storm v Thames Valley Cavaliers - LIVE STATS/LIVE STREAM LOCATION
5:30pm - Derby Trailblazers v Loughborough Riders - LIVE STATS/LIVE STREAM
6pm - Reading Rockets v Essex Rebels - LIVE STATS/LIVE STREAM LOCATION
Sunday 18 April
1pm - Essex Rebels v Team Solent Kestrels - LIVE STATS/LIVE STREAM
2pm - Bradford Dragons v Team Newcastle University - LIVE STATS/LIVE STREAM LOCATION
Main image credit - Kyle Hemsley