Three game weeks remain of the WNBL regular season, with the playoffs set to begin on 15 May.
With teams hard at work to complete their regular season games, it was confirmed this week that Nottingham Wildcats Arena will host the WNBL playoff final, scheduled for Saturday 29 May.
There are six important fixtures across the coming weekend though, headlined by leaders Ipswich entertaining third place CoLA Southwark Pride.
The NBL Live cameras will once again be out and about as well, bringing WNBL fans all the action from Worcester Wolves contest against Nottingham Trent University.
We take a look at this weekend's games below, with links to live stats and live streams at the bottom of the page.
Ipswich (13-2) v CoLA Southwark Pride (10-3)
There's a clash tomorrow between two of the division's top three sides as CoLA take a trip to Suffolk to face Ipswich.
In a contest with huge ramifications at the top, Southwark currently trail Ipswich by six points but have two games in hand. That means a victory tomorrow for the London side by five or more points would leave Pride with the opportunity to claim the league title if they can win-out from here.
Southwark are a team in form as well, notching up eight wins in a row after a slow start to the season. Last weekend CoLA bagged another pair of W's, knocking off Cardiff 88-53 followed by a 73-53 victory over BA London Lions II. Molly Lavin earned Player of the Week honours for her efforts against the Archers, shooting a perfect 11/11 to finish with 23 points.
Ipswich are also a team on a roll, going 7-1 over their last eight games, including recent wins over Worcester, Cardiff and Thames Valley. Harriet Welham joined Lavin in the FocusHoops Team of the Week, with the reigning D1W Player of the Season looking a strong candidate to repeat as the winner of that award for 2020/21.
As important as tomorrow's contest could be to the destination of this season's WNBL league title, both Ipswich and CoLA still have games scheduled against second place Loughborough, offering the potential for plenty more twists and turns in a three-way race for top sport.
Tomorrow's match up pits the league's #1 offence from Ipswich (86.7ppg) against CoLA's #1 defence (59.8ppg allowed). Strength vs strength, who will come out on top?
.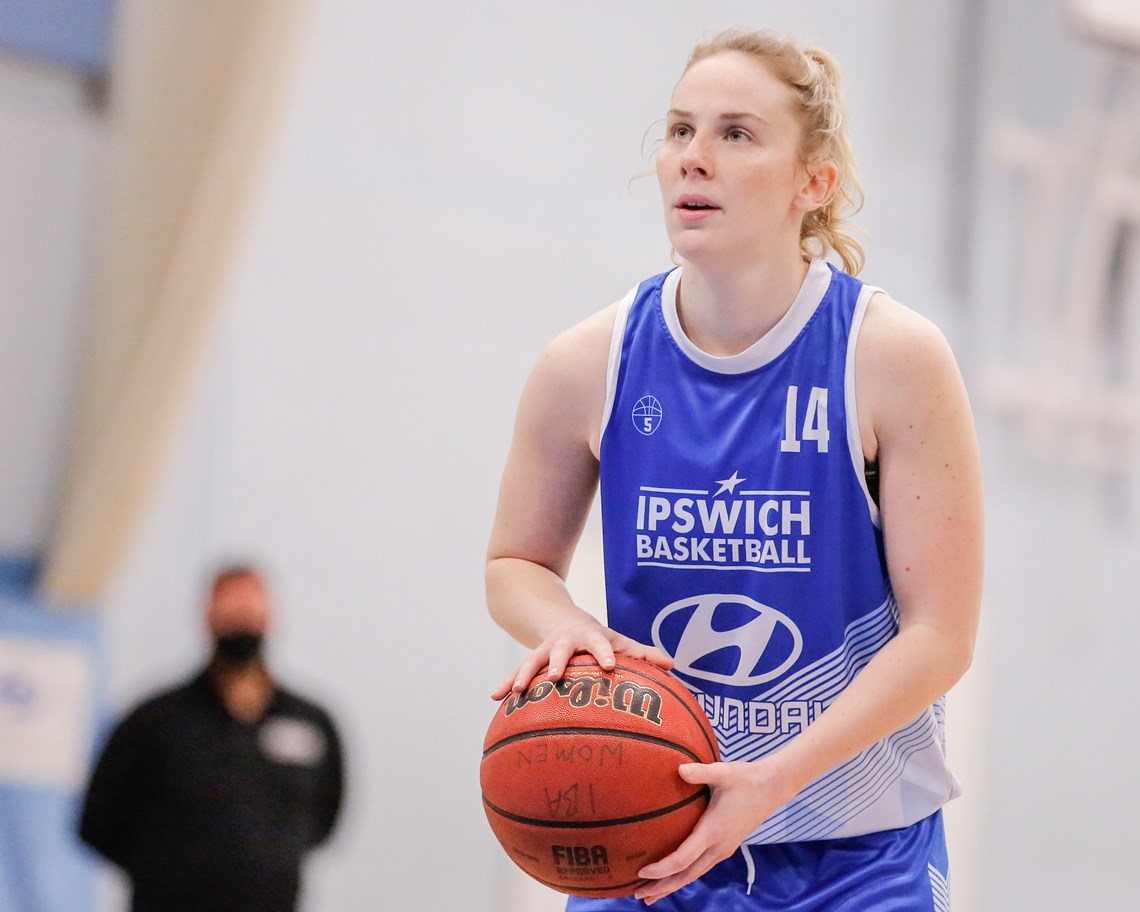 Elsewhere this weekend
Worcester Wolves' (5-8) return to winning ways didn't last long as they went down 91-61 in Ipswich last weekend.
The Wolves had snapped a seven game losing streak with an OT victory over Cardiff the previous weekend, and the NBL Live cameras will be in place tomorrow to see if the West Midlands side can get back on track once more.
Their opponents are Nottingham Trent University (8-6), an in-form side that have won four in a row thanks to a string of solid performances from American guard Mady Burdett.
Second place Loughborough Riders (10-4) will try to keep their title challenge going as they head to Cardiff Met Archers (1-11).
The Riders are in the midst of a five-game road stretch, and with upcoming games against Ipswich and CoLA the Midlands side would love to get a straight-forward W against a Cardiff side that have struggled in their maiden D1W season.
BA London Lions II (4-11) will continue to battle for the eighth and final playoff spot as they welcome Team Solent Kestrels (8-6).
BA are currently two points ahead of Thames Valley, though the sides are set to meet in Uxbridge next weekend. Solent meanwhile are still fighting with Nottingham for the fourth spot and the opportunity to host a home playoff game to begin the post season.
Nottingham can move ahead of Solent this weekend however as they've got two games lined up.
On Saturday Trent are in NBL Live action, and on Sunday they welcome Cardiff.
A pair of victories will see the Midlands side move into the top four, stretching their win streak to six games in the process. Archers will no doubt be waiting on the fitness of Amber Deane, who contributes a lot to the Welsh side and is currently out through injury.
Finally, Reading Rockets (7-8) are at home against Thames Valley Cavaliers (3-10) in somewhat of a local derby.
40 minutes separate these two sides, with the Rockets claiming a 65-55 win when the teams last met in December.
This weekend's fixtures:
Saturday 24 April
1pm - Cardiff Met Archers v Loughborough Riders - LIVE STATS
1pm - BA London Lions II v Team Solent Kestrels - LIVE STATS
2pm - Ipswich v CoLA Southwark Pride - LIVE STATS/LIVE STREAM LOCATION
2pm - Worcester Wolves v Nottingham Trent University - LIVE STATS/LIVE STREAM
6pm - Reading Rockets v Thames Valley Cavaliers - LIVE STATS/LIVE STREAM LOCATION
Sunday 25 April
2pm - Nottingham Trent University v Cardiff Met Archers - LIVE STATS/LIVE STREAM LOCATION