FocusHoops' Darren Paul selects his Team of the Week following another seven games in the WNBL.
As a writer, commentator, podcaster and more, Darren was able to look over two-win weekends for both Nottingham Trent University and CoLA Southwark Pride, plus key victories for top sides Ipswich and Loughborough.
Have a look over this week's choices and give a shout-out to the players you think deserve one using the hashtag #NBL2021. Don't forget to tag us!  
Twitter: @NBLengland / @FocusHoops  
Facebook: @NBLengland  / @FocusHoops  
Instagram: @nblengland / @focushoops  
How it works  
The Basketball England WNBL Player of the Week goes straight into the starting line-up.  
The other four players are picked with the following factors in mind:  
Efficiency 

 

Stats 

 

Team and opposition strength 

 

Periods of influence in the game 

 
The FocusHoops team of the week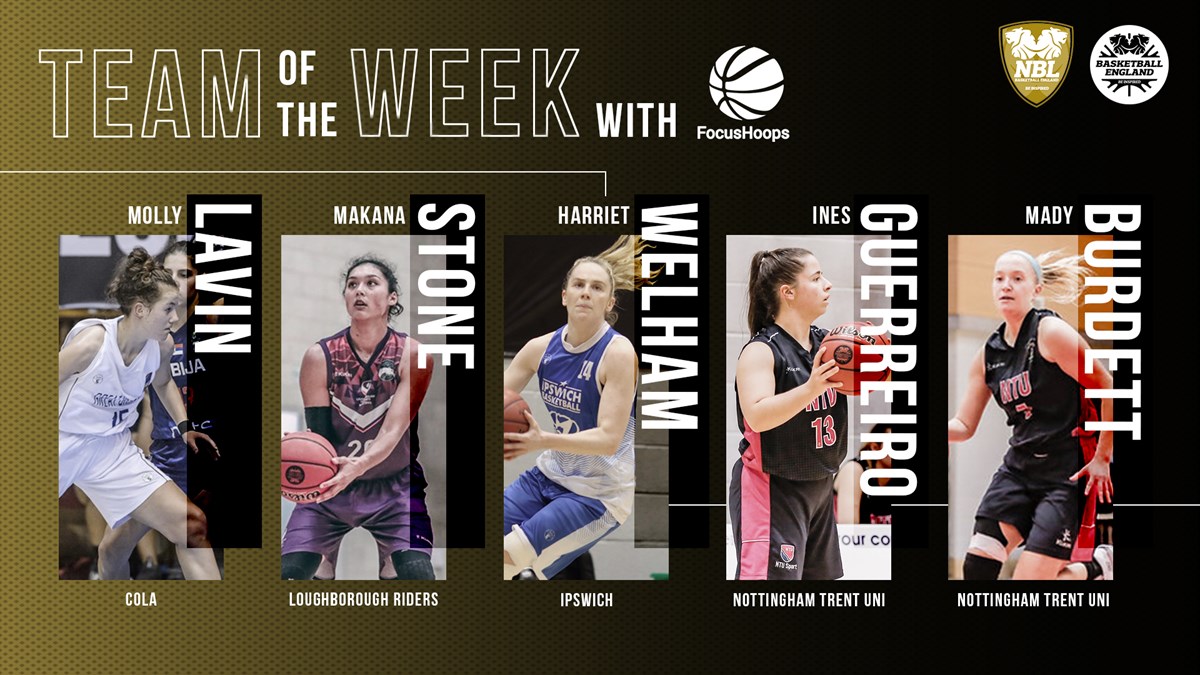 Molly Lavin - CoLA Southwark Pride, wing
23pts (11/11FG), 4reb, 3ast, 30eff
Molly Lavin scoops this week's Player of the Week award thanks to an incredibly efficient performance in CoLA Southwark Pride's 88-53 victory over Cardiff Met Archers, which keeps the London side firmly in the hunt for the league title.
Lavin came off the bench and shot a perfect 11 from 11, all but one of her shots coming from inside the paint, in a dominant 18 minutes of play.
The GB age group player also pulled down two offensive and two defensive boards and dished three dimes on her way to a 30 efficiency rating.
Lavin's contribution was important in the context of the victory here and she will continue to be relied upon by CoLA as they look to push Ipswich in the league.
Makana Stone - Loughborough Riders, forward
13pts, 15reb, 9STL, 32eff
Makana Stone's double-double had us on triple-double watch as she was one steal away from an incredible statistical feat in Loughborough's bounce-back six-point victory over Thames Valley Cavaliers.
Stone made her impact felt in the big moments on Saturday, bagging four points in the final period to go along with three steals when the game was finely balanced after Thames Valley rallied late.
Stone would finish the contest with an excellent 13 point, 15 rebound (four offensive) and nine steal performance, leading her side on the boards during her 34 minutes on the floor.
Harriet Welham - Ipswich, guard
27pts, 9reb, 8ast, 29eff
Another week, another excellent scoring performance from Harriet Welham who was just one rebound and two assists away from another triple-double, a rare feat in FIBA basketball made to look easy by the Player of the Year candidate.
Ipswich continue their charge atop the WNBL standings with a 30 point victory over Worcester Wolves, thanks in no small part to Welham's ability to get to and finish at the rim.
She once again made defenders pay for fouling her, going a solid seven of nine from the stripe, without committing a single foul herself.
Welham had seven first-quarter points as Ipswich imposed their will on the contest, winning the opening frame 25-11 and never looking back as they took another step towards the league title.
Ines Guerreiro - Nottingham Trent University
14pts (83 FG%), 4reb, 3ast, 23eff v TSK
Ines Guerreiro was one of the most efficient performers this weekend and made a huge contribution in Nottingham Trent University's 92-84 victory over Team Solent Kestrels.
Guerreiro, who started and played 31 minutes for Trent, shot very well missing just one out of six attempts and going perfect from beyond the arc as well as the charity stripe.
The versatile guard wasn't just about scoring however as she contributed four rebounds, three assists and snagged three steals, all whilst not turning the ball over once.
Guerreiro was one of a number of Trent players to perform well, but nobody shot as efficiently as she did in a very big game for playoff seedings as NTU pulled level with TSK in the standings.
Mady Burdett - Nottingham Trent University, guard
26pts, 5reb, 24eff v TVC
Mady Burdett backed up her Team of the Week honours last time out with another fine performance in the hard-fought 77-72 victory over Thames Valley Cavaliers.
The American sharpshooter bagged herself an impressive 26 points, making six of 10 attempts from three-point land and hitting four of nine from inside the arc.
Burdett did much of her scoring work in the opening three periods to help NTU build a valuable lead in a tight contest before chipping in some important points down the stretch to keep Thames Valley at bay.
The Whitman College alum has caught fire in recent weeks and has helped to push Trent up the playoff standings as they battle for a home berth in postseason play.
Team Basketball
NTU at the double!
Nottingham Trent University were the big winners this weekend, coming through two very tough games to finish the weekend fifth position in the table and level with Team Solent Kestrels on 16 points.
NTU have rallied massively in recent weeks after a rocky stretch and their policy of platooning Scheckinah Bimpa and Mady Burdett, coupled with the incredible performances from Evie Dekker and Ines Gueirroro this weekend, saw Trent pick up a pair of wins they desperately needed if they hope to finish in the top four.
Honourable mentions
Erica Meyer (TSK) - 19P/12R/2S/26EFF
Victoria Natufe (COL) - 13P/5R/2A/5S/2B/23EFF 
Esther Little (IPS) - 2P/18R/6A/5B/29EFF
Cameron Taylor Willis (IPS) - 18P/6R/3A/21EFF
Evie Dekker (NTU) - 26P/20EFF
.