Rebound's Chris Hughes picks his NBL Team
 of the Week and highlights 
five 
honourable mentions 
as well as two impressive 
team performances.  
Chris, a content producer, YouTube host and commentator, casts his eye over the final weekend of the NBL regular season as Team Solent Kestrels sealed their third straight league title.
Have your say on this week's choices and give a shout-out to the players you think deserve one using the hashtag #NBL2021. Don't forget to tag us!    
Twitter:  @NBLengland / @Rebound__  
Facebook:  @NBLengland  / @ReboundNBL  
Instagram:  @nblengland / @reboundnbl  
How it works 
The Basketball England NBL Player of the Week goes straight into the starting line-up.    
The other four players are picked with the following factors in mind:    
Efficiency 

 

Stats 

 

Team and opposition strength 

 

Periods of influence in the game 

 
The Rebound team of the week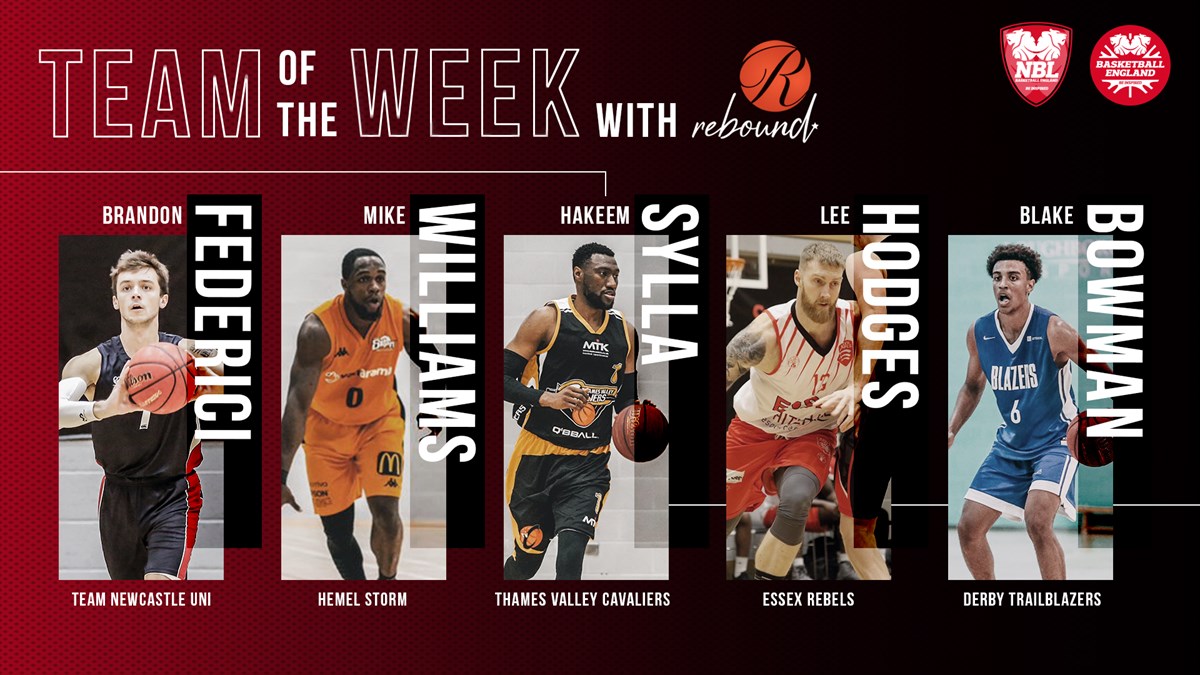 Brandon Federici – Team Newcastle Univeristy, guard  
25 POINTS, 9 rebounds, 4 assists, 5 steals, 36 efficiency
You would be forgiven for losing count of how many times this season that Brandon Federici has made a game winning shot. This weekend against Bradford, Federici was left open with seven tenths of a second left and netted a corner three to call game.
The sharp shooting guard made five of his 10 triples to tie with team-mate Blain as the duo led all scorers with 25 points.
Federici also helped heavily on the defensive end with a game high of five steals, allowing Newcastle to seal an exciting win as they head into the post season and a home tie against Leicester Warriors.
Mike Williams – Hemel Storm, guard   
33 points, 6 rebounds, 2 assists, 2 blocks, 25 efficiency
One of the top scoring performances of the weekend came against one of the league's best sides as former Rutgers' star Mike Williams put on a show against second place Thames Valley Cavaliers.
Williams' 10 points in the fourth quarter contributed to the game going to overtime, though Storm would eventually come out second best in the extra frame.
The US import is looking in top form with the post-season set to begin. Hemel start their playoff campaign against #14 seed Nottingham Hoods, moving on to play the winner of Essex and Bradford in the quarter finals should they win.
Hakeem Sylla – Thames Valley Cavaliers, forward   
24 POINTS, 17 rEBOUNDS, 2 STEALs, 2 blocks, 25 effICIENCY
Hakeem Sylla posted a monster 24-point 17-rebound performance this weekend, a usual output for the NBL Player of the Year candidate.
The walking double-double was pivotal in helping the Cavs in their overtime period against Hemel, with one free throw plus a dunk that heavily contributed to the W.
Sylla raced to six points and six rebounds in the first quarter alone as TVC built an early lead, Sylla's rebounding also led to many second chance opportunities in a close contest.
Lee Hodges – Essex Rebels, forward   
24 POINTS, 12 REBOUNDS, 3 assists, 1 STEAL, 34 EFFICIENCY @ READING
17 points, 7 rebounds, 2 assists, 4 blockS, 25 efficiency vs SOLENT
Lee Hodges put in back-to-back performances to help Essex get two wins on the final weekend of regular season, elevating the Rebels to sixth place and a home tie vs Bradford to open the playoffs..
In Saturday's game in Reading, Hodges was dominant under the basket as he lived in the paint to churn out highlight dunks across a highly efficient performance.
On Sunday against the three-time NBL D1 champions Solent, Essex got the surprise win. The Kestrels did field a weaker line up but still managed to keep the game close.
Hodges' four blocks also put him head and shoulders above his teammates on defence, an easy feat for the towering centre!
Blake Bowman – Derby Trailblazers, forward  
26 POINTS, 4 REBOUNDs, 3 assists, 4 stealS, 1 BLOCK, 28 efficiency
Blake Bowman and co. gave Loughborough their eleventh loss of the regular season as the NCAA D1 University of Minnesota Kansas City commit finished the regular season in style.
The young forward put in a mature performance, leading all players in steals with four. Bowman also shot the ball efficiently, especially compared with other volume shooters in the contest.
I have mentioned in the past that Bowman's shooting role has changed slightly as the season has progressed, with the young star being trusted to shoot more from 3-point range.
This weekend his trey ball did not look out of place alongside the established long range shooters of Josh Guddemi, Greg Wild and Joe Bielak.
Team Basketball
Newly Promoted sides match SOlent and Loughborough's debut season
Credit to Newcastle and Essex Rebels who week in, week out, play an exciting brand of team basketball.
Both have had an amazing season following promotion from D2 in 2019/20. The pair matched the fifth and sixth place finishes by Solent and Loughborough in their debut topflight seasons.
Newcastle have consistently found ways to win games while trailing, making the final few minutes of each contest exciting for neutrals.
Essex's achievements also require praise, especially considering their lack of import players. The Rebels play an exciting brand of basketball and often live and die on their perimeter shooting, making them another fun side to watch.
THAMES VALLEY CAVALIERS GET AN OT WIN Ahead of the Playoffs
Thames Valley Cavaliers kept Hemel Storm to two points in OT, winning the extra period 8-2 in their preparations for the playoffs. Avoiding any lower seed upsets, these two teams will meet again in the semi finals.
The starting guards for TVC all had good games. Former Team Northumbria stars Blayne Freckleton and Lewis Champion both shot the ball well, making 40 FG% each and Player of the Year Taylor Johnson made half the shots he took.
The only blight on this weekend's win for the Cavs was a low 20 3P% across the team. Otherwise, it was a good performance on the road.
Honourable mentions   
Morakinyo Williams (LEI) – 27P/8R/3A/27EFF
O'Showen Williams (REA) – 25P/9R/4A/5S/36EFF VS BA
O'Showen Williams (REA) - 33P/6R/2A/2S/25EFF VS ESS
Orlan Jackman (SOL) – 22P/9R/3A/25EFF
Ronald Blain (NEW) – 25P/9R/5A/1S/1B/29EFF
Rihard Sulcs (BRA) – 12P/16R/4A/1S/26EFF
.