All 12 D1W teams are in action in week five as the WNBL rolls into the Halloween weekend.
The NBL Live cameras will be in the house to see if Bristol Flyers can spring a spooky surprise on Anglia Ruskin University in the first WNBL coverage of the season.
At the top CoLA, Loughborough and Ipswich all remain unbeaten, but that won't be the case by the time the weekend is out.
We take a look at all the action below, with links to live stats and live streams at the bottom of the page.
It's a rematch of last season's playoff final as reigning champs Ipswich head to CoLA on Sunday.
With the teams also finishing 1st and 2nd in the regular season last year, there's no surprise that both find themselves unbeaten after the first few rounds of 2021/22.
It's time for some new stars to step up this year though, with Ipswich having a much changed roster and CoLA facing some turnover themselves. It hasn't slowed either team so far though, with both sides helping to set the early pace up at the top once again.
The hosts boast the best defence in the league so far, restricting London Lions II to just 27 points last week. Expect a tight contest as one side will lose their perfect record this weekend
.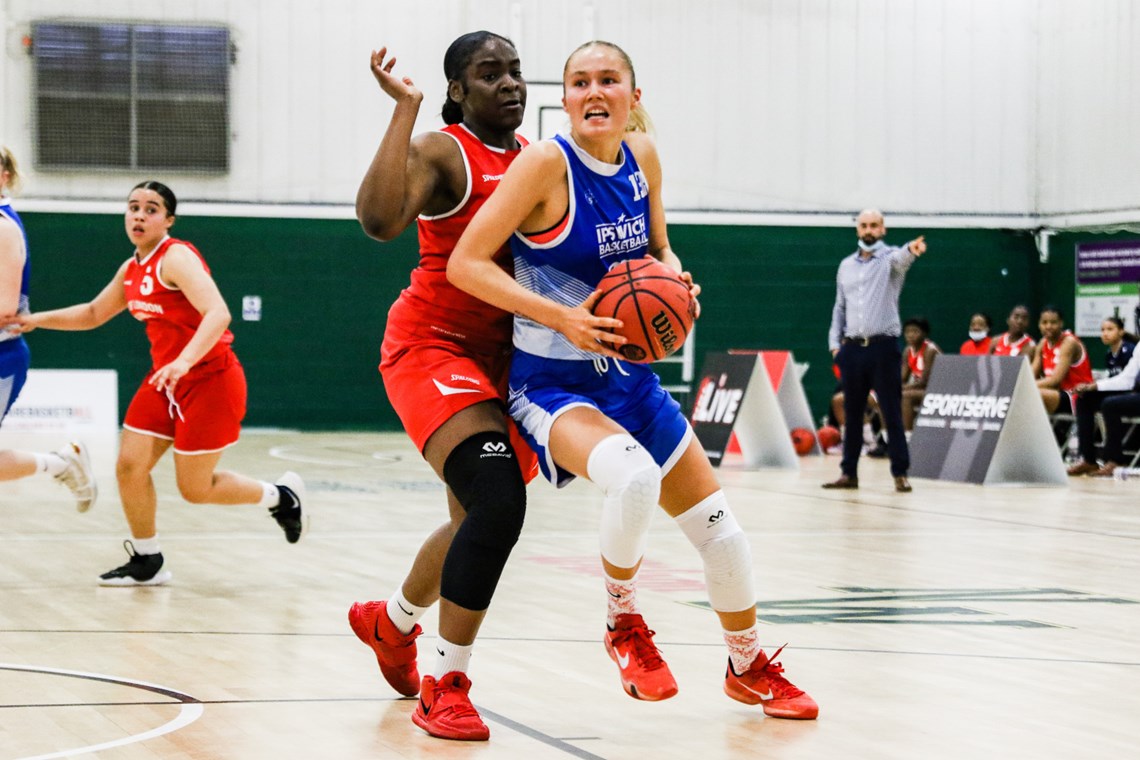 Elsewhere this weekend
After conceding their own unbeaten record in week four, Team Solent Kestrels (2-1) aim to get back on track against struggling Nottingham Trent Uni (0-3). Two teams with very contrasting seasons, though the visitors will be buoyed by last week's performance when they took Ipswich to the wire, eventually losing out 70-69.
Worcester Wolves (2-2) have a heavy defeat to Anglia Ruskin to shake off, they host Thames Valley Cavaliers (1-2) who are eager to get back to the floor after a week off and a narrow loss to CoLA last time out.
Live on the Basketball England YouTube channel will be Loughborough Riders' (4-0) match-up with Reading Rockets (1-3). Rockets finally got their first W last week but have a challenge on their hands to stop Riders' captain Robyn Ainge (26pts, 9reb, 5ast, 4stl) and Alia El Shabrawy (20pts, 14reb, 7ast, 5stl).
Both impressed to earn a selection in the FocusHoops Team of the Week.
NBL Live brings you back-to-back Player of the Week Katrin Hulme and her Anglia Ruskin (2-1) side as they take on Bristol Flyers (0-4) this Sunday. Winless Flyers are facing the unstoppable Hulme at the worst possible time, facing an uphill battle to secure their first W of the year.
The final action of the weekend sees Cardiff Met Archers II (1-2) and London Lions II (1-3) take to the floor in Wales.
Archers are coming off a week's break and will no doubt be fresh and ready to go, whilst the Lions will be hoping for an uptick on offence after that 27 point outing against last weekend.
This weekend's fixtures:
Saturday 30 October
1pm - Loughborough Riders v Reading Rockets - LIVE STATS/LIVE STREAM
3:30pm - Team Solent Kestrels v Nottingham Trent University - LIVE STATS/LIVE STREAM
4pm - Worcester Wolves v Thames Valley Cavaliers - LIVE STATS
5pm - Bristol Flyers v Anglia Ruskin University - LIVE STATS/LIVE STREAM
Sunday 31 October
2:30pm - CoLA Southwark Pride v Ipswich - LIVE STATS
4:30pm - Cardiff Met Archers II v London Lions II - LIVE STATS/LIVE STREAM
Main image credit - Luke Simcock