Basketball England's Aspire programme is set to return this month.
Aspire aims to develop the basketball and life skills of talented 11-15-year-olds who have the potential to play for England and Great Britain. 
A new cohort of more than 1500 players will attend a series of Skills Camps, starting this month and running until April 2023, across the 10 BE regions. They will be supported by around 80 coaches and staff selected from clubs across England. 
Following the Skills Camps, selected players will progress to a series of Super Region Camps. 
The programme will culminate with teams representing the North, Central, London and the South Super Regions taking part the All Star National Tournament in July, in a repeat of this year's successful inaugural event at the National Basketball Performance Centre in Manchester.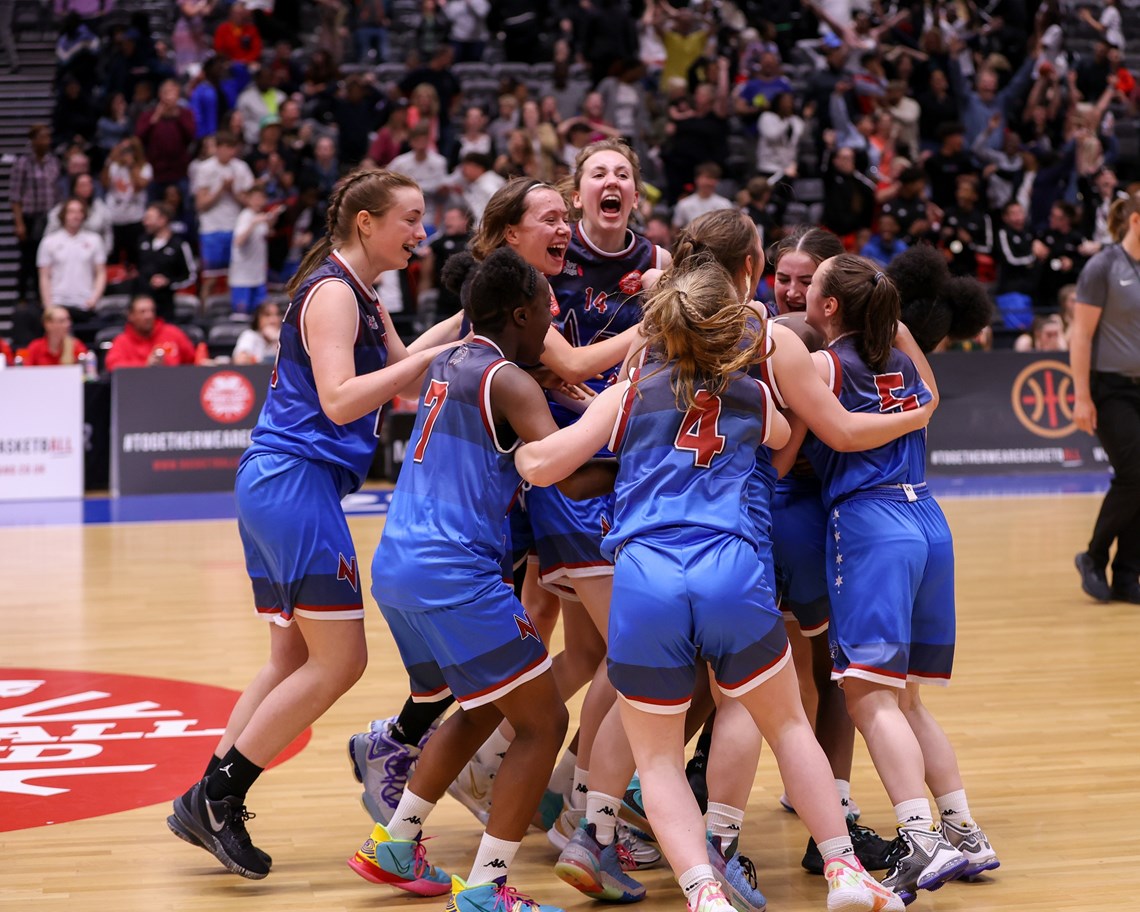 Steve Bucknall, BE's Head of Talent and Performance, said: 
"We are delighted to be able to welcome another group of promising players to the Aspire Programme.
"Our aim is to develop their skills to help make them better players. We want to see as many as possible of them realise their potential and be able to be progress to the next level on our pathway and feed into England and Great Britain teams. 
"We pleased to see a great range of coaches from clubs across our regions stepping up to drive the programme and the players forward." 
Aspire Skills Camps – dates, venues and staff 
Dates, venues and staff for the majority of this season's Aspire Skills Camps are confirmed below.
Those not yet confirmed, or only partially confirmed, will be in the coming weeks.
This article will be as soon as possible updated with the remaining information.
EAST 
All sessions at Oaklands College  
24, 25, 27, 28 Oct
27 Nov 
18 Dec 
29 Jan 
13, 14 Feb
3, 4, 5 Apr
Lead Coaches: Dan Petts, Tor Freeman
Pathway Coaches: Mitchell Timmins, Damian Mlynarczyk, Bjorn Westman, Danny Manning 
Camp Director: Charlotte Redhead 
Supporting Camp Director: Emerson Westerby 
Volunteer Coaches: Donnie Cabrera, Dominic Ng
Our East Camp Director can be reached at [email protected]
EAST MIDLANDS 
All sessions at Nottingham Wildcats Arena 
24, 25, 27 Oct
29, 30 Dec 
13, 14, 16 Feb 
3, 4, 6 Apr 
Lead Coach: Dan Watts 
Pathway Coaches: Scott Burchnall, Mari Stewart, Kim Thompson, Austin Grant 
Camp Director: Becky O'Neill 
Our East Midlands Camp Director can be reached at [email protected]
LONDON NORTH
26, 27, 28 Oct, Crest Academy
27 Nov, Uxbridge College
19, 20, 21, 22 Dec, Crest Academy
29 Jan, Crystal Palace
13, 14, 15 Feb, Crest Academy
Lead Coach: Stephen Onireti, Chanel Mubeen
Pathway Coaches: Stephron Andrew, Marlan Henry, Caroline Charles, Ruth Eytle
Camp Director: Patricia Fairclough OBE
Supporting Camp Director: Ozan Ture
Volunteer Coaches: Mike Martin, Damien Plummer, Melita Emanuel-Carr, Leeroy Brazao Silva
Volunteer Admin: Joshua Cole
Our London North Camp Director can be reached at [email protected]
LONDON SOUTH 
24, 25, 26 Oct, St Bonaventure's 
27 Nov, UEL 
20, 21 Dec, UEL
29 Jan, Crystal Palace
14, 15 Feb Ark Putney Academy
Lead Coach: Michael Martin, Doreen St Marthe
Pathway Coaches: Nico Grassini, Charles Vuong, Jago Streete-Campbell, Jaron Thomas
Camp Director: Nikki Sealy
Supporting Camp Director: Sonia Lei
Volunteer Coaches: Alex Raymond, Fatih Karahan, Gabriela Magurean, Leeroy Brazao Silva
Our London South Camp Director can be reached at [email protected]
NORTH EAST 
27, 28 Oct, Unity City Academy
27 Nov, Gateshead International Stadium
18 Dec, Graham Sports Centre, Durham
22, 23 Dec, Newcastle University
29 Jan, National Basketball Performance Centre
17 Feb, All Saints Sports Centre & Newcastle University
Lead Coaches: Anthony Reed, Calvin George
Pathway Coaches: Travis Stubley, Will Hopper, Frank Thomas
Camp Director: Howard Leighton 
Supporting Camp Director: Zoe Tucker 
Our North East Camp Director can be reached at [email protected]
NORTH WEST 
24, 25 Oct, MMU Platt Lane
26, 27 Oct, Manchester Basketball Centre
18 Dec, MMU Platt Lane & Elton High School
19, 20, 21 Dec, MMU Platt Lane
29 Jan, National Basketball Performance Centre
17 Feb, All Saints Sports Centre
21, 23 Feb, MMU Platt Lane
3, 4, 6 Apr, MMU Platt Lane
Lead Coaches: Robert Park, Rheanne Bailey 
Pathway Coaches: Stephen O'Donnell, Gareth Westwood, Joe Andrew, Natalie Feurtado 
Camp Director: Nici Hewitt
Volunteer Coaches: Adam Digby, Kate Lewis, Lewis Scott, Stacey Foy, Nick Ibberson, Greg Mpofu, Jason Parr-Hilton, Sam Bannon
Our North West Camp Director can be reached at [email protected]
SOUTH 
24, 25, 26 Oct, Woodlands Community College, Southampton
27 Nov, Arborfield Green Leisure Centre, Reading
18 Dec, Arborfield Green Leisure Centre, Reading
19, 20 Dec, Loddon Valley Leisure Centre
29 Jan, Arborfield Green Leisure Centre, Reading
3 Apr, Aldershot
4, 5 Apr, Oaklands College
Lead Coaches: Charlie Haynes, Kiely Reed 
Pathway Coaches: Robbie Connell, Florin Roman, Anna Nevison, Jack Fettes 
Camp Director: Sarah Goddard 
Supporting Camp Director: Abbie Goddard
Our South Camp Director can be reached at [email protected]
SOUTH EAST 
27, 28 Oct, Sir Robert Woodard Academy, Lancing
27 Nov, Uni of Chichester
18 Dec, Uni of Chichester
29 Jan, Uni of Chichester
13, 14, 15 Feb, ACS International School Cobham
5 Mar, Uni of Kent Medway Campus
3 Apr, Uni of Kent Medway Campus
4, 5, Apr, Oaklands College 
Lead Coaches: Jerry Jaranilla, Cristina Stanciuca 
Pathway Coaches: Adam Sewell, Daniel Fatomide, Jamie Tong, Freddie Winton
Camp Director: Ana Baptista 
Supporting Camp Director: Nik Bedwell
Volunteer Coaches: Ben Stanley, Samuel Bell, Donnie Cabrera
Volunteer Admin: Anna People, Sadie Tooley, Charlotte Curran
Our South East Camp Director can be reached at [email protected]
SOUTH WEST 
24, 25 Oct, UWE Centre for Sport, Bristol
19, 20, 21 Dec, UWE Centre for Sport, Bristol
13, 14, 15 Feb, Backwell School
Pathway Coaches: Ehjaz Khan, Oluwamorewa Adepoju, Kie Booth, Sam Davis
Camp Director: Christian Hill 
Supporting Camp Director: Emma Searle
Our South West Camp Director can be reached at [email protected]
WEST MIDLANDS 
All session at Doug Ellis Sports Centre, Birmingham 
24, 28 Oct
27 Nov 
28, 29, 30 Dec 
29 Jan 
20, 24 Feb
Lead Coaches: Emanuel Jr. Bradshaw, Gemma Salmon 
Pathway Coaches: Shanice Turner, Steve Dudley, Douaine Anderson, Chris Mountford  
Camp Director: Stephen Barnes
Supporting Camp Director: Wayne Brooks
Volunteer Coaches: Alaina Allen, Lester Green
Our West Midlands Camp Director can be reached at [email protected]
YORKSHIRE 
24, 25, 27, 28 Oct, York Sports Village
18, 19, 20 Dec, York Sports Centre
2 Jan, York Sports Centre
29 Jan, All Saints Sports Centre & National Basketball Performance Centre
15, 16 Feb, York Sports Centre
17 Feb, All Saints Sports Centre
4, 5 Apr, York Sports Centre
Lead Coaches: Ryan Weir, Katie Lamond
Pathway Coaches: Zachariah Gachette, Tom Morey, Vanessa Ellis, Murray Bingham
Camp Director: Jake Shuttlewood
Volunteer Coaches: Owen Norfolk
Our Yorkshire Camp Director can be reached at [email protected]