Chedell Cruickshank has been there and done it on the court – now she is helping players with important guidance off it as well.
The Derby College Basketball Academy head sports therapist and Derby Trailblazers player, reminds players as they come to the end of their seasons to stay fit and healthy by keeping their nutrition and strength and conditioning workouts balanced.  
"Don't think that you always have to go to the gym and lift loads of weights to stay in shape," said Cruickshank, who has worked with Great Britain women's squad.  
"If you can't get access to the gym, keep in shape by doing at home or outdoor body weight HIIT (high, intensity, interval, training) workouts. Eating well is also important for to maintaining your energy in the off-season. It's just important to keep moving. You have to put in work outside your normal training sessions to keep your body prepared and injury-free ahead of each season – especially as you get older."
Basketball and ICT 
Originally from Nottingham, Cruickshank fell in love with basketball at primary school, where she would go with her classmates to the Jesse Boot Wildcats Arena to study ICT and play basketball – a dream combination.  
From those early years, she settled down to play for the Wildcats until it was time to leave the nest and study Sport and Exercise Science at Lincoln University, from there she completed her master's in Sports Therapy at Gloucester University.  
After further education, the 30-year-old opened her own clinic and found opportunities to ply her trade with Basketball England's junior national team programme and with GB women at the 2019 EuroBasket tournament, where GB finished a historic fourth – their highest-ever placing – and made it to the Olympic qualifying tournament.   
"To work at that level was amazing," Cruickshank added. "I just enjoyed all of it. I worked alongside experienced therapists, so I learnt a lot from them and just loved being involved and watching the training sessions.  
"It was quite inspirational watching the women on the court and helping them with their warm-ups, recovery sessions and treatments as well."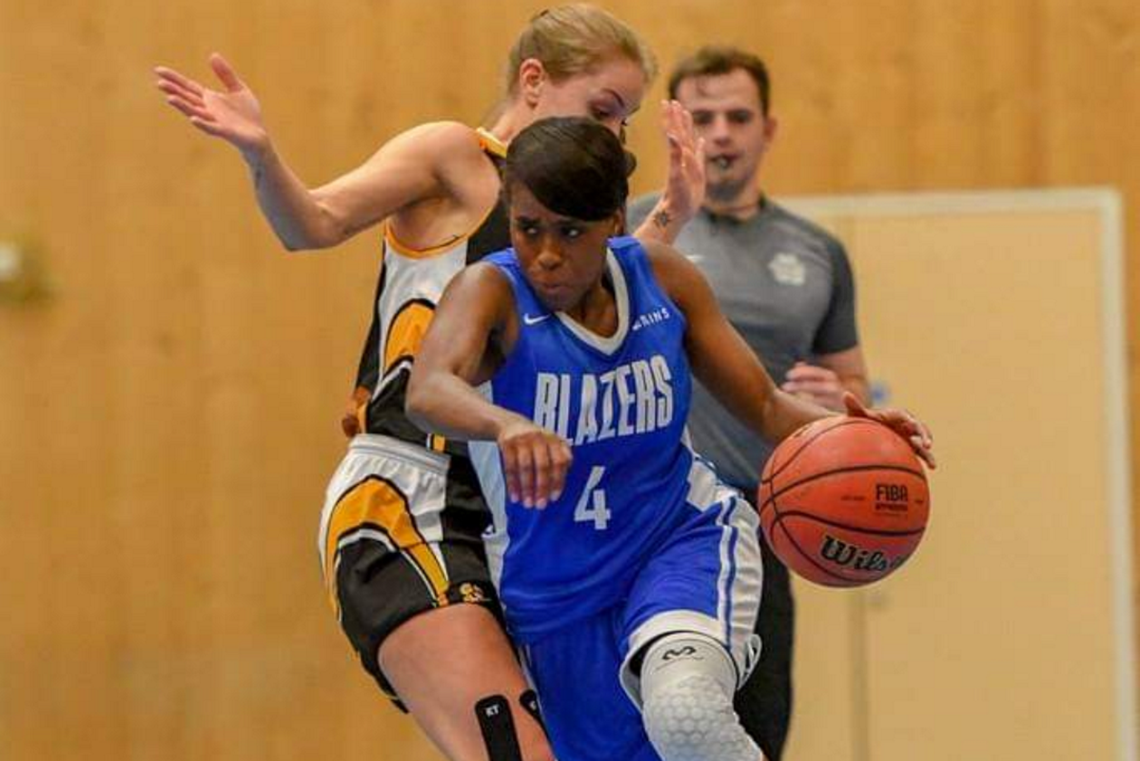 'Helping out just feels good' 
Cruickshank now works as the head sports therapist on the DiSE programme at Derby College and plays for the Blazers' women's team in the WNBL2.  
The Diploma in Sporting Excellence, or DiSE for short, supports talented basketball players through best-in-class learning and development environments with competition delivered via the Elite Academy Leagues (EABL and WEABL). Cruickshank's role at Derby is to help its elite U19 academy players get through the season injury free – she says it feels good to have carved out a career in the sport that involves helping people.  
"At the start of the season, I do a set of screens to mainly get base line assessments of the players and create injury preventive exercises for them. I also run injury clinics a couple of nights a week and then if anyone's injured or needs injury advice they'll come and see me, and I'll given them the assessment, treatment and advice that they need. Game days I'm there to provide first aid, and help anyone needs taping, etc.
"When I was younger there weren't all these specific academies, there wasn't a DiSE programme, so it's really nice to see how far basketball's come along and to still be involved and helping out just feels good.  
"That's kind of why I did sports therapy, not just to work in basketball, but to be able to help people that are injured because I know what's like. To be able to help young athletes get back on court quicker and give them advice feels really rewarding."  
The Trailblazers 
As for the playing side of her career, Derby qualified for the 2021/22 playoffs with a regular season record of 9-7 but lost to the Brent Bulls in the playoff quarter-finals. Regardless, Cruickshank is happy to be competing and believes the team can move up a division.  
"I think we want to get ourselves up to division one because we know that we're capable. I would like to play at the highest level possible and I feel I haven't hit my peak yet, I've just got a few niggling injuries to manage."  

Basketball has the power to change lives. The #GameTime campaign will aim to raise awareness of the positive impact that our sport can have on people no matter who they are or where they are from. 
Basketball England aims to engage one million people in basketball via the Commonwealth Games 2022, 3x3 and more.  
Whether you want to: 
Support Team England

 

#GetInvolved as a player, coach, official, volunteer or fan

 

Or improve your local court with #ProjectSwish

 
...regardless of age, gender or background, across every part of the basketball family, it's #GameTime!