After a lengthy absence, the Jnr. NBL Final Fours are back!
Unable to take place since the 2018/19 season, with the 2019/20 playoffs and the entirety of the 2020/21 season being claimed by the effects of the COVID-19 pandemic, junior basketball's showpiece event is back in Manchester this weekend.
24 teams will all head to the National Basketball Performance Centre with an opportunity to finish their season with a playoff title to their name, and we've got previews, quotes and live stat links for fans to take in.
Sunday's finals will be live streamed on the Basketball England YouTube channel, with details of the games announced on Saturday night once all finalists are confirmed.
U14 Boys 
Baltic Stars London v Richmond Knights - LIVE STATS
Sussex Storm v Manchester Magic - LIVE STATS
Three Southern teams plus hometown Manchester make up the U14 Boys Final Fours, setting the weekend up with an interesting dynamic for the end of this year's competition. 
With three division winners also in the mix, the battle for a playoff crown is sure to be an entertaining one and fans can look forward to what should be a pair of highly competitive semi-finals. 
Baltic Stars London were the cream of the crop in the South East Premier, going the season unbeaten to close with a 12-0 record before comfortable playoff victories against London Westside Rangers and Newcastle Eagles. 
They'll take on Richmond Knights, the only runners up left in the competition, after they finished in second spot in the South West Premier. Their 12-1 record left them just behind eventual league winners Sussex Storm, who have also made it to Manchester. 
Storm's reward is a tie with local favourites Magic, who will no doubt have a strong following in the Performance Centre's back hall, the traditional venue for the U14s competition. 
Magic's 11-1 record was good enough to win the North Premier, showing their continued pedigree at this level after winning this competition in 2018/19.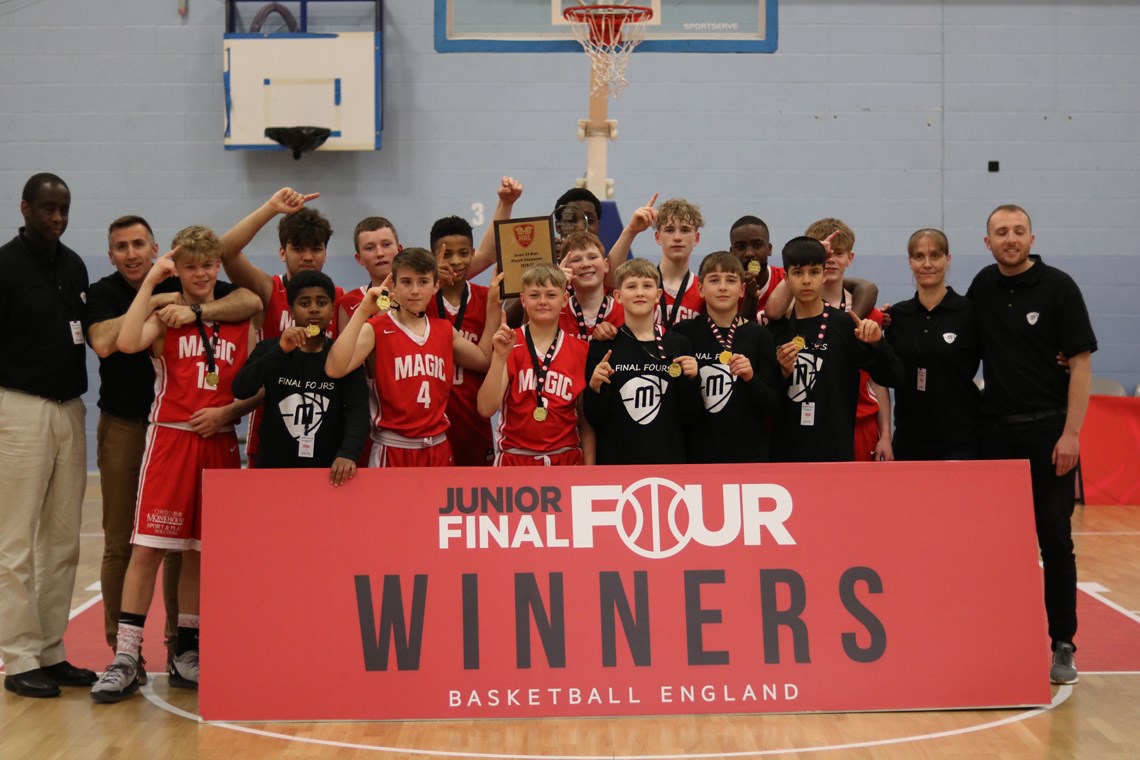 Baltic Stars London's head coach Andrius Mazutis: "It's great to be back at the Final Fours. All the U14 teams are equally matched this year and anyone can win the championship. Good luck to all the teams." 
Richmond Knights' head coach Gennaro Augenti: "I went from teaching these guys basketball fundamentals before and during the pandemic to leading the team to the Final Fours. If I need to use any words to describe my feelings, they'd be 'beyond blessed.' 
"All the teams still involved are tough and very well coached so I'm expecting a weekend full of great games." 
Sussex Storm's head coach Daniel Hildreth: "Making the finals is a huge achievement for all the teams, it's an amazing experience and one that some of the best players never get to attend. For this reason we're very grateful and we'll appreciate the weekend above all else.  
"We have had a great year, winning our conference and now reaching the best weekend in junior basketball. The players truly deserve to be there and a few of them are quite rightly playing with a chip on their shoulder, which I love!" 
Magic's head coach Tom Paraskeva: "It's exciting to play against the best in the country. We've improved a lot as the season has gone on, so I'm looking forward to seeing how we compete at the Final Fours." 
U14 Girls 
Manchester Mystics v Ipswich - LIVE STATS
Richmond Knights v Leicester Riders - LIVE STATS
Manchester Mystics head to the National Basketball Performance Centre with a title to defend after the North West programme claimed the 2018/19 U14 playoff crown, which was the last time the competition reached this stage due to the COVID-19 pandemic. 
Coincidentally, Mystics beat Ipswich 53-46 in that final, the same team they'll face in their semi-final this year, making for a prime chance for the Suffolk side to get some revenge after a lengthy wait. 
That could be tricky to achieve though, with the Mystics going a perfect 18-0 in the North this season, whilst their opponents went 10-4 to finish third in the East before wins against St Albans Wolves and Bristol Academy Flyers in the post-season. 
The other semi features another unbeaten team in South 1 winners Richmond Knights. Going 10-0 through a spotless campaign, they'll also fancy their chances of success in Manchester, especially considering their huge 552-point differential during the regular season.  
First up for the Knights is a Saturday contest against Midlands conference winners Leicester Riders, who at 11-1 are sure to a tricky opponent. After seeing off Manchester Mystics II 67-66 to book their ticket to this weekend's big dance, you can be sure the Riders are on a roll and wanting to use that momentum to go all the way.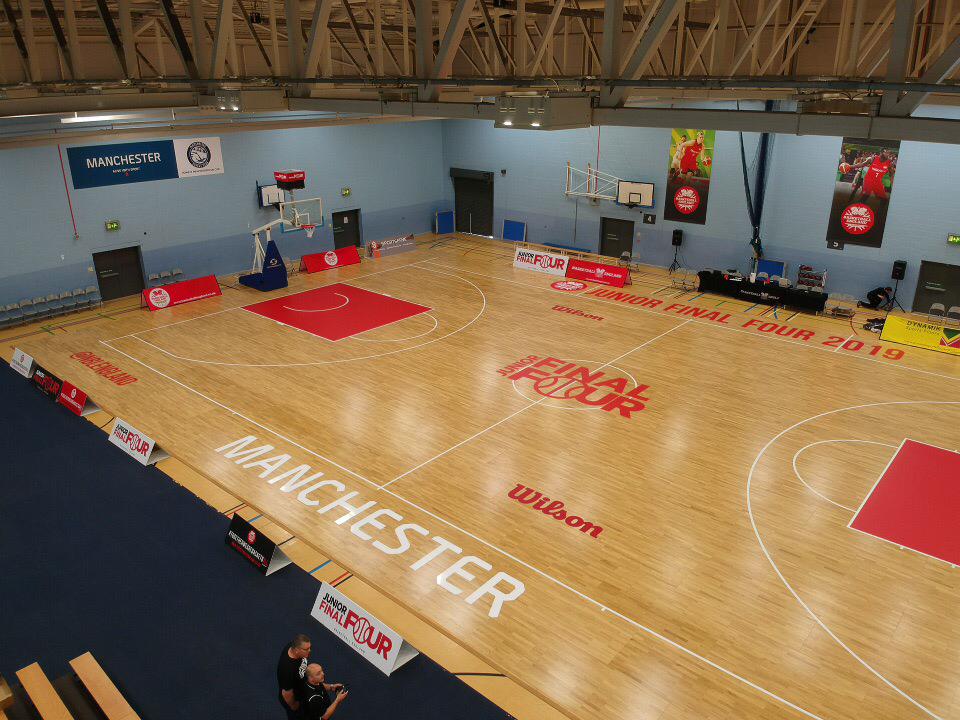 Manchester Mystics' head coach Jim Carnegie: "A major factor in the success of this team lies in the togetherness of the group both on and off the court. Their unselfishness and maturity makes them a coach's delight.  
"I sincerely hope they enjoy the occasion and do themselves justice by demonstrating their strength in depth and what enormous potential they possess." 
Ipswich's head coach John Yorke: "The U14 girls at Ipswich have been on an incredibly journey this season. To make the Final Fours is beyond anything we imagined at the beginning of the season.  
"It's all down to their dedication, passion and the ability to play for each other. The future is bright for these girls." 
Richmond Knights' head coach Chanel Mubeen: "We've worked hard throughout the season to get to where we are now, I am proud of the girls for making it this far.  
"I'm excited for the challenge and to see what my girls can do on the big stage. Our aim is to stay focused and play our game." 
U16 Boys 
Manchester Magic v Manchester Giants - LIVE STATS
Richmond Knights v London Legends - LIVE STATS
Richmond Knights will aim to put the disappointment of losing this season's Sure Shot U16 Boys National Cup final behind them as they head to Manchester with a point to prove. 
Going down 81-61 in this same venue against Islington Panthers back in January, the West Premier champions will want to write a different script this time round after a 15-1 regular season and defeat in the final of this competition in 2018/19. 
To do that they'll need to claim their season series against local rivals London Legends, who finished as runners up in the West Prem at 14-2. Both teams won their home tie, with Legends coming out 73-50 victors in December, whilst Richmond claimed a 72-70 W way back in October. 
The other semi-final is just as enticing, with a pair of cross-town rivals going at it in front of what is sure to be a raucous home crowd. 
With both Manchester Magic and Manchester Giants playing their basketball in the North Premier, Magic went a perfect 16-0 in their bid to improve on a third-place finish from three years ago. Hot on their heels, the Giants closed the year in second spot at 15-1. 
The Giants' only loss came at home against this weekend's opponents, going down 70-56 in late January. No doubt coach Pastor's team would love to turn the tables now they're just two games away from the playoff title.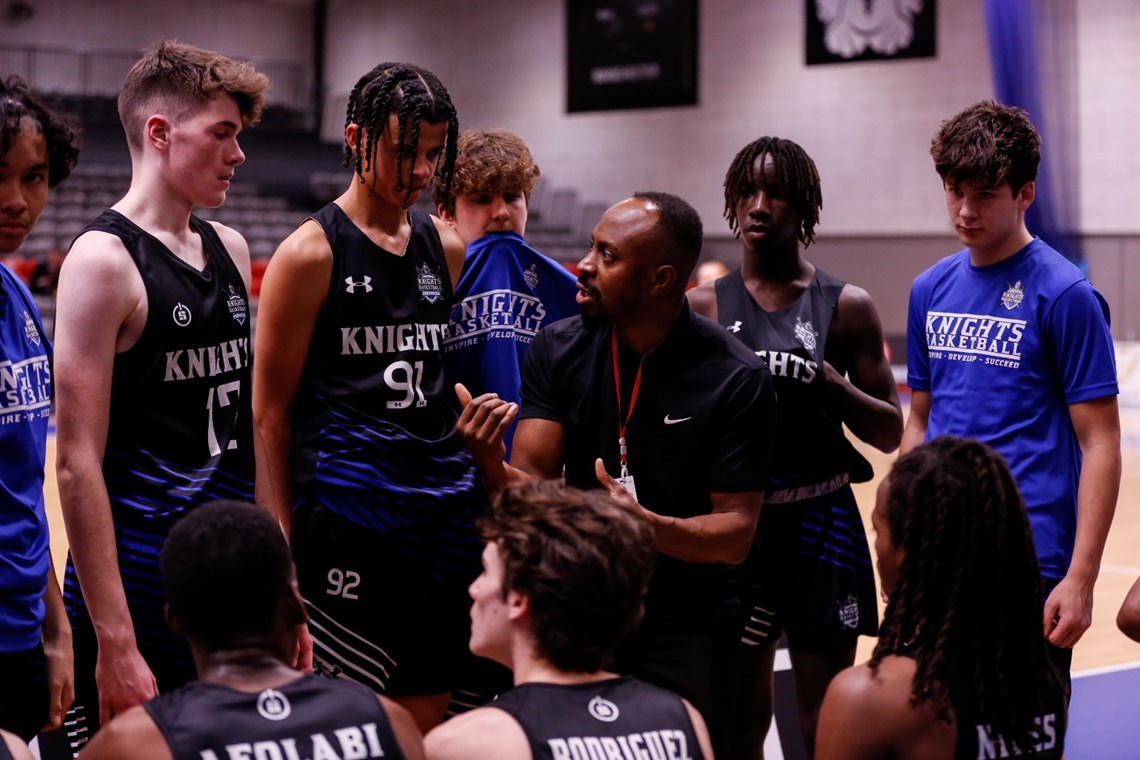 Manchester Magic's head coach Sergio Lara-Bercial: "We are delighted to reach the Final Fours. It has been a very competitive season and lots of teams had a genuine chance of being there. We are extremely grateful to the club and the families for all they do to provide these opportunities for the players." 
Manchester Giants' head coach Jordi Pastor: "We are delighted to be in the Final Fours after a very tough season for the junior club. We are very proud to be playing in our home city against top class opposition.  
"Win or lose we promise plenty of fighting spirit and great basketball from our players." 
Richmond Knights' head coach Isaac Omirin: "We are excited to get the opportunity to be attending the Final Fours this season. The team have worked really hard to get to this position and I believe all their hard work has paid off.  
"We are looking forward to the game and we hope we can give everyone a high-level performance for the ages." 
London Legends' head coach Rotimi Adeeko: "This is our first ever Final Fours appearance so it means a lot to our club and shows that we are going in the right direction.  
"With that being said, we are not going to Manchester to make up the numbers, we are coming to compete and the fact that we have not won anything this season serves as extra motivation for us to succeed." 
U16 Girls 
Richmond Knights v GCA Haringey Angles - LIVE STATS
Manchester Mystics v Bristol Academy Flyers - LIVE STATS
GCA Haringey Angels are looking to complete a cup and playoff double as they try to keep the good times going this weekend. 
The NBPC was a happy hunting ground for the London side when they won the Sure Shot U16 Girls National Cup in January, beating local favourites Manchester Mystics 72-70 in a thrilling final. 
The Mystics have also made this year's Final Fours and will no doubt be hoping they can take another shot at the Angels, should both teams progress to Sunday's final. 
Haringey have every reason to be confident of further success after sealing a perfect 15-0 record to win the South 1 conference. Coupled with their Cup win, that means coach Wilkinson's team haven't tasted defeat in any competition this season, quite the feat from the 2017/18 runners up. 
To stay spotless Haringey will need to beat another team who aren't accustomed to losing. Richmond Knights won the South 2 conference at 8-0 and as beaten finalists in 2018/19, the Knights will no doubt be itching to come to Manchester and go one better this time around. 
The Mystics are the North's only representatives this year, winning their conference 16-0 and taking on all comers throughout an impressive campaign. They'll face off against South 3 winners Bristol Academy Flyers, who, like the rest of this weekend's U16G contenders, are also unbeaten this season at 12-0. 
Impressively, these same four teams also made up the semi-final line up in this season's National Cup, with Manchester beating Richmond 65-60 and Haringey topping Bristol 57-51. 
If the action is anywhere near as close this weekend, we're all in for a treat!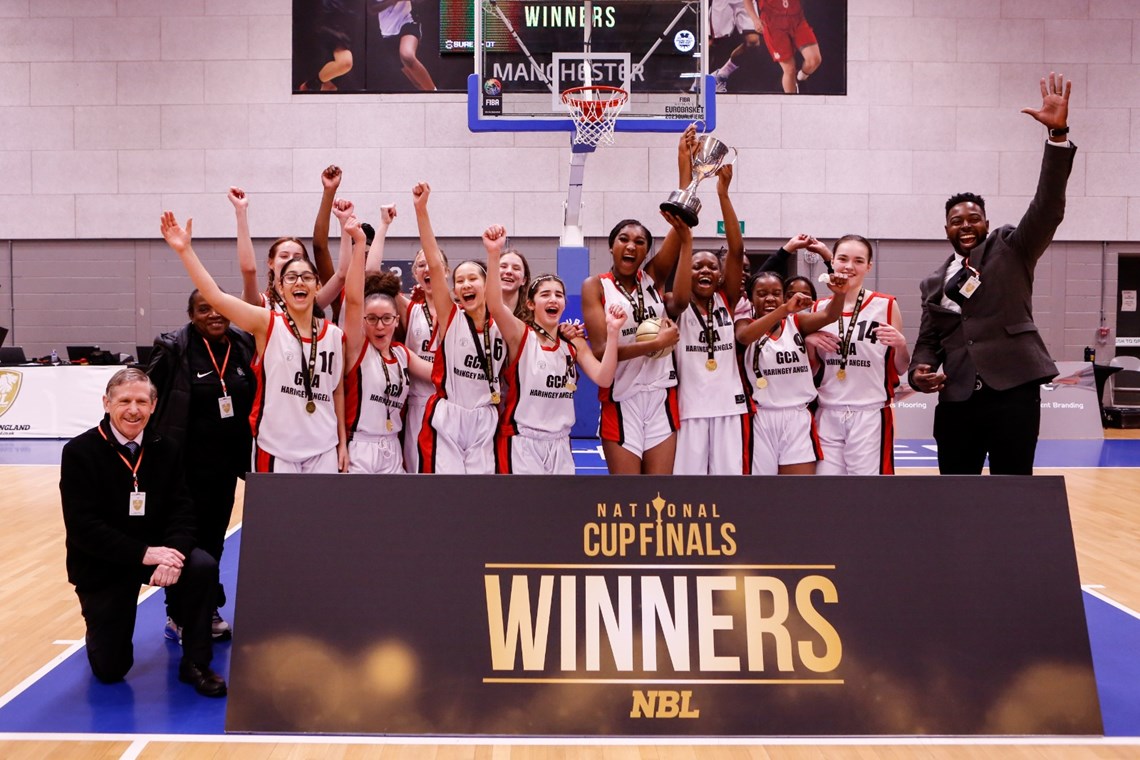 Richmond Knights' head coach Isaac Omirin: "I'm super proud of how far this group have come. They've worked so hard to be at the Final Fours.  
"We are excited and ready for the opportunity to play in Manchester and put on a performance we can all remember." 
GCA Haringey Angels' head coach Hugh Wilkinson: "We have had an unbelievable season and the girls have gone from strength to strength. As a club we are so proud of what they have achieved so far and to make it to the Final Fours is another badge of honour that the team will wear with pride. I'm excited for the event and the girls are too." 
Manchester Mystics' head coach Rob Fairley: "We're excited for what will be a great finals weekend for all the teams involved.  
"We were fortunate to reach the National Cup Final, but ultimately we fell just short. Since then the team has shown a renewed focus in practice and I have been impressed with how they have applied themselves. Our team will give their all, no matter what." 
Bristol Academy Flyers' head coach Phil Milbourne: "We're looking forward to the weekend.  Like many teams it's been a difficult season, dealing with COVID, injuries and managing a small squad but the girls and my fellow coaches and staff have worked really hard and we deserve to be where we are now.  
"Clearly we are going into Final Fours as underdogs with both Manchester and Richmond's recent successful history and Haringey winning the National Cup, but we want to enjoy the experience and give it our best shot." 
U18 Men 
Manchester Magic v City of London Academy - LIVE STATS
Team Solent Kestrels v London Westside Rangers - LIVE STATS
North Premier winners Manchester Magic finished a perfect 13-0 this season and with two more wins this weekend they'll add more silverware to an already impressive campaign. 
Winners of the Sure Shot U18 National Cup in January after a solid 70-66 win against Sussex Storm, Magic also made it to the Final Fours three years ago and have enjoyed continued success at this level. 
Standing in their way are East Premier runners up CoLA Southwark Pride. Going 13-3 in the regular season, coach Williams' programme came into their own to beat both Surrey Rams and Derby Trailblazers in the post-season. 
Team Solent Kestrels continue to be one of the most successful teams in the senior NBL ranks, with the D1M side claiming a historic four straight league titles and a trio of playoff crowns. The D2M side reached this year's playoff final as well, so it's no surprise to see the club's youth set up also bearing fruit. 
Winning the West Premier at 15-1 after a head-to-head tiebreaker with runners up Derby, the Kestrels will be trying to claim their first silverware of the season after losing out at the quarter-final stage of this season's National Cup. 
Solent take on London Westside Rangers, who topped the East Prem ahead of CoLA, compiling a solid 14-2 record in what proved to be a highly-competitive conference. 
Beating National Cup finalists Sussex Storm in the previous round three weeks ago more than highlights the Rangers' impressive credentials, winning that game 87-81.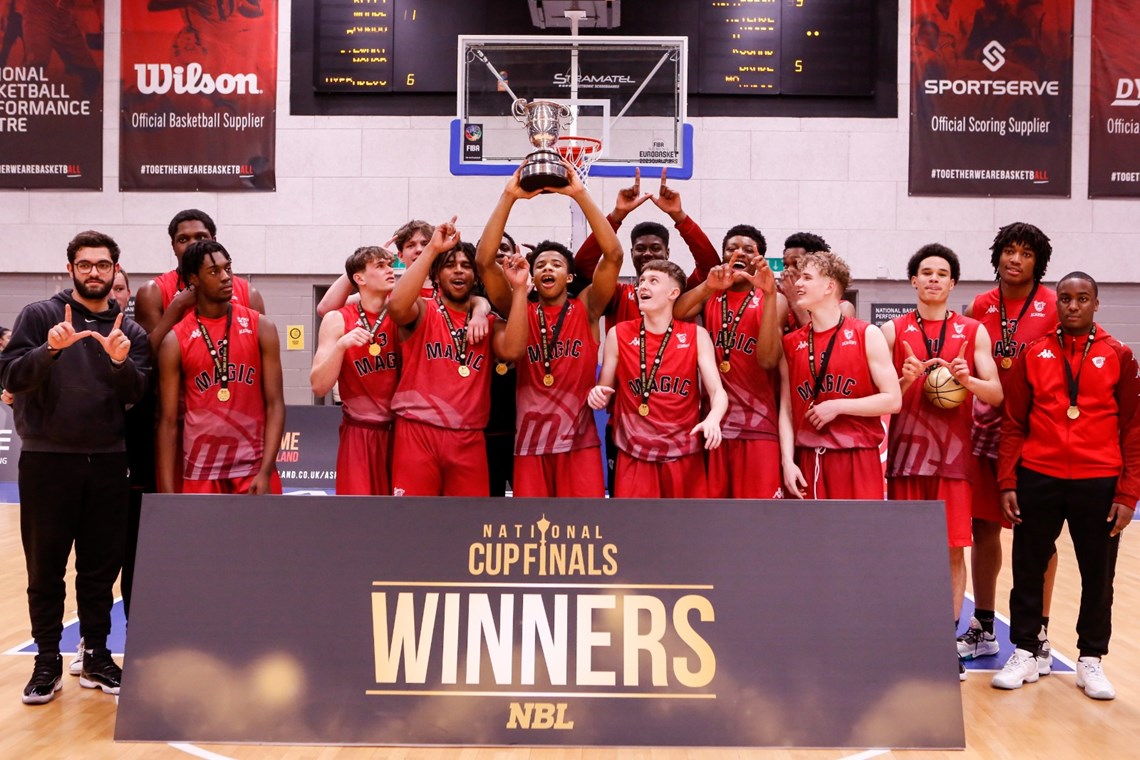 Manchester Magic's head coach Adam Morris: "We're excited to be back in another final this season, along with the other boys' and girls' teams from the Manchester Magic and Mystics family.  
"We go into the weekend full of confidence that we can get the job done." 
City of London Academy's head coach Jay Williams: "It has been a long season and we have worked very hard to get here. We are very excited to be in the Final Fours with three other good teams and we are looking forward to a great weekend of basketball." 
TSK head coach Jack O'Keeffe: "I'm really excited for our group to get the opportunity to play in the Final Fours, after missing last season, I know just how much it means to the boys to get back to the big stage.  
"We have grown as a group as the season has progressed and overcome some difficult tests, which will stand us in good stead for the match up with London Westside. They have come out of a really competitive East Premier division, so we know we will have to be at our best to come away with a positive outcome." 
London Westside Rangers' head coach Patrick Avorkliyah: "I'm really happy for the players, especially after missing out on the whole of last season due to COVID, and it's testimony to all of the hard work, sacrifice and preparation that they have put in over the course of the season.  
"Most importantly, the players have developed and grown and I'm impressed with their progress over the journey.  
"I want to congratulate Solent and the other teams for qualifying for the Final Fours and I expect a high level of intensity. It will come down to offensive and defensive execution." 
U18 Women 
Ipswich v Team Solent Kestrels - live stats
City of London Academy v Reading Rockets - live stats
City of London Academy will try to use this weekend to put an exclamation point on what has been a simply incredible season. 
Across multiple competitions CoLA have been peerless, winning the WNBL Division One league and playoffs, the Women's Elite Basketball League (WEABL) and the Sure Shot U18 Women's National Cup. 
The only piece of silverware this team couldn't get their hands on was the WNBL National Cup after a shock quarter-final loss to eventual winners Stockport Lapwings, but that shouldn't detract from what this young team has achieved. 
Going 6-0 in the South Premier during the regular season, coach Gibbons' side beat all three of this weekend's finalists in Solent, Reading and Ipswich. That includes a pair of victories against the Rockets, who went 2-4 during the regular season and line up against CoLA in Saturday's semi-finals. 
Ipswich lost to CoLA in the U18 cup final, going down 68-41 and although they came fourth in the South Premier, they turned it on come playoff time to beat North Premier winners Manchester 82-80 and ensure an all-South lockout. 
Solent went 4-2, good for second place, though more importantly they beat Ipswich in both their meetings this season. 92-62 winners at home and 81-59 victors on the road, coach Milner's programme will try to make it three in a row for a spot in Sunday's final.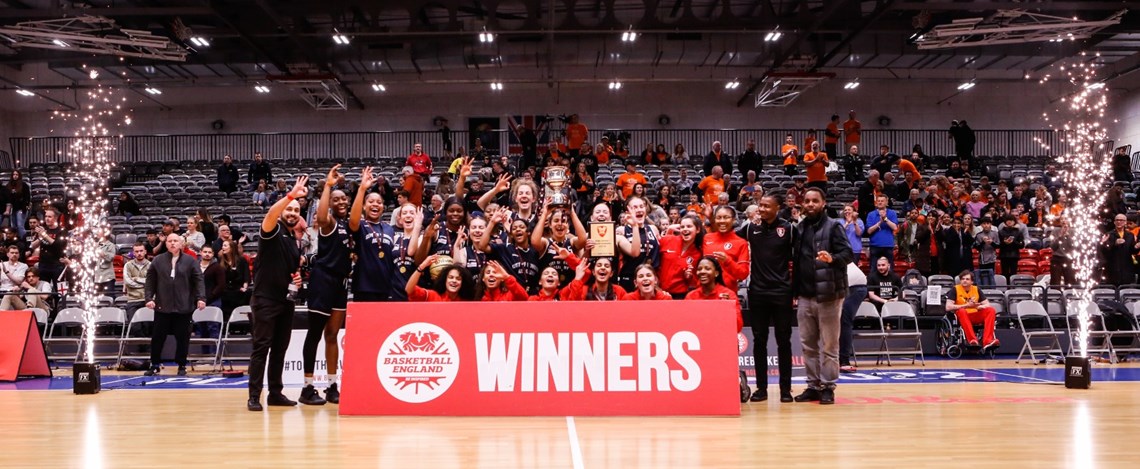 Ipswich's head coach Nick Drane: "It's been a very long and emotional season for these girls and getting to compete for the National Championship at the Final Fours is a deserved reward for them. 
"We've not played a single game with our full-strength roster, and despite that we have reached the National Cup Final, the WEABL semi-finals and now the Final Fours, which is testament to the commitment, persistence and hard work this group of fantastic young women have demonstrated this season." 
Team Solent Kestrels' head coach Vicky Milner: "Winning last Saturday and booking a place in the Final Fours means everything to us as a girls' programme. We started this programme with a lot of these players as U12s, and to reach our first national Final Fours with them is a credit to the hard work and dedication they have put in over this season and previous years. 
"We expect Ipswich to be a tough matchup, as always. We will come in as the underdogs but that is how we like it - we will prepare hard and leave it all on the floor." 
Reading Rockets' head coach Joan Luque Portero: "We are so excited to be here, the girls showed a great level of play in the quarter-finals. 
"We know we are going to face a top team, but we are looking forward to developing our game against COLA. 
"In knockout basketball, anything can happen and we are going to Manchester to give it our best. The girls deserve to live this experience and I'm so happy for them."