The 2021/22 Jnr. NBL Final Fours are here!
24 teams came to Manchester's National Basketball Performance Centre with their seasons still alive, but only 12 still have a shot at a title after a thrilling day of basketball.
We've got a run down of all the day's results below, plus a gallery of images from across Saturday's action at the bottom of the page.
Live stream and live stats links for tomorrow's finals will be available later tonight.
Saturday's Results and Box Scores
10am
U16G -

RICHMOND KNIGHTS

65-41 GCA HARINGEY ANGLES -

 

box score
U16G -

MANCHESTER MYSTICS

73-57 BRISTOL ACADEMY FLYERS -

 

box score
U14B - BALTIC STARS LONDON 55-78

RICHMOND KNIGHTS

-

 

box score
12pm
U16B -

MANCHESTER MAGIC

84-51 MANCHESTER GIANTS -

 

box score
U16B - RICHMOND KNIGHTS 65-76

LONDON LEGENDS

-

 

box score
U14G -

MANCHESTER MYSTICS

95-24 IPSWICH - box score
2pm
U18W -

IPSWICH

87-70 TEAM SOLENT KESTRELS -

 

Box Score
U18W -

CITY OF LONDON ACADEMY

76-35 READING ROCKETS -

 

box score
U14B - SUSSEX STORM 80-89

MANCHESTER MAGIC

- box score
4pm
U18M -

MANCHESTER MAGIC

62-46 CITY OF LONDON ACADEMY -

 

box score
U18M - TEAM SOLENT KESTRELS 80-88

LONDON WESTSIDE RANGERS

-

 

Box Score
U14G -

RICHMOND KNIGHTS

55-51 LEICESTER RIDERS - box score
.
Recap
U14 Boys
Richmond Knights put a stop to Baltic Stars London's perfect season with a 78-55 victory.
The London side booked their place in tomorrow's final thanks to a captain's performance from Tejan Rugette, who dropped an impressive 35 points, whilst Milo Murray had a 22 point, 17 rebound double-double.
Manchester will join Richmond in the final after the local favourites beat Sussex Storm 89-80. 
Storm led by as many as 22 points in the contest, but Magic refused to call time on their season as they staged an epic comeback thanks to a commanding 20 points, 13 rebound double-double from Oluwademilade Babalola.
U14 Girls
Manchester Mystics blew out Ipswich 95-24 in the first of the U14 Girls' semi-finals.
The Mystics proved too strong for their opponents from the off, with Maisie Keyes (20pts, 15reb, 6reb) and Irene Oboavwoduo (20pts, 7reb) both looking strong.
There was plenty of excitement in the other semi, with Richmond edging past Leicester Riders 55-51.
The Knights led by 15 late in the third quarter before the Riders tried to mount a fightback, but two points was as close as they'd come before the buzzer eventually sounded.
Neve Rugette led the way for Richmond, she had a 17 point, 11 rebound double-double.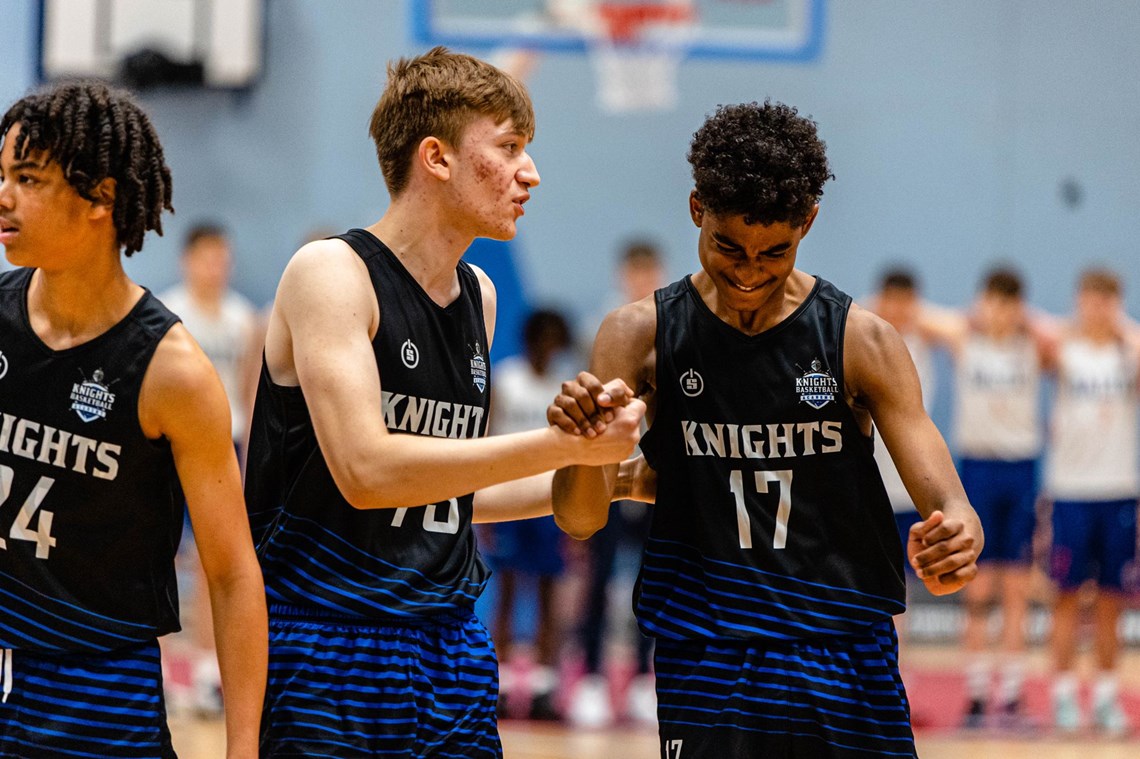 U16 Boys
In battle of the North West teams, Manchester Magic eased past Manchester Giants 84-51.
There was just one point between the local rivals shortly before the main change, before Magic put their foot on the accelerator after the half time break to build a lead that eventually topped out at 33 points.
Four Magic players all scored well, with Robbie Wild (18pts) and Enoch Wangoy (18pts, 12reb) topping the stat sheet.
London Legends also made it into tomorrow's final after a 75-65 victory against Richmond Knights.
Tejan Rugette followed up his 35 points in the U14s with a game-high 24 points here, making for quite the day from the young scorer.
U16 Girls
Richmond Knights handed GCA Haringey Angels their first defeat in any competition this season as they won out 65-41.
Coach Omirin's team raced out to a 21-6 opening quarter lead, holding the Angles to single digits in both quarters of the first half to build an advantage they'd never relinquish.
Esther Kursite (12pts, 10reb) played well, whilst Katie Cox (16pts, 10reb) top scored for the Knights.
Manchester Mystics continued their good day as a club, sending another team into tomorrow's finals as they beat Bristol 73-57.
The 16-0 North conference winners rarely looked troubled after erasing the Flyers' 16-11 opening quarter, building a double digit lead in the second half and never looking back.
Rose Piskorska dropped a game-high 21 points and will look for more of the same tomorrow as the Mystics try to cap an unbeaten season.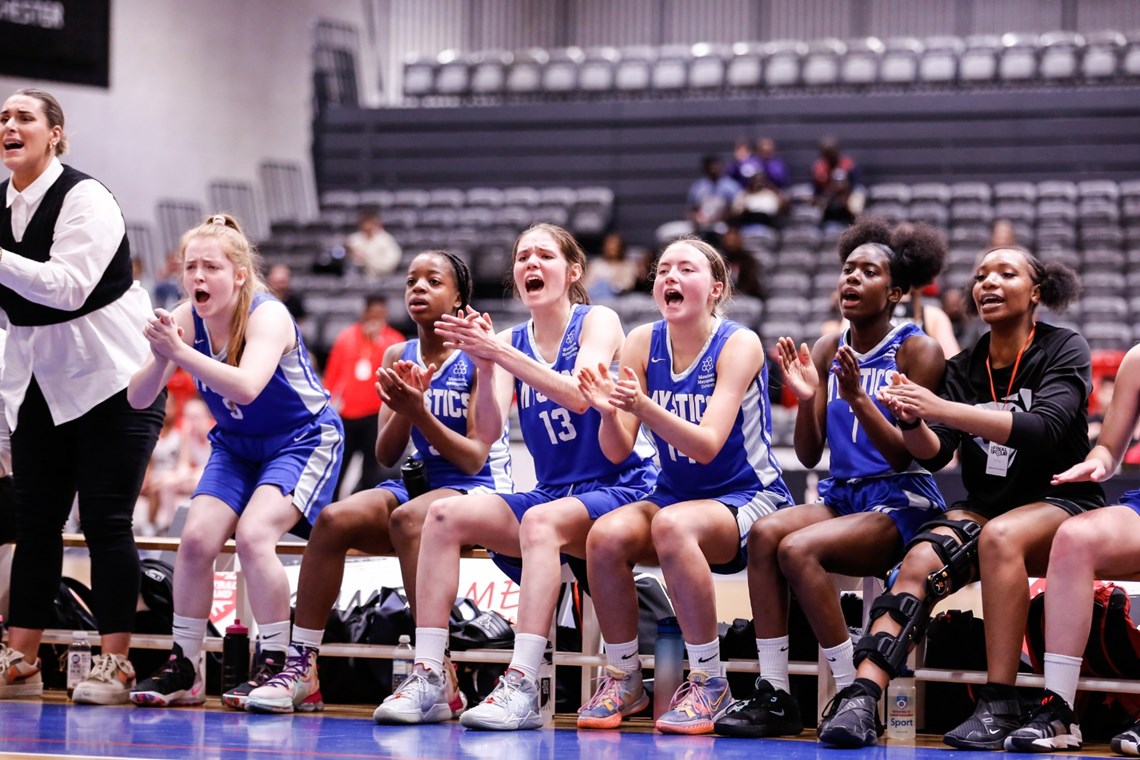 U18 Boys
Manchester Magic proved too strong for City of London Academy, winning a low scoring semi-final 62-46.
Magic held their opponents to just 14 first half points on their way to victory, with captain Ben Brown and Sam Lolenga both closing on 13 points.
The other semi contained significantly more offence as London Westside Rangers beat Team Solent Kestrels 88-80.
Solent took a 41-30 lead into the half but were blown away during a 30-12 third quarter that ultimately brought an end to their season.
Hunter Kelleher (15pts, 10reb, 4ast) impressed for the Rangers, as did Tyler Fairbairn (14pts, 10reb) who joined his team mate in double-double territory.
U18 Girls
South Premier winners City of London Academy continued their spotless campaign, adding another win to their record as they defeated Reading Rockets 76-35.
Struggling to break down the CoLA defence, the Rockets were held to single digits in three of the game's four quarters.
That left Isimenme Ozzy-Momodu to continue her fine season, she had an 18 point, 17 rebound double-double.
Ipswich will be left with the task of trying to slow CoLA down tomorrow after they came out on top against Team Solent Kestrels, winning 87-70.
An even contest through two quarters, the Suffolk side would turn on the jets after the break to grab a 28-11 third frame that would decide the contest.
Olivia Forster was in unstoppable form, finishing with 31 points, and captain Saruna Gudza dished 12 assists.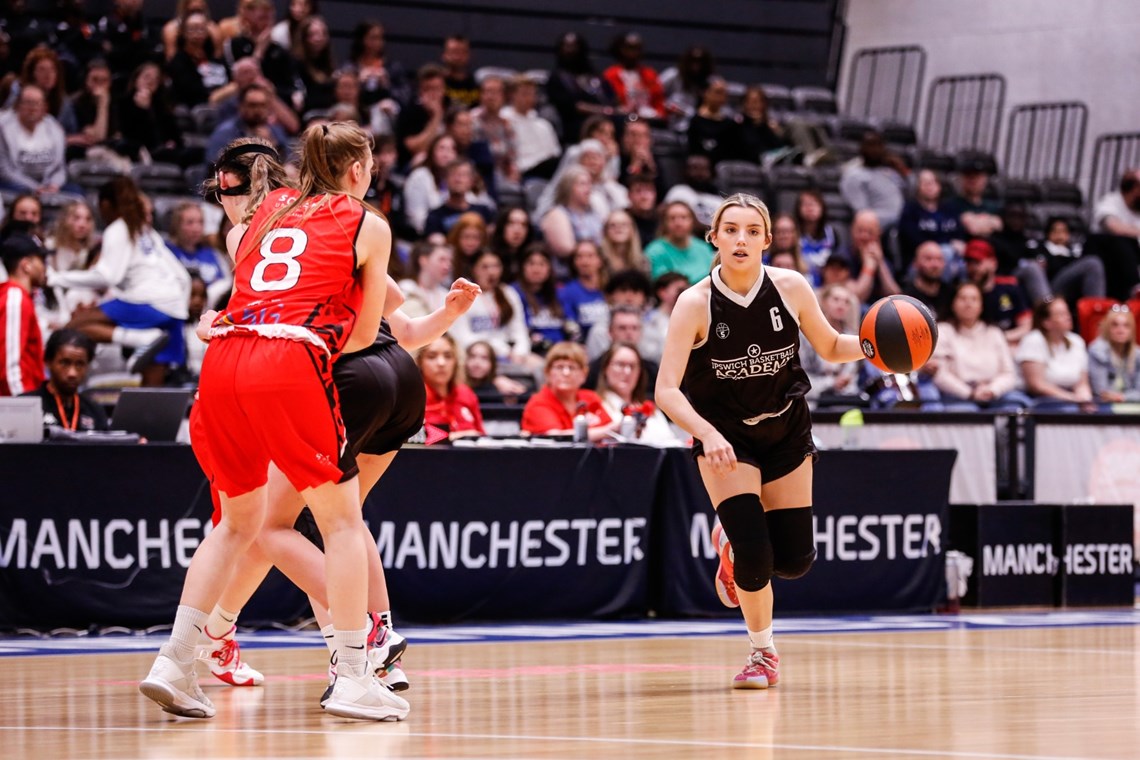 Sunday
Tomorrow's action will get underway from Manchester's National Basketball Performance Centre at 10am, with details of live streams and live stats to be announced later tonight.
The U16 Girls final gets underway at 10:00am, with the U16 Boys final following it at 12:15pm.
The U18 Women's final and the U14 Boys final are both at 2:30pm, and the weekend comes to a close with the U18 Men's and U14 Girls finals from 4:45pm.
All finals will be streamed on the Basketball England YouTube channel.