The GB Masters won their first-ever European medals at a successful XI European Championships in Malaga - bagging a silver, two bronzes and two iron gongs.
After nearly three years of hard work and numerous postponements due to Covid-19, the 16 FIMBA GB teams, along with the GB Masters Basketball Association, finally made it to the tournament in Spain.
The Over-40 Men (main picture), led by Coach Neil McElduff, struck silver. Nicknamed the GB Wolfpack, as they showed what a tight-knit group of players, they are both on and off, from aqua aerobics in the pool to dominant group stage wins, including against hotly tipped Spain who boasted two ex-NBA players.
The semi-final was a tough game against the other GB team, with FIMBA GB taking the narrowest of victories, 79-78 before heading to the final against world champions, Italy. Despite a large GB fan following, injuries picked up in the semi-final proved the difference as they lost out 74-59.
It was the Over-70 Men (pictured below) who won Great Britain's first European medal, narrowly losing their semi-final to Germany (55-51) before defeating Italy in the bronze medal match (41-49). This was quickly followed up by another bronze medal for the Over-35 Men, who snatched a last-minute win over Spain 47-48.

It was a largely successful debut outing in Spain with 240 members of FIMBA GB playing in 79 games and bringing home five medals and 11 top-10 finishes
Iron medals (awarded to fourth place finishes) were also earned by the Over-35 and Over-55 Women. The crowning moment came from the Over-40 Men who achieved dominant group stage wins, including a result over the hotly tipped Spain who boasted two ex-NBA players.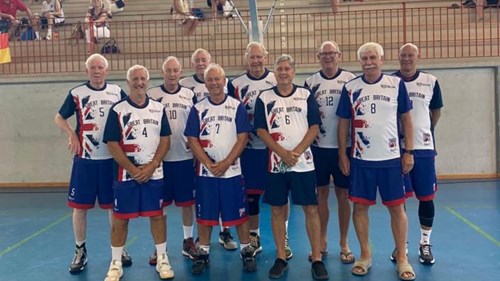 Final GB positions and standout performers:
O35 Women – 4th place (Iron Medal), Lisa Roberts 13ppg (6th)
O40 Women – 8th place
O45 Women – 8th place
O50 Women – 6th place
O55 Women – 4th place (Iron Medal), Samantha Parry 8.4ppg (9th)
O60 Women – 5th place, Jackie Rhodes 11.4ppg (1st)
O35 Men – 3rd place (Bronze Medal), Lawrence Brown 14.7ppg (4th); Mike Lewis 14.5ppg (5th)
O40 Men – 2nd place (Silver Medal), Steven Gayle 35.2ppg (1st – FIMBA record 51 points vs Slovenia); Marcus Knight 12.8ppg (8th)
O45 Men – 12th place
O50 Men – 14th place
O55 Men Plus – 11th place
O55 Men Herons – 13th place
O60 Men – 6th place
O65 Men – 9th place
O70 Men – 3rd place (Bronze Medal), Thomas Campbell 19.8ppg (2nd)
Anyone who wants to get involved in FIMBA GB and GB Masters Basketball Association should contact [email protected]
Lead Delegate for FIMBA GB, Nicky Shaw, said:
"It was great to be back competing after having this event postponed since 2020. As well as our own 16 teams, I was happy to endorse another eight sides making 24 teams representing GB."
Coach Neil McElduff added:
"The O40 men dug deep in the final against Italy, however missing a couple of players to injury was devastating but silver medal was just the beginning for this team."