In a WNBL1 playoff quarter-final special, FocusHoops' Darren Paul selects his team of the week.
As a writer, commentator, podcaster and more, Darren focuses his attention on the WNBL off-season to pick his Player of the Week, plus four other standout performers to make up his Team of the Week.
Have your say on this week's choices and give a shout-out to the players you think deserve one using the hashtag #NBL2122. Don't forget to tag us!    
Twitter: @NBLengland / @FocusHoops  
Facebook: @NBLengland  / @FocusHoops  
Instagram: @nblengland / @focushoops  
How it works  
Darren will pick a Player of the Week and four other selections to round out his Team of the Week, paying attention to the following criteria:
Efficiency 

 

Stats 

 

Team and opposition strength 

 

Periods of influence in the game 

Being on a winning team (exceptional performances from players on losing teams will be considered for TOTW)
Other players will also receive a shout out as honourable mentions at the bottom of the piece.
The FocusHoops team of the week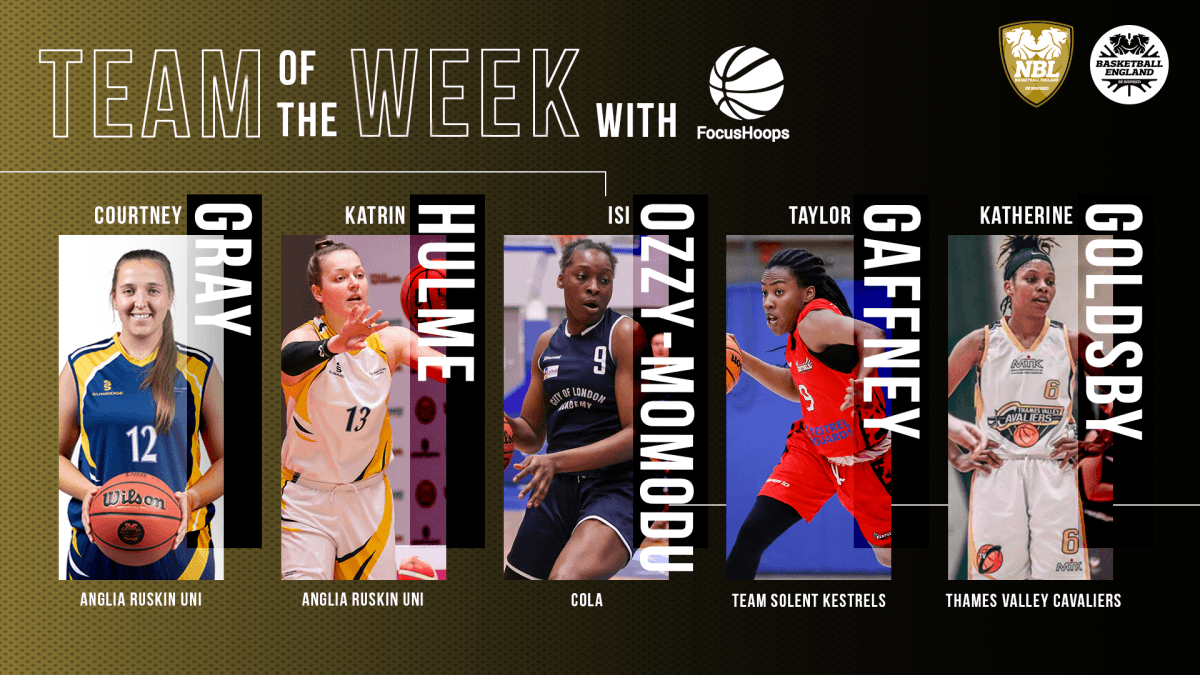 PLAYER OF THE WEEK
Courtney Gray - Anglia Ruskin University 
21pts, 10reb, 6ast, 31eff
Courtney Gray takes player of the week honours, thanks to her very efficient 21-10 double-double in an upset playoff victory at reigning playoff champions Ipswich.
Gray, finished the contest with 21 points on 64% shooting, including a made triple and two at the stripe. Gray, was strong on the glass too, pulling down 10 boards, with three on the offensive end, generating second chance opportunities for her side in a famous win. She also had six assists and a steal, and didn't commit a single foul, as ARU played an efficient and disciplined game setting up a date with CoLA next weekend.  
Katrin Hulme - Anglia Ruskin University
22pts, 17reb, 4ast, 25eff
Katrin Hulme put in another superstar performance this weekend, as she helped lead ARU past their fierce local rivals Ipswich to advance to the semi-finals of the playoffs, with a 22-17 double-double.
Hulme's 22 points came off 43% shooting, including 7-10 from the stripe on seven fouls, which demonstrates perfectly her importance to ARU. In a gym that is used to huge performances on the glass, Hulme certainly held up her end with 17 boards, and dished four dimes. With the Hulme-Gray connection in full effect, ARU booked themselves a date with CoLA next weekend.
Isi Ozzy-Momodu - CoLA
10pts, 14reb, 1ast, 25eff
Isi Ozzy-Momodu put in another incredibly efficient performance, as her CoLA Southwark Pride booked their semi-final spot at the expense of Bristol. In just 20 minutes of play, Ozzy-Momodu made 5-6 shots from the floor to end on 10 points, pulled down a game high 14 rebounds, and dished one assist as CoLA easily got by Bristol and booked a game with ARU next weekend.
Ozzy-Momodu recorded one steal and three blocks in a dominant performance that sets her side up perfectly for a home game against Anglia Ruskin University, a club with great recent history in the playoffs. But CoLA will be looking to go one better this year and win the title.
Taylor Gaffney - Team Solent Kestrels
24pts, 6reb, 3ast, 46eff
Taylor Gaffney called time on Loughborough's season, as she led Team Solent Kestrels to an upset win over the second seeded Riders on Sunday.
Gaffney scored the final three points in the contest on her way to a game high 24 points - on 46% shooting - just as the Riders were in striking distance. Gaffney, who played a very aggressive brand of basketball, was fouled eight times and made hay at the stripe draining 11-12 and pulled down six boards and dished three assists in a great outing that puts Solent on course to meet TVC next weekend.
Kat Goldsby - Thames Valley Cavaliers
23pts, 4reb, 1ast, 61eff
It is winning time in the WNBL D1 and that's exactly what Kat Goldsby did, as she sank the winning free throws to help TVC overcome a potential upset loss to Cardiff and advance to the semi-finals.
Goldsby, finished the contest with an efficient 23 points, four coming from the charity stripe, including the final five points, as Cardiff made their run, but Goldsby was able to be aggressive, get to the stripe and call game.
Goldsby, shot 61% from field, and contributed four boards, one assist and four steals, seeing her side into the semi-finals at home to ARU.
Team Basketball
ARU win derby against Ipswich
Anglia Ruskin took down the reigning playoff champions Ipswich on Sunday 76-81 in Ipswich to set up a semi-final clash with last season's finalists CoLA Southwark Pride.
ARU were led in scoring and rebounds by Katrin Hulme's 22-17 performance and the Hulme-Gray connection was cooking, as Player of the Week Courtney Gray had a very efficient 21-10-6 performance, but it was a team effort to topple Ipswich.
ARU had five players in double-digit scoring, with the veterans Lisa Greenaway and Kasia Neininger finishing with 13 and 11 respectively and the young Slovakian star Teresza Zatakova went 4-8 from outside to finish with 14 points.
Ipswich ran Ruskin close thanks to a big scoring day from Cameron Taylor-Willis, who finished with 22 points, as well as strong contributions from Liv Forster and Ava Battese, but it wasn't to be.
TSK upset Riders
The seventh seed Team Solent Kestrels ended the title hopes of Loughborough Riders on Sunday, with a stunning upset victory as CJ Lee's side book a date with TVC next weekend in Uxbridge.
The Kestrels were led in scoring by Taylor Gaffney's 24 points, but Krisztina Velkey-Cleeve was also instrumental in the win with a 12-8-5 performance, including a big bucket late in the contest, as the Riders fought back to keep their playoff hopes alive.
The Riders were led by 16 points from Katie Januszewska and Robyn Ainge, and 10 points off the bench from Erin Hikin, as their fightback fell just short. After this win Solent won't fear anybody, as they look to win the playoffs from the seventh seed.
Honourable mentions
Amber Deane (CDF) - 31pts, 9reb, 3ast, 3stl, 37eff
Cameron Taylor-Willis (IPS) - 22pts, 7reb, 2ast, 22eff
Faith Okwuosa (TVC) - 5pts, 12reb, 2ast, 15eff
.