NBL and WNBL competitions are down to the final four teams, with sides now just one win away from booking a spot in this season's playoff finals.
With the showpiece games set to take place at Manchester's National Basketball Performance Centre on 23 and 24 April, the heat is on for teams to pull out their A-game this weekend or suffer the fate of falling at the final hurdle.
We take a look at all this weekend's contests from across the five competitions, including live stats and streaming links where available.
Seedings have been included for all teams, and in some competitions a N or S for North or South has also been added where teams from different conferences cross over in the post-season.
Match-ups are displayed via brackets in the graphics below for illustration purposes, but it should be noted that in line with NBL regulations, the higher seeded team in any post-season game retains home court advantage.
If you want to attend the 2021/22 Playoff finals, tickets are now available from the BE online shop.
NBL Division One
#1 TEAM SOLENT KESTRELS V

 

#4 NOTTINGHAM HOODS (6pm Saturday) - LIVE STATS/LIVE STREAM
Solent will aim to make their third straight playoff final appearance this weekend with a win against Nottingham Hoods.
Only COVID-19 and the abridged 2019/20 season have stopped the Kestrels from potentially reaching that feat already, with the reigning champs looking good for the majority of the current campaign.
Coach Guymon's side last lost a D1M game back in December, and during their current run they've beaten tomorrow's opponents both home and away.
The Hoods overcame a tough Worthing team last weekend, winning 88-79 thanks to a Team of the Week performance from guard Luke Mitchell.
If that effort will be enough to vault the 24-year-old into a spot in the starting five remains to be seen, but the visitors will need a similar outing plus plenty more from across their roster tomorrow to stop the Solent juggernaut from booking yet another playoff final spot.
#2 THAMES VALLEY CAVALIERS V

 

#6 HEMEL STORM (6:30pm Saturday) - LIVE STATS
After springing last weekend's only upset as they beat third place Derby, Hemel will try to do it all again as they head to second seeds Thames Valley.
Storm needed a clutch corner three from Bode Adeluola to force OT before eventually knocking off the Trailblazers 91-90, showing that last year's playoff finalists still have more than enough in the tank despite finishing the regular season in sixth place.
Regardless of their seeding, any team containing the likes of Taylor Johnson and Greg Poleon is going to be a threat in knockout basketball, with the American duo combining for 37 points, 21 rebounds and 13 assists last weekend.
Add in a strong supporting cast and Hemel will be a dangerous opponent, but one that the Cavs have already handled on their own court this season. January's 97-67 victory was a big one in the context of the season, with current Rebound Player of the Week Hakeem Sylla reeling off his usual double-double, 17 points and 15 rebounds on that occasion.
Poleon vs Sylla will be a great watch tomorrow, as is usually the case, whilst Johnson's match up with the likes of Jakobi Bonner and A.J Roberts is sure to be just an intriguing.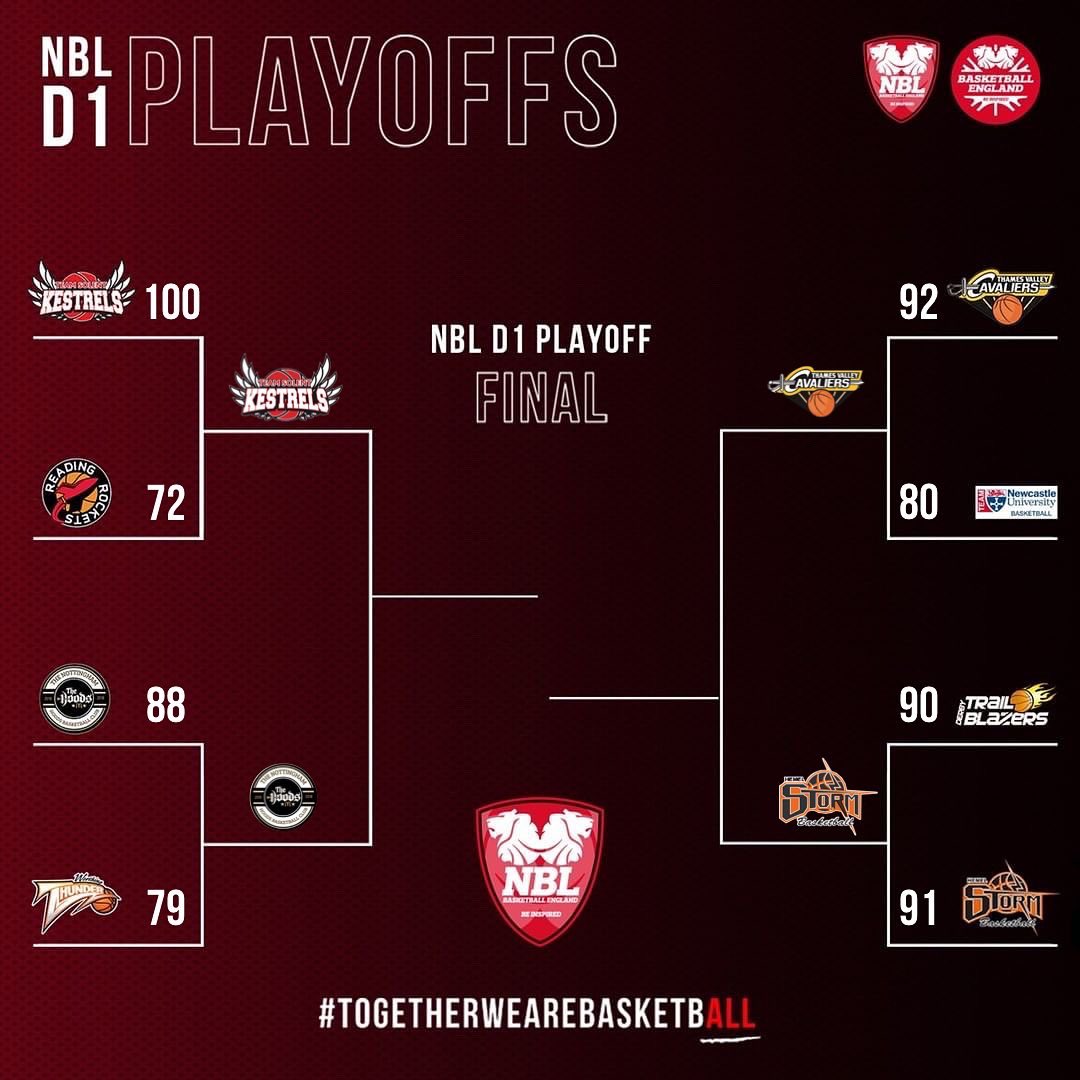 WNBL Division One
#1 COLA SOUTHWARK PRIDE V

 

#5 ANGLIA RUSKIN UNIVERSITY (3pm Sunday) - LIVE STATS

Anglia Ruskin are the latest team to try and slow down CoLA Southwark Pride as the London programme tries to win the D1W playoff title for the first time since 2016/17.
The league winners have been in a solid run of form this season behind their lights-out defence, which was on full display last weekend as Pride beat eighth seeds Bristol 51-28.
Coach Gibbons' team allowed just six points in the paint against the Flyers, showing the dominance of forwards Isi Ozzy-Momodu and Molly Lavin.
One potential answer to that problem for Sunday's visitors could be the eye-popping numbers posted in recent weeks by Katrin Hulme.
The former playoff finals MVP had a 30 point, 26 rebound, 50 efficiency outing against second place Loughborough to close the regular season, showing she's one of the league's elite players around the basket.
Still, CoLA held Hulme to just six points last time they met, a 57-40 Southwark victory back in January. It's worth noting that Pride won the points in the paint battle that day 42-16, suggesting this weekend's tie could be won and lost down low.
#3 THAMES VALLEY CAVALIERS V

 

#7 TEAM SOLENT KESTRELS (2:30pm Saturday) - LIVE STATS
Solent went to Loughborough and won last weekend, knocking out the #2 seeds 63-59 to set up an exciting clash with Thames Valley.
It was by no means an unexpected result given the talent at the Kestrels' disposal, after all they did make the final of WNBL National Cup earlier this season.
That game provided a fork in the road moment that led the South coast team to their current position, however. During January's loss to D2 outfit Stockport, American forward Molly Danielson departed with a knee injury and is yet to return.
In her place, fellow American Taylor Gaffney has been lighting it up, with the talented guard stringing together a number of impressive performance that included leading all scorers with 24 points in the win vs the Riders.
It figures that success tomorrow would hinge on Gaffney's continued output, but don't sleep on the likes of Krisztina Velkey-Cleeve and Faye Endean, both of whom shone during the regular season.
Thames Valley can counter with an American of their own in Katherine Goldsby. Fifth in D1W for efficiency during the regular season, the talented shooter was fifth for points per game (17.0) and second for steals (4.0), displaying her value at both ends of the floor.
The Cavs have also claimed a win against the Kestrels last time the two teams met in Uxbridge, wining 82-74 way back in December. Goldsby had 20 points that day, with Faith Okwuosa adding 16 more and Ezekiela Lisk notching a 14 point, 12 rebound double-double.
Expect a similar output from the hosts tomorrow, though Solent are clearly a different beast heading into another meeting between two well-matched sides.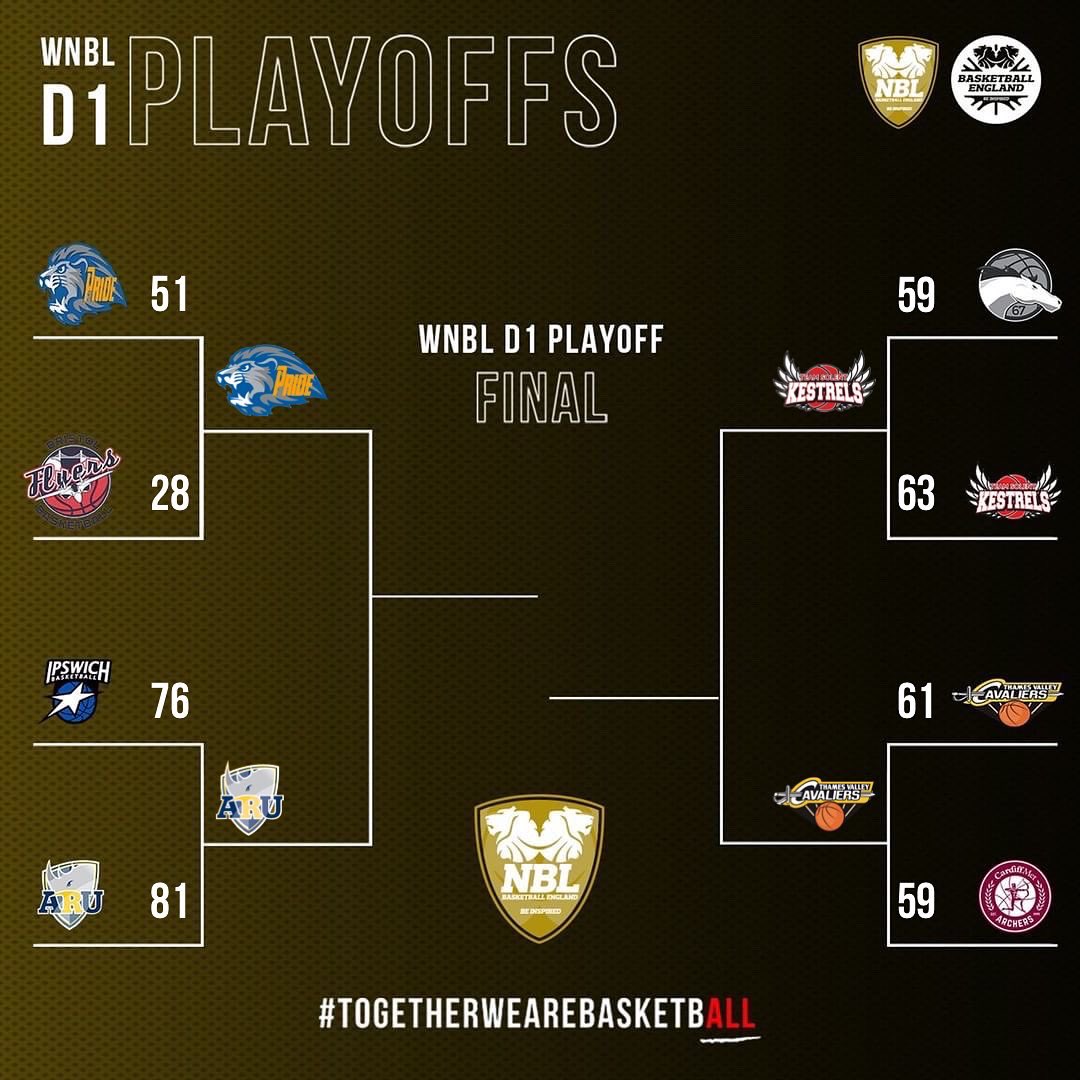 NBL Division Two
#1N MANCHESTER MAGIC V

 

#3N DONCASTER EAGLES (6:30pm Saturday) - LIVE STATS/LIVE STREAM
There's an all North affair in Manchester tomorrow as the Magic take on Doncaster.
The Eagles travelled well last weekend, knocking off the Bears in Sussex 71-58, thanks in part to a 16 point, 20 rebound, seven assist effort from Rob Marsden.
If the former BBL man can do that against Manchester's league-leading defence remains a big question to answer, with tomorrow's hosts winning both match ups between these teams during the regular season.
#1S WESTMINSTER WARRIORS V

 

#3S TEAM SOLENT KESTRELS II (5:30pm Saturday) - LIVE STATS
There's another clash between familiar opponents on the cards tomorrow, with Westminster looking to continue their unbeaten campaign as they take on South conference foes Team Solent Kestrels II.
A 24 points, 17 rebound double-double from Justin Hitchman ensured the Warriors made light work of Derbyshire Arrows last weekend, with Solent next up to try and slow down Jon Johnson and co.
It won't be an easy task, the Warriors sported the league's best offence (95.0PPG) during the regular season, and the second-best defence as well (72.4PPG allowed).
That's some combo to try and overcome, especially on the road. It didn't bother Solent last weekend as they knocked out North #2 seeds Northamptonshire Titans, they'll look to keep that momentum going here.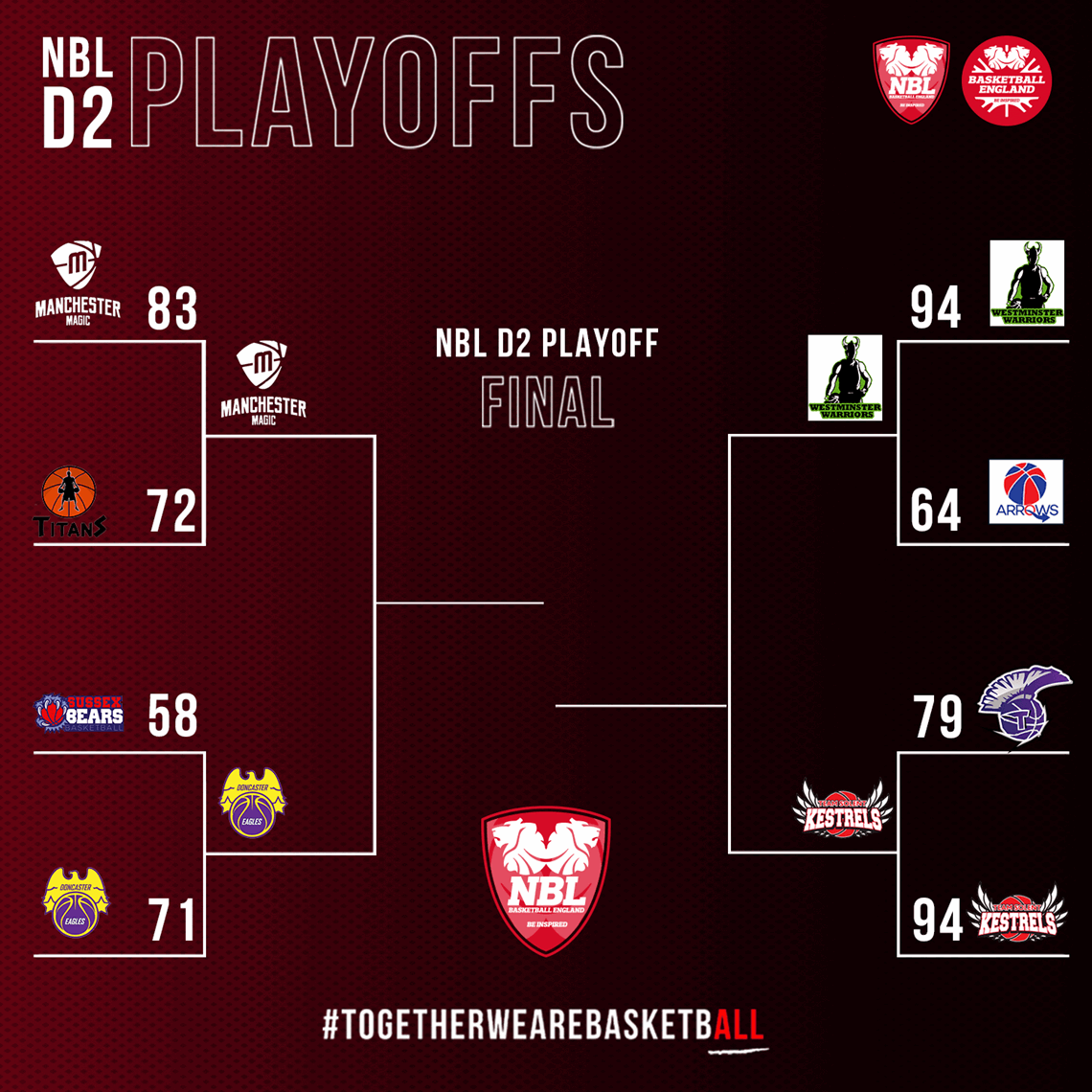 WNBL Division Two
#1N STOCKPORT LAPWINGS V

 

#3N MANCHESTER MYSTICS (2pm Saturday)
There's a North West derby tomorrow as Stockport host Manchester Mystics at Reddish Vale High School.
If the Mystics are going to keep alive their chances of a first D2W playoff title since 2010/11, they'll need to do something they've failed to achieve so far this season and beat the Lapwings.
0-2 in both meetings this year, Stockport will no doubt be home favourites but anything can happen in the playoffs.
#1S BRENT BULLS V

 

#2N SHEFFIELD HATTERS (4pm Saturday)
Brent host Sheffield tomorrow in a post-season match up that spans eras of the game.
The Hatters have build a successful campaign on some well-known veteran talent, with familiar names like former WBBL MVP Steph Gandy, Sarah Cooney (nee Naylor) and Lisa Riches (nee Hutchinson) all in the mix, amongst others.
As some of the most decorated players in WNBL history, their match up with new kids on the block Brent should be great viewing. Having only been in the WNBL for two season, and with last season lost to COVID-19, this is a early opportunity for the Bulls to continue their unbeaten season and further make a name for themselves across the league.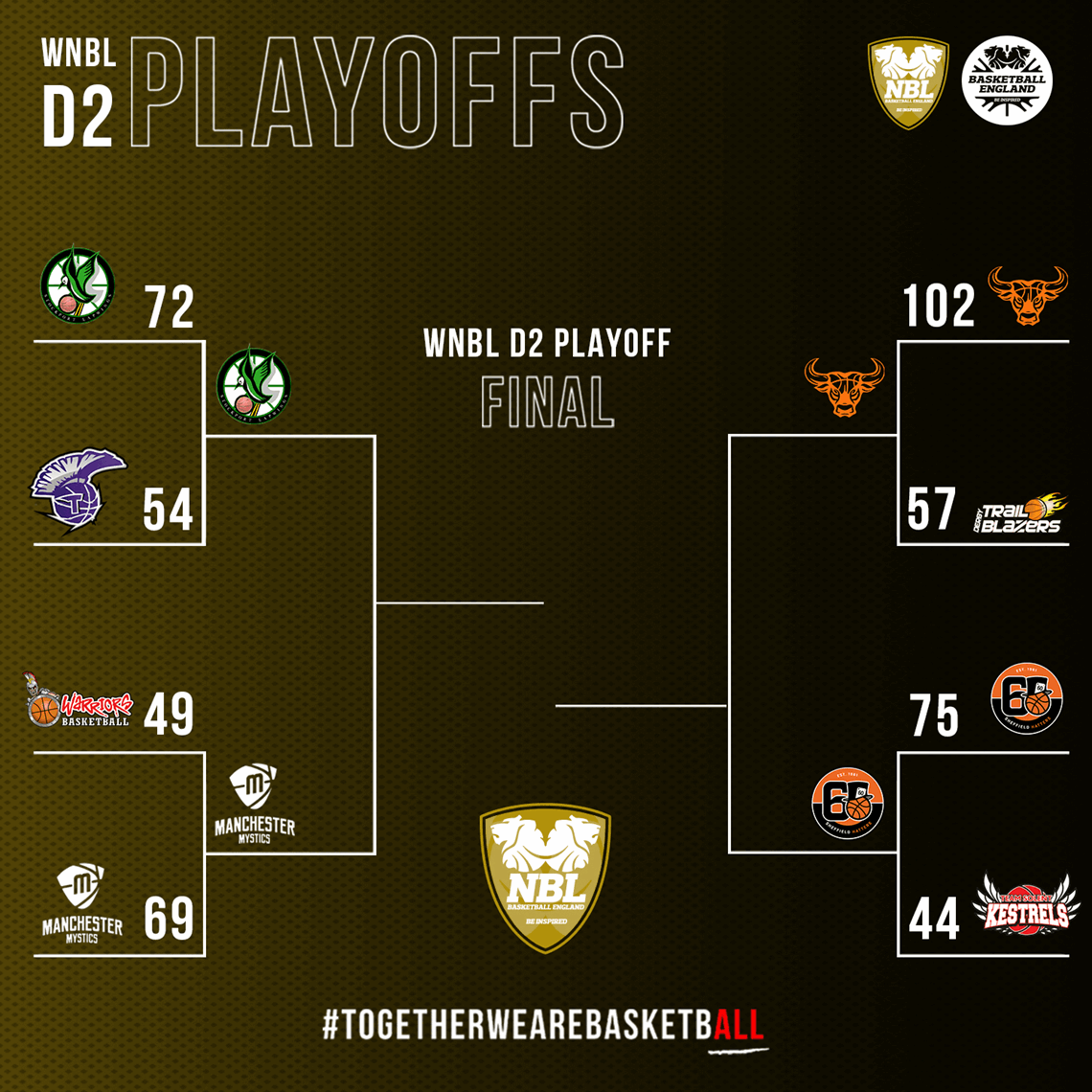 Division Three
#1 ST HELENS SAINTS V

 

#5 TEESSIDE LIONS (4pm Sunday)

Unbeaten St Helens welcome in form Teesside on Sunday for what could be one of the most hotly-contested ties of the weekend.
The Saints rightly carried the #1 seed into the post season after not taking an L at 20-0, but the Lions knocked out #4 Bristol last weekend behind 34 points from Theo Turner, showing they're a team who can get it done home and away.
#3 WORCESTER WOLVES V

 

#7 LONDON THUNDER (3pm Sunday)
Worcester and London Thunder also do battle on Sunday afternoon, rounding off the playoff slate.
Both teams enjoyed confidence-boosting wins last weekend, with Thunder edging past rivals London Elite 83-80, whilst Worcester took care of Manchester Swarm 70-55.
Dwayne Camille has enjoyed a standout season for London and would love to take his side back to Manchester for the first time since the 2018/19 D4 playoff final, which they won 88-71 against Bristol.
For the Wolves, much could hinge on the production of duo Lucas McGregor and Ian Rodriguez, who combined for 33 of Worcester's points last weekend.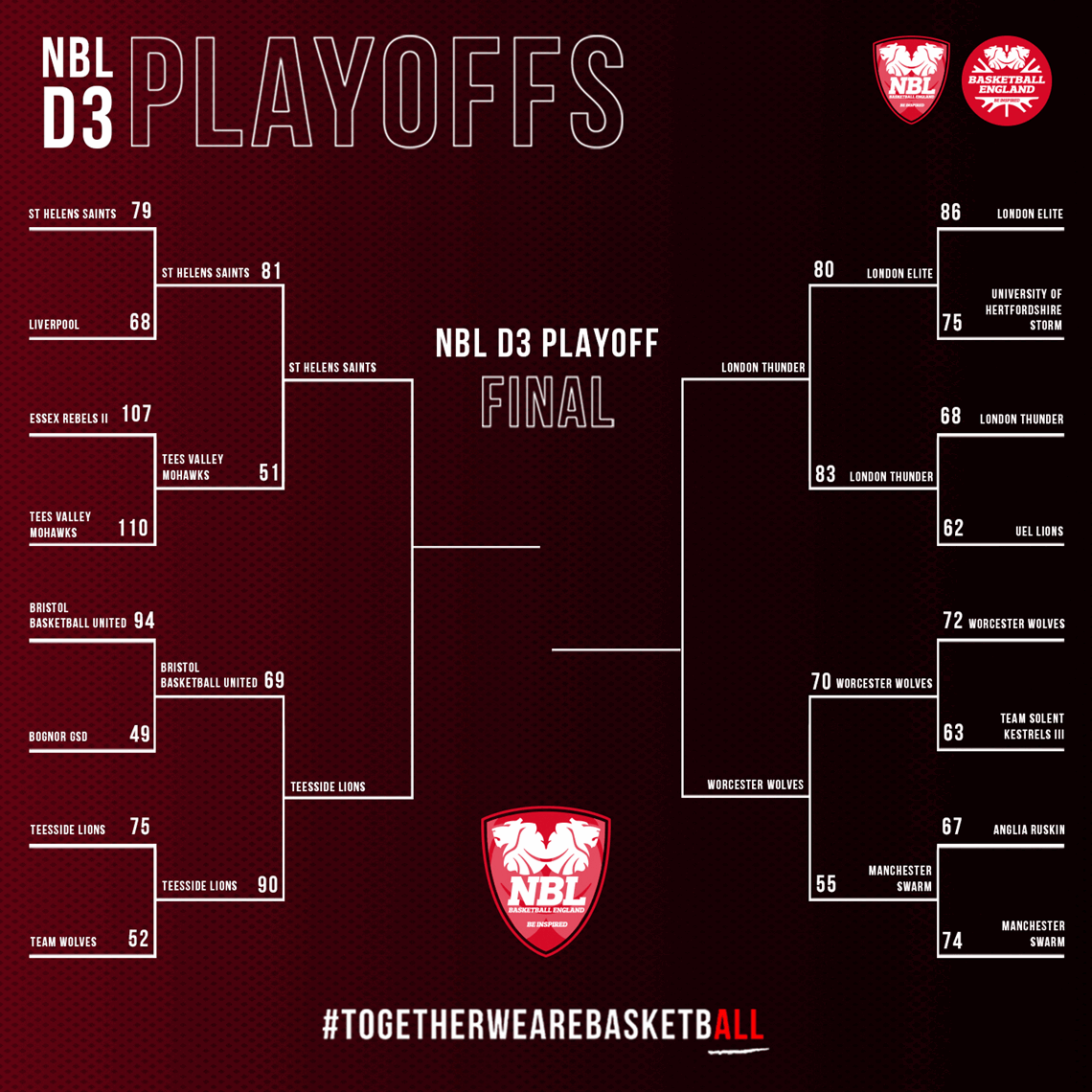 .