FocusHoops' Darren Paul draws from the weekend's D1W highlights, including an OT thriller between Ipswich and Cardiff and a second dub for London Lions II.
As a writer, commentator, podcaster and more, Darren will use everything he's seen to pick his WNBL Player and Team of the Week, plus single out some great team performances and honourable mentions to boot.
Have your say on this week's choices and give a shout-out to the players you think deserve one using the hashtag #NBL2122. Don't forget to tag us!    
Twitter: @NBLengland / @FocusHoops  
Facebook: @NBLengland  / @FocusHoops  
Instagram: @nblengland / @focushoops  
How it works  
Darren will pick a Player of the Week and four other selections to round out his Team of the Week, paying attention to the following criteria:
Efficiency 

 

Stats 

 

Team and opposition strength 

 

Periods of influence in the game 

Being on a winning team (exceptional performances from players on losing teams will be considered for TOTW)
Other players will also receive a shout out as honourable mentions at the bottom of the piece.
The FocusHoops team of the week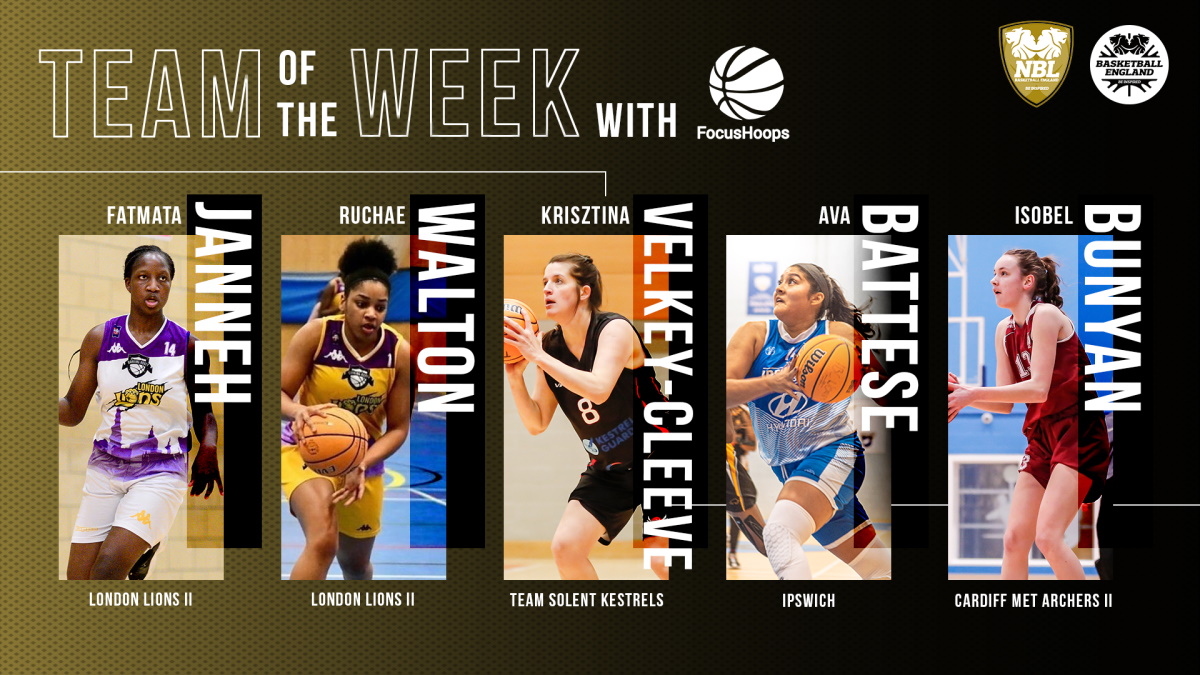 PLAYER OF THE WEEK
Fatmata Janneh - London Lions II
23pts, 12reb, 6STL, 32eff
Fatmata Janneh had a fantastic week, coming away with WNBL Player of the Week honours after helping lead her London Lions II to just their second win on the season, in a 13 point victory of the Worcester Wolves.
Janneh finished the contest with an efficient 23 points on 9-15 shooting from the field and pulled down 12 rebounds on her way to a double-double in a crucial win. Janneh hit four of her five attempts from the stripe and was a menace in the passing lane finishing the contest with six steals in arguably the most complete performance of her WNBL career.
All hot on the heels of picking up the WEABL player of the week title too.
Ruchae Walton - London Lions
25pts, 4reb, 2ast, 24eff
Ruchae Walton continues her great start to life as a Lion in the WNBL D1 as she shot 10-17 against the Worcester Wolves to help the Lions to just their second win of the season 50-73.
Walton bagged a game-high 25 points on 58% shooting and sank five triples on nine attempts in her 32 minutes played. Walton added four rebounds and took care of the ball, conceding just two turnovers, offset by her two assists and two steals. In her first few games as a Lion, Walton has impressed immensely and could well steer London to a top-ten finish.
Krisztina Velkey-Cleeve - Team Solent Kestrels
15pts, 16reb, 6ast, 30eff
Krisztina Velkey-Cleeve had yet another big day this season as she finished with a 15-point and 16-rebound double-double in Solent's big win over Reading Rockets on Saturday.
Velkey-Cleeve sank three triples as she went 35% from the floor, but it was other areas of her game that really shone. The Solent star pulled down a game-high 16 rebounds, including five on the offensive end, dished six dimes and would take seven steals in an important win for a Solent side battling for a top-four finish.
Ava Battese - Ipswich
19pts, 12reb, 2ast, 24eff
Ava Battese makes the team of the week for her 19-point, 12-rebound double-double in Ipswich's crucial overtime win against Cardiff on Sunday.
Battese put in a monster shift, playing 42 minutes sinking five triples from 12 attempts, scoring 40% from the floor. Battese saw four of her 19 points come in the overtime period, including making a pair of free throws which arguably iced the game for Ipswich.
Battese finished with 12 rebounds, all defensive and a fantastic job protecting the rock, conceding just a single turnover and only committing one foul in a disciplined performance in a crucial victory for their top-four ambitions.
Isobel Bunyan -

Cardiff Met Archers II
31pts, 9reb, 1ast, 4STL, 31eff
Isi Bunyan shone in defeat against Ipswich on Sunday as the Welsh wonder finished with a game high 31 points on 44% shooting, which saw her drain seven three pointers.
Bunyan shot well and took care of things on the glass, being a single board away from a double-double and tacked on one assist in the game. Bunyan really made her presence felt on the defensive end finishing with four steals and a game-high seven blocks whilst committing only a single foul, despite battling on both ends in the OT loss.
Team Basketball
Ipswich edge Cardiff in OT thriller
Ipswich took an important victory over Cardiff as they bounced back from their loss to Bristol last Sunday, but they needed overtime to do it. Ipswich finished the contest with three players in double-digits scoring (Liv Forster 26 points, Saruna Gudza 23) and an interesting line from Cameron Taylor-Willis, with just two points from the line but 20 rebounds to go with her six steals and a block, showing the impact a player can have even if they're not scoring.
The win keeps Ipswich in fourth over ARU and keep the Suffolk outfit in contention for a top-four finish and consigns a spirited Cardiff to their eighth loss on the year.
Bristol stun TVC to continue winning streak
The last two weeks, the Bristol Flyers have put in the types of results that we expect from them, putting a significant dent into two title charges now with wins over Ipswich and TVC in back-to-back games.
Flo Ward led the way in scoring for Bristol finishing with 14 points in the win, to go with her five boards, four of which were offensive. Veronica Iweanya was another scoreless performer who still contributed, with a team-high 13 boards, five of which were on the offensive glass, giving her side a chance in a close contest.
Following the win, Bristol look nailed on to make the playoffs, and will now focus on getting as high a berth as possible, although a top-four finish does seem unlikely.
Honourable mentions
Carys Roy (CAR) - 16pts, 13reb, 2ast, 22eff
Faye Endean (TSK) - 23pts, 3reb, 6ast, 22eff
Taylor Gaffney (TSK) - 20pts, 2reb, 4ast, 24eff
.