Six weeks remain of the NBL season, with teams now pulling out all the stops to climb as high up the table as possible.
While the regular season title appears to be heading to Solent for a historic fourth time in a row, there's still plenty to fight for in the battle for playoff seedings as well as avoiding the drop to D2M.
We take a look at all the weekend's games below, with links to live stats and live streams at the bottom of the page.
Two teams with contrasting needs for a win meet tomorrow as Bradford travel to Oaklands.
The Dragons are still searching for a way back into the top eight and a potential playoff place, though they're still four points off that goal as things stand. 
Oaklands on the other hand are tied on four points with Leicester and Essex, with two of those three teams all but certain to be finishing in D1M's potential relegation spots come season's end.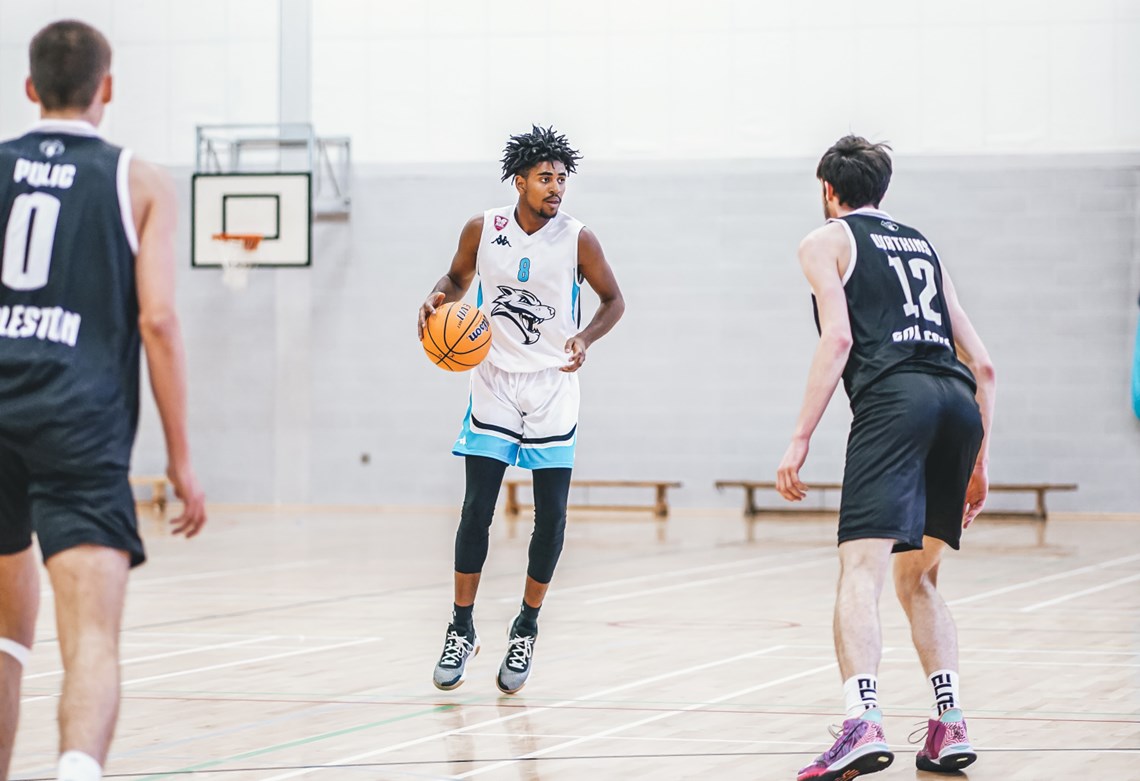 Coach Mellor's side won their home leg when these teams met in mid-November, with an 87-70 victory going the Dragons' way thanks to 31 points from Zach Gachette.
The former BBL man matched up well with EABL star Kane Daley, who led the Wolves with 18 points in defeat.
Both have enjoyed some solid form since, and a return match-up between the two should be worth watching this weekend.
.
Elsewhere this weekend
The weekend begins with Nottingham Hoods (12-5) looking to bounce back from their crushing loss to Solent last Sunday as they entertain London Lions II (9-9).
The defeat could have ended Nottingham's title chances, but they'll like the look of a contest with a Lions outfit that have lost three of their last four.
Team Solent Kestrels (16-2) can move one step closer to the regular-season title as they travel to strugglers Leicester Warriors (2-16), whilst the matchup between Thames Valley Cavaliers (12-4) and Team Newcastle University (10-7) should provide plenty of offence in Uxbridge.
Saturday wraps with a local tie in the Midlands as Loughborough Riders (5-13) head to Derby Trailblazers (11-6), and there's a top-four clash between Worthing Thunder (14-5) and Hemel Storm (12-5) to round the day out.
Both those teams looked like title contenders at the mid-season break but have since slipped off the pace, with the Thunder now losing three in a row.
Sunday sees a pair of fixtures pencilled in, with two sides taking part in double-headers.
Reading Rockets (9-9) and Essex Rebels (2-16) make up one of the ties in a fixture similar to our feature game between Oaklands and Bradford.
The Rebels are fighting hard to avoid potential relegation, whilst Reading are neck-and-neck with London Lions II for the eighth and final playoff spot.
The day's only other game is an exciting contest between Derby and Thames Valley, who matched up well when they met on the opening day of the regular season.
The Cavs narrowly sealed that tie 87-79, meaning the head-to-head tiebreaker is also very much up for grabs here as well.
This weekend's fixtures:
Saturday 19 February
3pm - Nottingham Hoods v London Lions II - LIVE STATS
3pm - Oaklands Wolves v Bradford Dragons - LIVE STATS
5pm - Leicester Warriors v Team Solent Kestrels - LIVE STATS
6:30pm - Thames Valley Cavaliers v Team Newcastle University - LIVE STATS
7pm - Derby Trailblazers v Loughborough Riders - LIVE STATS
7:30pm - Worthing Thunder v Hemel Storm - LIVE STATS
Sunday 20 February
4:15pm - Derby Trailblazers v Thames Valley Cavaliers - LIVE STATS/LIVE STREAM
5pm - Reading Rockets v Essex Rebels - LIVE STATS/LIVE STREAM
Main image credit - Alex Daniel Photography