Second plays third in what could be a huge weekend of D1W action as the regular season reaches the home straight.
Loughborough travel to Thames Valley for a much-anticipated showdown with title implications, whilst seven other games fill the weekend.
We take a look at all the action below, with links to live stats and live streams at the bottom of the page.
Thames Valley and Loughborough lock horns tomorrow as both teams try to keep pace with leaders CoLA.
With three losses to their name already, defeat tomorrow would surely represent the end of the Cavs' claims for a shot at the title. Loughborough are better placed with just two defeats, but a third here would take the title race out of the Riders' hands.
Instead, victory tomorrow, winning out and beating Pride by more than a point in late March would see the regular season title heading to the Midlands.
That's easier said than done, especially here against a TVC side that had won eight in a row before last weekend's surprise home loss against Bristol.
That L could come back to bite Thames Valley come the end of the season but regardless of the wider implications of the title fight, tomorrow's matchup between two well-balanced sides should produce a great contest.
.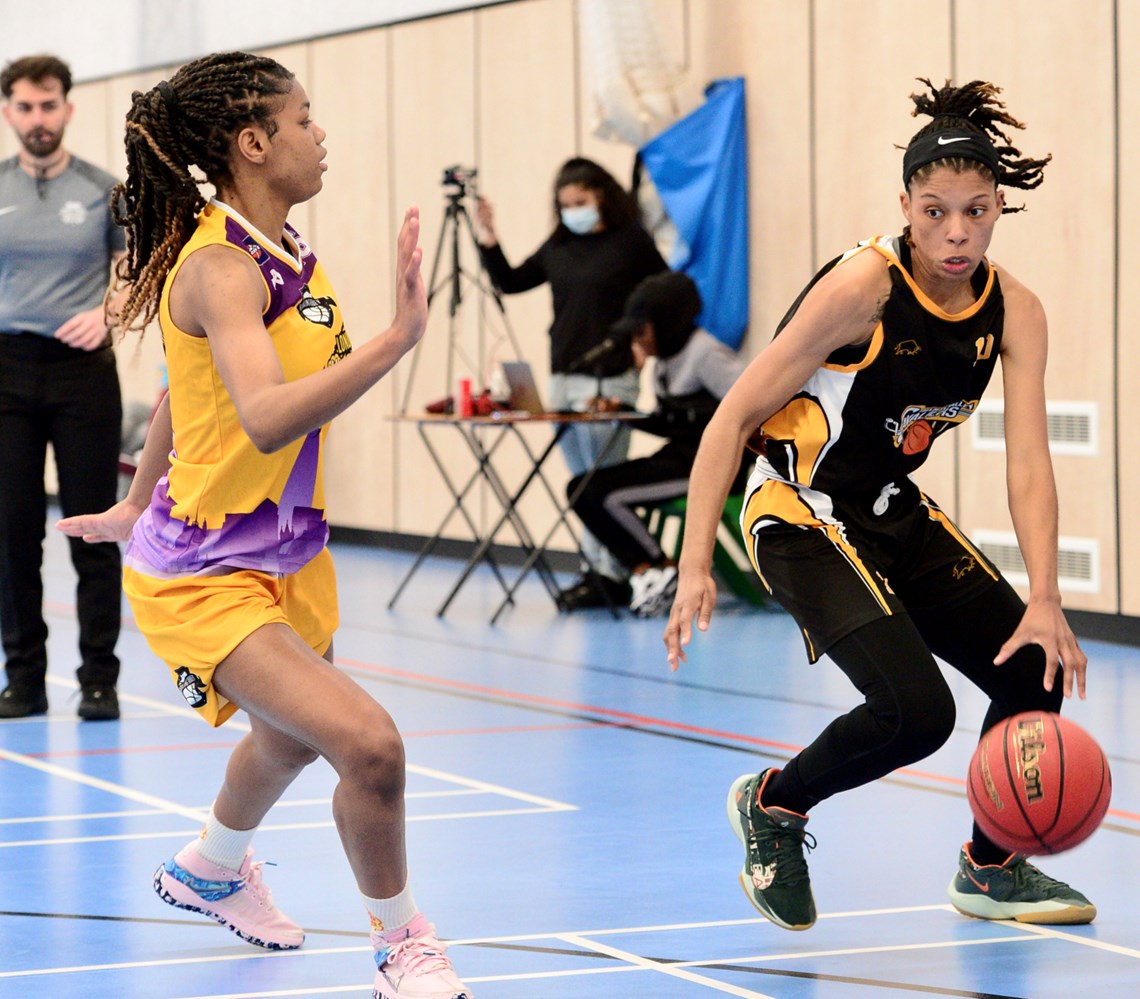 Elsewhere this weekend
Defending champions Ipswich (9-4) won in OT last weekend against Cardiff and they'll look to keep that momentum going at home against Worcester Wolves (4-9).
Anglia Ruskin University (8-3) have won six of their last seven and are one of the form teams in the division. That spells trouble for Reading Rockets (4-9) this weekend as they head to Cambridge still battling for a shot at the playoff places.
London Lions II (2-13) are running out of opportunities to pick up points if they're to escape the league's potential relegation spots. Now four points off safety, they entertain Bristol Flyers (7-10) tomorrow.
Likewise, Nottingham Trent University (1-12) are edging close to must-win territory if they're to avoid the drop. The basement side welcome Cardiff Met Archers II (6-8) to round out Saturday's schedule.
Sunday contains a trio of games, with four teams in double-header action.
London Lions II and Loughborough Riders are both playing once again, with the Riders hoping to follow up a win against Thames Valley with another victory in East London.
Anglia Ruskin and Nottingham are also doubling up, whilst leaders CoLA Southwark Pride (12-1) can claim another two points in their quest for the regular season title, they are at home against Team Solent Kestrels (8-6).
This weekend's fixtures:
Saturday 19 February
3pm - Thames Valley Cavaliers v Loughborough Riders - LIVE STATS
3:30pm - Ipswich v Worcester Wolves - LIVE STATS/LIVE STREAM
4pm - Anglia Ruskin University v Reading Rockets - LIVE STATS
4:30pm - London Lions II v Bristol Flyers - LIVE STATS
7pm - Nottingham Trent University v Cardiff Met Archers II - LIVE STATS
Sunday 20 February
2pm - London Lions II v Loughborough Riders - LIVE STATS
2:15pm - CoLA Southwark Pride v Team Solent Kestrels - LIVE STATS
3pm - Anglia Ruskin University v Nottingham Trent University - LIVE STATS
Main image credit - Loughborough basketball