The WNBL regular season is nearing an end, and some players are hitting top form with the playoffs in sight.
As a writer, commentator, podcaster and more, FocusHoops' Darren Paul was spoilt for choice this week with top performance spread across eight games as he tried to hone in on a Player and Team of the Week.
Have your say on this week's choices and give a shout-out to the players you think deserve one using the hashtag #NBL2122. Don't forget to tag us!    
Twitter: @NBLengland / @FocusHoops  
Facebook: @NBLengland  / @FocusHoops  
Instagram: @nblengland / @focushoops  
How it works  
Darren will pick a Player of the Week and four other selections to round out his Team of the Week, paying attention to the following criteria:
Efficiency 

 

Stats 

 

Team and opposition strength 

 

Periods of influence in the game 

Being on a winning team (exceptional performances from players on losing teams will be considered for TOTW)
Other players will also receive a shout out as honourable mentions at the bottom of the piece.
The FocusHoops team of the week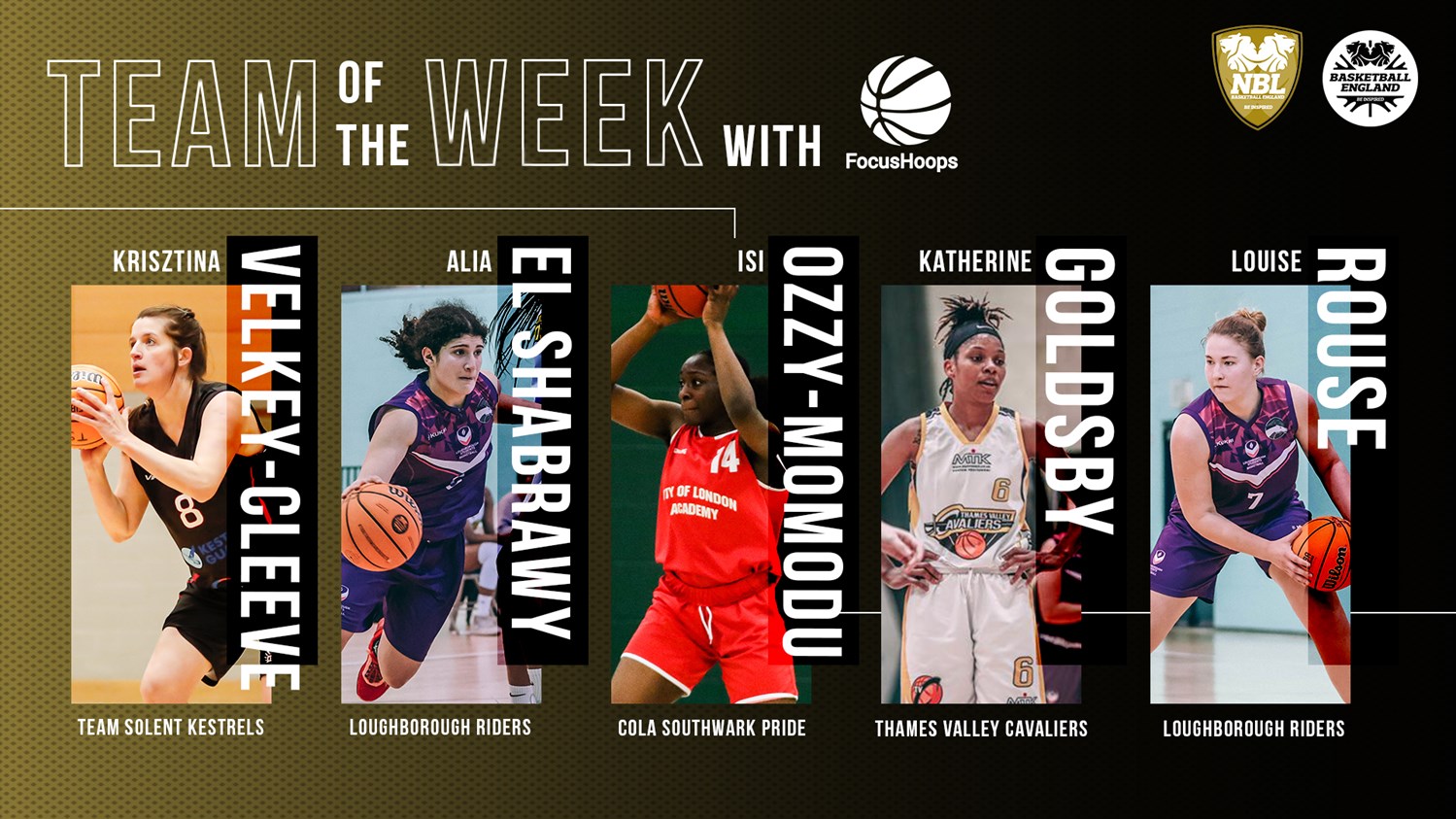 PLAYER OF THE WEEK
Krisztina Velkey-Cleeve - Team Solent Kestrels, guard
14pts, 19reb, 4ast, 26eff
Krisztina Velkey-Cleeve takes my Player of the Week award thanks to a huge double-double in a crucial 64-53 home victory over Anglia Ruskin University, taking her side to a 9-7 record on the year.
Velkey-Cleeve finished with 14 points, second highest in the game and all from inside the paint, but it was her rebounding that set her apart this weekend with a game-high 19 boards. 10 were pulled down on the offensive glass, generating second chance opportunities for her team.
The talented guard has shown herself time and again to be a difference maker in this league and the Kestrels will lean on her as they see out the season pushing for a top-four spot.
Alia El Shabrawy - Loughborough Riders, guard
13pts, 8reb, 6ast, 23eff
Alia El Shabrawy put in an efficient performance over Ipswich in an instant classic on Sunday to earn her spot in the Team of the Week.
El Shabrawy sank three triples on her way to 13 points, her final make giving the Riders enough breathing room before Ipswich mounted an incredible fight back which fell just short. 
The Loughborough guard finished with a team-high eight rebounds, three offensive, as well as a joint-high six assists plus two steals, with only two turnovers in the contest.
The Riders are the last club with a realistic chance of denying CoLA the D1W title and they'll need El Shabrawy on this kind of form for the rest of the season in order to make it a reality.
Isi Ozzy-Momodu - CoLA Southwark Pride, forward
15pts, 14reb, 1ast, 24eff
Isi Ozzy-Momodu graces the Team of the Week yet again as she was at her efficient best on Sunday in CoLA's 73-48 win over Cardiff Met.
Ozzy-Momodu shot 58% from the field to finish with 15 points and rounded out the double-double performance with 14 boards, six offensive, in just over 23 minutes of court time.
The CoLA star dished one dime, picked off two steals and sent one shot back in a strong performance that saw her doing a little bit of everything as her side edged closer to title glory.
Katherine Goldsby - Thames Valley Cavaliers, guard
26pts, 7reb, 3ast, 27eff
Kat Goldsby is known for her scoring and this weekend was no exception as she shot her way into the Team of the Week.
Goldsby showed off her range on the way to a game-high 26 points, hitting 58% from the floor and going four from five from the charity stripe.
The American hit two triples and pulled down seven boards, one offensive, during the contest, in addition to her three assists and three steals in 32 minutes of action.
Goldsby's scoring has helped to keep TVC in a very healthy position in the standings as they head towards a home and road series with Anglia Ruskin University that will tell us a lot about the playoff picture. 
Louise Rouse - Loughborough Riders, forward
21pts, 9reb, 26eff
Louise Rouse shot with authority on Saturday as the Riders brought an emphatic end to London's great recent run of form with a big home win against a short-handed Lions.
Rouse finished with 21 points, missing just one shot, a jumper from the low block, and went a perfect 7-7 at the stripe.
The Riders' forward also handled her business on the boards, pulling down nine rebounds, four offensive, to generate second chance opportunities for her side.
Loughborough keep putting pressure on leaders CoLA at the business end of the season, though it may not be enough with the number of remaining games rapidly decreasing.
Team Basketball
Two win Loughborough keep COLA ON THEIR TOES
Loughborough had a perfect weekend, despite a late scare against a spirited Ipswich side to take the full four points and move to 11-3 on the year.
The results helped to keep the pressure on CoLA Southwark Pride at the top of the WNBL D1 standings with the end of the regular in sight.
The Midlands outfit took a solid home victory over a depleted London Lions on Saturday before battling to the final seconds against the league's defending champs 24 hours later to keep their title bid alive.
Sunday's win came thanks to a great scoring performance from Robyn Ainge, Katie Januszewska, Erin Hikin and Alia El Shbrawy, despite the best efforts of Ava Battese for Ipswich.
Bristol do the double over ipswich
Bristol Flyers did plenty to help their post season chances with a vital win over Ipswich on Saturday at the SGS Wise College Campus, thanks to a phenomenal performance from Louisa Gibbins.
The Flyers' forward finished with 12 points, 9 boards, an assist and two steals in the three point win, Bristol's eighth of the year.
Emma Bailey, Hannah Wallace and Mai Zilbeti all finished in double-digit scoring for the West of England ball club as they can now eye up the possibility of pushing for a top six finish, all but assured of a place in the playoffs.
Honourable mentions
Erin Hikin (LOU) - 20P/3R/5A/20EFF v IPS
Louisa Gibbins (BRI) - 12P/9R/1A/19EFF v IPS
Chandre Nunez (WOR) - 20P/4R/3A/22EFF
Ava Battese (IPS) - 27P/7R/1A/18EFF v LOU
.