Another dose of WNBL action brings with it another chance for FocusHoops' Darren Paul to select his Player and Team of the Week.
As a writer, commentator, podcaster and more, Darren mulled over performances from five different games this past weekend before making his choices along with some honourable mentions.
Have your say on this week's selections and give a shout-out to the players you think deserve one using the hashtag #NBL2122. Don't forget to tag us!    
Twitter: @NBLengland / @FocusHoops  
Facebook: @NBLengland  / @FocusHoops  
Instagram: @nblengland / @focushoops  
How it works  
Darren will pick a Player of the Week and four other selections to round out his Team of the Week, paying attention to the following criteria:
Efficiency 

 

Stats 

 

Team and opposition strength 

 

Periods of influence in the game 

Being on a winning team (exceptional performances from players on losing teams will be considered for TOTW)
Other players will also receive a shout out as honourable mentions at the bottom of the piece.
The FocusHoops team of the week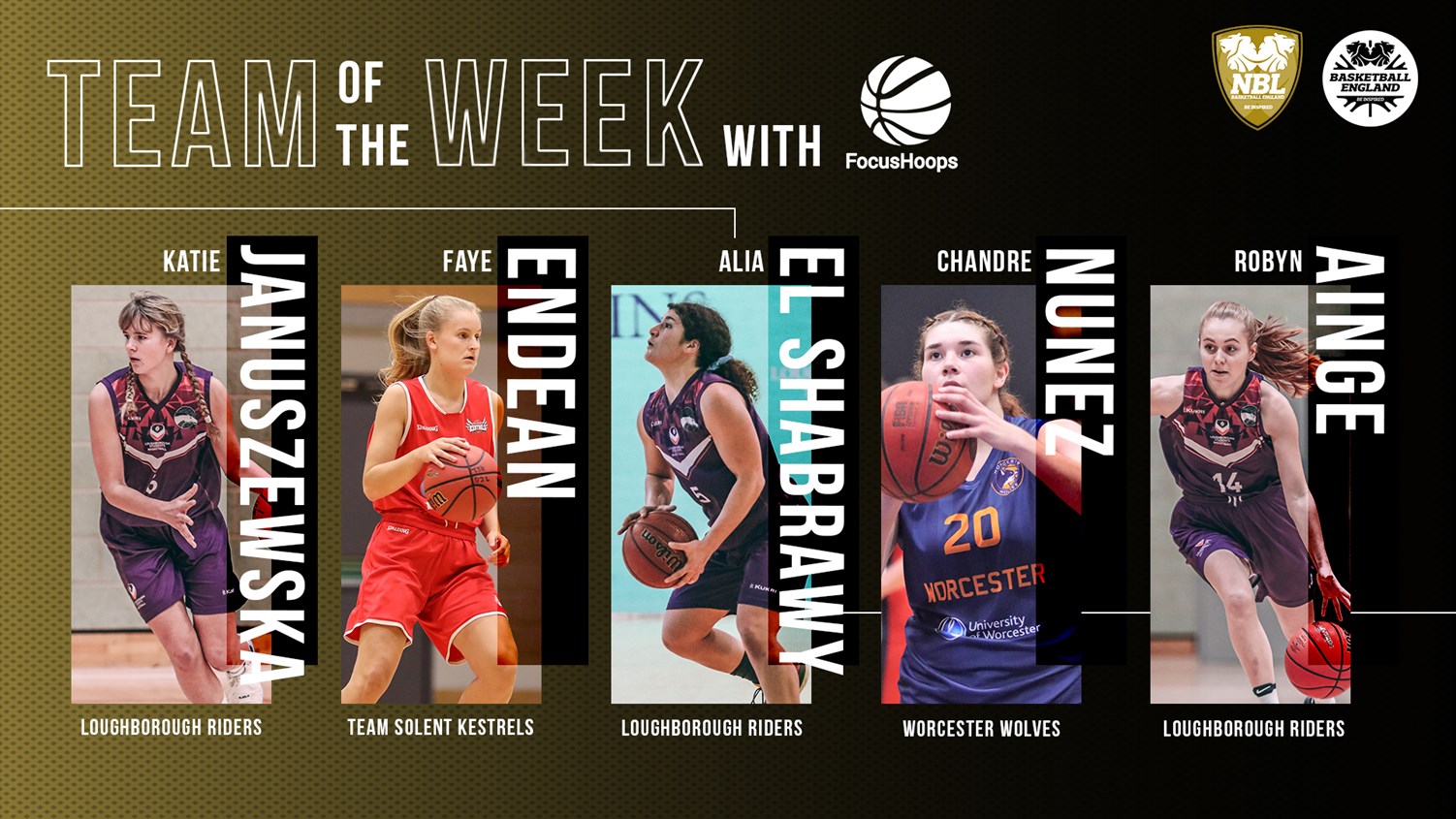 PLAYER OF THE WEEK
Katie Januszewska - Loughborough Riders, forward
18pts, 7reb, 6ast, 5stl, 2blk, 28eff
It is a case of new year, same Katie Januszewska as the young Riders star has picked up where she left off in 2021 to claim Player of the Week honours.
Her performance against Worcester on Saturday was an impressive one, with Januszewska stuffing the stat sheet with 18 points on 53% shooting, bringing down seven boards. and dishing six dimes.
KJ's exploits weren't all offensive either, as she finished the contest with five steals and two blocks.
It was a well rounded effort that provided a big boost to a Loughborough side still fighting to remain in the title picture.
Faye Endean - Team Solent Kestrels, guard
18pts, 7reb, 10ast, 4stl, +/- 37, 27eff
Faye Endean shone under the bright lights as the NBL Live cameras showcased the Kestrels' dominant win over Bristol Flyers this weekend.
Endean finished with a double-double any guard would love, bagging 18 points on 40% shooting and 10 assists, leading the league in dimes this weekend.
Endean also pulled down seven rebounds, leaving her tantalisingly close to what would have been a well-deserved a triple-double.
The young guard also stole the ball four times in a fantastic all-around performance to keep Solent in the hunt for a top-four finish.
Robyn Ainge - Loughborough Riders, guard
24pts, 6reb, 4ast, 4stl, 27eff
Robyn Ainge is once again in Team of the Week after a stellar performance in the Riders' win over Worcester.
Ainge led by example, finishing the contest with 24 points on 50% shooting, going 7-12 from beyond the arc and making all three attempts at the line.
For a player who rained down the threes, Ainge still did well on the glass to pull down six rebounds, two offensive, and found her teammates for four assists.
Not content with that output, she also stole the ball four times in a strong performance against a Wolves team who kept battling all afternoon.
Chandre Nunez - Worcester Wolves, wing
32pts, 9reb, 1ast, 3stl, 28eff
Chandre Nunez was a one-woman wrecking crew for Worcester on Saturday in their 20 point loss to Loughborough Riders.
One of only three Wolves in double-figures scoring, Nunez led all scorers in the game with 32 points, including 5-7 from three-point-land but somehow that wasn't the most impressive part of her line.
Of the 20 fouls committed on the Wolves, Nunez accounted for almost half of them. Being clipped nine times, she made all 13 free throw attempts.
Nunez also pulled down nine boards, five on the offensive glass and helped out defensively with three steals and a block to cap off another strong individual display.
Alia El Shabrawy - Loughborough Riders, guard
15pts, 9reb, 4ast, 6stl, 25eff
Alia El Shabrawy made the Team of the Week thanks to her efficient near double-double performance in Loughborough's win over the Wolves.
El Shabrawy put up 15 points on 60% shooting, sinking one triple and going 2-3 at the line whilst pulling down a team-high and game-tying nine rebounds, with four coming on the offensive end to generate second chance opportunities.
The talented guard also played provider to dish four assists, nabbing a game-high six steals as her great 2021/22 season continues.
The Riders will need more of the same going forward as they remain in the chase for the D1W championship.
Team Basketball
CoLA Southwark Pride remain perfect as they sweep Ruskin
CoLA Southwark Pride took down one of their main rivals for the championship in Anglia Ruskin on Sunday afternoon, consigning Ruskin to their third loss of the season and all but eliminating them from title contention.
CoLA were held to a low score by their own standards, but put in a great performance to win three of the four quarters and limiting the usually free scoring ARU to just 40 points.
Spearheaded by Emily O'Connell's 11 points, CoLA took another huge victory in their quest for the perfect season and a title that narrowly eluded them a year ago.
Loughborough gets the job done
Loughborough Rider did what needed to be done this weekend, navigating a tricky test in the form of the playoff-chasing Worcester Wolves with a 84-68 road victory.
The win came courtesy of three excellent performances from Katie Januszewska, Robyn Ainge and Alia El Shabrawy. The Riders shot well as a team and dominated the battle on the boards as they put in a professional performance over a Wolves team that has lost two important players in recent weeks.
Loughborough continue to put pressure on TVC and CoLA ahead of them and performances like this one will build confidence that they can be in contention come the end of the season.
Honourable mentions
Kat Goldsby (TVC) - 17P/8R/2A/3S/2B/20EFF
Krisztina Velkey-Cleeve (TSK) - 15P/4R/5A/7S/0PF/+37/24EFF
Yassin Belle-Mbaye (IPS) - 12P/15R/1A/3S/22EFF
.