There was no shortage of quality performances to pick from in Week 14, with NBL players across the country putting on a show.
Looking across the 10 games, Rebound's Chris Hughes selects his NBL Team of the Week and highlights five honourable mentions as well as two impressive team performances.   
Have your say on this week's choices and give a shout-out to the players you think deserve one using the hashtag #NBL2122 and #ReboundTOTW. Don't forget to tag us!    
Twitter:  @NBLengland / @Rebound__  
Facebook:  @NBLengland  / @ReboundNBL  
Instagram:  @nblengland / @reboundnbl  
How it works 
Chris will pick a Player of the Week and four other selections to round out his Team of the Week, paying attention to the following criteria:
Efficiency 

 

Stats 

 

Team and opposition strength 

 

Periods of influence in the game 

Being on a winning team (exceptional performances from players on losing teams will be considered for TOTW)
Other players will also receive a shout out as honourable mentions at the bottom of the piece.
The Rebound team of the week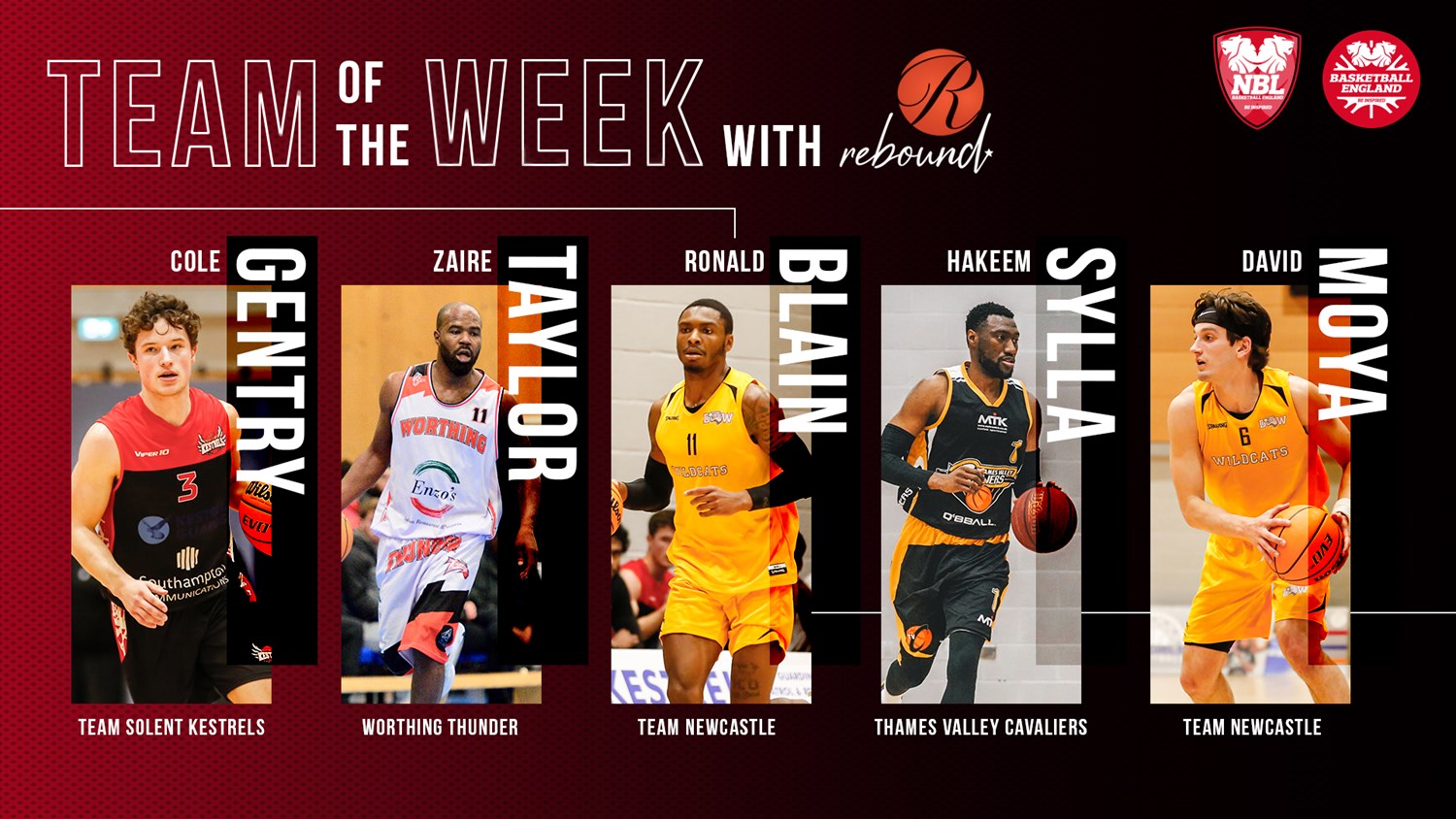 PLAYER OF THE WEEK
Cole Gentry - Team Solent Kestrels, guard
20PTS, 5REB, 5AST, 1TUR, 3STL, 27EFF vs DTB
25PTS, 5REB, 3AST, 0TUR, 2STL, 30EFF @REA
A double-header weekend wasn't a problem for Solent's floor general. Cole Gentry brought the hype, netting 11-18 three pointers and a highly-efficient 45 points across the two games.
In Saturday's clash at home against Derby, Gentry hit as many three pointers (5-7) as his team mates combined (5-28), and as many as Derby managed overall (5-21). That was also a similar theme on Sunday (6-11 for Gentry vs Reading's 6-23 & Solent's 4-17).
Derby went toe-to-toe with Solent,  however the American's quick thinking and his explosive first step created openings, forced turnovers and also limited his own errors. Amazingly, he had just one turnover across the two games combined.
Zaire Taylor - Worthing Thunder, forward
24PTS (6-8 3PM), 7REB, 7 AST, 5STL, 38EFF
It may be his last dance but Zaire Taylor has enough in the tank to play out this season in style.
The NBL legend is showing no signs of slowing down as he posted a dominant 4-pronged stat line to ensure his side got the dub and protected top spot in the D1M standings.
Taylor produced a shooting clinic from range in a 'Player Of The Week' worthy performance against a short handed Bradford side. Having to roll with seven players, Taylor and co put the Dragons to the sword as they sealed their thirteenth win of the season.
Ronald Blain – Team Newcastle University, forward
25PTS, 13REB, 5AST, 3STL, 2BLK, 37EFF
There's nothing like preparing for a final with a feast of a stat line. Ronald Blain schooled the Lions this past weekend ahead of next weekend's NBL National Cup final.
The Hawaii Pacific forward, renowned for his shooting prowess, also impressed on the defensive end. The Lions dominated the boards but Blain's 10 defensive rebounds along with three steals and two blocks took some of the sting out of the Lions' offense.
David Moya – Team Newcastle University, guard
23PTS, 9REB, 7AST, 5STL, 32EFF
Moya flirted with a triple-double this weekend as the Newcastle guard showed off his varied skill set against London.
In the closely fought 7-point win, Moya's five steals were key to Newcastle's strategy.
The Knights won the turnover battle 20-12, also coming out on top in points from turnovers 25-15. That 10 point swing was important in the single digit victory.
Moya's ability at the other end was also a factor, with only Ronald Blain beating his 23 points and nine rebounds.
Hakeem Sylla – Thames Valley Cavaliers, forward
17PTS, 15REB, 3AST, 2STL, 27EFF
Sylla became the first player in the NBL to record 10 double-doubles this season with another top performance this weekend. When Sylla plays well it is hard to stop either him or the Cavs as Hemel found out the hard way in their 30-point loss.
Sylla's efficient inside threat opened up spaces elsewhere, with three of TVC's starting five making 40% or more from 3-point range.
The talented forward is also a glass threat at both ends, adding to the differential in second chance points (18-16). The Guinean international was part of the reason Hemel really struggled in that department, eventually losing the rebound battle 50-30 as well.
Team Basketball
A healthy Solent manage tricky double header
Solent were able to field a full strength team in Saturday's double header versus title-contending Derby, eventually coming out on top 82-76 in front of the NBL Live cameras.
They then hit the road to face a Reading side who are struggling with COVID layoffs, with only Kemel Archer sitting out for the defending champs. Coach Guymon's side took care of business on the way to a more straight-forward 14 point dub.
A lot of plaudits will go to Cole Gentry and his performance in both games, but it was a team performance across the board. An honourable mention must go to Luke Busumbru, the flashy guard showed Solent what they had been missing in transition at both ends.
Cavs weather the storm for huge win
Having lost their last encounter against Hemel, Freckleton and co. were looking to make amends and a team performance ensured the Cavaliers keep in touch with the top four with a much needed win.
The starting five all pitched in, but plaudits should also go to Jarrett Hart who busted out an impressively efficient cameo off the bench.
A.J. Roberts was unlucky not to get a nod in the TOTW with an impressive 19-minute cameo of his own.
Honourable mentions
Lewis Diankulu (LEI) – 23P/17R/1S/2B/26EFF V ESS & 18P/20R/2A/1S/1B/23 V REA
Lee Hodges (ESS) – 21P/14R/3A/1S/1B/32EFF  
A.J. Roberts (THA) – (19:03) 21P/4R/2A/1S/24EFF
Elijah Maynard  (LL2) – 33P/8R/1A/2S/28EFF
Van Turner Jr. (LEI) –  28P/8R/4A/2S/19EF V ESS &  36P/6R/4A/2S/28EFF V REA
.