FocusHoops' Darren Paul is back for 2022 and had a tough task picking his first Player and Team of the Week of the new year.
As a writer, commentator, podcaster and more, Darren had five D1W games to look over, plus a pair of key WNBL National Cup semi-finals to make his selections.
Have your say on this week's choices and give a shout-out to the players you think deserve one using the hashtag #NBL2122. Don't forget to tag us!    
Twitter: @NBLengland / @FocusHoops  
Facebook: @NBLengland  / @FocusHoops  
Instagram: @nblengland / @focushoops  
How it works  
Darren will pick a Player of the Week and four other selections to round out his Team of the Week, paying attention to the following criteria:
Efficiency 

 

Stats 

 

Team and opposition strength 

 

Periods of influence in the game 

Being on a winning team (exceptional performances from players on losing teams will be considered for TOTW)
Other players will also receive a shout out as honourable mentions at the bottom of the piece.
The FocusHoops team of the week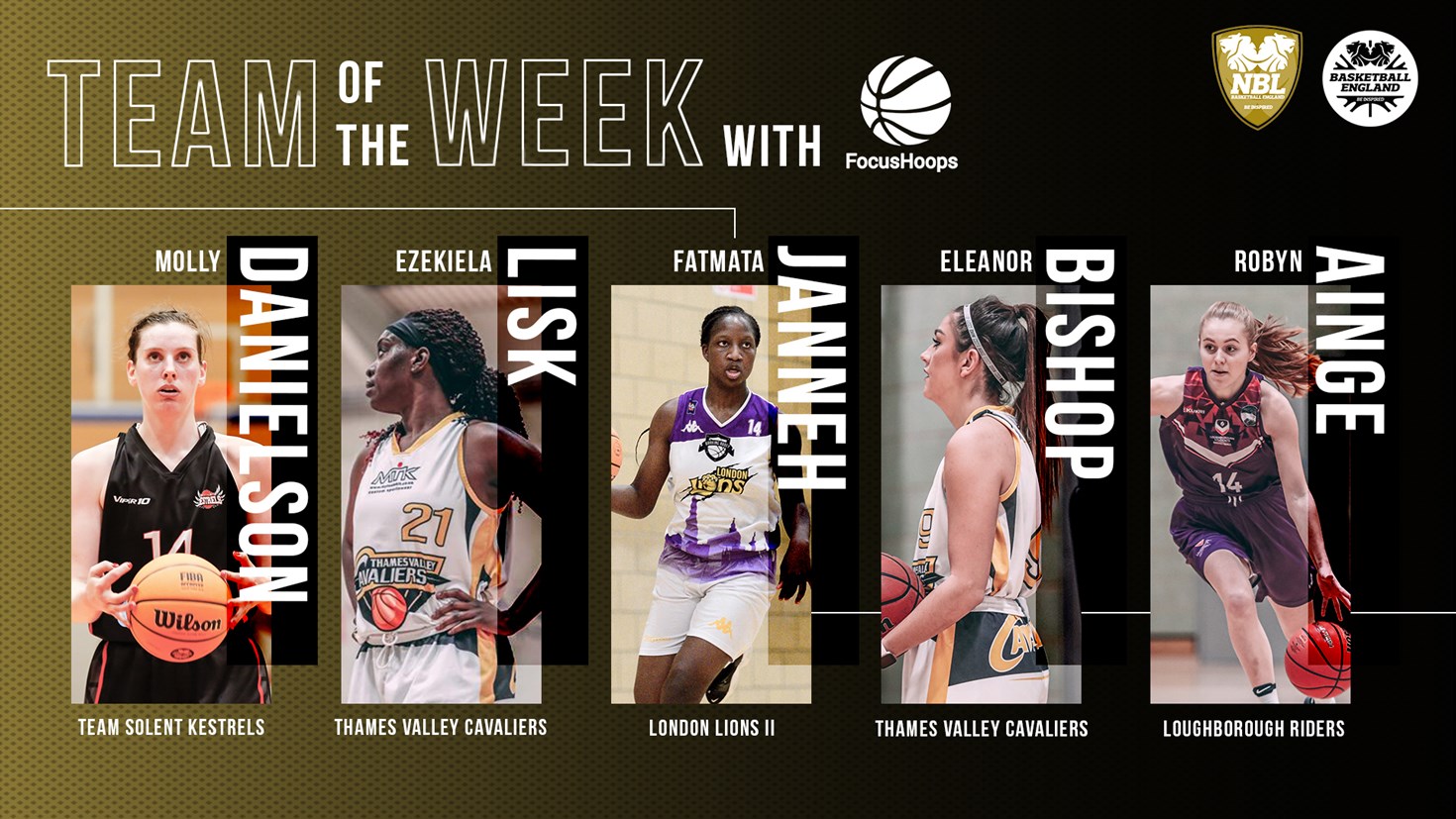 PLAYER OF THE WEEK
Molly Danielson - Team Solent Kestrels, forward
27pts, 12reb, 3ast, 0TO, 30eff v LL2
12pts, 14reb, 3stl, 20eff @ARU (CUP)
Molly Danielson took the Player of the Week award as Team Solent Kestrels enjoyed a pair of road win this past weekend.
In the league against London Lions II on Saturday, the American forward spearheaded Solent's efforts with 27 points and 12 rebounds, shooting 50% from the floor and going 5-8 from the foul stripe. She also enjoyed a team-high in rebounds, leading her team in both offensive and defensive boards with six apiece.
Danielson did a great job securing the ball, not committing a single turnover whilst finishing the contest with two steals. She also showed her grit down low, being fouled a game-high eight times, sinking 62% from the line.
24 hours later she also helped TSK into the WNBL National Cup final as the South coast side sunk former winners Anglia Ruskin 73-57.
A 12 point, 14 rebound double-double was key to the victory, especially during her battle with Ruskin's Katrin Hulme.
Ezekiela Lisk - Thames Valley Cavaliers, forward
14pts, 17reb, 2ast, 30eff
Ezekiela Lisk makes the Team of the Week thanks to her 14 points, 17 rebounds double-double in Thames Valley Cavaliers' statement OT victory against Ipswich.
Lisk shot an excellent 70% from the floor, all from inside the arc, and coupled it with 17 rebounds, two of which were offensive, a team-high.
Lisk was vital on the glass for TVC as the forward pulled down 15 defensive rebounds, though she did foul out in overtime having scored four points in the extra period.
Fatmata Janneh - London Lions II, wing
32pts, 10reb, 3ast, 30eff
Fatmata Janneh assured her place in my Team of the Week with a 32 points, 10 rebounds double-double in London's 11 point loss to Team Solent Kestrels.
Janneh, who has been one of London's top performer's this season, shot efficiently from the floor and hit 58% of her attempts, including 3-6 from outside the arc.
The young wing also pulled down a team-high 10 rebounds, nine on the defensive side of the floor and contributed three assists, two steals and a block.
Eleanor Bishop - Thames Valley Cavaliers, guard
19pts, 5reb, 5ast, 5stl, 0to 29eff
Eleanor Bishop finished with a fantastic 19 points against Ipswich in TVC's crucial overtime victory, which saw them leapfrog the East Anglian outfit in the league standings.
The former Nottingham Trent University standout played an extremely disciplined game, even in a high profile contest, and didn't commit a single turnover or foul in 34 minutes of action.
Bishop pulled down five rebounds, dished five assists and swiped five steals in a solid all-around performance that also saw her shooting with efficiency, going 58% from the floor, sinking three triples and making both her free throws.
Robyn Ainge - Loughborough Riders, guard
13pts, 8reb, 7ast, 4stl, 0PF, 23eff
Ainge makes the WNBL Team of the Week thanks to an efficient performance in the Riders' 75-50 win over Cardiff.
The Loughborough guard didn't commit a foul in the contest, whilst being fouled four times in return. That allowed her to scoring two of her 13 points from the foul-stripe whilst shooting 50% overall from the floor.
Ainge also played her part on the glass, pulling down eight rebounds total and seven on the defensive end, dishing seven dimes as part of an all-around performance that also contained four steals in a crucial win for the Riders.
Team Basketball
Cavs keep on rolling
Thames Valley enjoyed a statement overtime victory over the reigning WNBL league and playoff champions Ipswich this past weekend, moving up to second in the standings.
Leapfrogging their opponents, and possibly ending their chances at retaining their league title, TVC shot very well as a team, hitting 54% from the floor, making 42% of their threes and 85% of their shots at the stripe.
The Cavs lost out on the battle of the boards, but did an amazing job securing the ball overall, conceding just six turnovers in the game. Goldsby, Bishop and Lisk all played major minutes without piling up costly turnovers, heavily reducing Ipswich's chances to score in transition.
Loughborough keep on building
Loughborough Riders took an important win this weekend as they defeated a resurgent Cardiff in commanding fashion to improve to 6-2.
Spearheaded by great performances from Robyn Ainge, Katie Januszewska and Alia El Shabrawy, the Midlands club edged the first half before taking control of the contest fully after the break.
The Riders did a great job of scoring in the paint and won on the glass as well, allowing the hosts to convert second-chance opportunities that helped to clinch a vital win.
They'll need more victories like this to keep themselves in the chase for the D1W championship.
Honourable mentions
Chandre Nunez (WOR) - 34P/1R/1A/24EFF
Kat Goldsby (TVC) - 25P/4R/1A/24EFF
Isobel Bunyan (CAR) - 20P/10R/2A/0TO/3B/0PF/24 EFF
.
Main image credit - Luke Simcock