The penultimate weekend of the WNBL season brought some tricky decisions for FocusHoops' Darren Paul.
As a writer, commentator, podcaster and more, Darren had a number of top-tier performances to weight up when picking his Player and Team of the Week.
Have your say on this week's choices and give a shout-out to the players you think deserve one using the hashtag #NBL2122. Don't forget to tag us!    
Twitter: @NBLengland / @FocusHoops  
Facebook: @NBLengland  / @FocusHoops  
Instagram: @nblengland / @focushoops  
How it works  
Darren will pick a Player of the Week and four other selections to round out his Team of the Week, paying attention to the following criteria:
Efficiency 

 

Stats 

 

Team and opposition strength 

 

Periods of influence in the game 

Being on a winning team (exceptional performances from players on losing teams will be considered for TOTW)
Other players will also receive a shout out as honourable mentions at the bottom of the piece.
The FocusHoops team of the week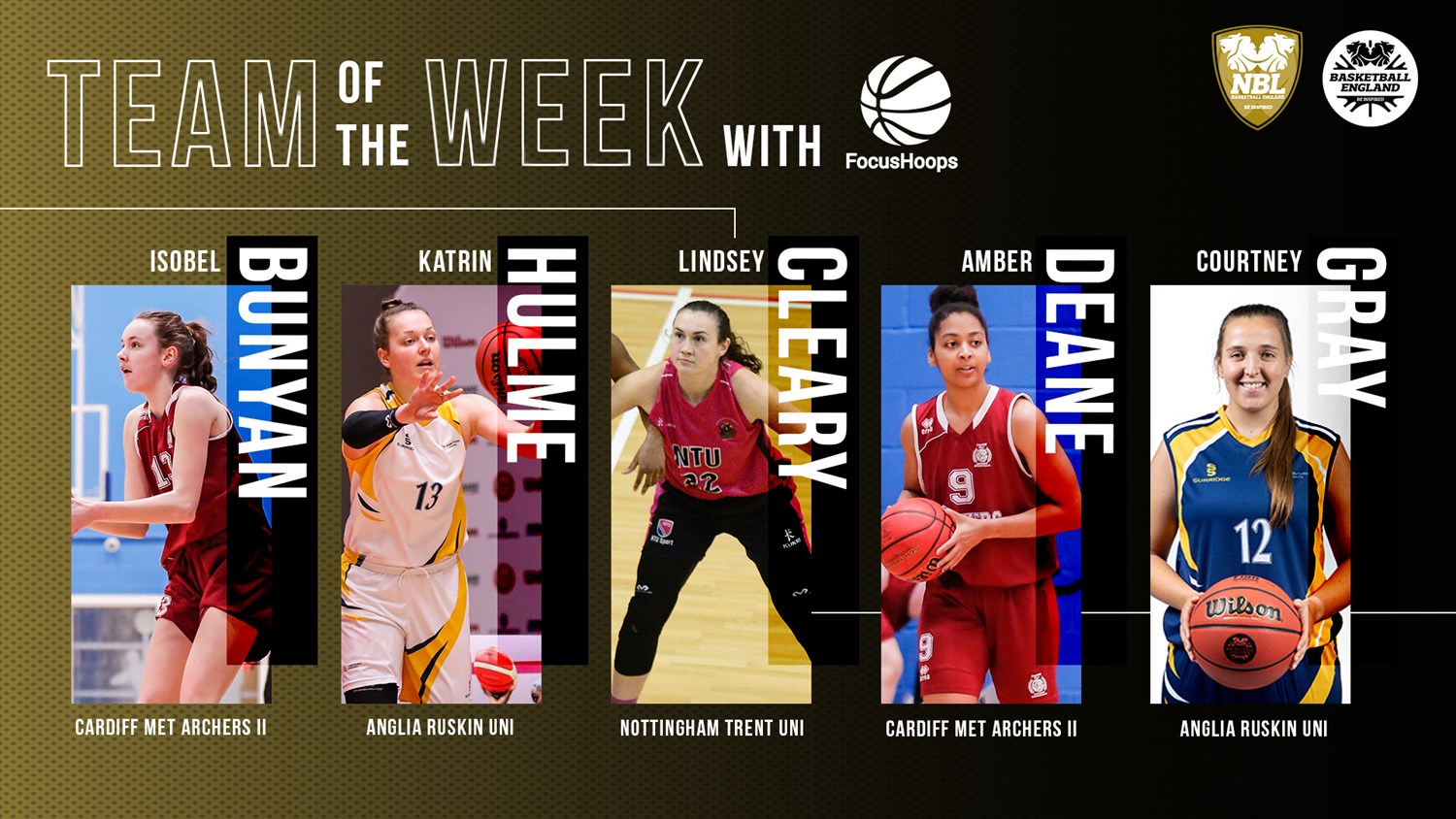 PLAYER OF THE WEEK
Isobel Bunyan - Cardiff Met Archers II, wing
22pts, 3reb, 5ast, 3stl, 3blk, 29eff
Isobel Bunyan is my penultimate Player of the Week winner after a stellar scoring performance in a 75-62 derby victory over playoff bound Bristol Flyers.
Bunyan scored at a rate of 64% from the field, and made 4-8 from outside the arc in her 37 minutes on the floor. The young wing was no slouch on defence either, pulling down three defensive boards, blocking three shots and picking off three steals whilst also contributing five assists.
It was an all-around performance that will no doubt build plenty of confidence as Cardiff head into the playoffs.
Katrin Hulme - Anglia Ruskin University, forward
14pts, 22reb, 5ast, 31eff
Despite being on the losing end of a 62-53 score line against Ipswich, Katrin Hulme put in a strong performance for ARU to collect a sizable double-double.
Hulme shot efficiently, making half of her shots and her only free throw, but it was on the glass where the General was dominant, pulling down 19 defensive rebounds on her way to 22 total.
Hulme also flashed as a playmaker to dish five dimes in another display that shows her importance to ARU as they head into the playoffs as underdogs.
Lindsey Cleary - Nottingham Trent University, guard
14pts, 10reb, 5ast, 23eff
NTU picked up their second win of the season this past weekend and Lindsey Cleary, who has been a shining light in a tough season for the Midlands club, took top billing with a double-double effort.
The American finished with 14 points in the contest, shooting 44% from the floor, but cleaning up at the stripe by making 6-8 on free throws.
Cleary was also a force on the glass, pulling down 10 total boards, with four on the offensive end and found her teammates for five assists. She also finished the contest with four steals in 35 minutes of play, quite the effort from the NTU star.
Amber Deane - Cardiff Met Archers II, forward
21pts, 6reb, 4ast, 5stl, 27eff
Amber Deane did it again this weekend thanks to a fine performance in Cardiff's 75-62 victory against Bristol, picked up their twelfth win of the season in a battle against their rivals just over the border.
Deane made 7-11 shots and went a fantastic 7-8 at the stripe for her 21 points, pulling down six boards that included four on offence to giving her side second chance opportunities.
The talented forward had the hot hand to finish with four assists and five steals as the Cardiff captain continues to set the tone for her side as we head to the playoffs.
Courtney Gray - Anglia Ruskin University, forward
16pts, 13reb, 3ast, 28eff
Courtney Gray came up big for ARU as they took down Reading 66-50 on the road last Sunday.
Gray led the game in scoring and rebounds, and played all-around efficient basketball in her 33 minutes of action.  
The former Thames Valley Cavalier finished with 16 points on 58% shooting and put in a shift on the glass, pulling down a game high 13 boards, two on the offensive end.
She also contributed three assists and two steals, all without conceding a turnover whilst also finishing with a game high +21.
Gray will be buoyed by another strong outing as she heads into her first post season with ARU.
Team Basketball
Cardiff earn derby spoils over bristol
Cardiff Met Archers II took the bragging rights over Bristol Flyers after their 75-62 win on Sunday afternoon, thanks to strong outings from Amber Deane, Isobel Bunyan and Denisa Molnar.
Molnar finished with 17 points to complement the scoring of Deane and Bunyan and the trio combined to swipe 13 steals.
It all added up to another confidence-boosting victory for Cardiff before their first taste of the D1W post season.
Bristol's Hannah Wallace shone in the tie and deserves some recognition, finishing with 23 points and three assists as her side will also make the playoffs and hope to be this season's Cinderella story. 
Loughborough bag a couple of big names in two-win weekend
Loughborough Riders look to enter the postseason with a head of steam as they took down both CoLA and Anglia Ruskin this past week.
The Riders managed to top the Isi Ozzy-Momodu-less Pride on the weekend and then defeated ARU on Tuesday evening in a slow burn game that came alive in the fourth.
The Riders have been boosted in recent weeks with Louise Rouse playing more regular minutes to complement the excellent play of Alia El Shabrawy and Katie Januszewska.
Against CoLA the trio each scored 17 points, with El Shabrawy the pick of the bunch with eight boards and three assists, an incredible feat given she is often the shortest player on the floor, using her speed and strength to gain an advantage on the glass.
Honourable mentions
Saffie Jarju (TSK) - 16P/15R/5S/1B/29EFF
Alia El Shabrawy (LOU) - 17P/8R/3A/2S/21EFF
Nicholle Lavinier (LL2) - 17P/7R/6A/23EFF
.