It's Team and Player of the Week time as FocusHoops' Darren Paul once again has his say on the best performances from last weekend's D1W action.
As a writer, commentator, podcaster and more, Darren had five ties to sift through, with Reading, CoLA,  Thames Valley, Solent and Loughborough all picking up wins.
Have your say on this week's choices and give a shout-out to the players you think deserve one using the hashtag #NBL2223. Don't forget to tag us!    
Twitter: @NBLengland / @FocusHoops  
Facebook: @NBLengland  / @FocusHoops  
Instagram: @nblengland / @focushoops  
How it works  
Darren will pick a Player of the Week and four other selections to round out his Team of the Week, paying attention to the following criteria:
Efficiency 

 

Stats 

 

Team and opposition strength 

 

Periods of influence in the game 

Being on a winning team (exceptional performances from players on losing teams will be considered for TOTW)
Other players will also receive a shout out as honourable mentions at the bottom of the piece.
The FocusHoops Team of the Week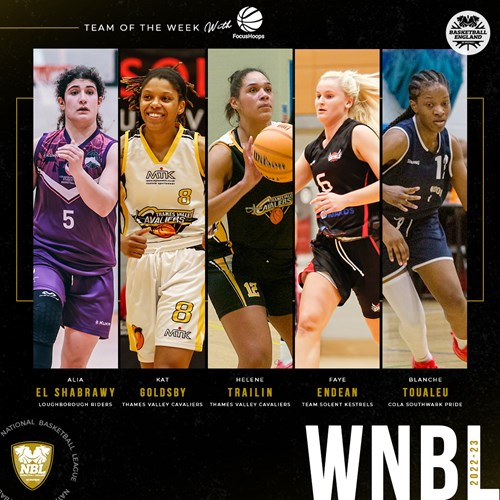 PLAYER OF THE WEEK
Alia El Shabrawy - Loughborough Riders, guard
26PTS, 16REB, 7AST, 3stl, 36EFF
Alia El Shabrawy clinched my Player of the Week award with a huge 26-16 double-double to help guide Loughborough past a spirited Ipswich at home.
El Shabrawy shot efficiently from the floor and went off in the fourth with 11 points in the period, just as Ipswich had fought back to tie up the game late in the contest.
As is her way, the pound-for-pound best rebounder in the league cleaned up on the glass, especially on the defensive end with 12 boards, dishing out seven assists and finished the contest with three steals.
It was another all-round performance from El Shabrawy, and one that couldn't be overlooked for POTW honours.
Kat Goldsby - Thames Valley Cavaliers, guard
17PTS, 8REB, 5AST, 5stl, 22EFF
Kat Goldsby finished with 17 points on 40% shooting, (55% from inside the arc) to hand Brent their first loss of the season as the TVC captain put in a shift across 34 minutes of action.
Goldsby bagged four points in the final minute to put an end to Brent's hopes of getting back into the game, adding eight boards, five dimes and five steals in the contest as well.
Helene Trailin - Thames Valley Cavaliers, forward
14pts, 15reb, 3ast, 28eff
Trailin dominated the boards as TVC took down Brent to end their unbeaten start to the season. TVC won the battle on the glass and Trailin's 15 boards, nine offensive, were a big factor in that.
Trailin also bagged 14 points, shooting 66% from the field and hitting 6-6 from the charity stripe, whilst also dishing three dimes, snagging two steals and sending one shot back.
The talented forward was an important factor in the contest in her 28 minute of action and TVC will be looking for more games like this from Trailin as they look at build on their great start to the season.
Faye Endean - Team Solent Kestrels, guard
30pts, 8reb, 7ast, 29eff
It was the Faye Endean show for Team Solent Kestrels as the young guard went for a weekend-high 30 points, on 47% shooting.
Endean was too much for Cardiff to handle on Sunday afternoon as she drew nine fouls and shot from the stripe 12 times, whilst committing just the one foul herself.
Endean didn't just contribute in points, she pulled down eight boards and dished out seven assists, tacking on two steals and a block in a sound all-round performance that continues Solent's red-hot start to the season. 
Blanche Toualeu - CoLA Southwark Pride, forward
10pts, 5reb, 5AST, 24eff
Blanche Toualeu put in a masterclass in efficiency this weekend as CoLA Southwark Pride took down Bristol on the road.
Toualeu finished with 100% shooting from the floor, and committed just a single turnover in a disciplined performance in her 28 minutes of action.
The young forward pulled down five boards and also finished with a game high five assists in a contest where she showed a little bit of everything.
On D, Toualeu was a menace in the passing lanes, finishing with a joint team-high five steals, further hurting Bristol's chances of success.
Team Basketball
TVC down Brent to end unbeaten run
It took a whole team performance from TVC to take down Brent, brining an end to a great start to the season for the newly promoted London outfit.
TVC were led in scoring by Robyn Ainge's 18 points, Kat Goldsby with 17 points and Helene Trailin's 14 points. A strong performance from Faith Okwuosa, who battled on the glass and finished with five steals, was a huge contributor in the win as TVC improve to a 4-1 record.
Brent were led by Kenisha Whyte, who finished with a game-high 19 points with Josephine Maignomo contributing 13 points in a valiant effort.
Reading tame Lions as great start continues
The Reading Rockets continue their excellent start to the 2022/23 season with a 59-46 road victory over London Lions II to finish the weekend fourth in the D1W standings.
Reading were led in scoring by the ever-productive Lindsey Cleary, who finished with 14 points and nine boards, whilst the sharp shooting Kristina Karpova tacked on 10 points and seven boards.
The Lions were led by former Player of the Week Ruchae Walton, who put in another tremendous display, finishing with a 16-11 double-double to go with a game-high eight steals.
Grace Strickland also contributed 11 points, but it wasn't enough as the Lions' good run of form came to an end.
Honourable mentions
Ruchae Walton (LL2) - 16P/11R/2A/8STL/26EFF
Lindsey Cleary (REA) - 14P/9R/17EFF
Kenisha Whyte (BRE) - 19P/2R/1A/18EFF
.
.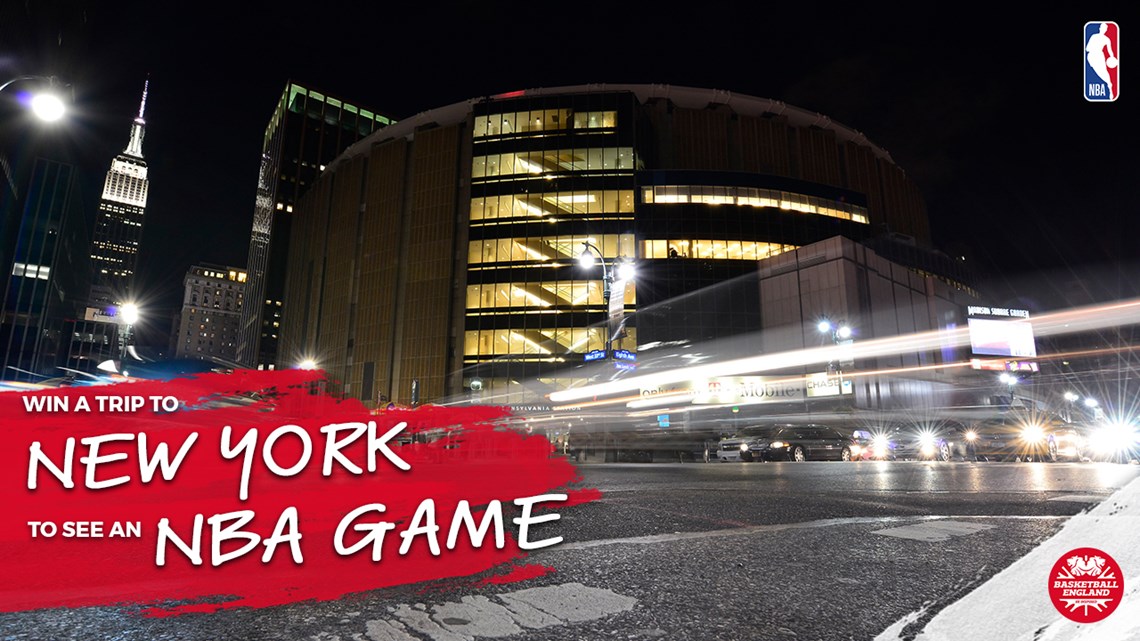 Join Basketball England for free and win a trip to New York City, courtesy of the NBA.
Whether you have a Supporter Account as a fan, follower, enthusiast or advocate, or a Full Account and have paid for a licence to play, coach or officiate in competition, you can enter our prize draw.
Basketball has the power to change lives. Our #GameTime campaign aims to raise awareness of the positive impact that basketball can have on people no matter who they are or where they are from.
.
Main image credit - Loughborough Basketball
TOTW graphic credits - Loughborough Basketball, Luke Simcock, Image Quest, CoLA