The Great Britain's Men return to action for the first time since EuroBasket on Friday night to continue their World Cup Qualifying mission.
Marc Steutel's team hosts Serbia at Newcastle's Vertu Motors Arena (7pm) before travelling to Riga to take on Latvia on Monday 14 November with places at next summer's World Cup at stake. 
Steutel has confirmed the 12-man roster for Friday night's clash with some exciting new faces joining an established core of proven talent.
There are senior debuts for big men Aaron Menzies and Josh Sharma and 19-year-old guard Quinn Ellis. Veteran centre Gabe Olaseni will captain the side against Serbia.
Teenage prospect Ellis has earned his call after shining with second-tier Italian outfit Monferrato. He has this week relished working alongside more experienced squadmates such as Devon van Oostrum, who could win his 50th cap if selected for the two contests.
Gareth Murray (Calendonia Gladiators) and Jackson Gibbons (CoLA) join Steutel's caoching staff as assistants for the first time with Andreas Kapoulas unavailable for this window. 
GB roster v Serbia:
Jamell Anderson (Cheshire Phoenix), Quinn Ellis (Monferrato), Dwayne Lautier-Ogunleye (Swans Gmunden), Aaron Menzies (Dresden Titans), Ben Mockford (Newcastle Eagles), Luke Nelson (London Lions), Gabe Olaseni (Darussafaka, Josh Sharma (London Lions) Devon van Oostrum (London Lions), Carl Wheatle (Pistoia), Patrick Whelan (Leicester Riders), Jordan Williams (Hubner Nyiregyhaza)
Quinn Ellis said:
"In terms of exposure, the last few months have been really, really good. It has been a lot (to take in) as well, but for me overall it has been really nice to get recognition and be noticed for what I can do, because that didn't really happen when I was younger, so I'm enjoying it for sure.
"I'm blessed to have the opportunity to come into camp as a really young guy and be around these professionals that have been in this team for so long. Having the opportunity to learn from and compete with them and just to be here in general is something I'm really happy about.
"One thing I've learnt is how important it is to be vocal at this level, for sure. Coming into an environment like this at my age it is easy to be quite shy and quiet, so the guys have been really supportive in telling me not to be afraid to express myself and communicate more, but I've learnt so much already and we're only on day two so it has been really enjoyable."
Aaron Menzies
While he is certainly a giant now, Menzies has been a colossus since his youth, measuring at 7ft 1 from as young as 10 years old. His height would have seemed like an obvious gift for a basketball player at that age, the first time he stepped on a court was aged 16, just 10 years ago, and falling in love with the game.
"Initially I just started playing for fun, but after my first season I realised I could get a lot out of the game and have some great opportunities, so I really started putting in the work and, like many Magic players before and after me, I've reaped the rewards of that work and I'm forever grateful to the club for helping get to where I am right now.
"Pat (Whelan) had started playing for the Magic before me and we've become really good friends since then. I didn't start playing until I was 16 to be honest, but once I got started and enjoyed it, I quickly learnt and became a part of the group and haven't looked back."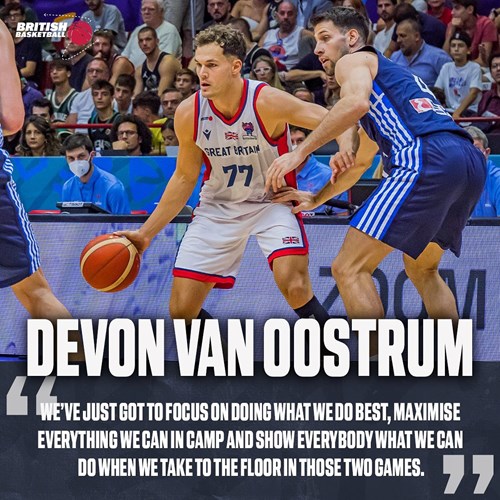 Josh Sharma said:
"I'm very excited to have the opportunity to represent Great Britain, it is a huge honour and a privilege," said Sharma.
"My mum was born in Hertfordshire and was raised in England, as were my grandparents and I still have a lot of family that live in the UK.
"I only got my UK passport a few years ago. I wish I'd got it when I was younger to be honest, but it has definitely been an ambition of mine to play for the National Team and I'm excited to be here on camp with the rest of the guys."
Devon van Oostrum said:
"We know we've got a big challenge ahead of us if we are to achieve qualification, but we're excited to come together and take that on and get back to that GB identity and culture that we'd built over the years before EuroBasket.
"We still have a chance of qualifying for the World Cup, we know what we're capable of and we've shown what we can do on the way to getting to this point in qualification, so we've just got to focus on getting back to those things when we come together for camp.
"When we played Latvia in August that was probably our best game of the summer against a full-strength team including their NBA players, so that shows what we can do and that we can mix it with the top teams. We've just got to focus on doing what we do best, maximise everything we can in camp and show everybody what we can do when we take to the floor in those two games."
Marc Steutel said:
"We've got a monumental task ahead of us against two basketball powerhouses, but this is why we compete and there were a lot of positives for us from our last qualifier against Latvia, including our defensive application, how we stuck to the scout and the game plan. We've just got to embody all of those things again and work towards the outcome that we desire from these games.
"Every coach in the world has a unique viewpoint for their situation at any given moment, and I'm not sure how many people in international basketball would agree that we'd be favoured against Serbia whether they have their NBA guys or not, as their Head Coach has said.
"As far as his comments, he can feel how he wants to feel – we'll prepare with the mentality that its about us, doing the right things, embodying the Great Britain style of basketball and doing everything we can to be successful."
What's next?
GB second qualifying round concludes in February with game against Belgium (H) and Serbia (A). The current standings are HERE - the top three teams qualify for the finals.
.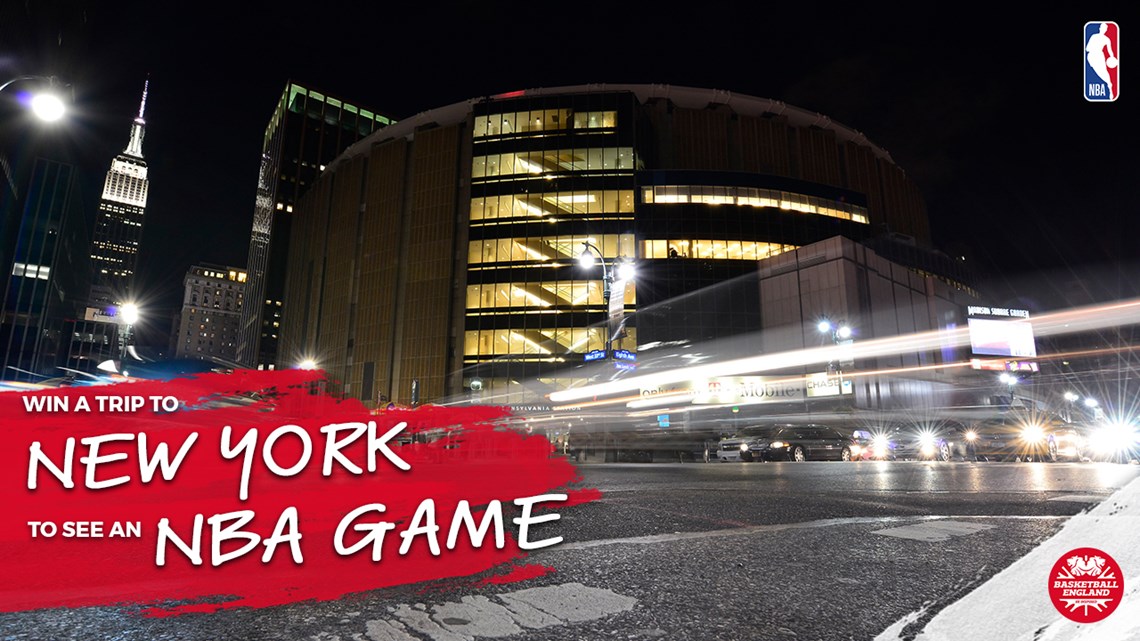 Join Basketball England for free and win a trip to New York City, courtesy of the NBA.
Whether you have a Supporter Account as a fan, follower, enthusiast or advocate, or a Full Account and have paid for a licence to play, coach or officiate in competition, you can enter our prize draw.
Basketball has the power to change lives. Our #GameTime campaign aims to raise awareness of the positive impact that basketball can have on people no matter who they are or where they are from.
.
.