From Milton Keynes to the NBA – Jeremy Sochan last night completed the latest and most significant step in his impressive basketball journey, selected as the ninth pick of the 2022 draft by the San Antonio Spurs.
That magical moment is the latest stop on a pathway that has seen him progress rapidly from schoolboy hopeful learning his trade in the south of England, to one of the latest additions to the biggest and best basketball league in the world. 
It's an opportunity he describes as 'crazy exciting'. 
And he is ready to get on with it with typical enthusiasm, tweeting 'Let's get to work!' on his selection. 
Sochan isn't one to hang around. The 19-year-old, a 6ft 9ins forward, felt he was ready for the big league after just a year with NCAA Division One giants Baylor, making himself available for the draft, ready to follow the likes of Luol Deng, John Amaechi and Steve Bucknall in going from the UK to the NBA. 
"I mean, it's been crazy," he told the BBC. "Something I never expected. I feel ready, I feel I am mature enough to be in this league, a grown man's league."
Following the draft ceremony, he said: "It means so much. I've been dreaming about this for so long. I'm so excited. My heart was beating so fast. I can't wait to get there and get to work. 
On being selected by the Spurs, who he worked out for, he said: "Yeah. I think overall, it was great. From me, just being able to talk to them, personally, off the court. And then on the court, just being able to show what I can do, I think it was great. And they trust me. I can't wait. 
"It's a team that really wants to work hard and win. And you know, it's a team, team, team, team. Like, they play as a team. I can't wait to fit my role there, and you know, keep them going." 
Sochan started out as a youngster with Solent Kestrels, Milton Keynes and then Itchen College – where he shone in the EABL - and represented England as a junior. 
Solent and Itchen coach Matt Guymon said:
"We were fortunate to have Jeremy with us for mini basketball and welcomed him back as a 15 year old, where he was a particularly characteristic young man who was incredibly humble.
"We knew he was a special talent with tremendous potential, but as the year progressed we elevated him to our NBL1 team where it was clear that he was destined for the highest levels of our sport.
"We are so excited for Jeremy and his family and this new chapter. This has been his goal from the beginning and we cannot wait to see what he is able to achieve with the Spurs."
Born in the US, Sochan moved to the UK aged two. Despite opting to play internationally for Poland – the land of his mother Aneta, a former point guard – rather than Great Britain, he sees himself as English. Maybe he's best descrbed as a citizen of the world.  
"I am English. I lived in England most of my life through primary and secondary school, living in Southampton and Milton Keynes," he told the Times. "That's where my family live, it's where my home is, in Milton Keynes.
"I always remember I used to follow my mum, just being on the court. You know just playing, trying to shoot, trying to score a basket." 
A return to the States for high school then college followed with supportive parents vital to his progression.  
"If I wanted to do big things with basketball I did have to leave England. I think my mum understood that because she played basketball as well. She was open to it and I know what they've had to sacrifice, but in the end I know why I'm doing it. I love my parents and I'm doing it for them as well," Sochan said.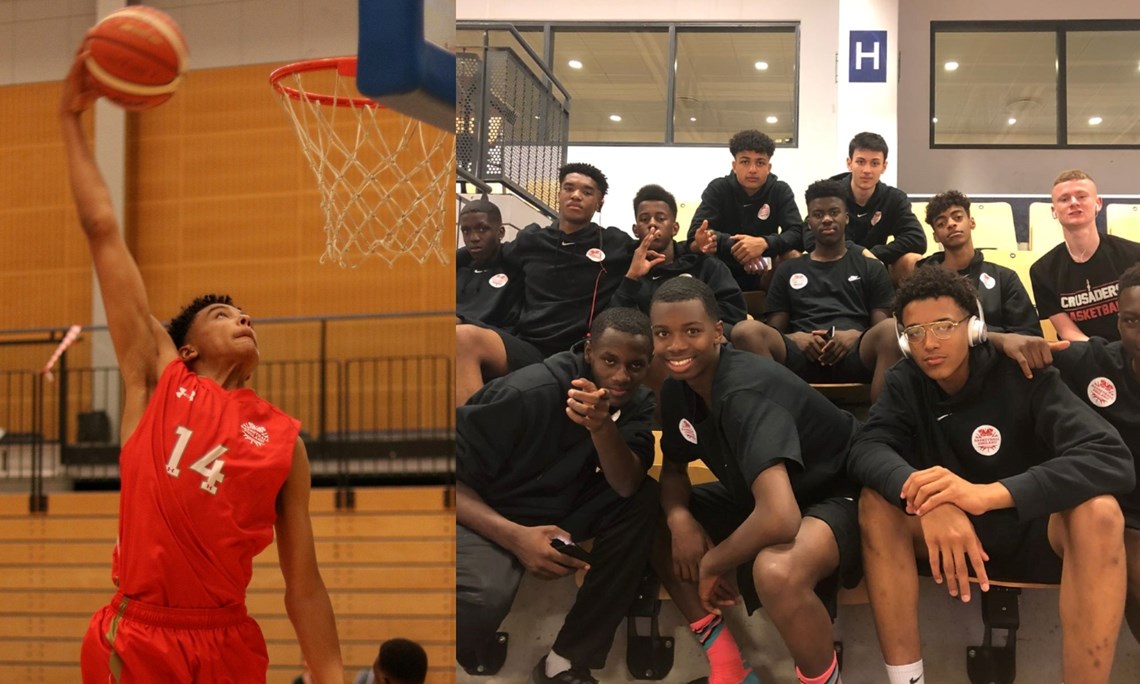 While it no doubt stings for fans of the GB team that he chose to represent Poland (he also qualified to play for the US) he said: "I just felt like the Polish national team and the GB team have a few differences. I think there's a lot more money in the Polish national team, a lot more opportunity. And I think that really played a part. 
"GB has a tonne of potential. I mean, it could be one of the greats, I think personally. But I feel like there needs to be more resources, more money involved in the game of basketball and hopefully that will come, but that's the main reason why I chose Poland." 
He added that he wants to 'do good things for basketball in England' and 'build a lot more awareness around basketball in England'. 
No doubt he will be back, thankful to those who helped steer his early years and shone a light on his progress. In the meantime, he will serve as a high-profile inspiration to other aiming to make it right to the top.