Great Britain have today announced their 24-man squad ahead of back-to-back matches against fellow FIBA World Cup 2023 qualifying hopefuls Belarus.
GB Men enter the second window of FIBA World Cup Qualifying in unprecedented form, having won 12 of their past 15 games – a run that extends all the way back to the 2018-19 season. 
This historic period of fine form includes a famous win last November where GB toppled world-number-10-ranked Greece 78-69, signifying the first time Great Britain had beaten the European powerhouse since 1984, as well as significant victories against France and Germany within that run.
Return to Newcastle
Heading to Minsk on Friday 25 February to take on the Belarusians, GB will be back on home soil for the reverse fixture at the Vertu Motors Arena in Newcastle on Monday 28 February – a venue which has proven a happy hunting ground for GB recently – with the final 12-man rosters to be confirmed before each game.
The 24-man squad is built around a core group of veteran players who have featured in every international window during Nate Reinking's tenure as Head Coach, namely co-captain Dan Clark, Ashley Hamilton, Dwayne Lautier-Ogunleye, Ben Mockford, Luke Nelson, Teddy Okereafor, and Gabe Olaseni.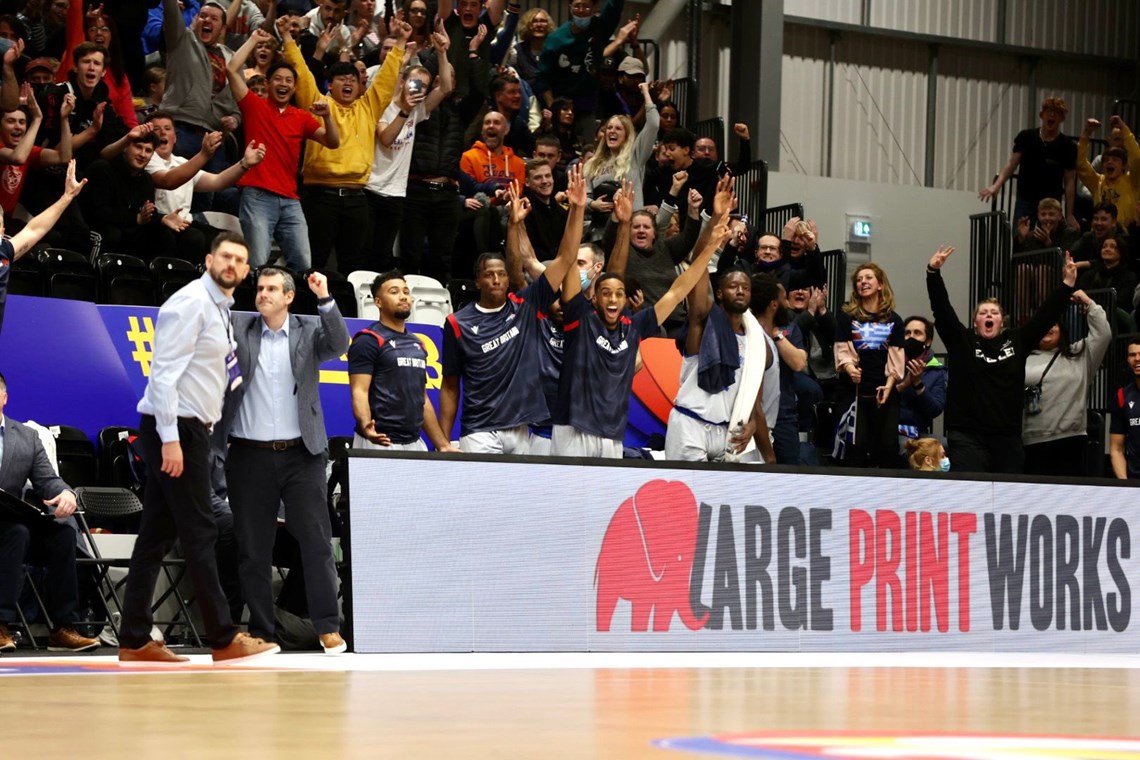 Also included in the 24-man roster are the experienced heads of co-captain Myles Hesson, Ovie Soko, Jamell Anderson, Kyle Johnson, Gareth Murray, Carl Wheatle and Tarik Phillip.
BBL-Cup-winning Leicester Riders guard Patrick Whelan and French club Saint Quentin's Deane Williams are the only players in the 24-man list who are yet to make an appearance for the senior team.
Marc Steutel will once again step up as Acting Head Coach, with support from Assistant Coaches Andreas Kapoulas and Jamie Smith.
Caps kings
Team co-captain Dan Clark (110 caps) moves closer to becoming GB's all-time leading International Cap winner with only Eric Boateng (116 caps) ahead of him, with the 33-year-old having a stellar debut season in the British Basketball League representing the Manchester Giants.
The Men's team last faced Belarus in the Tbilisi City Hall Cup in 2014, where Belarus came out 68-77, however GB Men's last visit to Belarus was more fruitful, in the FIBA EuroBasket 2007 Division B Group Phase, winning 83-51 on that occasion.
Great Britain Men's National Team Roster
| | | | | | |
| --- | --- | --- | --- | --- | --- |
| NAME | POS | AGE | HEIGHT | CLUB TEAM (2021-22) | CAPS* |
| Jamell Anderson | F | 31 | 6'7" | Manchester Giants (GBR) | 4 |
| Kavell Bigby-Williams  | F/C  | 26 | 6'11"  | Anwil Wloclawek (POL) | 8 |
| Dan Clark  | F/C  | 33 | 6'11"  | Manchester Giants (GBR) | 110 |
| Ashley Hamilton  | F  | 33 | 6'7"  | Basquet Coruna (ESP) | 30 |
| Myles Hesson  | F  | 31 | 6'6"  | Saga Ballooners (JPN)  | 45 |
| Kyle Johnson  | G  | 33 | 6'5"  | Thor Thorlakshofn (ISL) | 83 |
| Sacha Killeya-Jones | F/C | 23 | 6'11" | Hapoel Gilboa Galil (ISR) | 8 |
| Dwayne Lautier-Ogunleye  | G  | 25 | 6'3"  | APU Udine (ITA)  | 10 |
| Ben Mockford  | G  | 32 | 6'2"  | Cheshire Phoenix (GBR) | 45 |
| Gareth Murray | F | 37 | 6'7" | Glasgow Rocks (GBR) | 62 |
| Luke Nelson  | G  | 26 | 6'3"  | ESSM Le Portel (FRA)  | 26 |
| Teddy Okereafor  | G  | 29 | 6'4"  | Cheshire Phoenix (GBR)  | 51 |
| Gabe Olaseni  | C  | 30 | 6'10"  | Darussafaka (TUR)  | 42 |
| Tarik Phillip  | G  | 28 | 6'3" | San Pablo Purgos (ESP) | 12 |
| Kareem Queeley | G/F | 20 | 6'4" | San Pablo Purgos (ESP) | 1 |
| Jacob Round  | G  | 21 | 6'4"  | CB Zamora (ESP)  | 4 |
| Ovie Soko  | F  | 30 | 6'7"  | Shiga Lakestars (JPN)  | 12 |
| Josh Steel | G | 25 | 6'4" | Manchester Giants (GBR) | 4 |
| Devon Van Oostrum | G | 29 | 6'3" | CB Penas Huesca (ESP) | 40 |
| Carl Wheatle | F | 23 | 6'7" | Pistoia (ITA) | 17 |
| Patrick Whelan | G | 25 | 6'5" | Leicester Riders (GBR) | 0 |
| Jordan Williams | F | 26 | 6'7" | London Lions (GBR) | 2 |
| Deane Williams | F | 25 | 6'8" | Saint-Quentin (FRA) | 0 |
| Akwasi Yeboah  | F  | 24 | 6'6"  | Saint-Chamond Basket (FRA) | 4 |


Coaching and performance staff
Acting Head Coach: Marc Steutel
Assistant Coach: Jamie Smith
Assistant Coach: Andreas Kapoulas
Head Performance Analyst: Adam Sewell
Team Manager & Head of Delegation: Chris Morris
Head Sports Therapist: Tom Cresswell
Physiotherapist: Aaron Wharton
Physiotherapist: Aynkaran Vigneswaran
Covid-19 Compliance Officer: Kevin Campbell-Karn
Team Doctor: Dr Jonathan Williams