Great Britain Maxibasketball will take on Wales next month as part of preparation for their XI FIMBA European Championships campaign.
With the trip to the Malaga competition now just 45 days away, GB are holding a Summer Invitational, a preparation tournament that will see three of the men's teams in action over the Jubilee Bank Holiday weekend, with tickets on sale on the door. 
Hosted at Loughborough University on Saturday 4 and Sunday 5 June, the tournament will provide a first and final opportunity for friends, family, and fans to see the teams in action and send them off in style before travelling to Spain.
It also provides an opportunity for fans young and old to be able to watch some of the biggest names in British Basketball from the last 30 years.
Stars of the recent past
In a real coup for the programme, the GB Maxi's 35+ Men will face off against Wales Senior Men as well as the Loughborough Riders, bringing top level international talent to Loughborough to provide a perfect test for GB. 
Coach Parker's 50+ men will also take to the floor, as former Sheffield Shark Garnet Gayle and ex-Scotland international, Iain Maclean, will suit up to lead their team. GB Mens 40s will also play an exhibition game featuring players such as Wales' Alan Duppa and ex-BBL player Gareth Laws.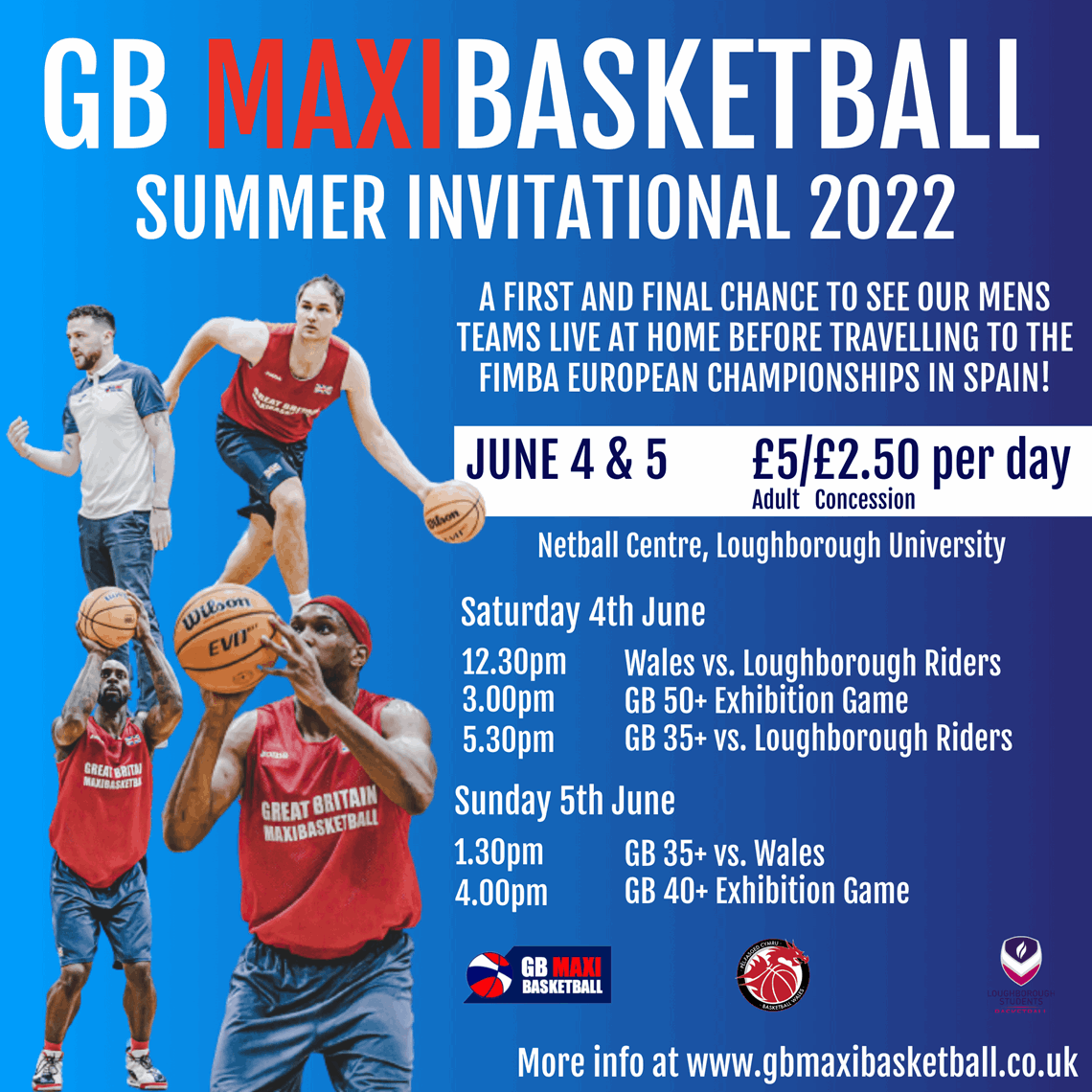 Liam Jefferson, head coach of GB Men's 35s, said:
"The Summer Invitational is an extremely exciting event that is really going to test our teams. Securing Wales to face our 35s will be a fantastic opportunity to test ourselves against a senior national team and I couldn't think of better prep before heading out to Malaga. I'd also like to thank Loughborough University for all their support of the Invitational as without their generosity we wouldn't be able to host what promises to be an exciting weekend of British basketball!"
Jesse Sazant, GB Maxi's Men's programme lead, added:
"I really appreciate the partnership with Loughborough to enable us to run this event and allow all our players and teams to play in front of family and friends before we head out to Malaga for the European Championships. The players, coaches and staff have put a lot of work into the preparation for Euros and they are now fast approaching. The invitational will give us a chance to finalise our preparations and fine tune things." 
Full Schedule
Saturday 4th June
12:30pm: Game 1 - Wales v Loughborough Riders
3pm: Exhibition Game - GB 50+ v TBC
5:30pm: Game 2 - GB 35+ v Loughborough Riders
Sunday 5 June
1:30pm: Game 3 - GB 35+ vs. Wales
4pm: Exhibition Game - GB 40+ vs. TBC
Tickets will be priced at £5 for adults and £2.50 for concessions for each day.
Venue: Netball and Badminton Centre, Loughborough University, LE11 3TS. Please note that due to a cycling event hosted on campus, parking will be at Loughborough College, directly over the road from Loughborough University.