GB's Maxibasketball sides secured an impressive five medals at the recent European Championships in Malaga, Spain.
Entering both male and female teams into the 35+, 40+, 45+ and 50+ age categories, our sides took on some of the best sides in Europe from 24 June to 3 July.
The women's 35+ team captured GB's first ever Maxibasketball gold medal after a 64-44 victory over Estonia in the final, winning all six of their games in the competition to be crowned worthy champions.
There was also a silver medal for the men's 35+ programme, with the women's 45+ and 50+, plus the men's 40+ teams all taking fourth place and the iron medal, with awards given to all four semi-finalists in Maxibasketball.
Demonstrating that age is no barrier to performance, the GB Maxis have been endorsed and recognised as having met England Talent Programme (ETP) standards of delivery. The endorsement also gives elite recognition to the senior English players and staff who are part of the programme.  
GB Maxibasketball Men's 40+ Head Coach and overall men's programme lead Jesse Sazant said:
"The last 10 days have far exceeded my hopes when we started 18 months ago. I've enjoyed the coaching challenge of getting the best out of Masters players, physically, mentally, technically and tactically. 
"[During COVID lockdown], I've learnt how much the programme has meant to lots of the players - for their mental and physical health, and their outlook on life - and I look forward to the next steps."
Basketball England's CEO Stewart Kellett said:
"These European Championships have been an outstanding achievement for everyone involved in the GB Maxi programme.
"Recognising the programme as part of the Player Pathway to continue playing and competing at the highest level, and seeing what players, coaches and support staff are capable of as they continue their life-long participation in basketball is an inspiration to everyone.
"Its great to see the programme and teams grow and succeed and I look forward to seeing what can be achieved at the FIMBA World Championship in 2023."
Basketball England formally announced a partnership with the Team GB Maxibasketball programme in early 2021, endorsing and recognised their England Talent Programme (ETP) standards of delivery. The endorsement also gave elite recognition to the senior English players and staff who are part of the programme.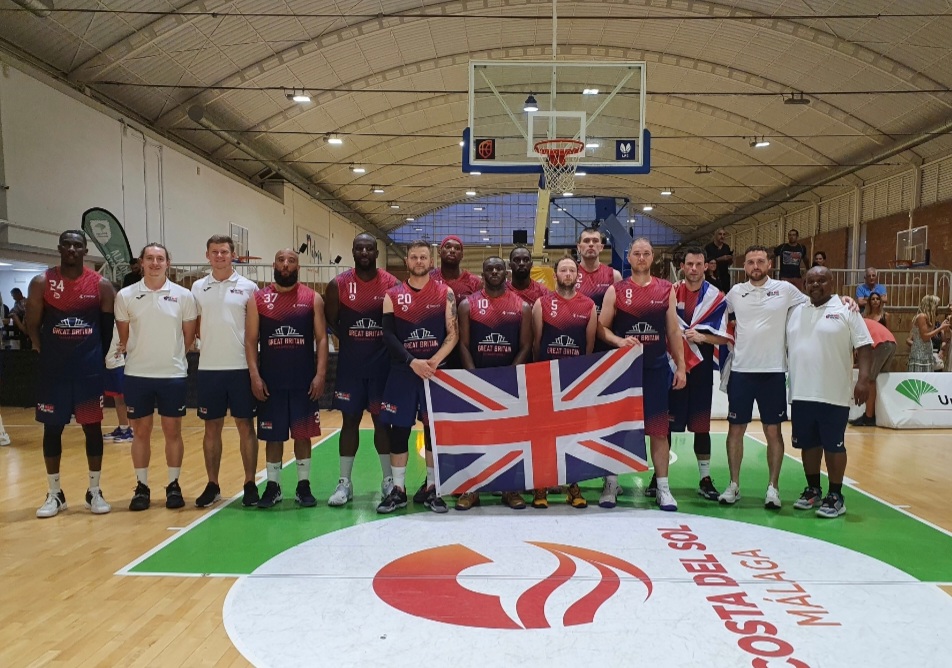 On their way to a gold medal in the final, there were remarkable performances from GB Maxis 35+ co-captains Sarah Cooney (20pts) and WNBL D2 Play-off MVP Lisa Riches (14pts). WBBL All-Star Five Sheffield Hatter Helen Naylor also put in a strong performance with 11 points. 
Speaking of his experience in Malaga, Women's 35+ coach Steve Butler of Tees Valley Mohawks said:
"Words can't describe how I feel right now.  My team was amazing and put on a show the whole tournament and brought the gold back to the UK. The first gold ever.. how mad is that?
"I'm just on a massive high right now and would like to thank everyone who watched and supported me and the players throughout the tournament."
Meanwhile the GB Maxis Men's 35+ team, led by Loughborough-based head coach Liam Jefferson, took on top-seeded Spanish ACB outfit Unicaja Malaga in their final. 
Working against an aggressive defence, Sam Toluwase led the scoring with 22 points despite picking up two early fouls, whilst Walid Mumuni (7pts) and Tom Adorian (6pts) added a further 13 points between them.
However, despite a brave effort the side would come up short to finish as runners up, but still bringing home GB's first European Championship silver medal. Speaking about the final game loss, coach Jefferson said:
"Whilst it stings right now, a European silver medal is an unbelievable achievement and I couldn't be prouder of this group and what they have achieved!"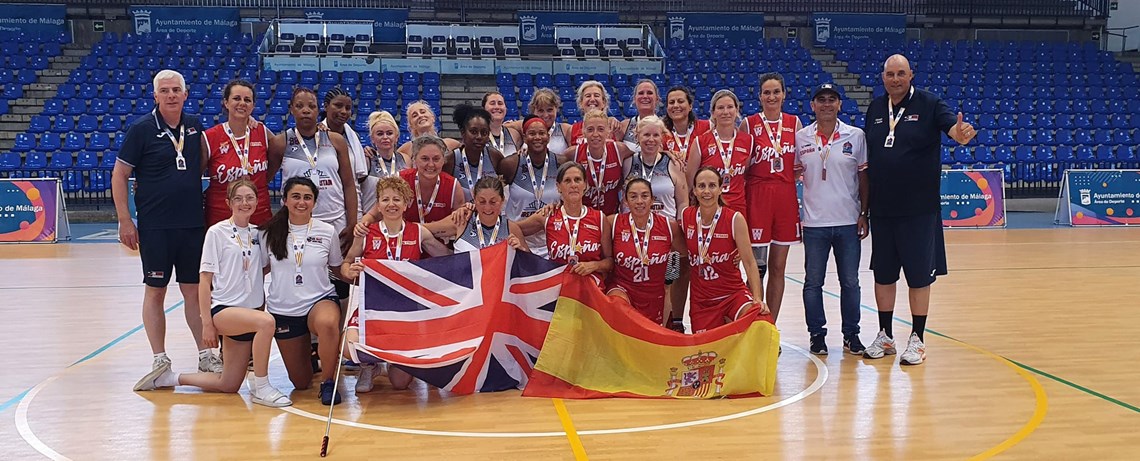 Notably, seven individual GB Maxis featured in the tournament's top ten leading scorers list for their age categories:
Helen Naylor (F35+) ex-international & current WBBL - second with 18.3PPG
Sam Toluwase (M35+) ex-Nigerian international - second with 18.0PPG
Katie Crowley (F40+) ex-international and Sheffield Hatters - fifth with 14.0PPG
Douaine Anderson (M40+) - sixth with 14.2PPG
Damon Cooper (M45+) - sixth with 17.0PPG
Justine Allpress (F45+) ex-international - sixth with 11.0PPG
Anta Riekstina (F50+) - sixth with 14.6PPG
GB Maxis Programme Director Sadie Mason MBE and Training Camp Coordinator Emma Parslow, added:
"We couldn't be prouder of everyone's efforts. We can truly see the fruits of months of planning and preparation, and we are really pleased for and appreciate the programme leads, coaches, managers and sports science staff that have helped us achieve these fabulous European Championship performances. 
"We set out to achieve top six placings in Europe and six of our eight teams achieved this."
The GB Maxibasketball programme is now looking ahead to the FIMBA World Championship 2023. The host nation is yet to be announced, but Expressions of Interest (EOI) for the 2022/23 programme are already open for male and female players 35+, 40+, 45+, 50+, 55+, 60+, 65+, whilst coaches, team managers and performance support staff are also welcome to apply.
Click the button below to access the EOI form and find out more.
.
.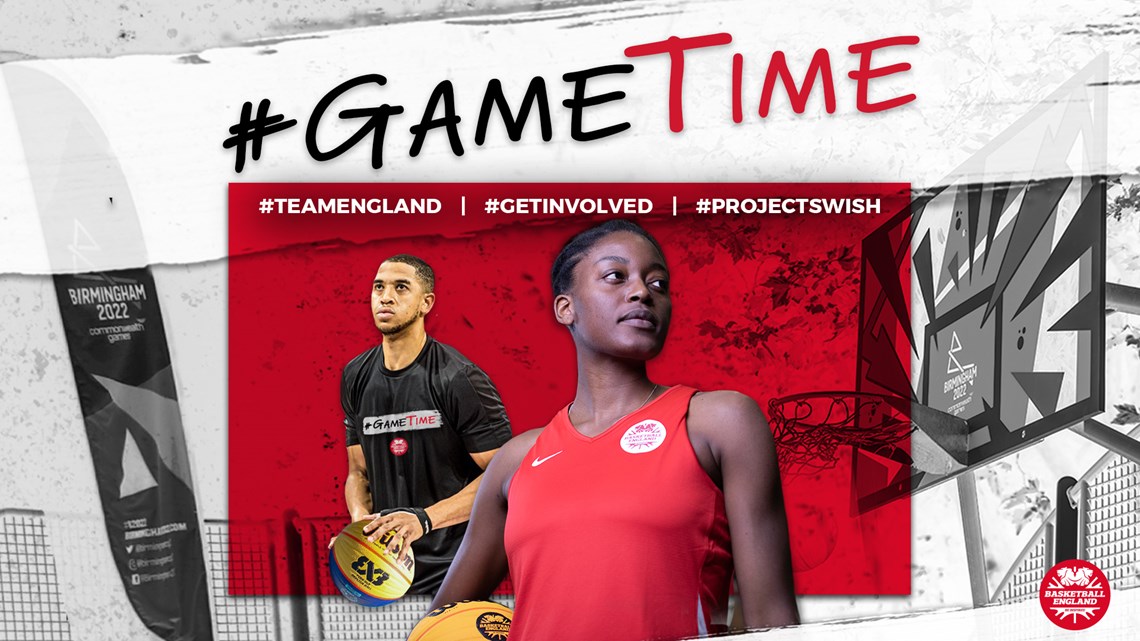 Basketball has the power to change lives. The #GameTime campaign will aim to raise awareness of the positive impact that our sport can have on people no matter who they are or where they are from.
Basketball England aims to engage one million people in basketball via the Commonwealth Games 2022, 3x3 and more. 
Whether you want to:
...regardless of age, gender or background, across every part of the basketball family, it's #GameTime!