Westminster Warriors will head into the post-season unbeaten, as the NBL D2 regular season wrapped up and the playoff brackets were set at the weekend. 
The Warriors have executed a perfect season, rounding up the D2 Men South with a 108-80 win over East London All Stars on Sunday to secure a 22-0 record and full points and honours.  
Beating relegation candidates
As first seed, they'll be playing the Encon Derbyshire Arrows, who seeded fourth in NBL2 North Arrows finished  with a 12-10 regular season record, their final game resulting in a 98-71 victory over Northamptonshire Titans and securing their place in the play-offs. 
Meanwhile, regular season title winners in the north, Manchester Magic, will face fourth seed Greenwich Titans in their first round of the playoffs. Second seeders, Northamptonshire Titans (15-7) and Sussex Bears (16-6), will take on third seed Team Solent Kestrels II (15-7) and Doncaster Eagles (15-7), respectively. 
The Kestrels ended their regular season campaign by beating relegation candidates London Westside 81-86, whilst the Eagles secured their seed by dominating Bristol Academy Flyers 94-57 in their final home game.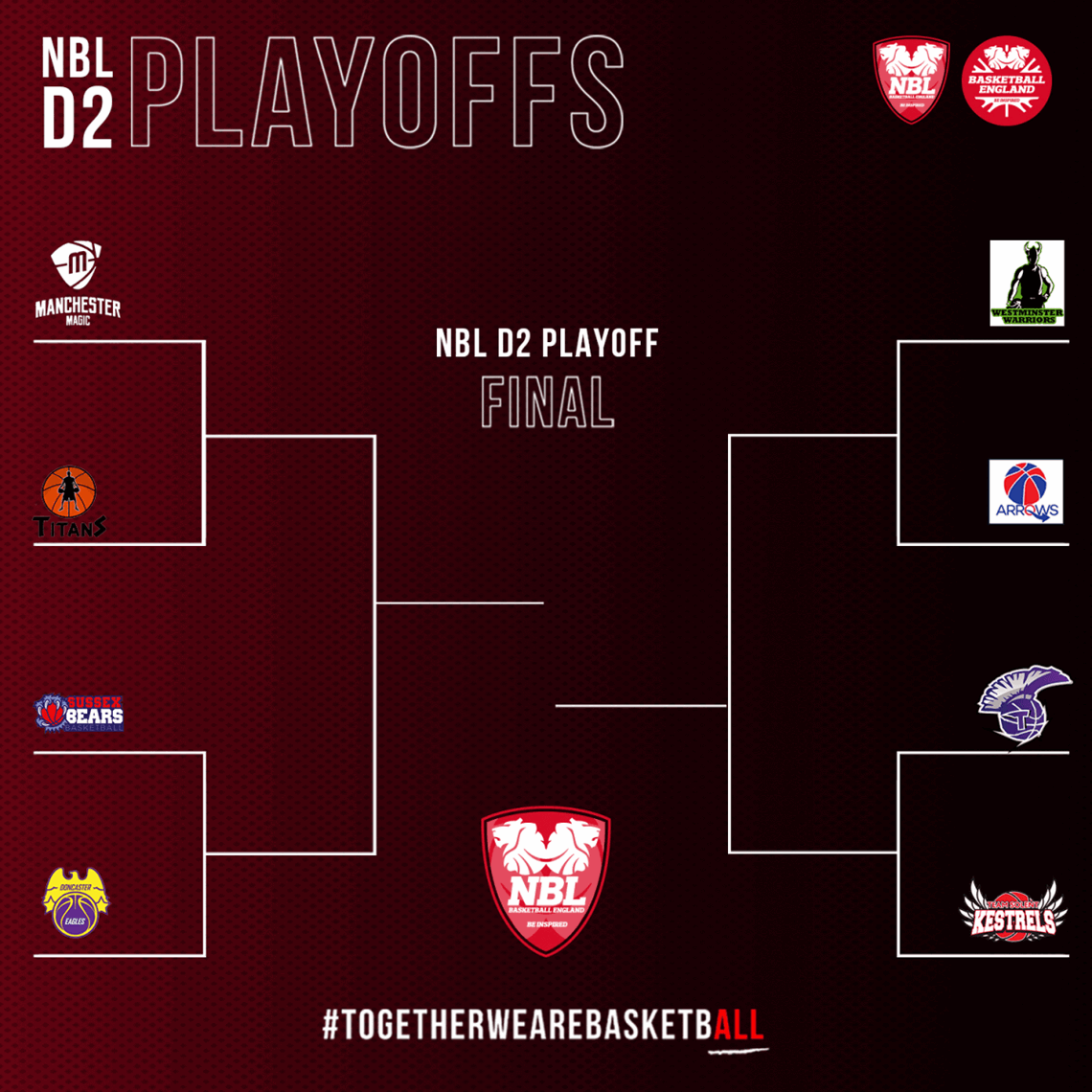 Silverware treble
Treble-hunters, Stockport Lapwings (15-1) begin their playoff campaign against fourth seed Northamptonshire Titans (8-4) in the WNBL D2 playoffs.  
As WNBL National Cup winners and now regular season title holders in the north, the Lapwings will want to go all the way in the off-season and complete a silverware treble to mark their triumphant return to the topflight of women's basketball in England. 
Still mourning the passing of their matriarch and legendary pioneer, Betty Codona, Sheffield Hatters (13-3) finished a mere four points behind the Lapwings as runners up in WNBL D2 North. They'll be hoping to mount a challenge for the last remaining piece of silverware in Codona's honour as they go against third seed south Team Solent Kestrels II (9-5).  
First seed in the south, Brent Bulls took apart Cardiff City Women 41-67 to wrap up their season 13-1 and will now court either the Derby Trailblazers (9-7) in their opener. Derby pipped Nottingham to the fourth seed in the North on points difference after they finished level on their season record and in the head-to-head. Finally, West Herts Warriors (10-3) will play against Manchester Mystics in the other second vs third playoff seeding.  
All of the D2M and D2W quarter-finals will take place on Saturday.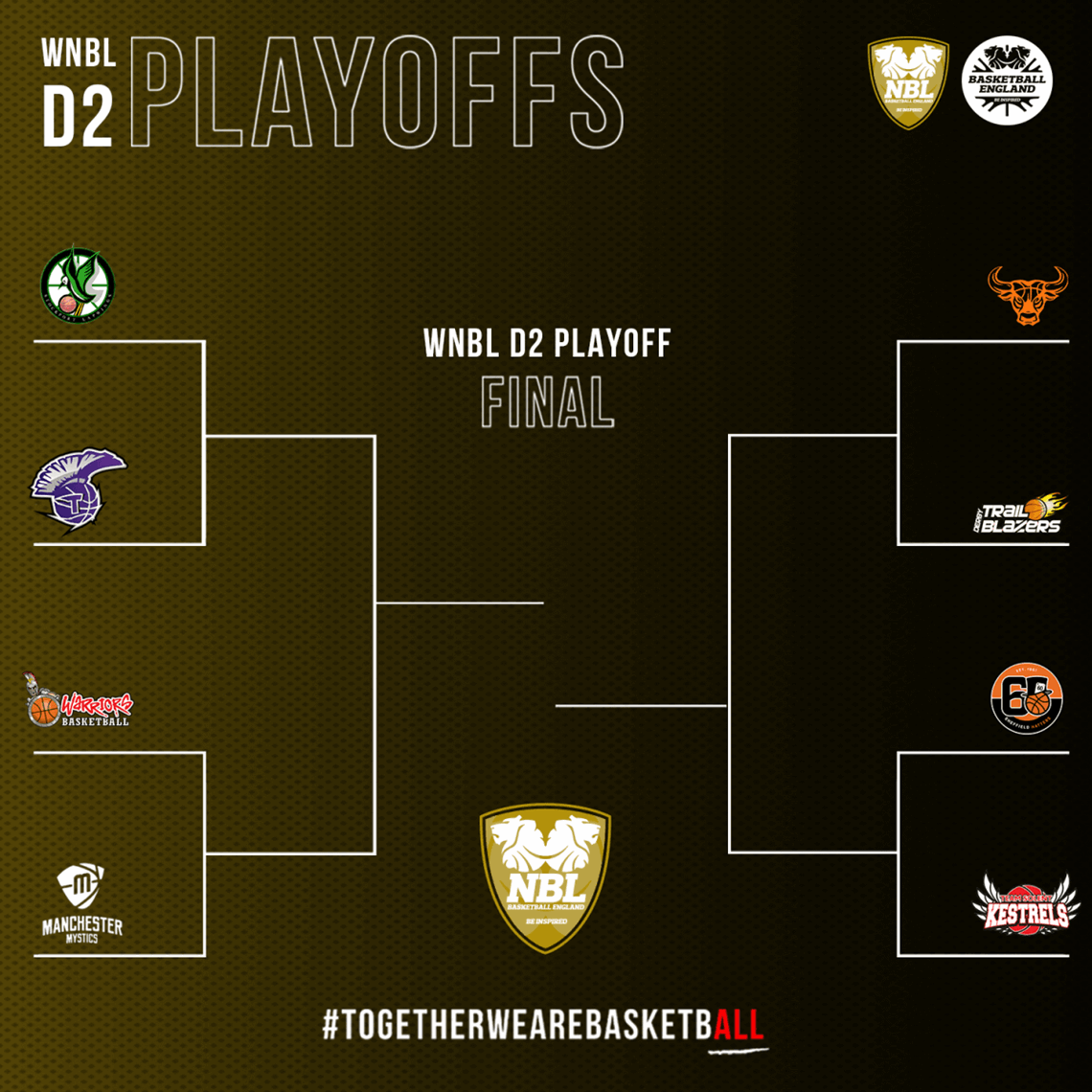 Looking ahead to the next round
The first round of playoffs is complete in the NBL D3 Men's competition and there's plenty to talk about.  
Two out of three teams from the capital made sure they were not one and done, with London Elite beating University of Hertfordshire Storm 86-75 and London Thunder doing the business over UEL Lions, 68-62. 
Fellow southerners, Worcester Wolves and Bristol Basketball United, also took dubs against their respective opponents Team Solent Kestrels III and Bognor GSD.  
Northern teams collected their first scalps of the D3 off-season, with St Helens Saints, Tees Valley Mohawks and Manchester Swarm all progressing. Swarm pulled out a 74-67 win away from home in the depths of Cambridgeshire against Anglia Ruskin University.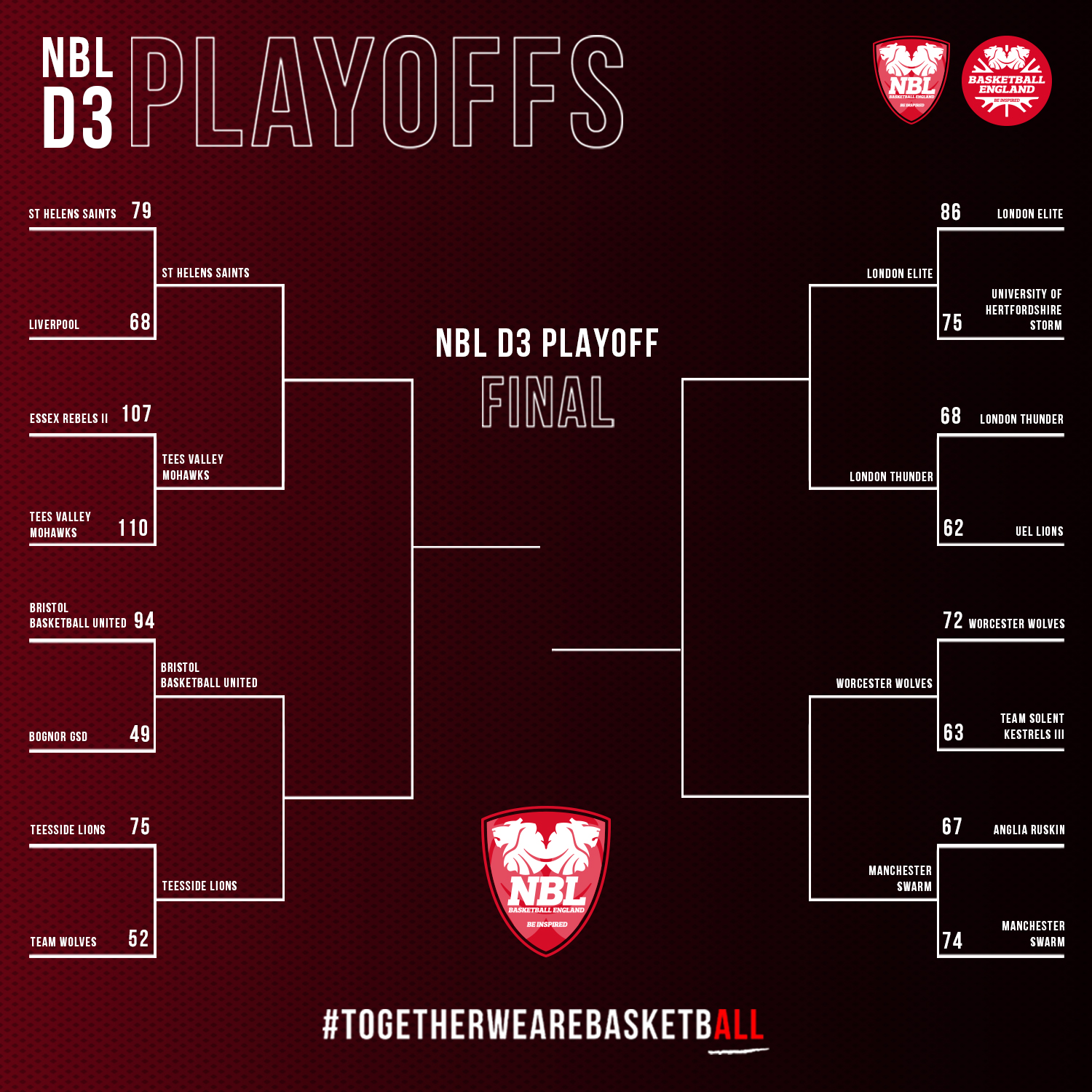 St Helens Saints vs Tees Valley Mohawks, London Elite vs London Thunder, Bristol Basketball United vs Teesside Lions take place on Saturday with Worcester Wolves vs Manchester Swarm on Sunday.
Main image credit - Brent Bulls