The final weekend of the regular season provided an opportunity for plenty of players to put in fine performances and catch the eye of Rebound's Chris Hughes.
Chris, a content producer, YouTube host and commentator, was once again spoilt for choice as he narrowed the field of candidates to single out his Player of the Week and four other standouts to make up his Team of the Week as well.
Have your say on this week's choices and give a shout-out to the players you think deserve one using the hashtags #NBL2122 and #ReboundTOTW. Don't forget to tag us!    
Twitter:  @NBLengland / @Rebound__  
Facebook:  @NBLengland  / @ReboundNBL  
Instagram:  @nblengland / @reboundnbl  
How it works 
Chris will pick a Player of the Week and four other selections to round out his Team of the Week, paying attention to the following criteria:
Efficiency 

 

Stats 

 

Team and opposition strength 

 

Periods of influence in the game 

Being on a winning team (exceptional performances from players on losing teams will be considered for TOTW)
Other players will also receive a shout out as honourable mentions at the bottom of the piece.
The Rebound team of the week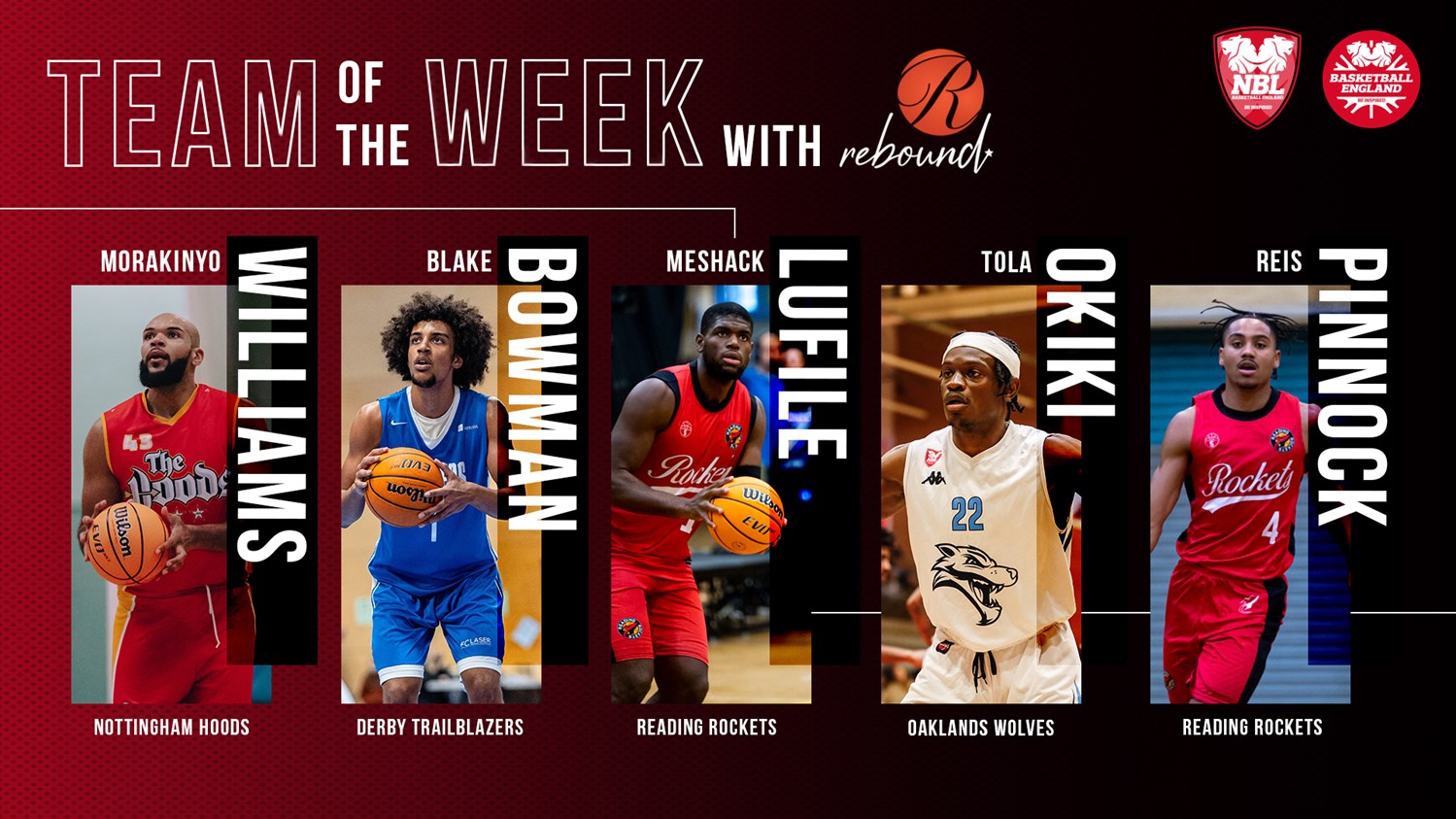 PLAYER OF THE WEEK
Morakinyo Williams - Nottingham Hoods, forward
32PTS (14-20FGM), 17REB, 1BLK, 40EFF v WOR
35PTS, 10REB, 1BLK, 24EFF v HEM
Morakinyo Williams played every minute in the winning double-header weekend as he influenced proceedings to be Rebound's Player of the Week.
Vital wins versus the team's that finished as fifth and sixth seeds, Worthing and Hemel, ensured Nottingham secured a top-four spot.
In two huge double-double performances big Mo dominated both games. In Sunday's clash as part of a team effort, Williams' rebounding limited Hemel to just nine offensive rebounds and six second-chance points.
Meshack Lufile - Reading Rockets, forward
33PTS (13-18FGM), 15REB, 4AST,3BLK, 48EFF V TNU
Meshack Lufile was at it again in a win versus the seventh seeds, albeit a short-handed and guard-heavy Newcastle who didn't have much forward talent to call upon.
Reading's number 13 proved unlucky for the North East side, especially late in the game, as he had a starring role in the 36-15 fourth quarter that decided the contest.
Blake Bowman - Derby Trailblazers, wing
25PTS (8-12 FGM), 8REB, 5AST, 1STL, 1BLK, 33EFF @LEI
26PTS, 7REB, 6AST,1STL, 1BLK, 32EFF V LL2
Blake Bowman can count himself very unlucky not to be the recipient of this week's Player Of The Week award as he was again pivotal in a double-header weekend to ensure the Trailblazers finished the regular season in third place.
The rising star further added to his stock with two very efficient displays, one in limited minutes (26:24 vs London Lions II) in a superb two-way performance.
Tola Okiki - Oaklands Wolves, guard
21PTS (6-8FGM), 6REB, 6AST, 3STL, 1BLK, 31 EFF v ESS
Tola Okiki put on a shooting clinic with limited minutes to help get Oaklands a rare win.
The guard put on a great two-way performance in the two-point win over fellow strugglers Essex, including two clutch free throws to extend the host's lead in the final 20 seconds before the Rebels sunk a couple of threes.
Reis Pinnock - Reading Rockets, guard
10PTS, 12REB, 10AST, 2STL, 1BLK, 24EFF
Reis Pinnock put on a show in a winning triple-double performance against a talented guard heavy Newcastle side.
Pinnock's style of play benefitted the Rockets as they took the initiative, getting quick buckets with 35 fast-break points.
The former Charnwood man's defensive efforts also helped limit Newcastle to just five second-chance points.
Team Basketball
Derby Vault Into Top Four
Derby once again made a late sprint for the top four, akin to their runs in the last two regular seasons.
The shooting from Ryan Bruggeman and Leighton Elliott-Sewell was a key aspect. The duo combined for 20 of the 32 points in the second quarter, spearheading the Trailblazers to a nine-point lead at half time that they'd then convert into a win.
Nottingham seal late charge with 2 win weekend
Nottingham also entered the top four at the right moment with two big wins verses the fifth and sixth seeds to secure a home quarter-final spot in the play offs.
The starters all contributed in both games as part of a team effort. Honourable mention to Victor Olarerin for his gutsy performance off the bench on Sunday, inspiring the second win of the weekend.
Honourable mentions
Taylor Johnson (HEM) – 26P/6R/3A/1S/19EFF V TSK & 39P/6R/1A/2S/38EFF @NOT
Greg Poleon (HEM) – 24P/11R/1A/26EFF V TSK & 21P/11R/2S/12B/22EFF @NOT
Ryan Bruggeman (DTB) – 20P/5R/3A/1S/25EFF @LEI & 20P/1R/5A/6S/25EFF V LL2
Luke Busumbru (TSK) – 15P/5R/6A/2S/18EFF 
Hakeem Sylla (TVC) -  18P/8R/1A/2S/27EFF @LOU
.
Main image credit - Evie Collier