All five competitions now have finalists for 2021/22 after a thrilling weekend of knockout basketball.
Ten teams will now be heading to Manchester's National Basketball Performance Centre on 23 and 24 April, knowing just one more win will put their name in the history books as champions.
Solent Kestrels will face Hemel Storm in the D1M final with CoLA and Solent facing off in the D1W showpiece. It's Manchester Magic v Solent in D2M, Manchester Mystics v Sheffield Hatters in D2W and Teesside Lions v Worcester Wolves in D3.
We take a look back at all this weekend's action, including live stats and streaming links where available.
If you want to attend the 2021/22 Playoff finals, tickets are now available from the BE online shop.
NBL Division One
#1 TEAM SOLENT KESTRELS

104-80#4 NOTTINGHAM HOODS - LIVE STATS/LIVE STREAM
Solent booked a spot in their third straight playoff final following a comfortable 104-80 home win over Nottingham.
An even opening quarter gave way to a 31-18 second that pushed the Kestrels' lead to 20 by the half, eventually topping out at a high of 29 points.
Both teams shot well in the contest, with Solent going at 57% from the floor and Nottingham at 50%, but an impressive 11/21 (52%) from long-range helped push the hosts over the line.
Max Richardson (13pts) and Cole Gentry (17pts, 3reb) both splashed a trio of threes, with guard Brendan Okoronkwo (16pts, 7ast) also playing well. Orlan Jackman top-scored off the bench with 18 points.
Forward Morakinyo Williams played the full 40 for the visitors, closing with a 27 point, 10 rebound double-double as guard Andrew Vickers (17pts, 6ast, 4reb) also did well.
#2 THAMES VALLEY CAVALIERS 78-91

#6 HEMEL STORM

 - LIVE STATS
Sixth seeds Hemel sealed their second upset in as many games as they went to Thames Valley and won 91-78.
Setting up a repeat of last year's playoff final, Storm rode a 22-point, 10-rebound double-double from Greg Poleon and a game-high 29 points from Taylor Johnson.
A real game of two halves, Thames Valley led by as many as 10 in the second quarter before coming unstuck after the break, with Hemel using a 27-17 third to build a lead they'd never relinquish.
Hakeem Sylla came close to yet another double-double, closing on 23 points and nine boards, and guard Jakobi Bonner had 17 points. Jarrett Hart came off the bench to chip in 15 points, six assists and four rebounds as the only other TVC scorer in double digits.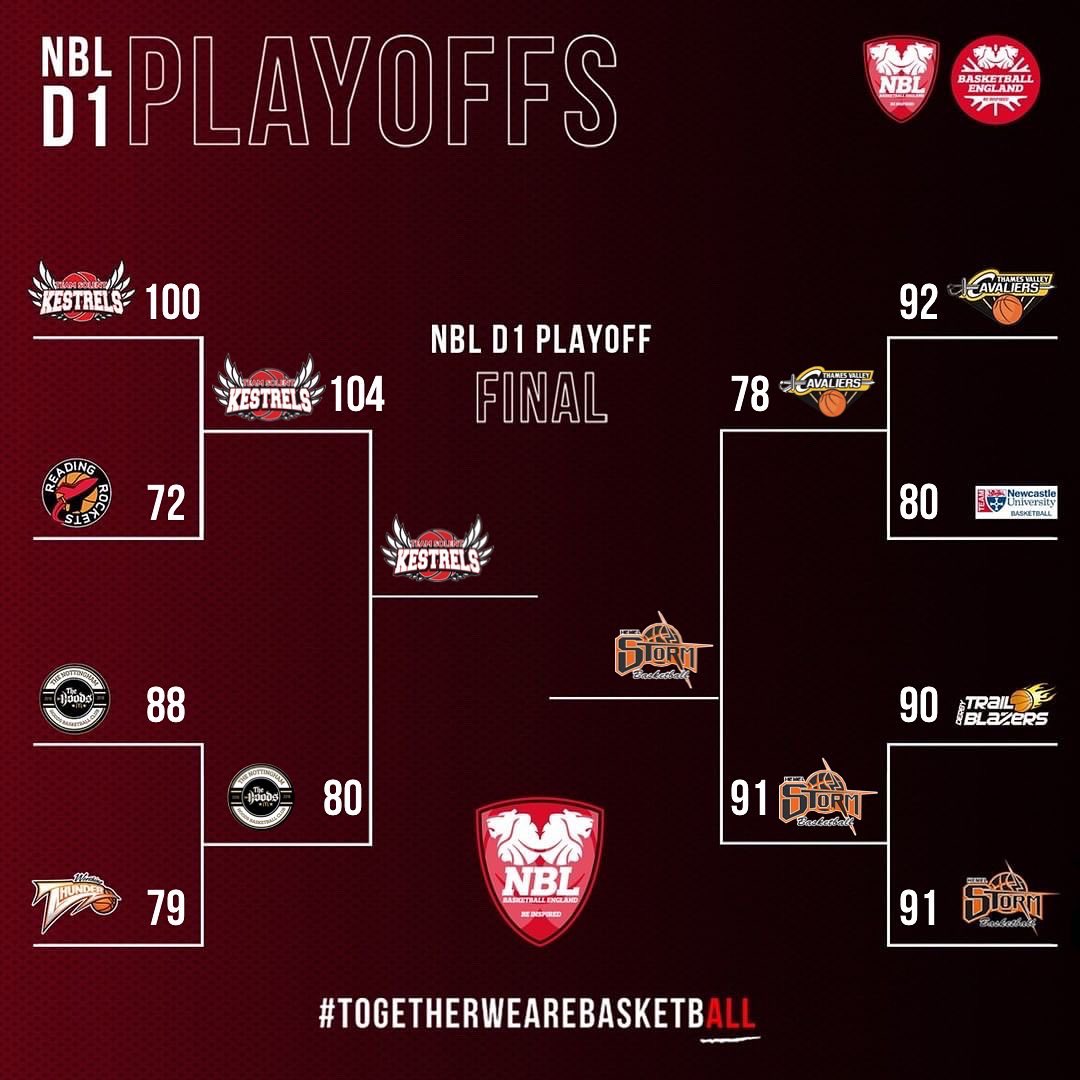 WNBL Division One
#1 COLA SOUTHWARK PRIDE

67-38

 

#5 ANGLIA RUSKIN UNIVERSITY - LIVE STATS

Anglia Ruskin fell victim to the CoLA Southwark Pride defence this weekend, being held under 40 points as they lost 67-38.
It was a real masterclass from the hosts, who restricted their opponents to single digits in all but the second quarter to set up what was a comfortable win.
Winning the rebound battle by a hefty 51 to 16, CoLA managed to keep forward Katrin Hulme quiet as the former finals MVP ended on 14 points and just one rebound.
That left Emilie Black (15pts, 5reb, 2ast, 3stl), Isi Ozzy-Momodu (12pts, 10reb, 3stl), Beeban Jikiemi-Pearson and Ana-Isabel Andersson (10pts each) to go to work on offence as the hosts led from tip to buzzer.
#3 THAMES VALLEY CAVALIERS 67-74

 

#7 TEAM SOLENT KESTRELS

 - LIVE STATS
Solent bagged their second top three seed in as many weeks, beating Thames Valley 74-67.
A tied game at 54-54 with 8:39 remaining, the visitors would go on a 16-4 run over the next three and a half minutes to break the game open and provide the cushion needed to seal the W.
Adding a playoff final berth to their WNBL National Cup final appearance back in January, the South Coast team enjoyed a game-high 27 points from American Taylor Gaffney, who is coming through as one of the stories of the post-season.
Saffie Jarju pulled down three offensive boards on her way to a 10-point, 10-rebound double-double, whilst Lauren Dabbs and Kristina Karpova both nailed three triples.
Despite owning the glass 63-41 behind huge double-doubles from Faith Okwuosa (11pts, 18reb) and Ezekiela Lisk (10pts, 13reb) the hosts couldn't find a way to convert that dominance into a win.
Guard Katherine Goldsby top scored for TVC, she had 19 points to go with seven rebounds, five steals and four assists.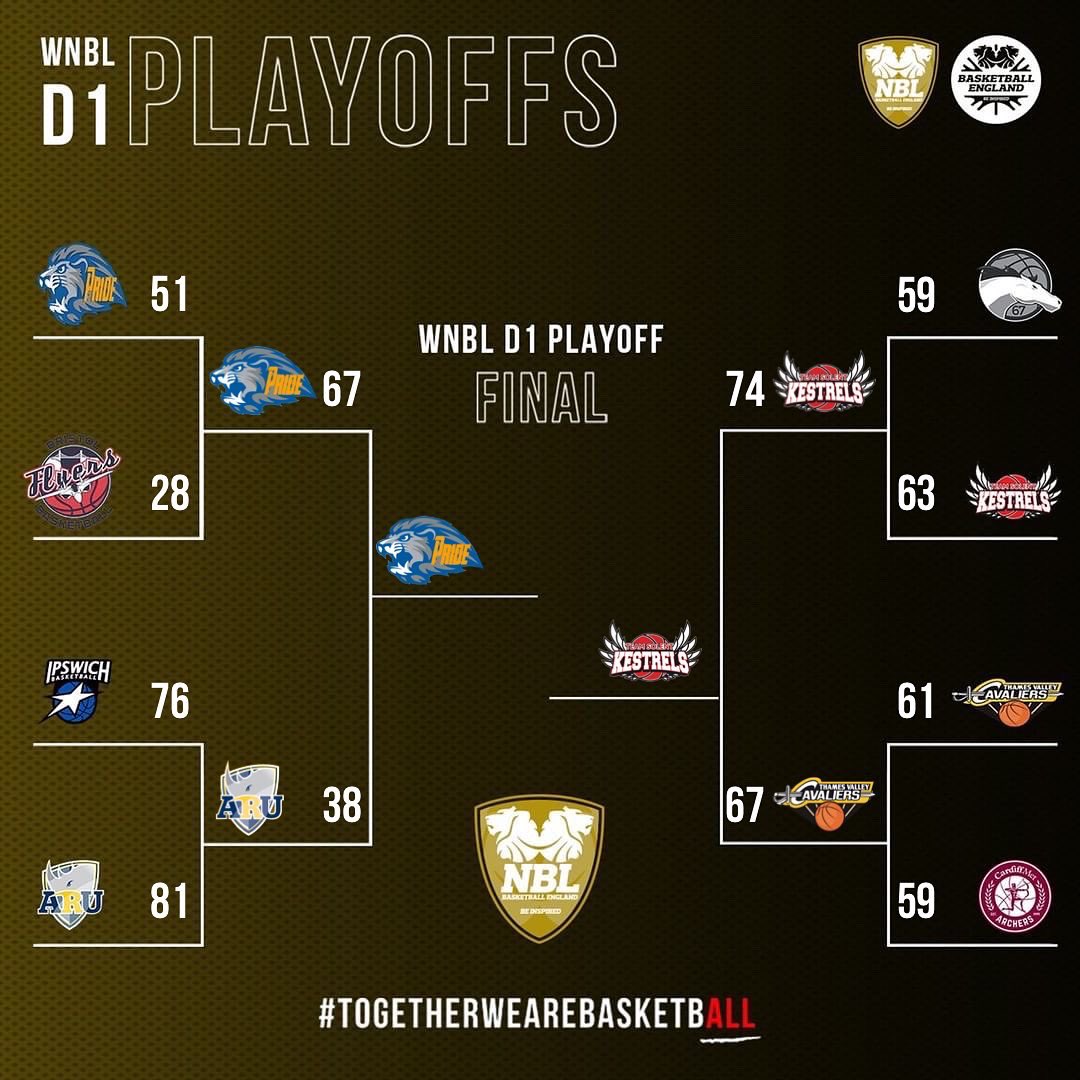 NBL Division Two
#1N MANCHESTER MAGIC

78-72

 

#3N DONCASTER EAGLES - LIVE STATS/LIVE STREAM
Former D1M playoff winners Manchester beat Doncaster Eagles 78-72 thanks to an impressive 29 points from Andre Gayle.
The former Liverpool and Lancashire Spinners' wing also added nine rebounds to cancel out a 23-point, 18-rebound, seven assist effort from Rob Marsden.
The Eagles held the lead going into the final quarter, up 60-55 and just 10 minutes away from a spot in the playoff final. Former BBL man Marsden would be held scoreless the rest of the way though, with his side stuttering to a 23-12 frame that would ultimately cost them the game.
Ben Brown played well for Magic to drop 18 points, with Josh Metcalf adding 15 points for Doncaster.
#1S WESTMINSTER WARRIORS 97-107

 

#3S TEAM SOLENT KESTRELS II

 - LIVE STATS
Westminster's undefeated season came to a halt this weekend at the worst possible time as they went down at home to Solent, losing 107-97.
A 33-16 second quarter and a 31-point outing from Sam Akano proved to be the Warriors' undoing, with Earl Thompson chipping in 24 points for good measure.
The hosts did well to battle back from a 16-point half-time deficit, reducing the difference at one stage to just three points, but that's as close as the teams would come the rest of the way.
Westminster captain Jon Johnson led the way for his side on 26 points, adding a sizable 16 rebounds plus five assists and four steals, and Arif Sempala added 25 points and seven boards off the bench.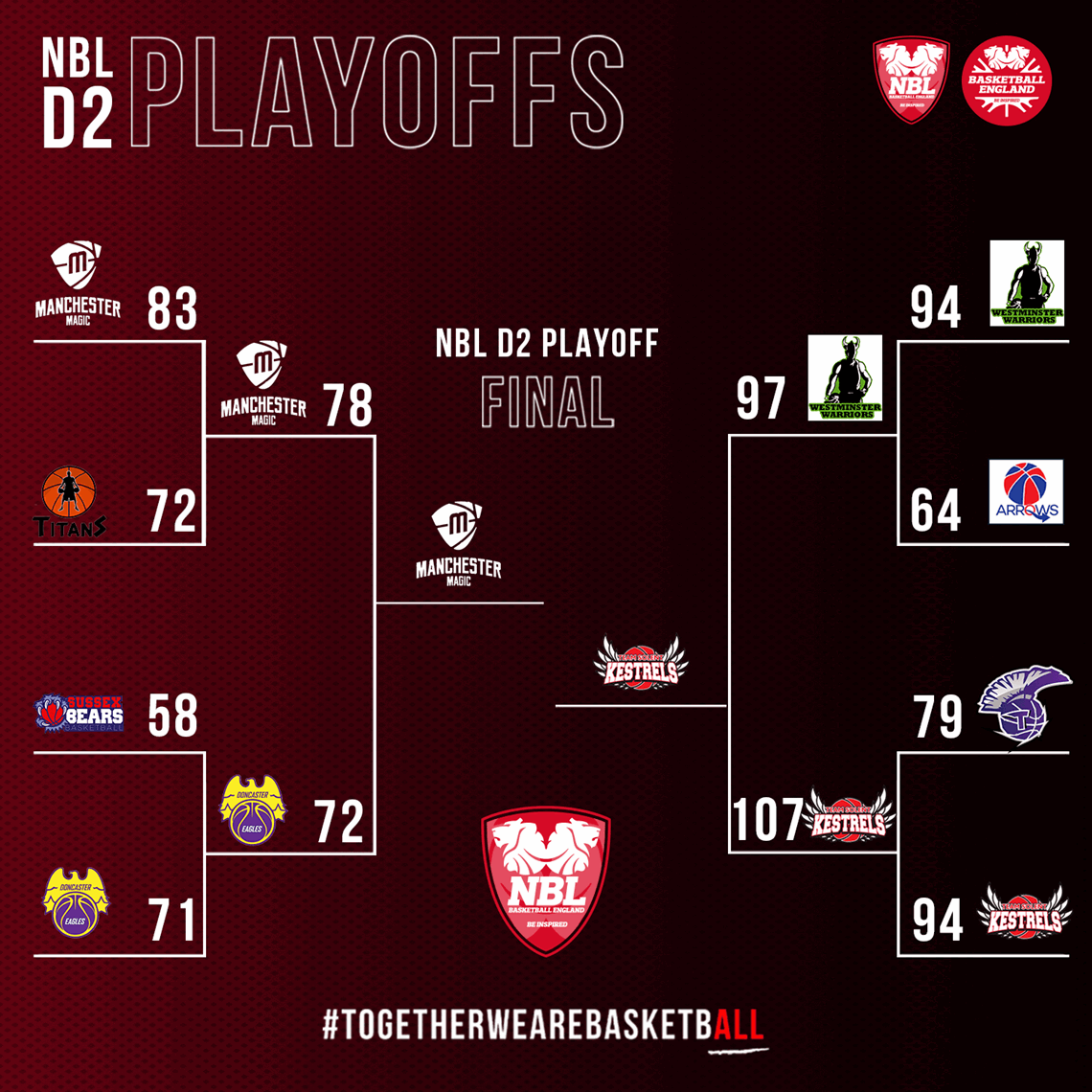 WNBL Division Two
#1N STOCKPORT LAPWINGS 68-71

 

#3N MANCHESTER MYSTICS
Some last-second heroics from guard Charli Wroe helped Manchester Mystics upset local rivals Stockport Lapwings 71-68.
With the game tied at 68 with four seconds remaining, the WEABL standout collected an inbound pass before pulling a 360 spin in the lane to drop a left-handed layup, collecting the foul for good measure as the hosts were made to suffer just their second defeat of the 2021/22 season.
Wroe's efforts would cap a 22 point outing and put the icing on a come-from-behind 21-14 final quarter. WNBL National Cup final MVP Jade Butters led all scorers for Stockport, she had 30.
#1S BRENT BULLS 44-70

 

#2N SHEFFIELD HATTERs
Sheffield Hatters booked a spot in their first WNBL playoff final since 2013/14 as they beat Brent Bulls 70-44.
14-time D1W winners before the creation of the WBBL, Sheffield used a game-high 34 points from former England international Katie Crowley plus some formidable defence to deny the Bulls a spot in Manchester's showpiece.
Held under 12 points in three of the four quarters, Brent couldn't push any players to double digits on the scoreboard, with Josephine Maignomo leading the way on nine points.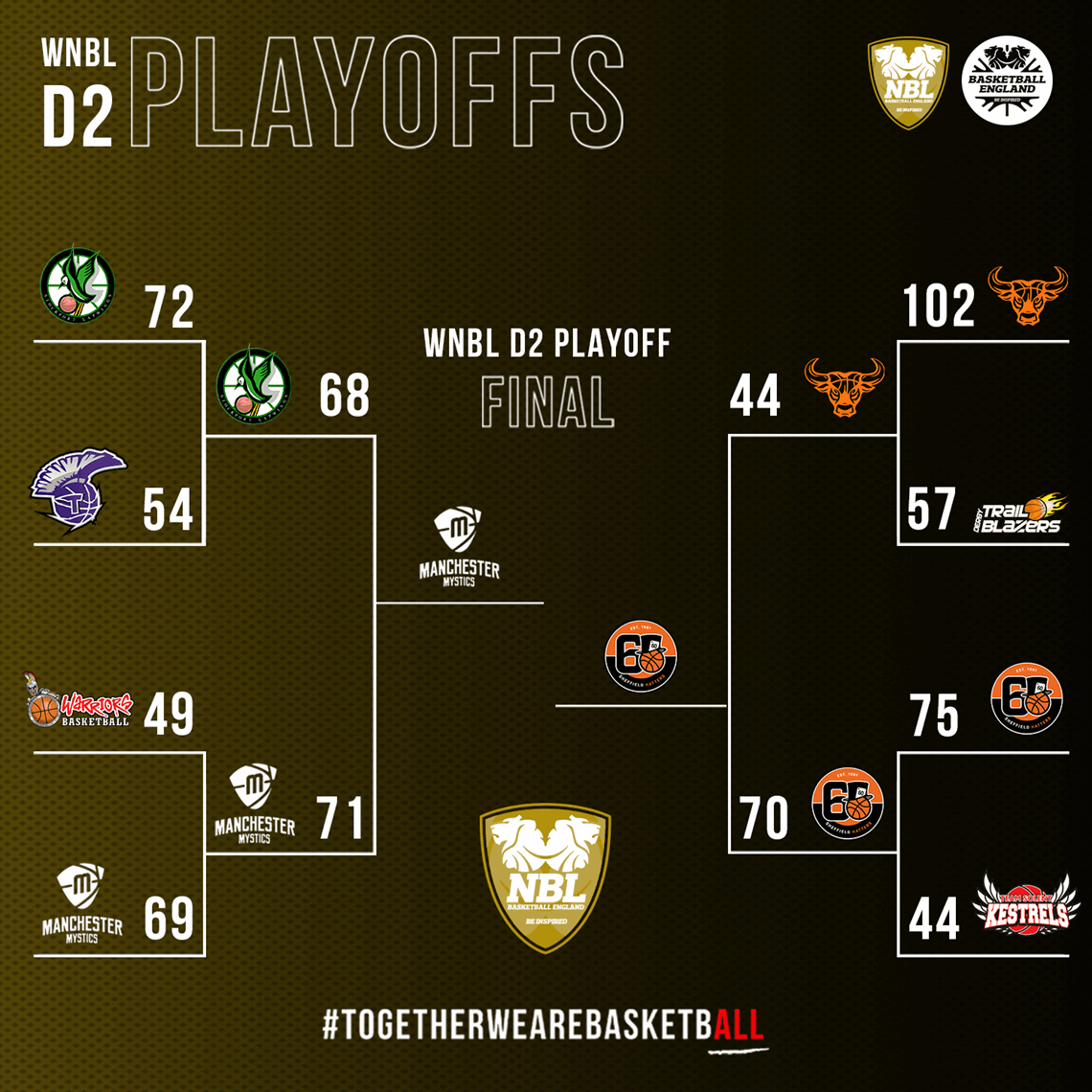 Division Three
#1 ST HELENS SAINTS 78-80

 

#5 TEESSIDE LIONS



In a game that proved to be as close as predicted ahead of tip, Teesside Lions and St Helens Saints put on a show yesterday as the Lions eking out a narrow 80-78 OT victory.
The host carried a 55-50 lead into the final quarter but couldn't make it stick as the North East side came roaring back to send the game to an extra period at 69-69 before sealing the deal.
Theo Turner top scored for the visitors, as he did in the previous round, with Conner Murtagh the main man for St Helens.
#3 WORCESTER WOLVES

59-56

 

#7 LONDON THUNDER
A game-high 19 points from Lucas McGregor helped Worcester seal their spot in the final, beating London Thunder 59-56.
The seventh seeds had done well to get this far, but couldn't pull off one final upset to book a ticket to Manchester.
A tight and well contested affair throughout, none of the game's four quarters were won by more than five points by either side, with McGregor's contribution helping to ensure it would be the Wolves who progress.
Antony Hibbert top-scored for Thunder, he had 11.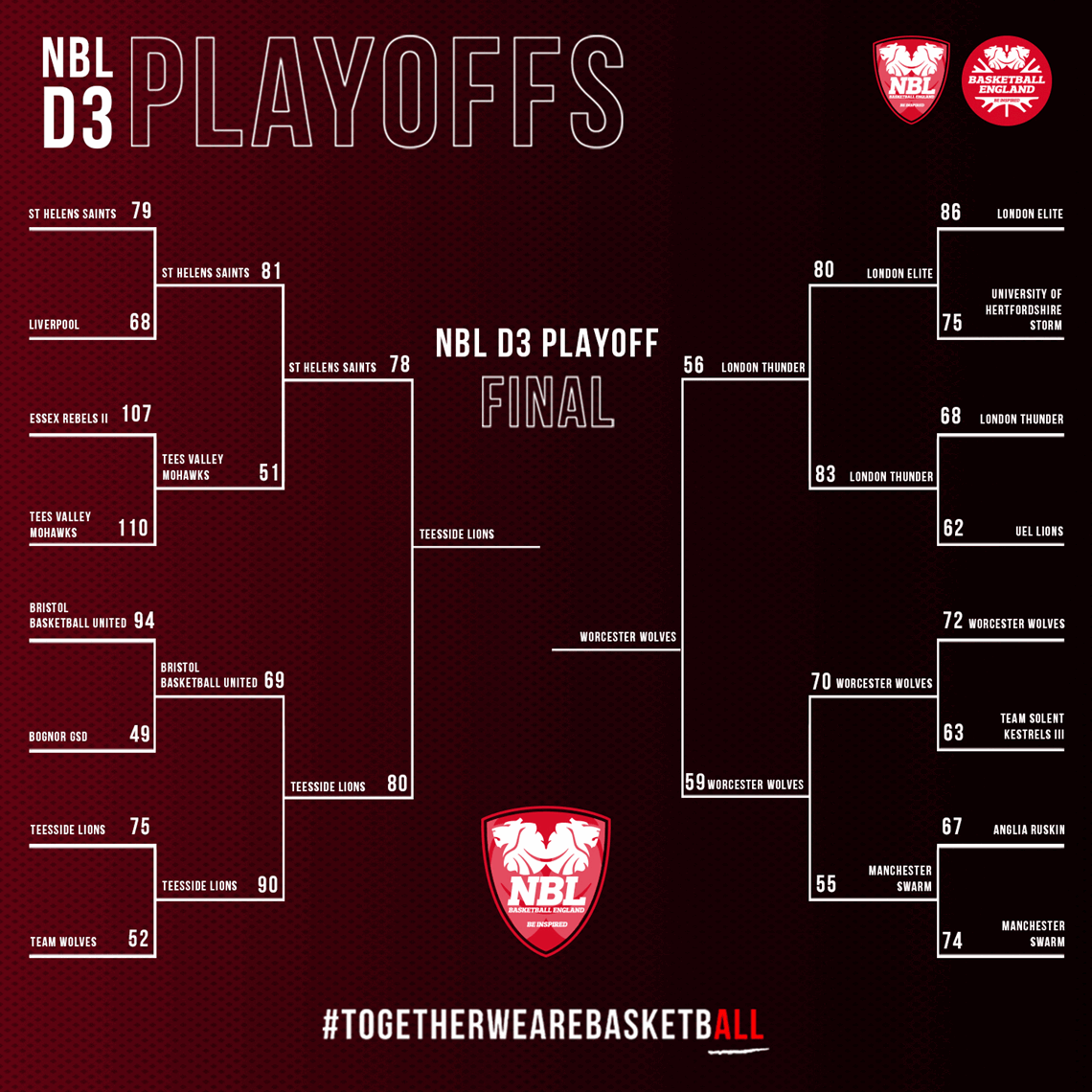 .