A number of boys and girls have been selected to represent England
this spring, after attending a three-day selection camp at the National Basketball Performance Centre in Mancheste
r earlier this week.
The England Talent Programme, run by Basketball England, put 70 hopefuls through a series of assessments, skills and drills stations, offensive and defensive set-ups, and games before the U14 and U15 boys and girls head coaches made their final selection decisions.  
Selected players will now represent England at events in Menorca, Serbia and Scotland through April and May. 
"It feels good to be selected," said Ipswich's Deanna Carrington, "I'm proud, but I don't want to get too ahead of myself, I want to play for now [and be} in the moment.
"[The camp] was definitely different to normal because everyone's such a high level and everyone's got different knowledge [to share]. From the coaches, the strength and conditioning coaches, the physios; everything was really professional." 
The full squad lists are still being finalised and will be officially announced week commencing 11 April.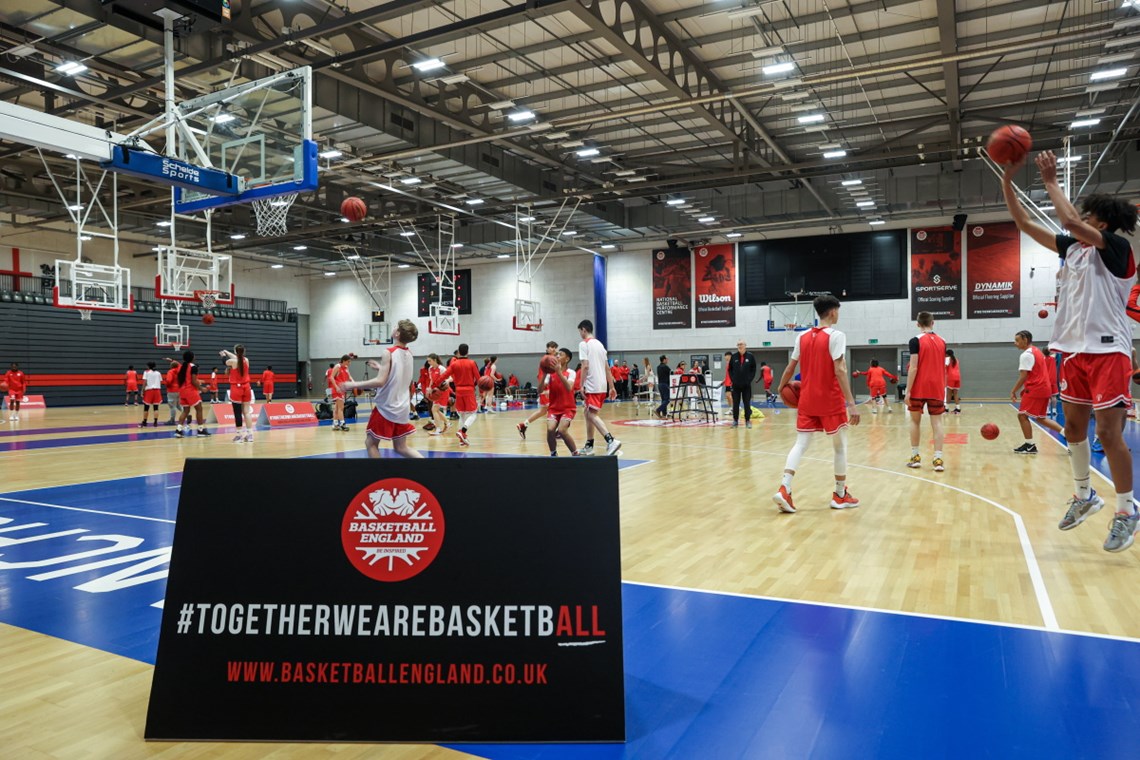 Player welfare a top priority
Speaking on the final day, BE Talent Pathway and Programme Manager Sam Messam said that the camp had been a success and the level of talent 'better than expected'. Player welfare was also a top priority throughout the three days, with health and well-being trained team managers on hand to support athletes, especially on selection day. 
"Post-selection, each athlete will work with their specific coach and team manager to get their feedback. We don't want to use the word deselect because it's about transfer. Those who haven't been selected will go back into the Aspire skills camps and they will get that second opportunity to play.  
"At this level, we've got four activities, so if they don't make the first one, there's still opportunities for them to improve and that's important."  
'Helps them to perform at the highest level' 
Basketball wasn't the only thing delivered at the camp, as players received educational sessions from professional basketball skills trainer Gary Maitland and a lesson on body language and non-verbal communication from behavioural psychologist Chris Hallam.  
BE's Talent System and Pathway is built on five 'Pillars of Development', one of which is nurturing the 'Persistent Performer', that is developing a basketball player's mental resilience and ability to bounce back from setbacks. This includes making sure coaches create positive coaching cultures that are player-centred and reinforce player well-being. 
"It's important for the coaches [to understand] because they're trying to get peak performances out of the players, who we're selecting to play for their country," said Chris Hallam, an expert in cognitive diversity and behaviour change.
"There could be things in the player's mind that is stopping them from performing. It's important for the coaches to recognise that. They might not be being hesitant; they might be terrified. It's good for the coaches to understand and read those signals.  
"For the players, particular at this age, 13, 14, 15 year-olds, there's an awful lot going on in their lives, bodies and minds and these can be times where they get really anxious, so putting that support around them, helping the coaches to understand, helping the players understand that they've got someone they can go and talk to about how they're thinking and feeling really helps them to perform at the highest level." 
U14 Girls Head Coach Steven Lindsay welcomed the mentoring experience for coaches throughout the camp, and said, "The supporting coaches have been great. We've had a few veterans here who really helped us out with scheduling and planning and made us feel welcome. The regular feedback has been invaluable."
Heading to Serbia 
In the latter stages of the tournament schedule, players will be heading out to Belgrade, Serbia to test their mettle against some of the country's young talent.  
BE's link to the Balkans is through Director of Basketball Development Academy Bane Vukovic, who works with Dejan Milojevic – assistant coach at the Golden State Warriors. Vukovic attended the ETP camp and said it confirmed to him the wealth of talent in England.  
Camp/tournament schedule  
12-17 April: Alaior City Tournament, Menorca (U14/U15 Boys and Girls)        

 

13-15 May: Tri-Nations Tournament, Dundee, Scotland (U14 Boys & Girls)  

 

21-24 May: Training camp/games, Belgrade, Serbia (U14/U15 Girls)  

 

24-27 May: Training camp/games, Belgrade, Serbia (U14/U15 Boys)

 
Check out some of

 

the photos from the camp below!

Basketball has the power to change lives. The #GameTime campaign will aim to raise awareness of the positive impact that our sport can have on people no matter who they are or where they are from. 
Basketball England aims to engage one million people in basketball via the Commonwealth Games 2022, 3x3 and more.  
Whether you want to: 
Support Team England

 

#GetInvolved as a player, coach, official, volunteer or fan

 

Or improve your local court with #ProjectSwish

 
...across every part of the basketball family, it's #GameTime!