After three competitions were packed into last weekend, the NBL is back to just league action in week 14.
That doesn't mean it's a quiet one across D1M though, with 10 games dotted across the two days, including an NBL Live broadcast as Solent host Derby on Saturday evening.
With six of the league's 14 teams all in double-header action, there's also plenty of opportunity to shake up the standings.
We take a look at all the weekend's games below, with links to live stats and live streams at the bottom of the page.
Two of the top four battle it out on Sunday as Thames Valley host Hemel Storm.
Meeting for the third time this season, the series is currently poised at 1-1 with Thames Valley taking the L Lynch Trophy pool game in September 82-74, whilst Storm edged their previous league encounter 91-85.
Hemel were without D1M Player of the Year Greg Poleon in their most recent win, which bodes well for last year's third-place finishers as they look to continue their title charge and secure the head-to-head tiebreaker in the process.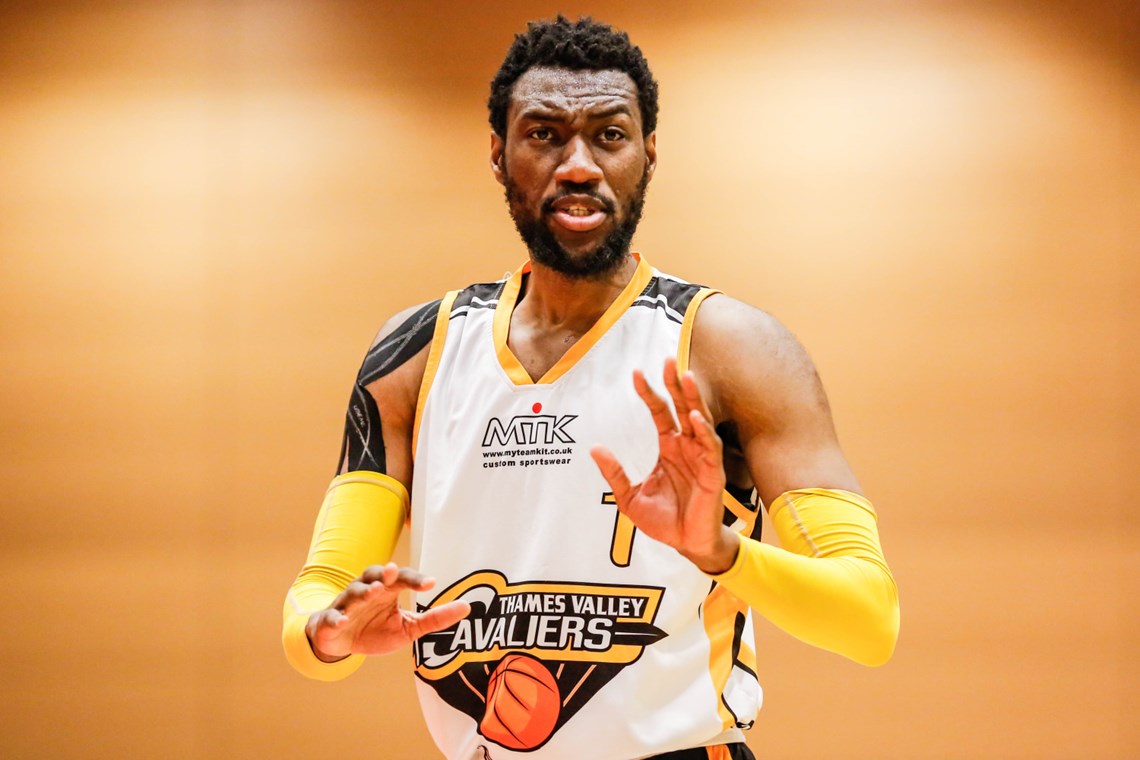 Cavs' star man Hakeem Sylla was relatively quiet in that early October loss, closing with nine points as Blayne Freckleton (28pts) and Jakobi Bonner (31pts) both stepped up.
Getting the talented forward more involved this time round will surely be a key to success for the hosts.
With Solent playing twice this weekend and Worthing enjoying a home tie with ninth place Bradford, both these teams would love a victory to stay in touch with the top two.
.
Elsewhere this weekend
A busy weekend begins with Nottingham Hoods (6-3) hosting bottom side Essex Rebels (0-10).
Still without a win to their name, Essex are fortunate to be just two points away from potential safety as things stand. Eighth place Nottingham on the other hand will be looking to solidify their playoff position, with just four points separating fourth to 10th spot.
Another team near the bottom, Leicester Warriors (1-11), will also be hunting for points in their quest for survival as they entertain Reading Rockets (5-5).
As 99-54 winners when these teams last met, coach Pearson's side have the opportunity to once again hamper Leicester's hopes of what could be a valuable victory.
Two of the bottom four face off in a pivotal relegation tie as Loughborough Riders (3-10) take a trip to Oaklands Wolves (1-10).
The Riders have managed to put a sliver of daylight between themselves and the trio of teams at the foot of the table and won't want to be pulled back into things with defeat here.
Oaklands only win of the season however was back in October, on the road in Loughborough.
Leaders Worthing Thunder (12-2) can retain their spot at the top if they can beat Bradford Dragons (5-5) on Saturday night.
Bradford ran Worthing close in Yorkshire when the teams last met, with Thunder eventually escaping with a narrow 62-58 victory. If lightning can strike twice for the Dragons remains to be seen, Worthing are yet to lose on their own court this season.
Saturday's schedule is highlighted by an NBL Live broadcast from the South coast as Team Solent Kestrels (10-2) take on Derby Trailblazers (7-5).
Whilst not firing on all cylinders in the league, Derby are coming off some impressive form in recent weeks. Silverware in the form of the L Lynch Trophy, a BBL Trophy victory against Surrey plus a 92-77 Lynch semi-final victory against Solent back in mid-December mean the Trailblazers will fancy their chances against the three-peat league champs.
Action gets underway in that one from 5:30pm, with John Hobbs and Mark  Halewood once again manning the microphones.
Alongside our feature tie between Thames Valley and Hemel, four other games also slide into the Sunday slate.
Leicester Warriors and Essex Rebels will contest a relegation scrap in the Midlands as both teams will look to not only gain the two points, but also a leg up in any potential tie-breaker scenarios.
Oaklands Wolves will no doubt be keeping an eye on that contest, but have a Midlands test of their own as they head to Nottingham Hoods.
Team Newcastle University (6-5) and London Lions II (7-5) are currently locked into the seventh and sixth spots respectively and they clash in the North East.
Coach Elderkin's side will be looking for some revenge after an 89-87 loss in East London back in October, and a win here would also see them leapfrog the Lions if they can pull it off.
The weekend closes with Team Solent Kestrels and Reading Rockets both playing their second game in as many days as Solent head to Berkshire for what should be an entertaining contest.
This weekend's fixtures:
Saturday 15 January
3pm - Nottingham Hoods v Essex Rebels - LIVE STATS
5:30pm - Leicester Warriors v Reading Rockets - LIVE STATS
6pm - Team Solent Kestrels v Derby Trailblazers - LIVE STATS/LIVE STREAM
7:30pm - Worthing Thunder v Bradford Dragons - LIVE STATS
7:30pm - Oaklands Wolves v Loughborough Riders - LIVE STATS
Sunday 16 January
1:30pm - Leicester Warriors v Essex Rebels - LIVE STATS
3pm - Nottingham Hoods v Oaklands Wolves - LIVE STATS
4:30pm - Thames Valley Cavaliers v Hemel Storm - LIVE STATS
5pm - Team Newcastle University v London Lions II - LIVE STATS
5pm - Reading Rockets v Team Solent Kestrels - LIVE STATS
Main image credit - Joanne Charles