With the L Lynch Trophy and National Cup now completed, it's full steam ahead to the end of the regular season from here on out.
Nine games fill the weekend, with an impressive seven contests taking place tomorrow, as teams continue to battle for position up and down the country.
We take a look at all the weekend's games below, with links to live stats and live streams at the bottom of the page.
The top two face off tomorrow as Solent make the journey along the South coast to take on rivals Worthing Thunder.
Winners of both meetings between the two sides this season, the Kestrels will be hoping to make it third time lucky to claim not only two valuable points but also the head-to-head tiebreaker between the teams, should their records be level come the end of the regular season.
With just losses apiece as the calendar nears February, that could play a key factor between these two evenly-matched outfits.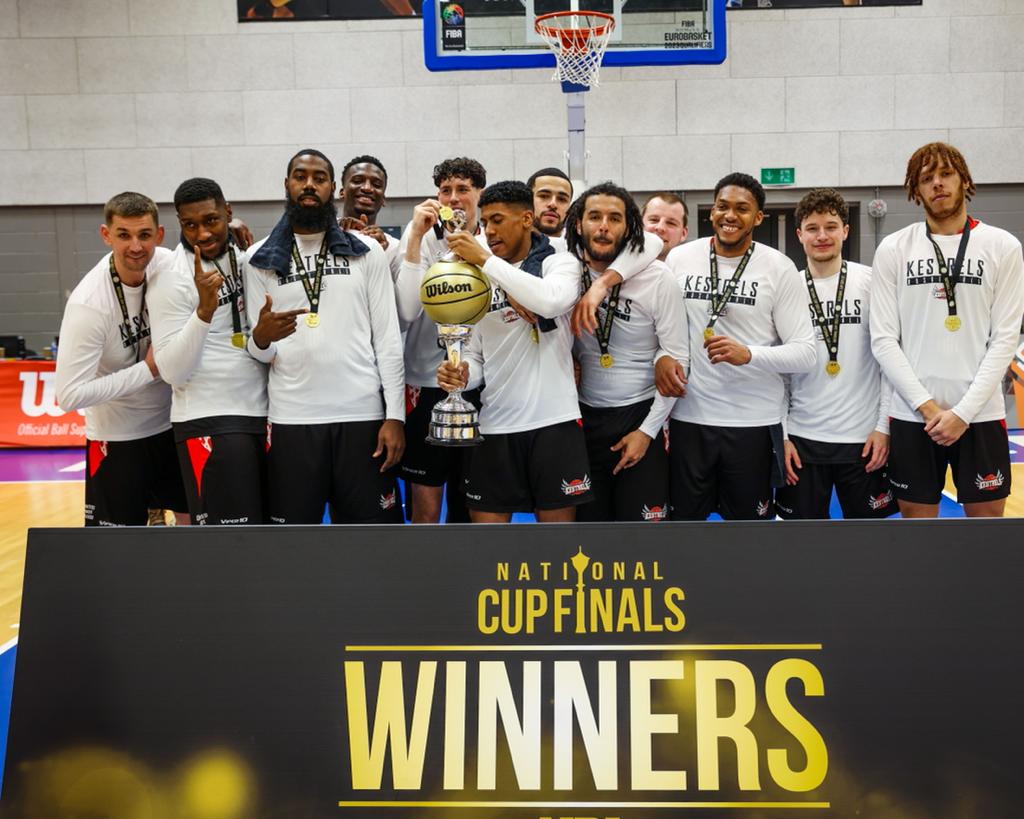 After a 91-78 victory in the pool stage of the L Lynch Trophy, coach Guymon's side also claimed their home tie back in late October. That 92-67 victory was inspired by 18 points and six assists from American guard Cole Gentry.
Overturning a 25 point deficit won't be easy for Thunder in this one if they are to claim that tiebreaker, though their first objective will simply to beat the reigning champions. That's no easy task against a Kestrels' side swept their way to a commanding National Cup title last Sunday though.
Still, this is a Worthing team that have now won six in a row and really appear to be clicking into gear at just the right time.
.
Elsewhere this weekend
Nottingham Hoods (8-3) can still mount a title challenge this season, with just three losses to their name to date. That's only one less than top two Worthing and Solent, and both those teams can't escape this weekend unscathed.
The Midlands side take on Bradford Dragons (5-7), who are yet to beat a top eight side so far this season.
Two teams desperately in need of a win meet in the Midlands as Loughborough Riders (4-11) entertain Reading Rockets (5-7). With just one W between them over their last five games, Reading have gone 0-5 whilst the Riders enjoyed a lone win against Oaklands.
Beaten National Cup finalists Team Newcastle University (7-5) will try to put last weekend's disappointment behind them as they face basement side Oaklands Wolves (1-13).
Thames Valley Cavaliers (9-3) have now won seven of their last eight outings and rightly occupy a top four spot. They'll look to keep up their title challenge as they host Leicester Warriors (2-13).
There's the opportunity for a second win of the season for Essex Rebels (1-12) as they make the trip to London Lions II (8-6), whilst Saturday ends with Hemel Storm (10-4) trying to keep their hunt for the D1M crown alive as they travel to the ever-dangerous Derby Trailblazers (8-6).
Sunday contains a pair of contests, beginning with Newcastle and Reading playing their second game in as many days as face off in the North East.
With the Knights enjoying home court advantage in both their clashes this weekend, they'll look to benefit from the extra rest as they try to pick up two wins from two.
Finally, Bradford Dragons and Nottingham Hoods will do it all again on Sunday, playing each other once more as part of a back-to-back double-header.
BBL Trophy
The final tie of the opening round of the BBL Trophy takes place on Sunday, with two D1M franchises involved as Hemel Storm take a trip to Thames Valley Cavaliers.
With Derby Trailblazers already safely through to the next stage, a second NBL side is sure to make it through as well for the chance to take on Glasgow Rocks.
These title rivals met a few weeks ago, with the Cavs sealing a resounding 97-67 victory.
Hakeem Sylla had a 21 point, 15 rebound double-double in that one, so Greg Poleon and co. will need to limit the TVC star if they're to deny Thames Valley a spot in the next round.
This weekend's fixtures:
Saturday 29 January
3:30pm - Worthing Thunder v Team Solent Kestrels - LIVE STATS
4pm - Nottingham Hoods v Bradford Dragons - LIVE STATS
4pm - Loughborough Riders v Reading Rockets - LIVE STATS/LIVE STREAM
5pm - Team Newcastle University v Oaklands Wolves - LIVE STATS
6:30pm - Thames Valley Cavaliers v Leicester Warriors - LIVE STATS
7pm - Essex Rebels v London Lions II - LIVE STATS
7pm - Derby Trailblazers v Hemel Storm - LIVE STATS/LIVE STREAM
Sunday 30 January
4:30pm - BBL Trophy - Thames Valley Cavaliers v Hemel Storm - LIVE STATS
5pm - Team Newcastle University v Reading Rockets - LIVE STATS
6:15pm - Bradford Dragons v Nottingham Hoods - LIVE STATS
Main image credit - Luke Simcock