There's plenty of double-header action to go round this weekend, with six games on Saturday and another six on Sunday.
That means plenty of teams have not one but two chances to pick up valuable wins to vault them up the D1M standings.
For every winner there must be a loser, however and key defeats this late in the seasons can have big consequences.
We take a look at all the weekend's games below, with links to live stats and live streams at the bottom of the page.
Solent can take another step towards the D1M regular season title tomorrow as they play their second game of the season against Nottingham Hoods.
With the reigning champs currently three losses ahead of both Nottingham and Thames Valley with six games to go, Solent can claim a record-breaking fourth straight D1M title this weekend should results go their way.
A pair of victories plus anything other than a two-win weekend by Thames Valley will seal the title race, ensuring that TSK are also the #1 seeds for the post season.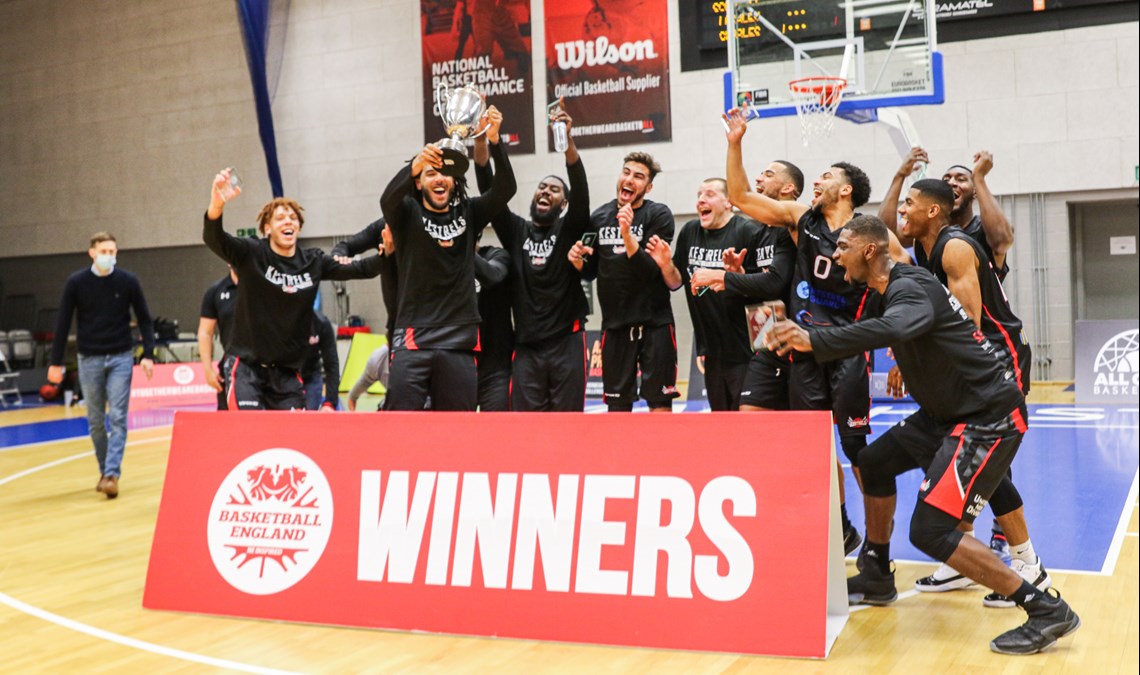 Solent aren't the only focus tomorrow, though. Nottingham are enjoying a fine season and a 14-5 record is a testament to the roster they've assembled.
A top four spot and a home tie in the opening round of the playoffs is still a real possibility, and this weekend's matchup with Solent will provide another good yardstick of the performance levels required to find success in the post season.
When these two sides met three weeks ago in the Midlands, Solent triumphed 93-73 behind 16 points apiece from Luke Busumbru and Cole Gentry.
Morakinyo Williams did have 30 points in that game, if Nottingham can find a way to get him some support then they could find success this time around.
.
Elsewhere this weekend
After being fancied for a potential top four spot earlier in the season, London Lions II (9-11) have now tumbled out of the playoff spots following a poor run of form. They'll try to get things going again tomorrow at home to Derby Trailblazers (13-7)
Loughborough Riders (6-14) appear to have done enough to escape the relegation battle, though the playoffs are likely to still be out of reach. They embark on a road trip to Team Newcastle University (11-8) tomorrow, a team they're yet to play this season.
Another team stuck in the midtable and trying to climb into the playoffs, Bradford Dragons (8-13) face a tricky home tie against Hemel Storm (13-7).
Battling for the top four, Storm's Greg Poleon and Taylor Johnson could both further their potential Player of the Season claims with another solid outing.
Basement side Oaklands Wolves (2-17) need points, and fast, but face an uphill task to get them tomorrow as they take a trip to second place Thames Valley Cavaliers (15-5), whilst Worthing Thunder (15-6) begin their double-header weekend with a home tilt against Reading Rockets (11-10).
Sunday begins with Leicester Warriors (3-18) continuing their quest for D1M survival as they entertain Midlands rivals Loughborough.
If results go their way, Solent could be celebrating the D1M title following a victory against Essex Rebels (3-18). Don't count out coach Norfolk's side though, they're scrapping hard at the bottom of the table and won't go down without a fight.
Derby and Bradford both complete double-headers as they go head-to-head at Clarence Wiggins Sports Centre as Oaklands head to the South coast to do the same, they take on Worthing.
That leaves Hemel to take the long trip up the country to play Newcastle, whilst Thames Valley and Nottingham provide a teaser to a potential playoff match up as they face off to close the weekend.
This weekend's fixtures:
Saturday 5 March
4pm - London Lions II v Derby Trailblazers - LIVE STATS
5pm - Team Newcastle University v Loughborough Riders - LIVE STATS
6pm - Team Solent Kestrels v Nottingham Hoods - LIVE STATS/LIVE STREAM
6:15pm - Bradford Dragons v Hemel Storm - LIVE STATS
6:30pm - Thames Valley Cavaliers v Oaklands Wolves - LIVE STATS
7:30pm - Worthing Thunder v Reading Rockets - LIVE STATS
Sunday 6 March
1:30pm - Leicester Warriors v Loughborough Riders - LIVE STATS
2pm - Team Solent Kestrels v Essex Rebels - LIVE STATS/LIVE STREAM
4pm - Thames Valley Cavaliers v Nottingham Hoods - LIVE STATS
4:15pm - Derby Trailblazers v Bradford Dragons - LIVE STATS
5pm - Worthing Thunder v Oaklands Wolves - LIVE STATS
5pm - Team Newcastle University v Hemel Storm - LIVE STATS
Main image credit - Luke Simcock