The big games are coming thick and fast in D1W, with a number of high-stakes contests this weekend.
Battles are taking place across the standings, for the regular season title, for playoff spots and to avoid relegation, meaning every contest carries plenty of weight from here on out.
We take a look at all the action below, with links to live stats and live streams at the bottom of the page.
There's a huge clash at the bottom of the D1W standings this weekend as Reading host London.
Closing the weekend as the last game to tip on Sunday, both these clubs form a trio with Worcester Wolves (5-10) as the most likely candidates to join Nottingham Trent University in the two relegation spots come season's end.
The Lions did look to be out of answers a few weeks ago as their form showed no sign of an uptick, but three wins from their last four have catapulted the East London programme back into the mix for safety.
The same can't be said for the Rockets, who have now lost six in a row dating back to late January. That form has seen the Berkshire outfit slip from the fringes of the playoff race to a relegation scrap with six games to go.
Tomorrow's visitors currently hold the upper hand in the head-to-head tiebreaker, having beaten London 79-72 back in November. That win came before Ruchae Walton joined the Lions, however, and their form has been impressive since her addition in January.
.
Elsewhere this weekend
Bristol Flyers (8-11) can make it four wins from their last five games as they entertain basement side Nottingham Trent University (1-16), a run of form that has pushed coach Fuentes' side firmly into the top six discussion.
After their exciting encounter last Sunday, Loughborough Riders (13-3) and Ipswich (10-6) go at it once again this weekend to complete their season series.
The Riders escaped from Suffolk with a slender 90-86 victory last time out, no doubt the defending champs would love to avenge that result tomorrow.
There are a couple of back-to-back double-headers this weekend, with teams taking the opportunity to get familiar with each other before the regular season wraps.
Thames Valley Cavaliers (11-4) and Anglia Ruskin University (10-4) play in Uxbridge tomorrow before heading to Cambridge to do it all again on Sunday in a pair of games that could decide the #3 and #4 seeds for the playoffs.
Leaders CoLA Southwark Pride (15-1) can get themselves within touching distance of the D1W title as they enjoy two games against Worcester Wolves (5-10).
The teams play in the West Midlands Saturday before heading to London Sunday. With the Wolves up against it to get a positive result in either game, that makes Sunday's tie between fellow strugglers Reading and London even more important.
That leaves Sunday's only other game as Cardiff Met Archers II (7-9) hosting Team Solent Kestrels (9-7).
With playoff seedings on the line, Cardiff will no doubt want to try and move up the standings from their current position of eighth, since that spot will face an away day in the opening round of the playoffs against whichever team wins the league.
Solent are just three points off fourth place ARU, and the possibility of a home tie to start the post season.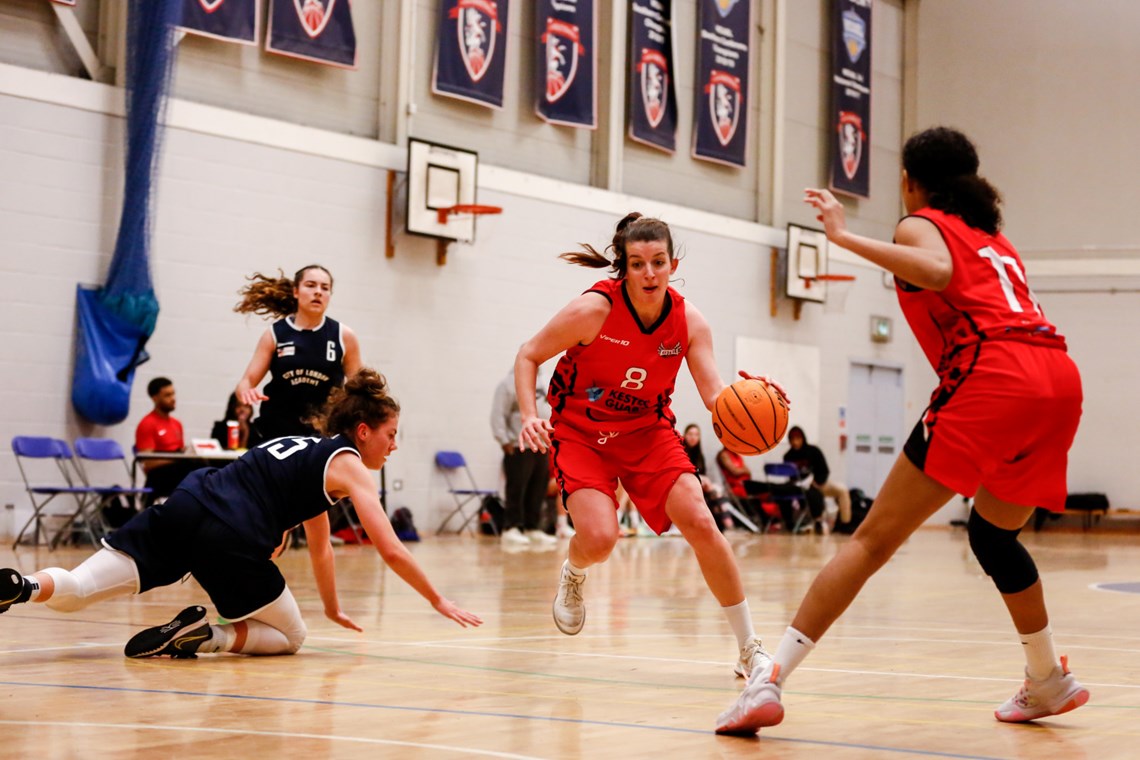 This weekend's fixtures:
Saturday 5 March
1pm - Bristol Flyers v Nottingham Trent University - LIVE STATS
2pm - Loughborough Riders v Ipswich - LIVE STATS/LIVE STREAM
3pm - Thames Valley Cavaliers v Anglia Ruskin University - LIVE STATS
4pm - Worcester Wolves v CoLA Southwark Pride - LIVE STATS
Sunday 6 March
2:15pm - CoLA Southwark Pride v Worcester Wolves - LIVE STATS
3pm - Anglia Ruskin University v Thames Valley Cavaliers - LIVE STATS
3:15pm - Cardiff Met Archers II v Team Solent Kestrels - LIVE STATS
5:45pm - Reading Rockets v London Lions II - LIVE STATS
Main image credit - Luke Simcock