Nine games filled this past weekend as teams across the country put on a show for the NBL faithful.
Solent were the big winners as they claimed their top-of-the-table clash with rivals Worthing, though there were important results elsewhere that had a sizable impact on the D1M standings.
There's a recap of all the action below, and each result is also clickable if you wish to view the live stats.
Team Solent Kestrels fired an ominous warning shot to the rest of D1M as they hammered title hopefuls Worthing Thunder 104-59.
As the top two sides in the division, much was expected from Saturday's encounter but that excitement failed to materialise as the visitors built a 57-33 half-time lead before winning at a canter.
Solent captain Elliot Dadds top scored on 17 points as Cole Gentry (16pts, 4 3pts, 7reb, 8ast) and Luke Busumbru (12pts, 9reb, 9ast) both flirted with triple-doubles.
Hafeez Abdul was the pick of the bunch for the hosts, he had 18 points to go with nine rebounds.
Worthing retain their spot at the top after the loss having played two more games, though Solent only need to tie their opponent's record come season's end to finish above them now they own the head-to-head tiebreaker.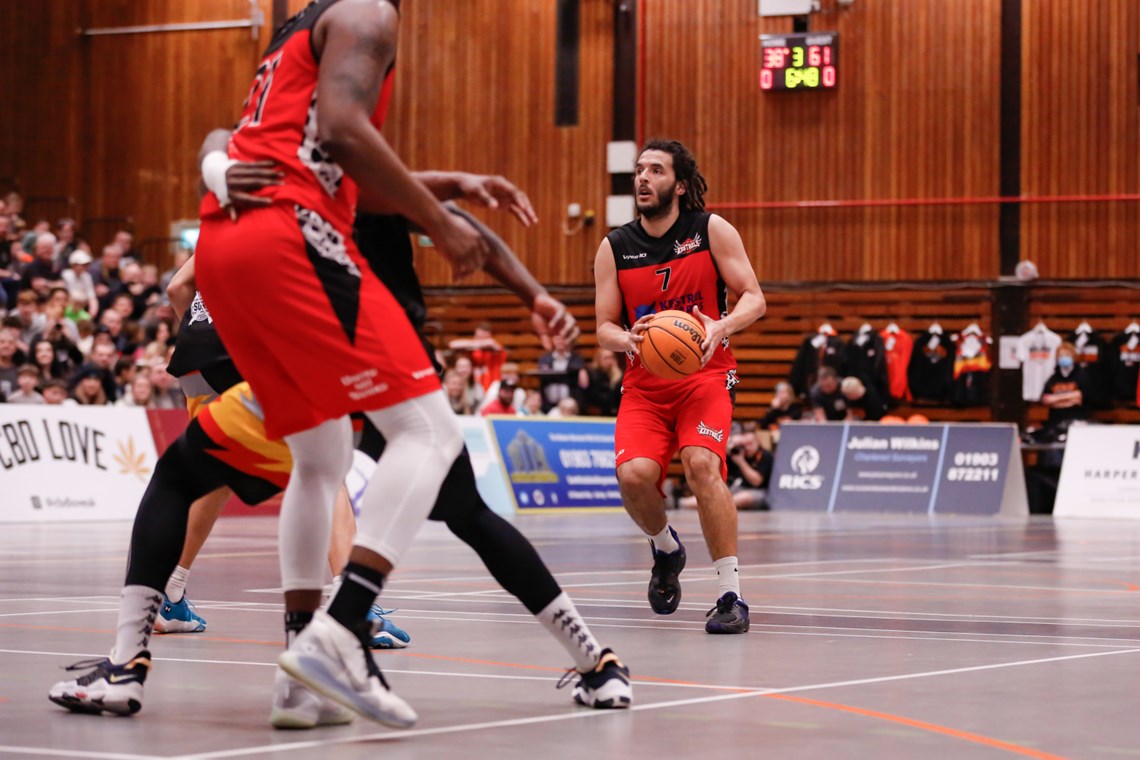 Elsewhere this weekend
Nottingham Hoods (10-3) vaulted themselves up into a share of third as they beat Bradford Dragons (5-9) on both Saturday and Sunday. 
The 93-83 W on Saturday came courtesy of 20-point, 10-assist double-double from Kyle Jimenez, while Sunday's reverse fixture produced an 87-79 score line.
Reading Rockets (7-7) did their playoff chances plenty of good as they also claimed a pair of wins.
The Rockets opened the weekend with a 97-59 victory over Loughborough Riders (4-12), with Meshack Lufile's 18-point, 13-rebound double-double a highlight. Lewis Champion (5-8 3pt) and Reis Pinnock (5-6 3pt) were both in red-hot form from behind the arc as well.
That momentum continued into Sunday as Lufile once again starred. His 29-point, 11-rebound double-double set the Rockets up for a thrilling 81-79 victory on the road against Team Newcastle University (8-6)
It wasn't all bad news for the North East side though, they still claimed a comfortable 85-68 win against Oaklands Wolves (1-14) on Saturday thanks to stunning 10 point, 13 rebound, 12 assist triple-double from David Moya.
Thames Valley Cavaliers (10-3) continued their recent winning streak as they downed Leicester Warriors (2-14) 89-69.
A 34-11 second quarter put TVC in control, and they never looked back in the second half as Hakeem Sylla dropped 17 points to go with eight boards.
There's new life to Essex Rebels (2-12) as they continued their recent uptick in form, beating London Lions II (8-7) 90-83.
After starting their league campaign 0-11, the Rebels have now won two of their last three. Victory here came from another strong showing by Tom Child, who closed with 14 points, nine assists and seven rebounds.
Finally, it was a bad weekend for Hemel Storm (10-5) as they lost to Derby Trailblazers (9-6) 91-82.
Despite a sizable 23-point, 16-rebound double-double from Greg Poleon, Hemel couldn't put the brakes on Malcolm Smith (23pts, 5reb) and Blake Bowman (1pts, 8reb) as the duo led the hosts to victory.
Twenty four hours later, Hemel were also knocked out of the BBL Trophy as they went down 86-78 against fellow D1M hopefuls Thames Valley Cavaliers. For a full report on that game, CLICK HERE.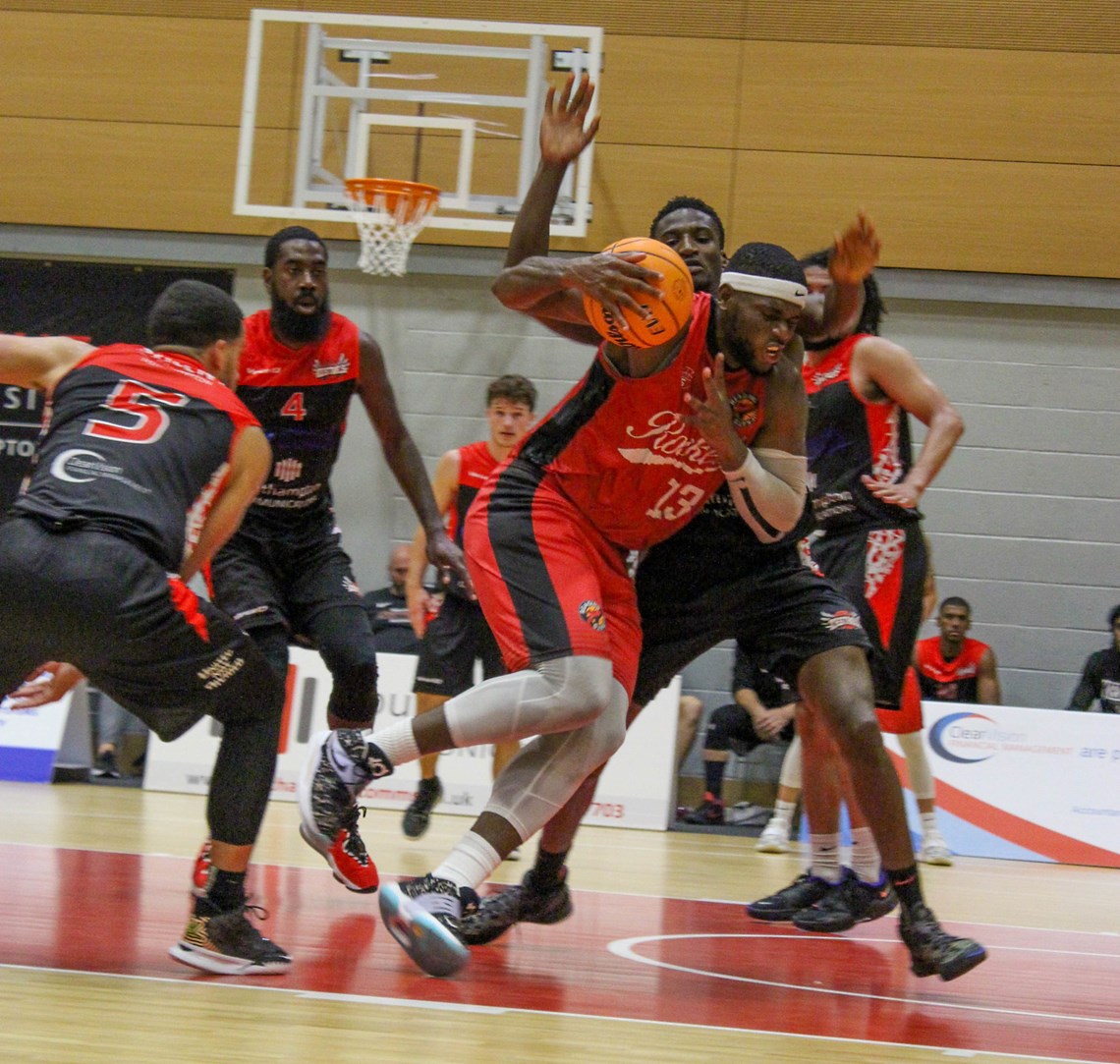 This weekend's results:
Saturday 29 January
3:30pm - Worthing Thunder 59-104 Team Solent Kestrels - LIVE STATS
4pm - Nottingham Hoods 93-83 Bradford Dragons - LIVE STATS
4pm - Loughborough Riders 59-97 Reading Rockets - LIVE STATS/LIVE STREAM
5pm - Team Newcastle University 85-68 Oaklands Wolves - LIVE STATS
6:30pm - Thames Valley Cavaliers 89-69 Leicester Warriors - LIVE STATS
7pm - Essex Rebels 90-83 London Lions II - LIVE STATS
7pm - Derby Trailblazers 91-82 Hemel Storm - LIVE STATS/LIVE STREAM
Sunday 30 January
4:30pm - BBL Trophy - Thames Valley Cavaliers 86-78 Hemel Storm - LIVE STATS
5pm - Team Newcastle University 79-81 Reading Rockets - LIVE STATS
6:15pm - Bradford Dragons 79-87 Nottingham Hoods
.
Main image credit - Luke Simcock