With leaders CoLA out of action, the chasing pack had a chance to close the gap at the top of D1W this weekend.
There were five games dotted across the last few days, with key victories for Ipswich, Thames Valley, Bristol, Anglia Ruskin and Loughborough.
There's a recap of all the action below, and each result is also clickable if you wish to view the live stats.
Loughborough picked up their ninth win of the season as they won on the road, beating Team Solent Kestrels 81-67.
After an even opening frame, Solent went cold in the second to allow their opponents to pull out to a double-digit lead. Despite battling hard, the hosts would never get the difference below six points the rest of the way.
Loughborough bossed the rebound battle 63-44, with six of their players pulling down at least eight boards in the contest.
Reigning Player of the Week Alia El Shabrawy top scored for the Riders, she had 25 points to go with 9 rebounds and four assists. Robyn Ainge (21pts, 8reb), Katie Januszewska (17pts, 7reb) and Alex Shaw (8pts, 12 reb) all contributed as well.
Solent's Krisztina Velkey-Cleeve put together a strong 25 point, 13 rebound double-double, but it wouldn't be enough to stop the hosts from falling to defeat.
The loss leaves the Kestrels in sixth and just four points from falling out of the playoff places, whilst Loughborough pull to within six points of leaders CoLA in second.
Elsewhere this weekend
Anglia Ruskin University (7-3) continued their push up the D1W standings as they beat free-falling Worcester Wolves (4-8) 77-53.
Taking the opening quarter 23-12 and the second 25-11, the hosts' 25 point half time advantage was more than enough to get them across the line for an important W.
Bristol Flyers (5-9) produced a solid display to beat fellow playoff hopefuls Reading Rockets (4-7) 57-46.
In a low-scoring contest, the Flyers held their opponents to just 27FG% as Hannah Wallace and Flo Ward (10pts each), cancelled out a 10 point, 11 rebound double-double from Gaila Comesana.
Thames Valley Cavaliers' (8-2) recent run of good form shows no signs of ending as they added another win this weekend, beating Cardiff Met Archers II (5-7) 69-67.
This W made it seven in a row for TVC, as Kat Goldsby scored 24 points to counter Carys Roy's 22 points for the Archers.
Finally, double-double performances from Cameron Taylor-Willis and Olivia Forster helped Ipswich (7-3) beat Nottingham Trent University (1-11) 69-60.
The combination of CTW (21pts, 12reb) and Forster (19pts, 10reb) was too much for NTU to handle as they remain six points adrift of D1W safety despite 21 points, eight boards and four assists from captain Ines Guerreiro.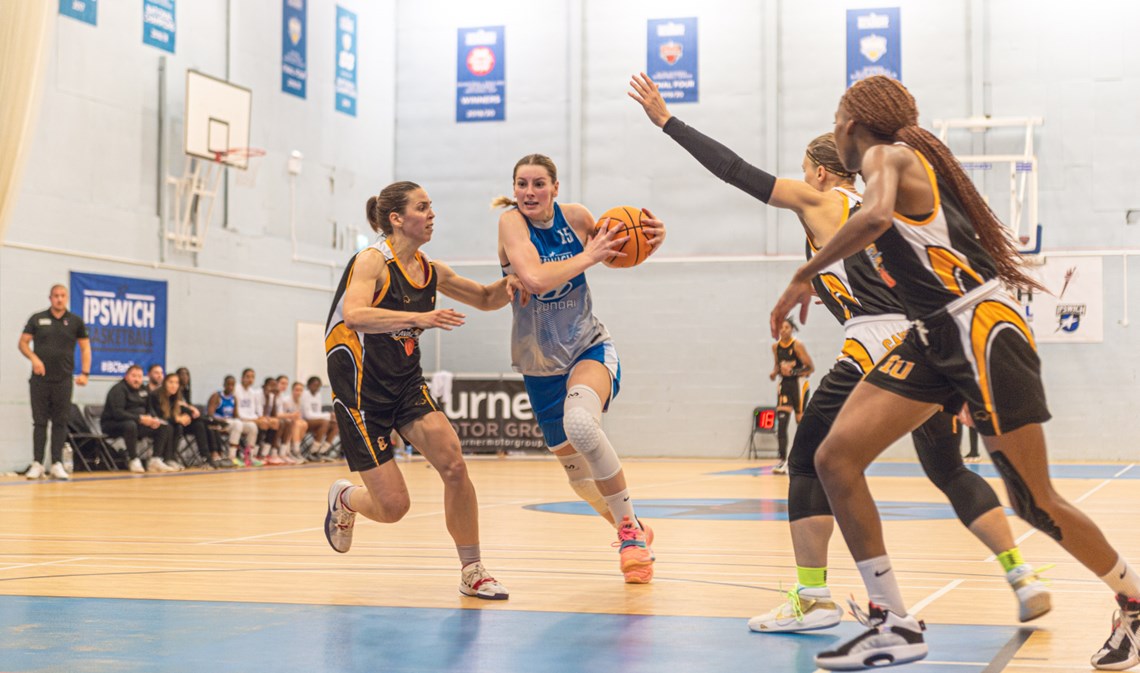 This weekend's results:
Saturday 29 January
3:30pm - Team Solent Kestrels 67-81 Loughborough Riders - LIVE STATS/LIVE STREAM
4pm - Anglia Ruskin University 77-53 Worcester Wolves - LIVE STATS
5pm - Bristol Flyers 57-46 Reading Rockets - LIVE STATS
Sunday 30 January
1pm - Thames Valley Cavaliers 69-67 Cardiff Met Archers II
4pm - Nottingham Trent University 60-69 Ipswich
.
Main image credit - B.East Photography